Our team's primary objective was the development of an AI Photo Enhancer application that boasts a visually appealing and user-friendly interface. Our overarching vision encompassed the creation of a comprehensive suite of AI tools capable of addressing a diverse array of needs. This included functionalities like background removal and image upscaling, allowing users to enhance their photos with ease.
Our end-to-end AI product development services cover the entire product lifecycle, from initial strategy and concept to UX/UI design, iOS app development, and product launch. We excel in crafting native iOS mobile apps and have a wealth of expertise in constructing AI tools utilizing visual text-to-image AI models. Our distinguished record highlights our commitment to delivering state-of-the-art solutions tailored to our clients' distinct requirements.
About Project
AI Photo Enhancer is an iOS mobile application that allows users to easily manipulate their photos. Users can remove backgrounds, convert selfies to cartoonish avatars, and more.
During this project, we provided client app and back-end development, API integration, AI model deployment, and fine-tuning. The following technologies were used for exact functionality implementation:
UX/UI Design
Our proficient team of designers and developers harnessed the product's core business logic and features to design an aesthetically pleasing and user-friendly interface. Additionally, we meticulously curated a full application UI kit, inclusive of captivating icons, to guarantee a smooth and captivating user journey.
Results

Let's talk
Is there a challenge your organization or company needs help solving? We'd love to discuss it.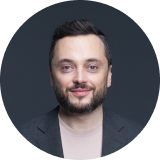 Managing Director, Partner
Andrew Terehin