E-commerce fashion retailer
Atterley — E-commerce Fashion Retailer Platform
Atterley wanted to redesign category, brand and product pages on their e-commerce fashion website. It was imperative that Agente designers were kept grounded by the key elements that would lower bounce rates.
Within three months, the Agente team optimized the website's UX for higher conversion. We improved Atterley's catalog and product pages, polished the information architecture and strengthened the brand identity.
Building Information Architecture
The Agente team slightly altered the information architecture of the website to make it more intuitive, and to improve the shopping and checkout flow. We reduced the number of transitions at several stages of the customer journey and added a couple of new website sections.
Web And Mobile Wireframes
User experience was a crucial factor, so the team redesigned wireframes for category, brand and product pages while remaining in close contact with the client and considering their commentaries.
User Interface Design
Atterley needed to update UI design on their website in a way that would drive more conversions and meet market requirements. Our team created a fully original user interface with a focus on fashion photos and with an elegant look and feel.
We re-structured the checkout page and merged all the steps of the checkout process into one so that users could fill in the form faster, and didn't need to bounce back in order to correct the input information.
We designed the Edit page from scratch. In its design, we wanted to create the feeling of flipping through the pages of a beauty magazine, with big headlines and fashion photos.
The website used to have a left-side vertical filtering panel. Following the latest UX trends and the experience of e-commerce giants like ASOS, our team decided to introduce horizontal filtering.
Let's talk
Is there a challenge your organization or company needs help solving? We'd love to discuss it.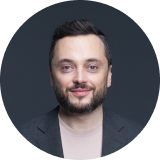 Managing Director, Partner
Andrew Terehin