Karma
Karma — Decentralized P2P Loans Ecosystem
The client came to us with а complex project. The scope of work included website development for the upcoming ICO token sale, interface design and development of the client's application.
Our team developed a unified visual language both for the token sale website and for the application interface. We created a backend application and frontend application that directly interacts with the blockchain part of the system.
What is Karma?
Karma is a global decentralized blockchain platform, that allows to conduct two-way exchange operations both between companies and individuals.
Custom Icons Design
Main features of the platform
We created the set of unique illustrations to demonstrate the key benefits of the Karma platform.
ICO Website Design and Development
ICO (token sale) website development
For the upcoming ICO, we developed and designed the website. It was adapted to tablet and smartphone resolutions, helping all the interested investors to buy Karma tokens on any device.
Decentralized p2p loans platform development
Apart from ICO token sale website development, our team helped developing the decentralized p2p loans platform, which was the main client's product.
The platform structure and used technology
UI design and development
Custom platform UI design and Frontend development
As a result of the working on the system interface an interactive prototype of the future product was created. It allowed us to present the unique look and feel of all significant platform screens and states. After that we developed the Frontend app that interacts with the system's blockchain part.
Let's talk
Is there a challenge your organization or company needs help solving? We'd love to discuss it.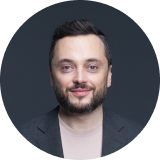 Managing Director, Partner
Andrew Terehin