As experienced UX consultants and design service providers, we resort to customer journey mapping. In this article, we explain why we love this approach.
According to Salesforce, 80% of customers consider their experience with a company to be as important as its products. If brands want to maintain a competitive edge, brands need to meet these expectations and ensure every customer journey is smooth.
Customer journey mapping is a great way to understand and optimize the customer experience.
What is customer journey mapping?
Customer journey mapping (CJM) is a process of making a diagram (or several diagrams) that depicts the stages customers go through when interacting with a company. Effective customer journey maps should be rooted in data-driven research. They should also visually represent each customer experience phase based on a variety of dimensions, such as customer sentiment, goals and touch points.
Customer experience journey mapping: the process
In short, you start with compiling a series of user goals and actions into a timeline skeleton. After that, this skeleton is fleshed out with user thoughts and emotions in order to create a narrative. The narrative is condensed into a visualization. Let's take a look at the creation process in more detail:

Define your main goals, targets and stakeholders. Determine the most important product goals and split them into more specific CJM project goals based on types of customers or types of products (if you have several products at your company).
Spot the personas, touchpoints, channels and journey stages. Form the typical persona or personas you are working with, define the most important touch points via the channels and figure out the stages of your future CJM.
Get the data, then research and analyze. Gather as much data as you can. You can use a variety of instruments and tools, for example face-to-face interviews, focus group interviews, or gathering the data while users are using your products. For a digital product (website or app), employ quizzes or ask questions that deeply explore the user experience in gamification way. Next, analyze the gathered information. Try to assess the user's experience from negative to positive, and create KPIs for user satisfaction. This way, you can measure them in the future and visualize on CJM. Identify the weak points and discover opportunities for improvements.
Form and design the customer journey map. Visualize gathered data on one structured map using ready-made templates or online tools. There is no one type of template for CJMs. Just keep it easy to read and update. You can use CJM templates suggested by NNgroup. You can also check the templates from "Uxpressia" structured by the type of industry or business.
Present to stakeholders, improve and iterate. Your company and stakeholders' team should use the finished CJM as the source of improvements. From time to time check your current user experience's relation to your map and update it. Check the KPIs of customer satisfaction and use them for tactical and strategic needs of sales, product management, marketing, UX and customer relations.

Customer journey map examples
We've selected the most inspiring customer journey maps, all of which differ in their form and level of detail.
LEGO's CJM is called the "experience wheel". It is constructed a simplified way and shows the analysis of a flight to New York City. The central part is the persona's characteristics. The second circle is divided into three levels of experience and achieving the goal of travelling. Outside the circle you'll find descriptions of every step a person will take for this journey.

Source: Paulolyslager
CJM for a couple planning their vacation. The map demonstrates a visualization of data presenting the level of the couple's satisfaction and engagement where areas which need improvement are pointed out.

Source: MyCustomer
Ikea's customer journey map presents the customer experience during a visit to an Ikea store. Each department and facility is assessed according to a satisfaction scale.

Source: cp2experience
Customer journey mapping tools
At the first stages of sketching and research, a pen and a piece of paper, blackboard/whiteboard, stickers, and colored markers are the most necessary tools.
When you move to the final visualization, you can use any of the visual or graphics editors:
Adobe Illustrator
Adobe Photoshop
Sketch
Microsoft Visio, etc.
You can also resort to any online tool specially created for customer journey mapping:
CJM benefits
Our UX specialists have pointed out the CJM benefits which convinced them to make CJM an essential part of Agente UX toolkit.
CJM broadens a company's perspective. Customer journey mapping gives you a big picture of your customer's interaction with your brand. It helps you to plan ahead and make adjustments to help customers overcome obstacles.
Targets specific customers. Journey maps can help teams focus on specific personas or customers. It promotes the understanding of differences and similarities across the journeys of multiple personas, prioritizing high-value personas.
Keeps you focused on the customer. This means your marketing team will be building better campaigns, your sales team will be more engaged with customers, and your engineers will get a holistic understanding of what programs are meant to achieve.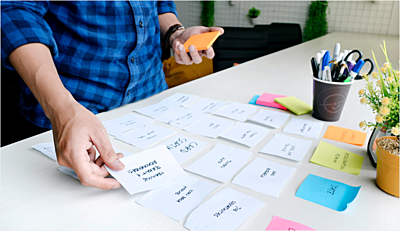 Let's talk
Is there a challenge your organization or company needs help solving? We'd love to discuss it.