Agente UX services often include running design sprints. We deliver a day-by-day overview of the process and talk about its benefits.
What do Facebook phone, the Apple Newton, Google Jaiku, and New Coke have in common? They are all flops made by world-famous companies. Of course, the giants can afford one unsuccessful product amidst a range of real deals, but small or medium-sized businesses can't. You have to make calculated decisions about what to spend limited resources on. That's why you need design sprints.
What is a design sprint?
The design sprint (aka Google design sprint) is an intense five-day process during which you gather insights on your customers, draft prototype ideas, and validate them. The method stems from Google Ventures and is described as "a 'greatest hits of business strategy, innovation, behavior science, design thinking, and more — packaged into a battle-tested process that any team can use."

When to do a design sprint?
This format is focused on increasing collaboration across functions and finding answers; it is not focused solely on fudging prototypes to get an MVP.
Before embarking on the five-day sprint, you need to decide if it's worthwhile. Take a look at the following statements:
We have a specific problem that needs a solution.
We need to remake or redesign an existing product.
The problem we are dealing with is complex with no obvious solution.
We need a cross-functional team to solve the problem.
The problem is worth investing five days of our time and resources.
We need full-on innovation because we are dealing with a changing (or new) market.
If you are positive about all the statements above, a design sprint is a right solution. There are cases when a design sprint is not your solution:
The product you're working on is already very well defined.
The project requires extensive preliminary research.
The scope and business are not well defined.
The project must be completed within less than five days.
One expert can quickly find a solution on their own.
The team does not wish to get personally involved in the creative process.
Design sprint methodology
In this section, we'll give you a day-by-day guide for running your own sprint.
If you want to a detailed hour-by-hour description of the design sprint, we recommend The Sprint Book by Jake Knapp, John Zeratsky, and Braden Kowitz.
Preps
Your design sprint team needs a "War room." This is a room where the sprint will unfold. All the useful information will be posted on the walls so that everyone can see the progress. You also need to assemble a dream team; a total of six people is recommended:
Two leaders: the decider, who makes decisions about ideas that are worth pushing further, and the facilitator, who oversees the whole process.
Experts in marketing, finance, tech, and design.
Check out these useful resources for preparation:
Monday
Agree to a long-term goal.
Make a map of the challenge.
Give word to your company's experts in all spheres to share what they know.
Choose a target: an ambitious but manageable piece of the problem that you can solve in five days.
Useful links:
Tuesday
Focus on solutions.
Review the ideas you already have to remix and improve.
Sketch, following a four-step process that emphasizes critical thinking over artistry.
Plan Friday's customer test. Recruit customers that fit your target profile.
Useful links:
Wednesday
Critically assess your stack of solutions and decide on the ones that have the best chance of achieving your long-term goal.
Weave the successful scenes from your sketches and into a storyboard: a step-by-step plan for your prototype.
Useful links:
Thursday
Turn the Wednesday storyboard into a prototype. Focus on the customer-facing surface of your product or service, so that you can finish your prototype in just one day.
Make sure everything is ready for Friday's test by writing an interview script, confirming the schedule, and reviewing the prototype.
Useful links:
Friday
Interview customers and learn by watching them react to your prototype. This test makes the entire sprint worthwhile.
Useful links:
What to do after the design sprint
When you have a working prototype but the user feedback is not great, it's time to run an iteration sprint to refine old ideas and unpack new ones. Once your prototype addresses all the user expectations, hand it over to production.
Design sprint benefits

Looking back at Agente experience in UX design, we can single out these five key benefits of conducting a design sprint:
It helps to solve problems through the collaboration of people with varied backgrounds — designers, engineers, and entrepreneurs. Everyone develops a common understanding of the project and contributes their talents.
It helps to avoid risks. The team validates product ideas and saves months of development time and money on unviable products.
It fosters innovation. A by-product of the design sprint framework is the freedom given to all the team members to come up with creative solutions.
It gives an idea about your real target audience. User evaluation allows you to understand the audience that will actually convert into customers.
It provides you with firm action items. The team won't be stuck in the middle of nowhere, but will gain clarity of thought and complete conviction about the next step.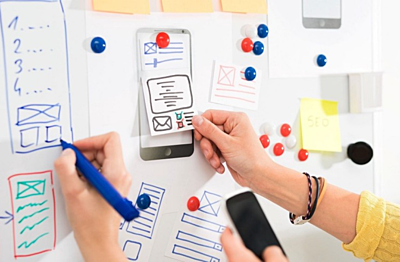 Let's talk
Is there a challenge your organization or company needs help solving? We'd love to discuss it.