Every dollar invested in UX brings 100 dollars in return. If your product fails to convert leads, it's probably because you don't give users what they want. This where UX audit services come to rescue.
What is a UX audit?
UX audit uncovers the parts of the existing user experience that aren't working and helps to understand where users get stuck and why they drop off.
Agente does an express analysis of how users interact with the product and give a brief report on actionable UX improvement suggestions.

Why do you need a UX audit?
Data-based redesign. We gather all available data at the early stages and advise you on what tools you should use to gather more useful information. We take into account business and user objectives, conversion metrics, sales data, usability heuristics and UX best practices.
New product perspective. We may see the flaws you might not notice as you know your product too well. Thanks to our experience with dozens of mobile and web software projects for different businesses, we've gained a broad perspective on the market and problems that entrepreneurs face daily.
Strengths assessment. We analyze the competition to define critical success factors in your industry. You'll learn what are your weaknesses and strengths when compared to competitors, which will help you improve your advantages and eliminate flaws.
Cost savings. We provide a detailed report containing UX improvement roadmap as well as suggestions regarding the value of your software. You will prepare only the necessary additions and features and then start the development phase. No wrong decisions taking your product in the wrong direction. No wasting time and money on costly programming work.
Profit increase. UX audit improves the value proposition of your solution. Users will understand your product faster, which will result in a higher net promoter score, lower churn rate, and an increased number of referrals.

What are UX audit methods?
Behavioral metrics. They are used to provide quantitative information regarding things like user flows within the website, site hotspots, conversion or abandonment. It's important to go far back enough in the analytics. This enables recognizing trends as opposed to just viewing isolated data points.
Attitudinal metrics. The UX team communicates with real people. It involves getting feedback from actual users, stakeholders, and developers. This provides insight into their plans, requirements, and ongoing developmental challenges.
Competitive analysis. It's important to look at direct and indirect competitors: study their traffic, search engine rankings, and product's usability. A competitive analysis enables companies to understand user expectations when interacting with similar products.
Usability tests. All the qualitative data collected from interviews and surveys should be validated through usability tests. Users conduct common tasks within a system or prototype and share their thoughts as they do so. Running these tests will help determine if any unsupported claim can be backed up, for example, a complicated checkout process found from user survey results.
Proto persona construction. The UX team identifies user personas to help both the business and their stakeholders understand who their target audience actually is. We define all possible people who might use the system and group similar personas together, think about their demographics and the environment, write the goals of using the product, and create proto-persona cards.
User scenario mapping. The UX team defines potential user actions, e.g., the ideal scenario of interaction with new features or a new product.
Customer journey mapping. The process allows experts to study the user journey to the goal (or several goals) in more detail. CJMs help to visualize user interaction with your product by showing positive and negative emotions the user has experienced along the way.
Heuristic evaluation. It is conducted by a group of usability experts who examine the user interface of a product against the recognized heuristic standards.
How do we conduct a UX audit?
Step one. Requirements Gathering / Review UX Business Goals Document
Our research team stands in the customer's shoes and understands the key objectives to be reached with the UX audit. Only by synchronizing with the client's team and asking the right questions, you can come up with a useful solution. This phase of the UX audit involves three parts:
Preparation for the interview, inviting stakeholders, creating a list of questions.
Conducting interviews online or verbally.
Analysing results and documenting the answers.
As a result, we get the final document which helps us understand how stakeholders see their project from the business standpoint.

Step two. Working with Analytics
We use various analytical tools depending on the type of audited product. For example, when we make a UX audit for a website or a web app, we use Google Analytics, HotJar, or Metrica. If we need to make an audit for a native mobile app (iOS, Android), the toolset can include AppSee or Firebase. Here's what we see at the end of this sage:
Pages with a lot of traffic but a high bounce rate.
Pages or screens with the highest conversion rate.
The most popular landing pages. The UX team focuses on whether they are useful, logical, and intuitive enough for the user to work with a website or app.
Weak points in the customer journey. Working with analytics at this stage, will help you to build CJM in the future.
Strong points in the customer journey that we should focus on.

Step three. User Research Phase
The UX team conducts workshops with product stakeholders. Usually, the user research phase is used in the projects that are being developed, to clearly portray the user for whom the product is yet to be created.
This stage helps to visualize user needs, search for new opportunities, and find places where the interaction with the product can be further improved. User research includes several activities:
Photo persona construction,
User scenario mapping,
Customer journey mapping.

Step four. Design and Usability
The main goal is to analyze the visual interface and understand how easy it is to use. The result can be achieved in several ways.
First, we conduct usability testing: either run the moderated lab-based research with real users involved, or conduct a remote moderated testing via specific platforms, such as UserZoom or UserTesting. Usability tests are followed by the expert design review with the heuristics evaluation method, using ten usability heuristics by Nielsen Norman Group.

Step five. Making UX Audit Report
In this phase, an auditor analyzes the results of the previous activities and comes up with solutions for improvement. The UX team job results in a multi-page report with descriptions of all the phases and their outcomes. Each section of the report is followed by an exhaustive list of recommendations.

What do you get after a UX audit with AGENTE?
A brief report with the main identified problems in UX design.
Recommendations for each of the problem we spot.
A complete roadmap to improve the product.
A call with a UX expert to discuss further steps.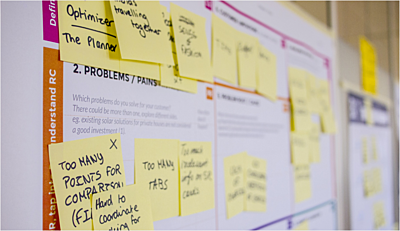 Let's talk
Is there a challenge your organization or company needs help solving? We'd love to discuss it.