How to Build a Mobile App Requirements Document
Have you ever tried to find out how many mobile apps are out there? It's virtually impossible to get the exact figure as new apps are developed and launched on a daily—if not hourly—basis.
People are glued to their mobile devices and businesses take advantage of this phenomenon.
Just imagine: in Q3 2018, there were more than 2 million iOS apps and almost 2 million Android apps in the official stores. But in reality, this number is much larger since apps not available in Google and Apple stores (e.g., those used by businesses internally) were not taken into account by the research.
If you are about to jump into your first project, prepare a product requirements document first. In it, all your mobile app requirements should be described in detail.
Why is this document important?
Before diving deep into the nitty-gritty of preparing this doc, let's discuss its role in a software development project. To cut a long story short, this document helps you ensure the success of the project since developers understand all your goals, and objectives from the very beginning.
When you write an app specification, you can be sure that even your non-tech-savvy colleagues who are involved in the project will be on the same page as you. This will be achieved through the document's coherent and logical structure.
You will be also able to clearly communicate the idea to the development team and there will be no unpleasant surprises when you are shown the first demo.
Need some help creating an app requirements document? We will discuss the basic steps in this blog post to show you how to make it right. Read on to learn all the details.
We won't start by providing a mobile app requirements documentation example; we'll cover types of requirements instead.
Types of Requirements
Five types of requirements should be stated in the doc. We'll examine them one by one.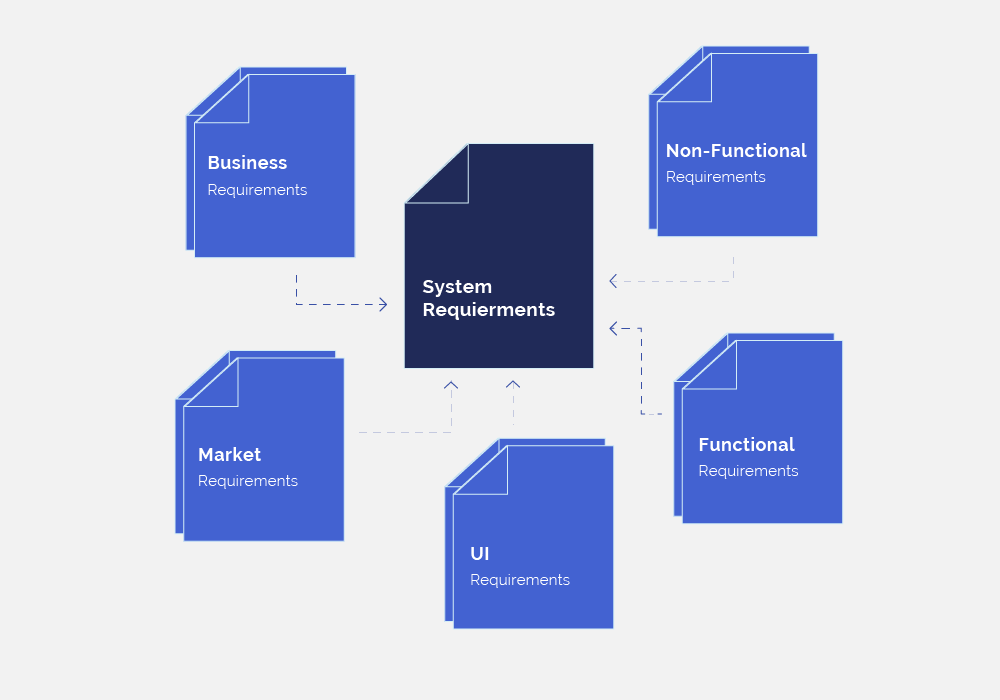 Business Requirements
In a nutshell, these are the set of criteria necessary for achieving medium and long-term goals set by the organization for itself as well as the business goals of the customer who hired the development team. They are usually organized in a bulleted list for good readability and placed on a single page.
Market Requirements
They are basically a supplement to the requirements we mentioned above. The list is usually quite long (up to five pages) they are listed in order of priority to see which should be considered first and which ones can be eliminated if necessary.
Functional Requirements
These are all about the functionality of the product, as they relate directly to how the product will work, and its features. So write every single requirement here. For instance: "The app must have a private messaging functionality." Think of use cases for every feature you are going to add to the list and write each one down too. They will help developers to understand what you need.
We highly recommend that you prioritized features. Of course, some are vital but many others may be less important and even excessive. You can take advantage of the MoSCoW method to prioritize everything properly.
Non-Functional Requirements
As you can tell from the title, these don't concern app functionality. Instead, they are devoted to non-functional goals.
Organizations often skimp on writing these requirements, and this is a mistake whihc can lead to an undesirable outcome in terms of product characteristics such as integration, scalability, security, and others.
For example, if you need an app that will seamlessly integrate with your project management software and don't mention this requirement in the doc, you will need to ask developers to do extra work and this eventually will burn a hole in your pocket. Defining non-functional requirements before the development stage starts will save your budget.
User Interface (UI) Requirements
Though they seem to be similar to non-functional requirements, UI requirements are, in fact, a little different. UI requirements are linked directly to the company's brand identity. If you have an established brand identity in place, you will certainly want all your products to have a consistent look and meet all your brand identity guidelines.
Ask your designers for assistance. They should not only provide a download link to the file but at the very least an outline of requirements for the essential user interface elements (e.g., navigational components), color choices, logo usage, etc.
This will spare the development team the need to read a huge file and try to interpret its content by themselves.
How to Write a Mobile App Requirements Document: AGENTE Vision
As a design and web and mobile development service provider, we have our own mobile app specification template that we use in all our mobile projects. But instead of downloading the template, filling it out and sending it back to us, our customers simply complete the online brief.
We organized the brief in such a manner that it could be transformed in the ready-made requirements document at any time and with almost no effort. Here is a small tip: we advice our clients to have at least a few rounds of discussion with everyone in their team to let them speak their minds and make suggestions in order to come up with the final set of requirements to be documented in the brief. This strategy so you'll eliminate numerous updates of the doc.
So, what's in it?
The whole brief is divided into 13 sections for greater convenience.
Contact information
Sharing your contact info will help us to make our move after the brief is submitted. For instance, set up a call with your company.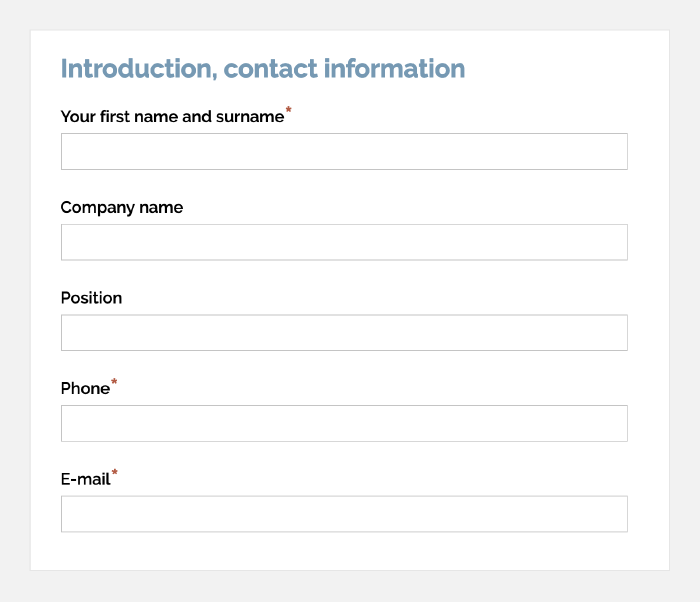 Project purpose
Are you planning a new product? Or are you willing to update the existing one? What business goals will it help you achieve? We encourage you to cover all these elements there.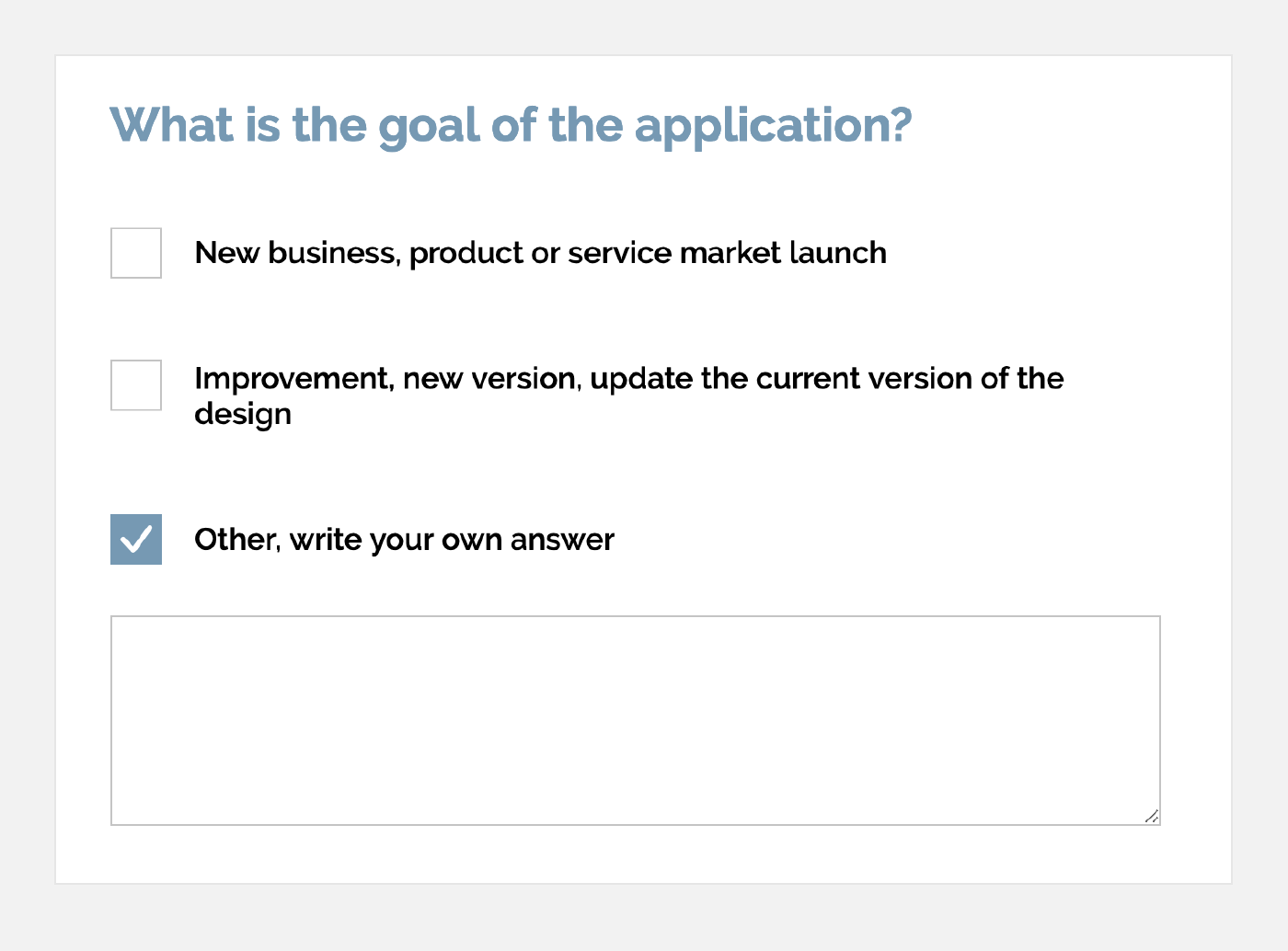 Application type
Give us an idea of the product you are looking for. You will find there the app types in which we excel.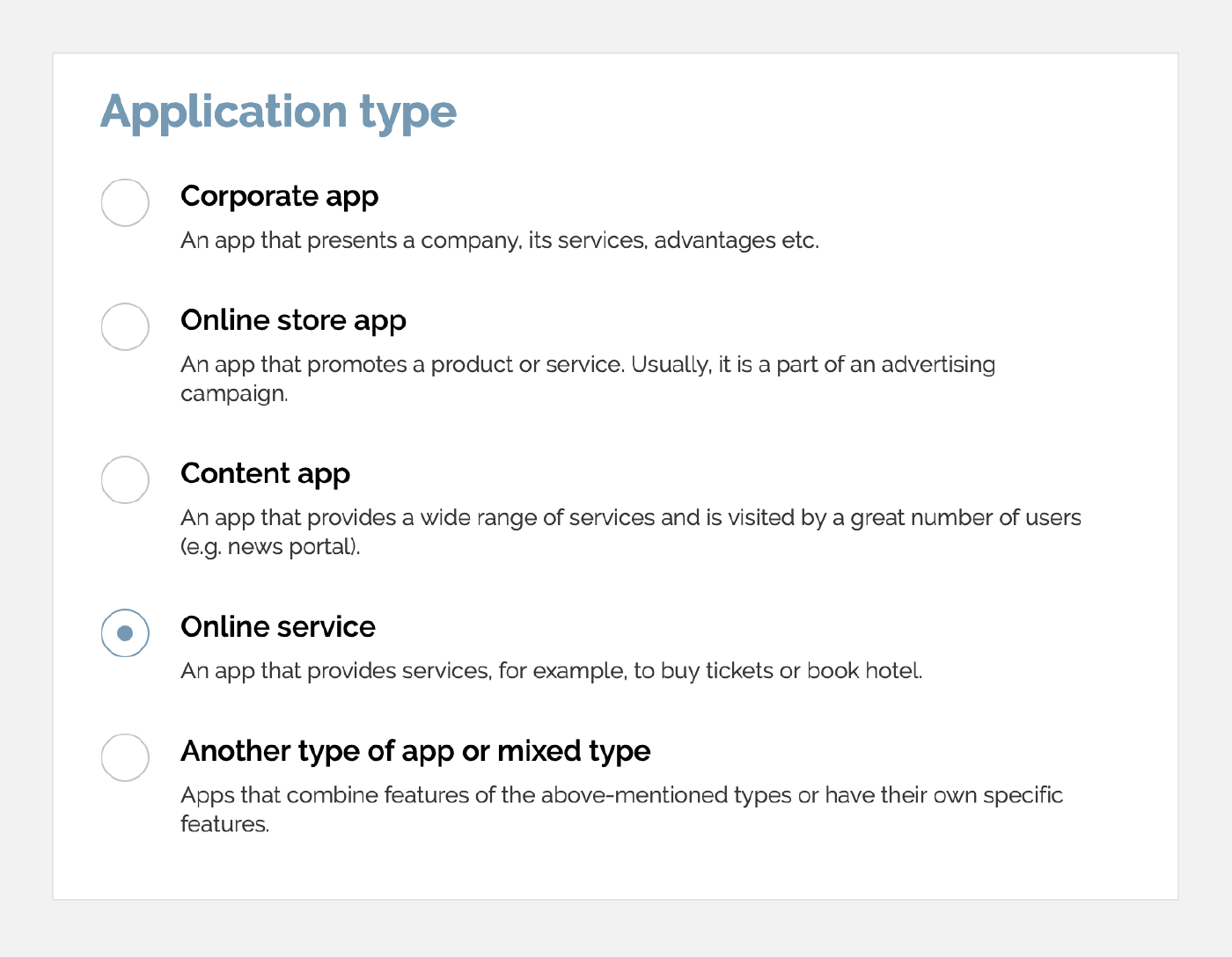 Devices
Let us know from what devices users will be able to interact with the app. This will come in handy at the development stage.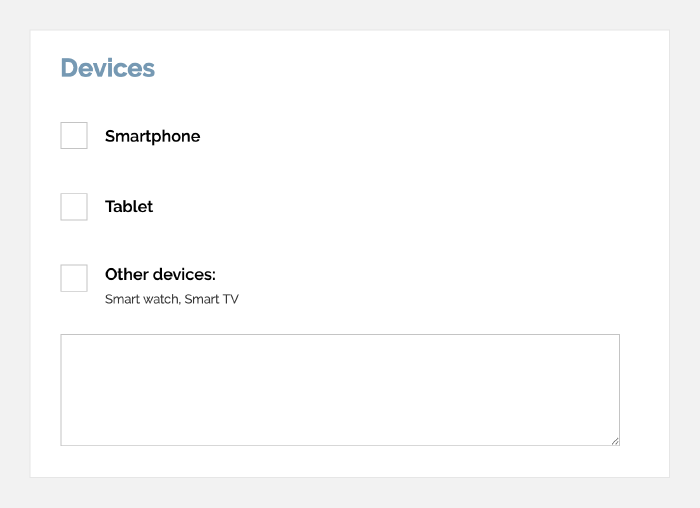 Platforms
An awareness of the platforms (OSes) on which the app will be run is important as multiple tech stacks will be involved.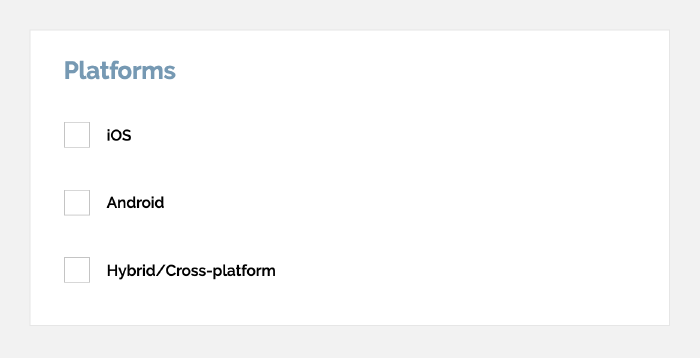 Service and/or product description
To carry out a successful project, we need to develop a clear understanding our your business in general, your business objectives, and your role in the upcoming project.
This section is particularly important when it comes to product updates. Having read the information you provided we'll be able to deliver useful suggestions from an expert point of view.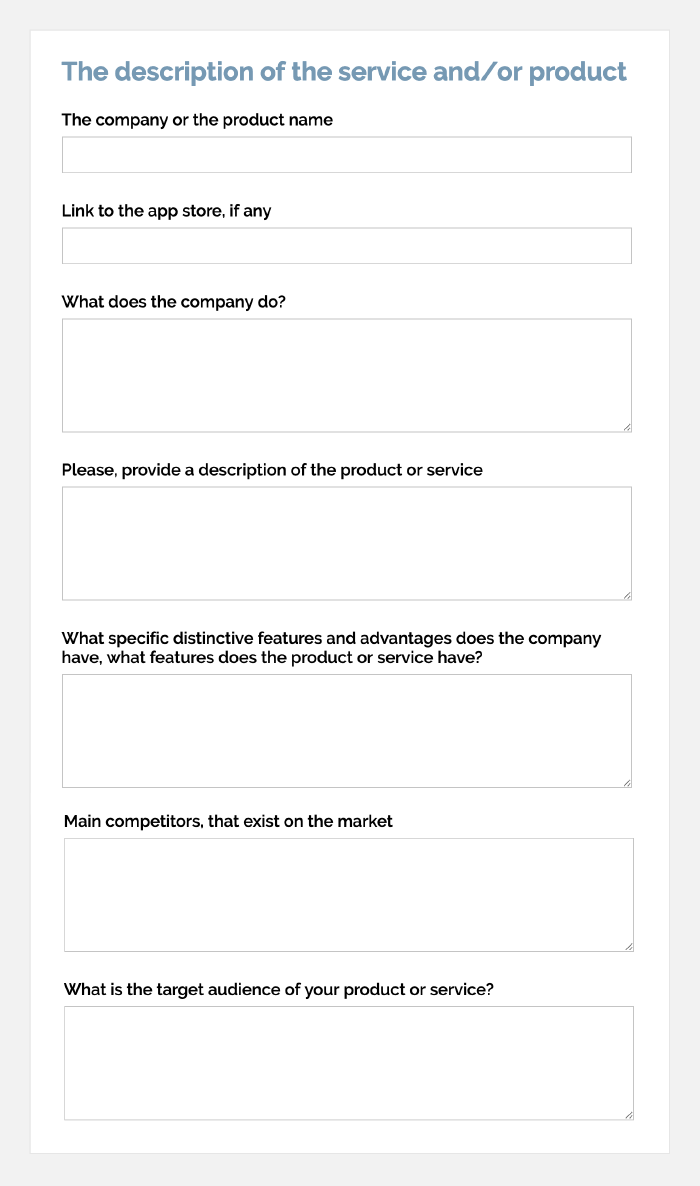 Mobile app structure
This section is closely related to functional requirements. So you can write them there instead.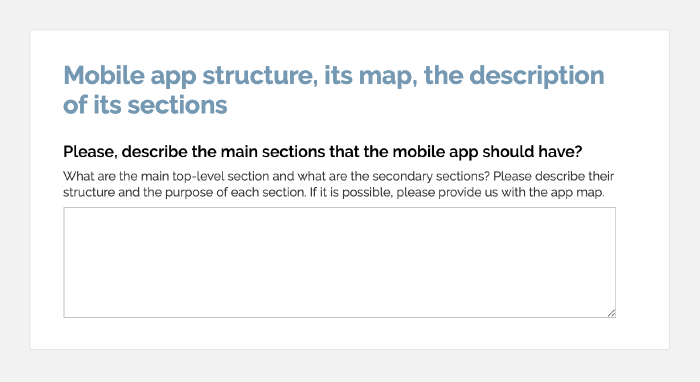 Style
This involves UI requirements you have developed beforehand.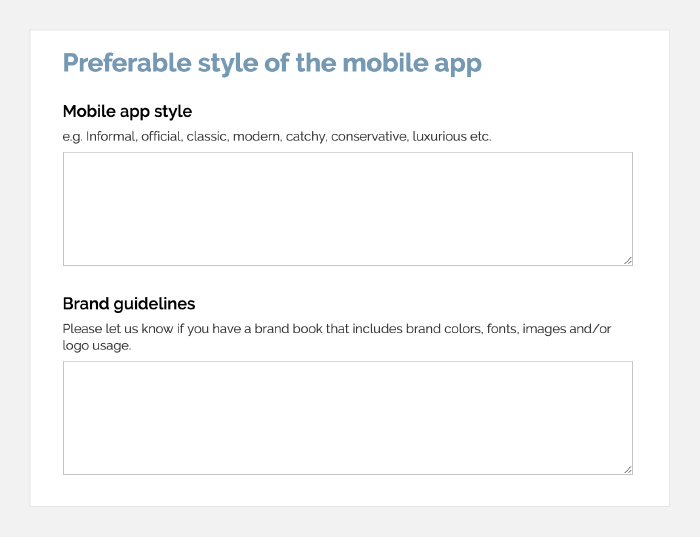 Color scheme
This can involve a color scheme from your brand identity guidelines or one you simply like and would like to see in your app.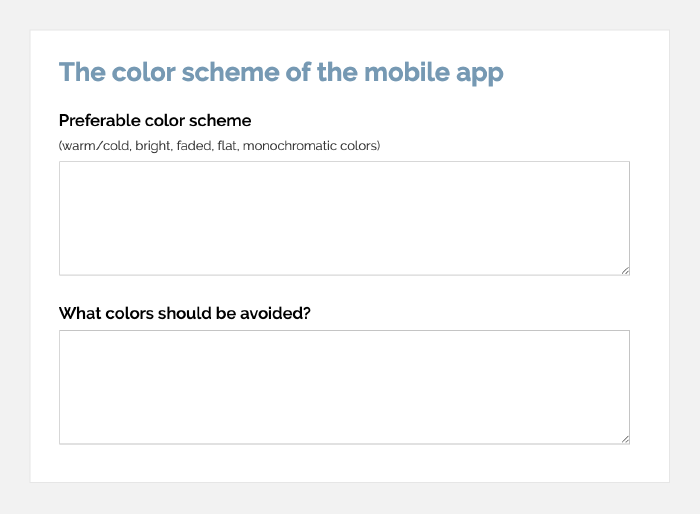 Examples
Give us examples of similar products (if they are any) and share us what you like and dislike about them.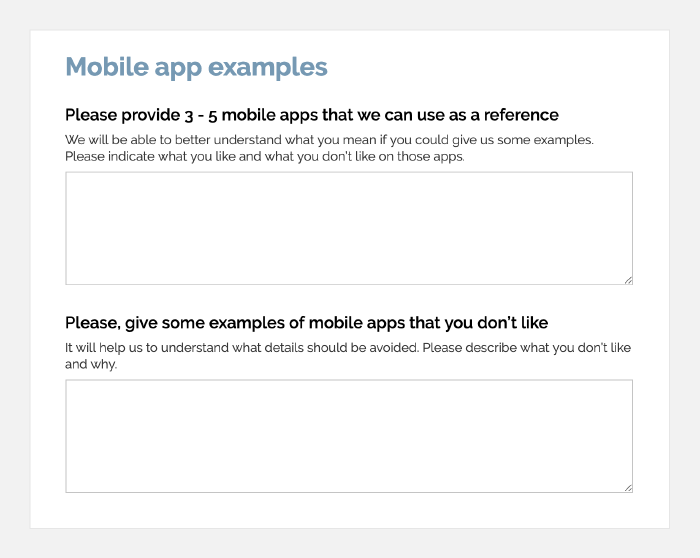 Technical specification
These are mostly non-functional requirements that will play a great role in the final product.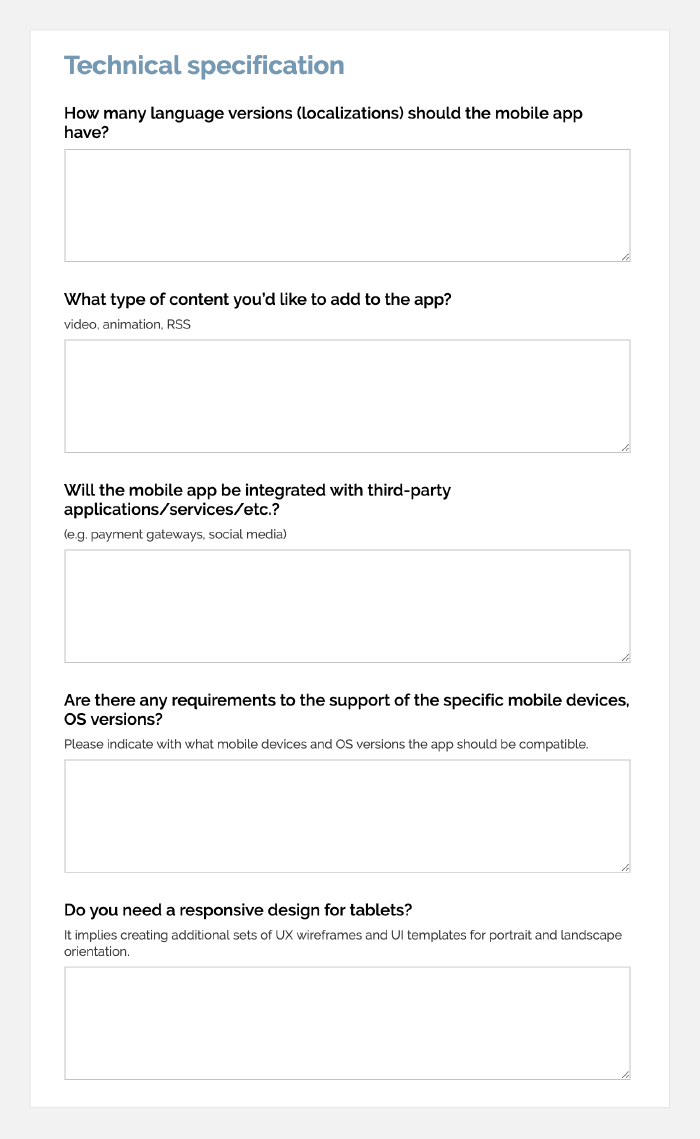 Required services
Mobile development is not the only area of our expertise. Using the brief, you can also request other services that we provide.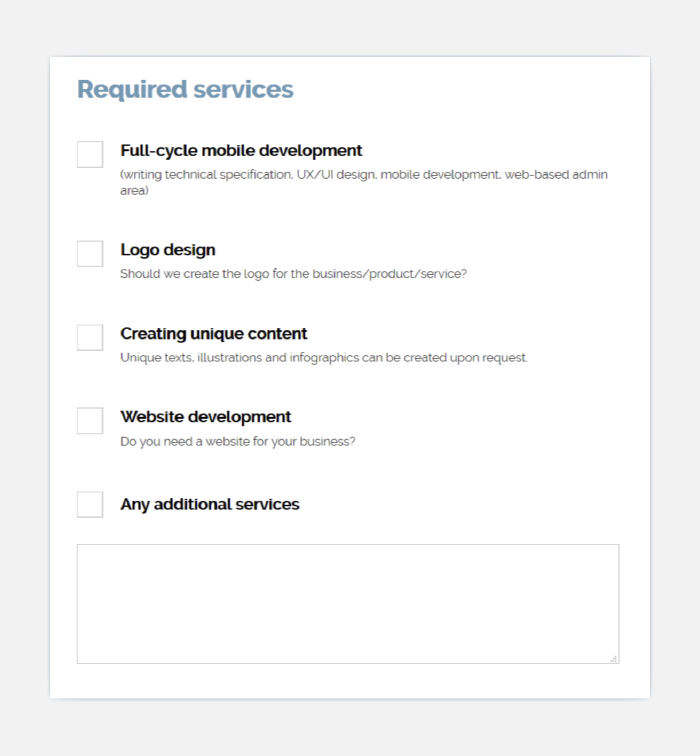 Additional info
You must have some kind of project timeline and budget in your mind. Kindly share them with us in this section.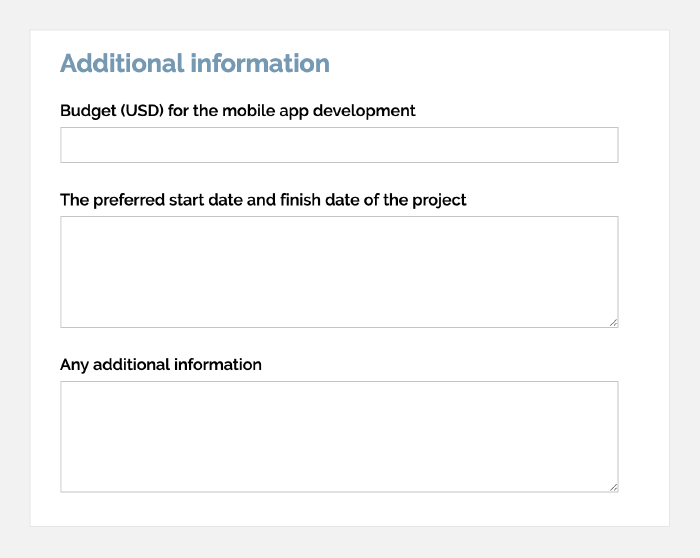 Once you complete the form, click the 'Submit' button and expect a welcome e-mail from our representative. The brief can be turned into a detailed product requirements document as soon as the contract is signed.
Final Thoughts
The increasing number of companies are launching mobile apps to reach their business objectives. If you already think of one or discuss the advantages of having one with your team, feel free to contact us anytime. Looking for something else like an app design document template? We can help you as well.
Stay tuned for news
Useful articles from our content team right to your inbox!
Let's talk
Is there a challenge your organization or company needs help solving? We'd love to discuss it.