How to Build a Website for a Travel Agency?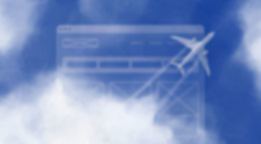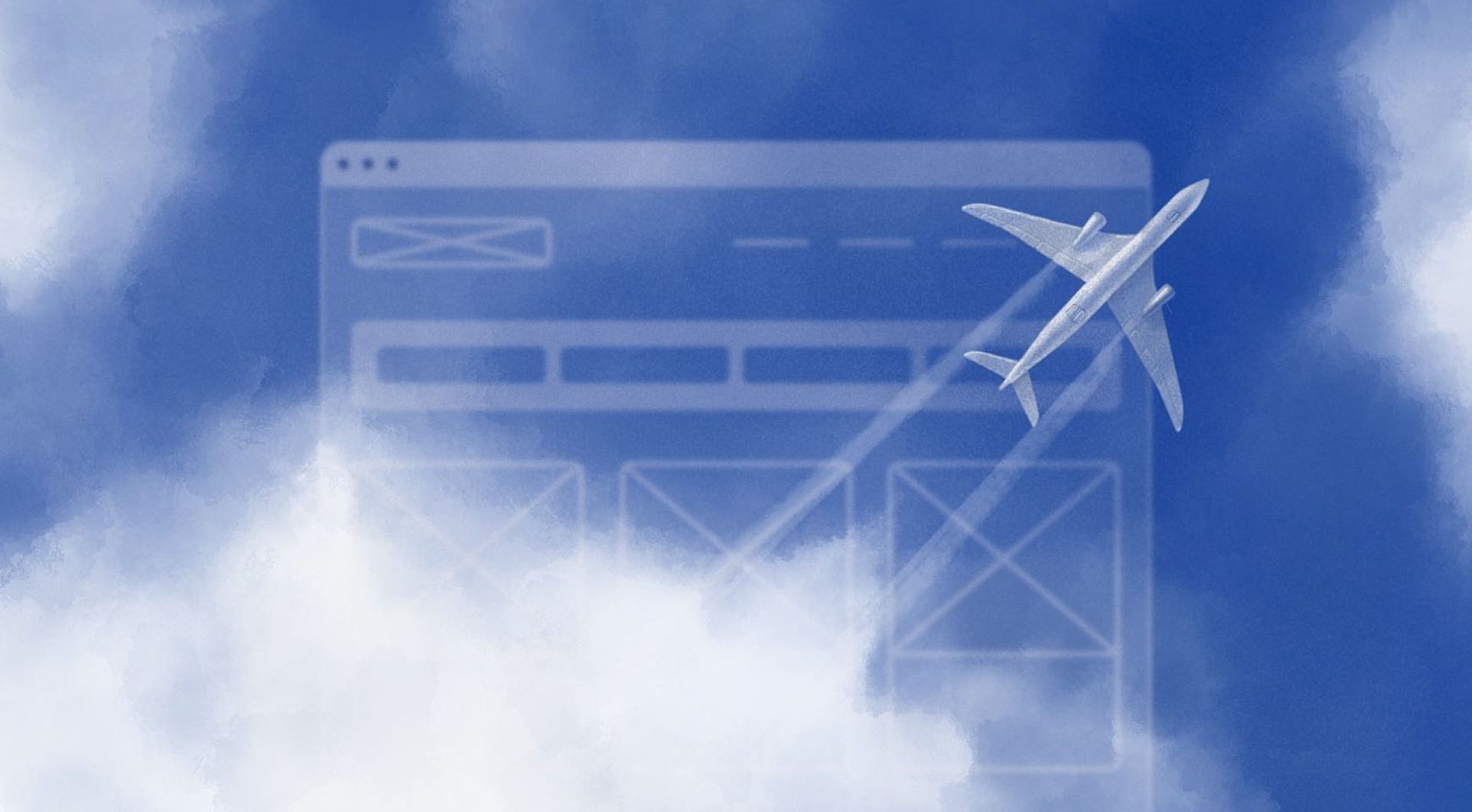 Traveling is a trillion dollar market that has attracted numerous businesses, and new companies continue to enter it. With the advent of the Internet, people became less dependent on companies striving to grab a piece of this lucrative pie. People now use the web to search for travel destinations, book hotels, buy airline tickets, and to do many other things for themselves.
Travel agency businesses are still popular. But they have to be proactive as never before to avoid lagging behind competitors, to secure new customers, and to retain existing ones. Forward-thinking travel agencies have recognized the importance of establishing their online presence in order to achieve these goals.
With a website, a travel company can not only increase their customer reach but also get more bang for the buck: sites advertise the business, they save time by providing information to visitors, and, unlike an agency, they work around the clock.
In this blog post, we'll give you some handy tips on how to create a website for a travel agency.
How to Develop a Website for a Travel Agency
When it comes to selecting a set of tools and frameworks for travel agency website development, it's no different from any other web application. It means that the stack depends on the project itself.
Custom vs Template CMS
Whether you are going to build a website for a travel agency or for any other company, the very first step is to decide whether you need a custom website created for you by developers from the ground up or one built on a popular CMS like WordPress.
How do you make a wise choice? Well, there are various aspects that should be taken into account. For instance, custom-built sites tend to cost more and grant users less flexibility in terms of content management. CMS-powered websites take less time to launch and are usually less expensive, have plenty of pre-made templates for a travel agency, but they are also not so search engine-friendly:
There are also a number of customization options with travel portal WordPress plugins (like this one) that you can use to turn your ordinary WordPress site into a complete travel portal.
Why Is It Worth Building an Online Travel Agency From Scratch?
In short, a custom-built website gives you more flexibility, scalability, and robustness. You won't have to compromise on your ideas and new features because of the limiting scripts that travel portals normally offer.
What is more, you will be able to work with any technology stack of your choice and integrate third-party services without restrictions.
Note that travel websites can grow to a large size. Hence, if you value flexibility, and plan to scale your app as your business grows, custom development is your path. It may take more time to implement but will definitely be worth it in the end.
Tech Stack for Creating a Travel Agency Website
To put it simple, you need a CMS that can act as the framework for your website, a front-end that can match the aesthetics of a travel website and an engine that can pull data from the APIs provided by other travel websites and data providers.
The backend is a behind-the-scenes engine driving the application and it is responsible for implementing the application's logic. There are three major parts in it:
Web server programming.
Database development.
Frameworks making development faster.
If you value ease of code management and flexibility, try programming languages like Ruby on Rails for the backend.
The frontend is responsible for user interaction with the application. The most common technologies used to enable this interaction include:
HTML—to define the application style.
CSS—to set the style of the application content.
Javascript—to introduce interactivity to the whole thing.
As for frameworks, Bootstrap, Angular, React, and Vue.js are currently dominating the market.
Plus, chances are, you'll need integration of a traveling API that allows a traveling website or application owner to integrate third-party system feeds into the mechanisms of their website.
Design and User Experience Strategy
User experience research and strategy can build a significant part of the project even before development starts. At this stage, a UX team builds information architecture, defines your audience, and creates user personas, user scenarios and customer journeys.
Why is this stage important? Competition in the travel market is fierce, so to survive it, you must target specific audiences, adapt to the needs of the modern customer and stand out from the crowd. Without well-thought-out UX and UI design, it's impossible.
Take a look at some examples of nice travel website designs (including some of our own works) in our article.
Website Sections
Remember that the main function of your upcoming site is to give users the information they are looking for in an easy-to-digest format. So when you are about to make a travel website for your company, double-check that it has all the basics sections that all sites have:
Homepage
About Us
Tours/Services
FAQ
Contacts
Customer reviews
Blog/News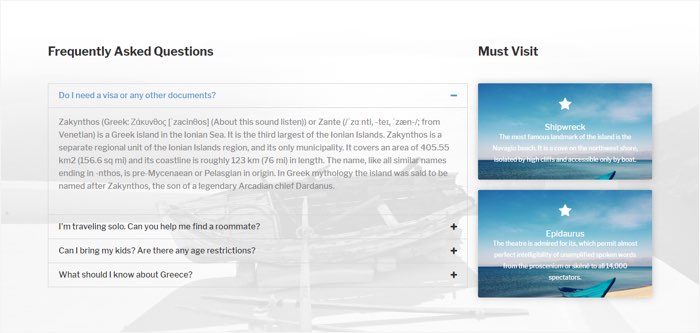 Source: Behance
But these basics are not enough on their own. You need to go even further and offer users more—information that will pique their interest from the very first second on your site. Sections like Limited Time Offers and Top Destinations on the homepage can do the trick.
Moreover, you may want to install different web forms for catching leads: contact form, subscription forms, or forms to download some presentations and brochures.

Source: Dribbble
Once you have built up your travel agency website, it's time to connect it with the data aggregators and other services.
Ticket search and booking
If you are selling tours online, you will need to fuel your website with useful data from ticket aggregators for hotels, flights, insurance, etc.
The connectivity between your website and each of those services is ensured by APIs that work as control panels for developers to tie up multiple software components without dealing with the source code.
Let's see what APIs you may need for a standard online travel agency:
Make it easier for anyone to find the necessary information on your site by taking advantage of the advanced search with filters such as price, occasion, dates, an so on.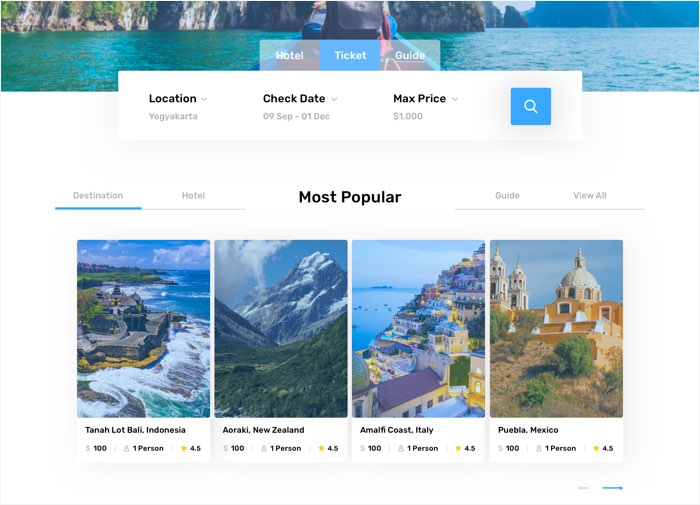 Source: Dribbble
Online payments
From a technical standpoint, in order to integrate a payment gateway into your travel agency website, you'll need to decide on the features you require, consider possible scenarios of payment. At a minimum, you will need the most basic of payment card processing functions; other scenarios may include PayPal or Stripe integration, or even paying with cryptocurrency.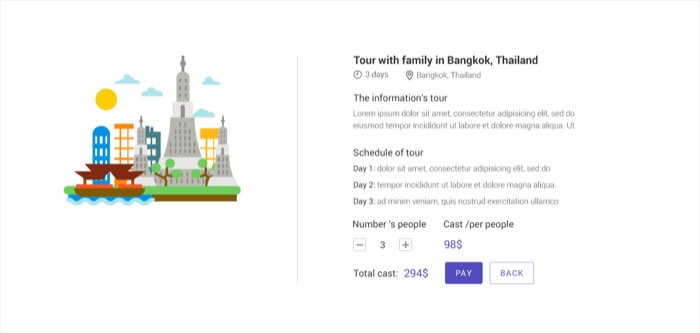 Source: Behance
Live chat
Searching for an attractive option on their own, users may not wish to contact you directly until they are sure that you have what they need.
Online chat is an extremely useful feature for those customers who want to get the immediate answer. Adding one to your website can boost your conversion rate by 45%.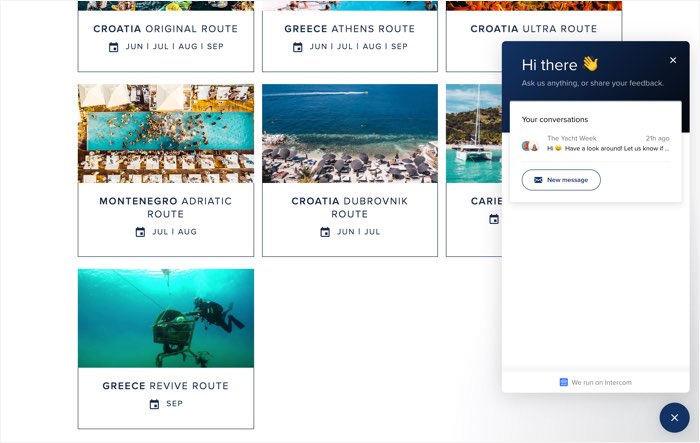 Source: The Yacht Week
Customer relations management system
This is another part of travel website development that may not be evident from the very beginning. You'll need to integrate booking management system or a CRM for travel agents, in order to manage the variety of travel products, work with customers and have all the records in place.
Mobile-friendly
Today, people tend to search the web from their mobile devices so ensuring that your web page is mobile-friendly will make it accessible to multiple categories of users, both mobile and desktop.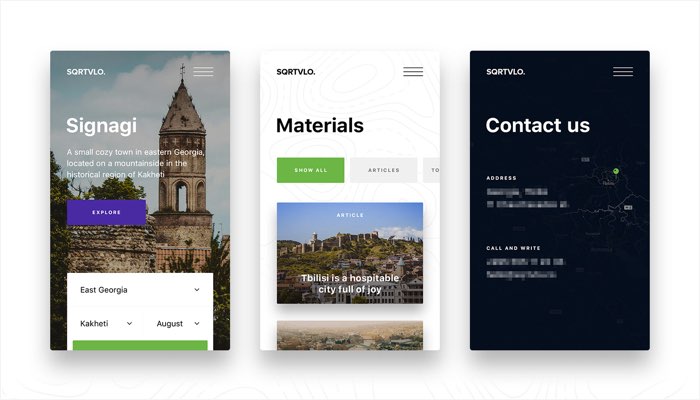 Source: Behance
Should I make a mobile app for my travel website?
The short answer is yes. The market for travel agency mobile apps is huge but you should be ready to enter this competition and target the customers that you already have on the web version of your services. How do I do that right and how can it increase customer loyalty? We will tell in one of our next articles.
How Much Does It Cost to Build a Travel Agency Website?
There are many factors that determine the project cost for a travel agency MVP.
Here are some questions that should be answered to estimate the cost:
Will it be a custom site or a CMS-based one?
Who will work on UI/UX design, branding and logo design?
How many pages will the site have?
What tech stack will be used to enable planned features?
Will any integrations be needed?
Who will do the testing?
The cost will also depend on the time spent on the website, hourly contractor rates and those of other people involved in the project.
Applying the Knowledge: Four Examples Of Bad Travel Websites
Now you have an understanding of what a successful travel site could look like. We've found five vivid examples to illustrate both strong and weak points of such websites.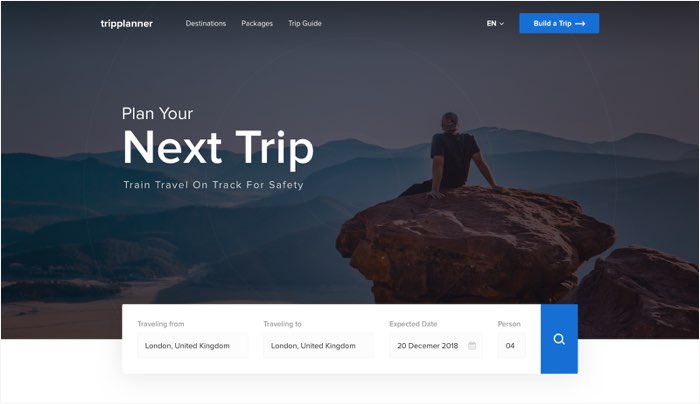 Source: Dribbble
At first sight, it seems to meet all the points we described above. But it does have some minor flaws: the navigation is not as easy as it should be (sections in the footer don't fully meet those on the homepage) and the search tool is missing a packaged tour filter.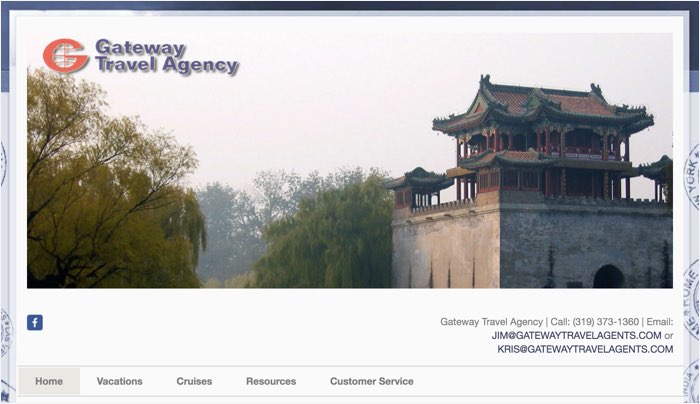 Source: Gateway Travel Agency
The weakest point of this website is its outdated design. It also misses an online chat and a blog. But it has a section with useful resources for travelers and this is a brilliant idea.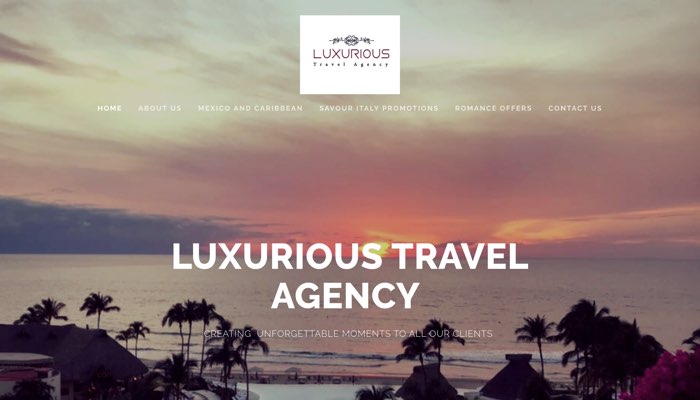 Source: Luxurious Travel Agency
The major drawback of this site is its poor navigation and the absence of a search tool. It also doesn't have a blog in reality although it claims to have one.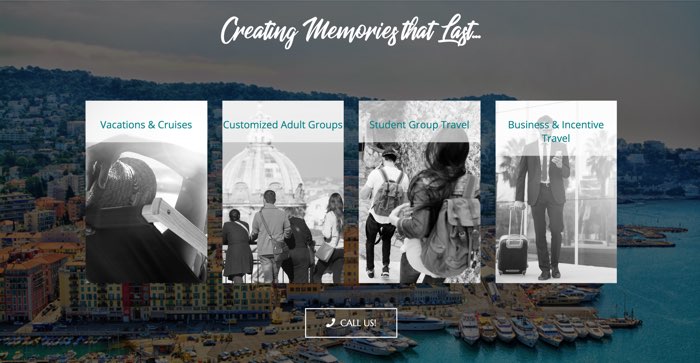 Source: Ellison Travel
This modern-looking site seems to have complex navigation with too many links placed in the header and at the top of the page and none of them displayed in the footer. But its navigation is much better-looking on a mobile device thanks to mobile optimization that was made. We also liked that the site itself and the blog have separate searches.
Conclusion
Building an online presence has turned into a necessity for business, and the travel industry is no exception. In this blog post, we've guided you through the main points of creating a site for a travel business. If you still have any questions or you are willing to share your thoughts with the AGENTE team, feel free to contact us anytime.
---
Further reading: Best practices of healthcare website design.
Stay tuned for news
Useful articles from our content team right to your inbox!
Let's talk
Is there a challenge your organization or company needs help solving? We'd love to discuss it.