16 November 2016
How to Create a Customer Journey Map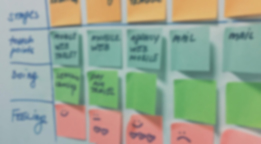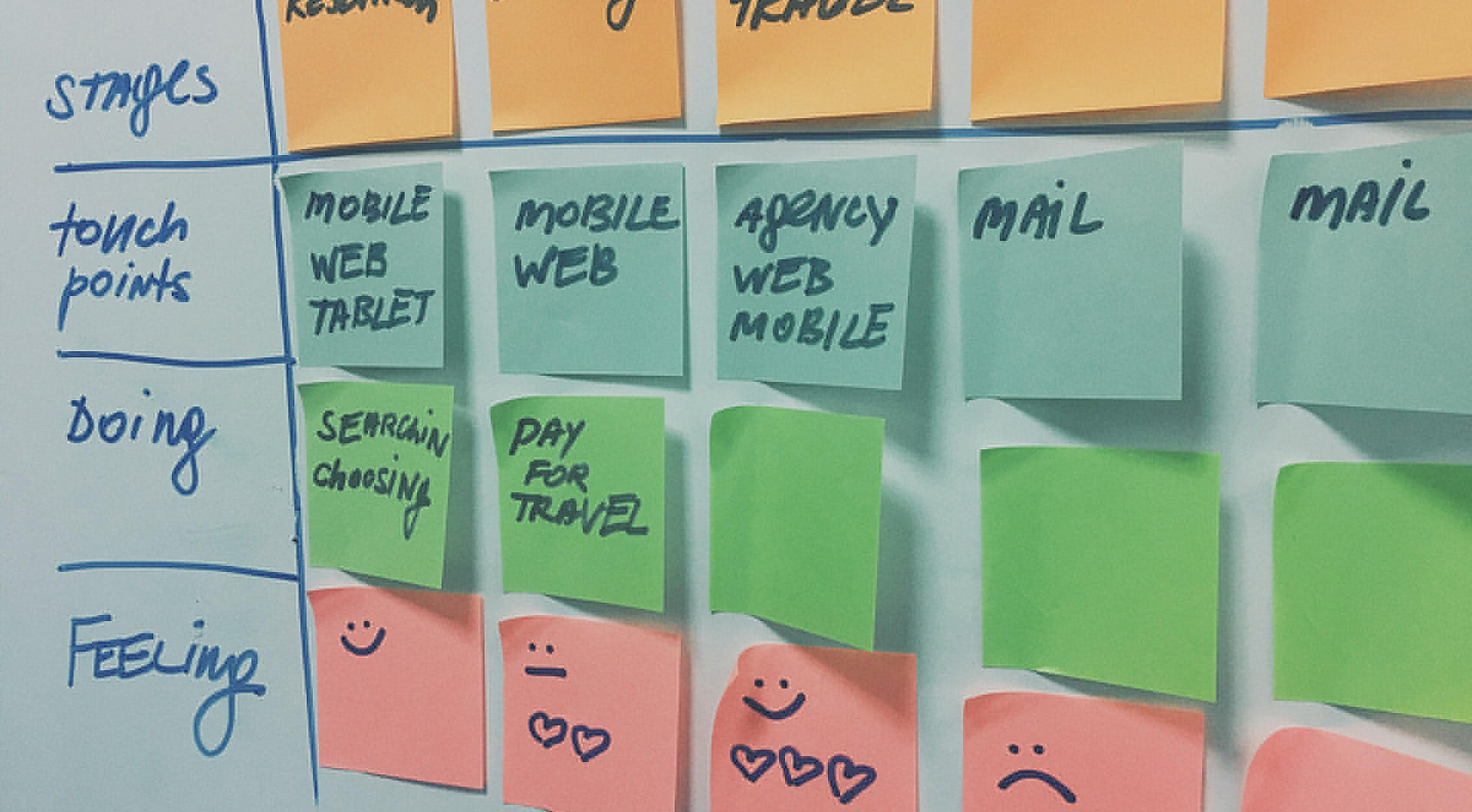 In this article, I'll try to sum up and gather all information related to Customer Journey Maps, and to answer the main questions: "Why, how and for what should we use them?" So, let's start.
What are the Customer Journey Maps and how do you use them?
Nowadays, every person contacts with tens of services and companies through the different channels and touch points every day, depending on the task needed to be solved or goal needed to be achieved.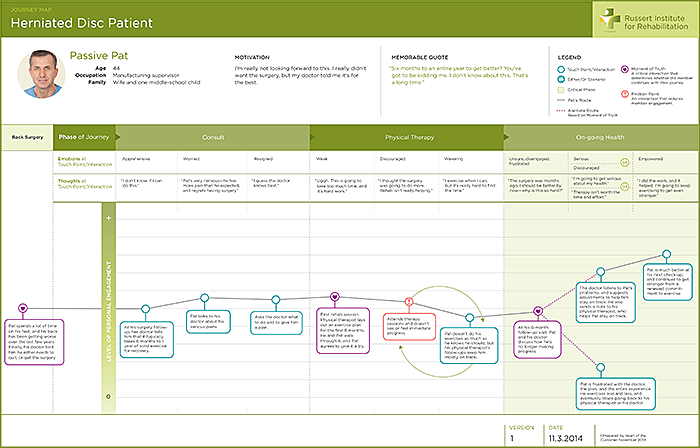 For example, you can order pizza on the website, receive a confirmation SMS on a mobile phone, then get pizza from the courier, and pay for it by your card via a wireless terminal. It's the simplest example of a Customer Journey, and there are many more journeys around you every day. You can find and study much longer and complex or shorter examples.
But what is the Customer Journey Map? Let's formulate it in a simple way. The core keyword is the "Map", so a Customer Journey Map can be considered a visual representation (Map) that shows the entire journey and tells a story of the customer's experience during the certain periods of time and through the multiple channels and touchpoints with a company, product, brand or service.
Usually, the Map is designed from the customer's point of view and gives more attention to customer feelings and thoughts on different touchpoints, but it often also covers the important cross points between the customer's needs and business opportunities and requirements.
While working with the Customer Journey Maps, you can choose different timeframes (longer or shorter), channels and touchpoints, it always depends on the exact type of business, product or service and the task needed to be accomplished with this powerful instrument.
Why do I need to use

Customer Experience Mapping?

The Customer Journey Map is the infinite source of customer experience improvements, it helps to build strong and long relationships between customers and a brand or product, and as a result, it helps grow your revenue and profit in a long-term perspective.

Customer Journey Maps can be useful for different types of stakeholders.
If you are a user experience designer, you can get a much better understanding of the context, in which the product or service is used. Designers can also get a broader view and general picture about devices and channels changing. It can help to avoid gaps between devices when a user switches between one device and another, or it can give you an idea about new possible touchpoints or improvements from the UX perspectives.

If you are on Management or Sales positions, it can help you to see how the customer moves through the sales funnel and improve this interaction, add some up sales or touchpoints, reduce some funnel stages or try to improve conversion on some of them. For general management, it can provide some ideas about business process improvements to better serve the clients.

If you are responsible for customer service, the Journey Map can help you to surround your client with unforgettable customer support and service during the whole process through the different channels, and as the result, you will get a strong army of your brand or services ambassadors spreading the positive feedback everywhere.
And in general, the companies that practice working with Experience Mapping can easily describe the customer's needs when developing employee training software, so each company's member could understand the client's needs and feelings much better.
The creation process of the Customer Journey Map (CJM)
The creation process of CJM can vary. It can have more or less detailed stages and iterations, but in general, it looks like the following example: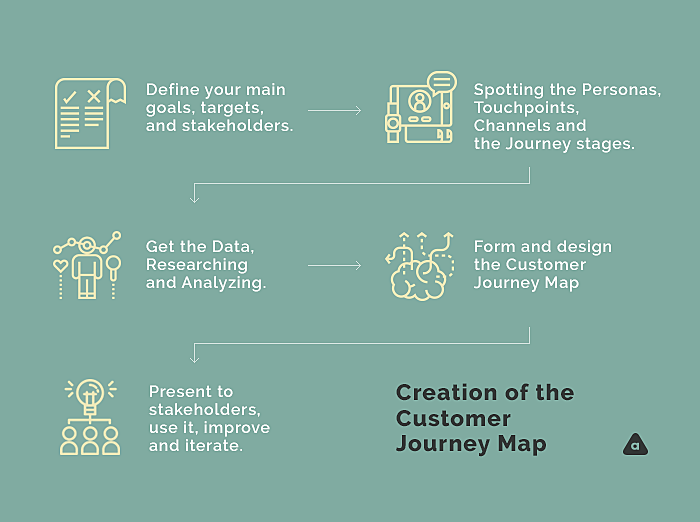 1. Define your main goals, targets, and stakeholders.
You can determine the most important goals of your product or service and then split it into much more specific CJM project goals based on types of customers or types of products if you have several products at your company. ​
2. Spotting the Personas, Touchpoints, Channels and the Journey stages.
This part is the most important one. It consists of many substages. On this stage, you need to form the typical persona or personas you are working with, define the most important touch points through the different channels, and figure out the stages of your future Journey Map.
3. Get the Data, Researching and Analyzing.
On that stage, you need to gather as much data as you can. You can use different instruments and tools, but it depends on the type of product or service. You can use face to face interviews, focus groups interviews, and gather the data while users are using your products. If it's a digital product (website or app), you can use any kind of quizzes, or ask questions that deeply integrate into the user experience in gamification way. All approaches will work if they help to understand what the user needs, thinks and feels on different touchpoints and channels. Analyze gathered information. Try to measure the user's experience from negative to positive, and then create needed KPIs for user satisfaction, so you can measure them in the future and visualize on CJM. Identify the weak points and opportunities for improvements.
4. Form and design the Customer Journey Map.
Visualize gathered data on one structured map. You can use ready-made templates or online tools that help visualize Customer Journey Maps. There is no one type of template for CJM: the main idea is to keep it easy to read and update. You can use CJM templates suggested by NNgroup. You can also check the templates from " Uxpressia " structured by the type of industry or business.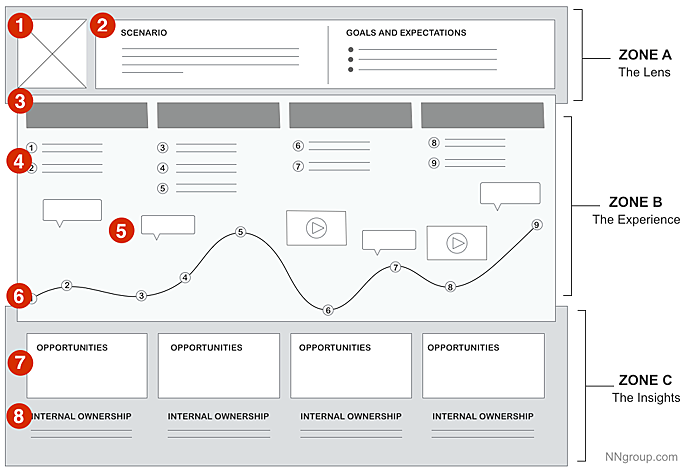 5. Present to stakeholders, use it, improve and iterate.
When CJM is ready, your company and stakeholders team should use it as the source of improvements. You can check from time to time for how your current user experience is related to your Customer Journey Map, keep it updated if needed, check the needed KPIs of customer satisfaction and use it for strategic and tactical needs of sales, marketing, product management, UX and customer relations.
The tools to design a Customer Journey Map
At the sketching and research stage, the most powerful and available tool is a pen and a piece of paper! You can also use a blackboard or whiteboard, stickers, and markers with different colors.
After that, when you move to the final visualization, you can use any of the visual or graphics editors. Here are some examples:
Adobe Illustrator

Adobe Photoshop

Sketch

Microsoft Visio

Etc.
Or you can use any of online tools specially created for Customer Journey Mapping:
Summary
The importance of knowing your customer can't be underestimated. Creation of the Customer Journey Map is a long-term investment of your time and resources that will help you build strong relations with your customers and provide competitiveness for your products or services.
AGENTE provides a full range of UX and UI design and research services, including Customer Experience Journey Mapping and UX strategy design for the digital products and services for companies worldwide.
Rate this post!
944 ratings, average ratings is 4.6 out of 5
Stay tuned for news
Useful articles from our content team right to your inbox!
Let's talk
Is there a challenge your organization or company needs help solving? We'd love to discuss it.