05 May 2021
Guide on How to Develop an Employee Training Management Software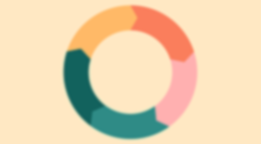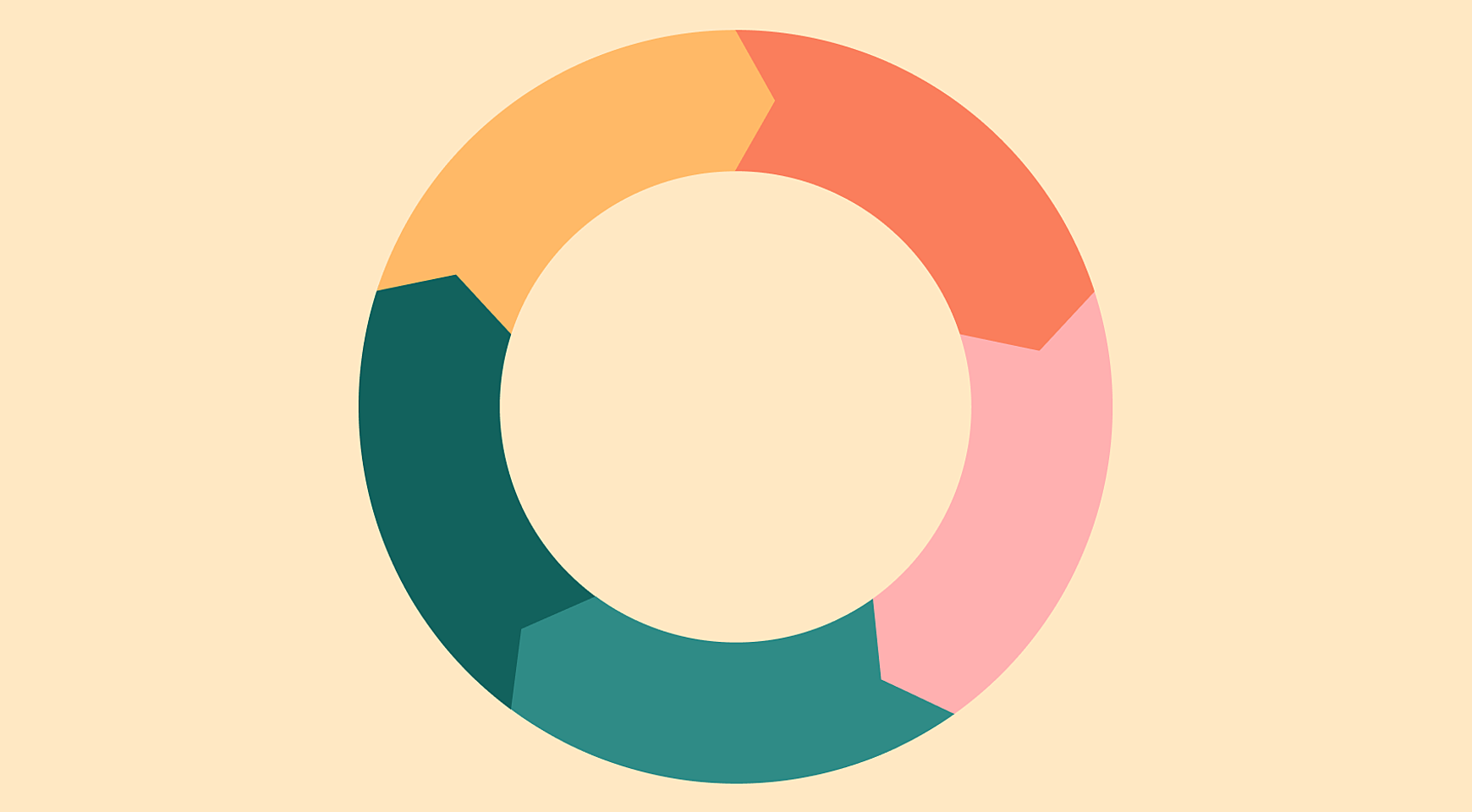 Remember the 20% time philosophy introduced by Google?
If company employees take some time off their job responsibilities and learn something that, in their opinion, can be beneficial for the company, innovation won't be long in coming.
Though the mentioned Google project didn't get viable, the necessity of employee instant training has become undeniable. Employees are willing to acquire new skills and expect employers to quench their thirst for new training opportunities and knowledge.

Best of all:
Companies that invest in their staff training enjoy a 24% higher profit margin when compared to companies that don't (Huffington Post).
In this blog post, the Agente team will share our experience-proven insights on how to develop a custom LMS for employee training, what features and design elements it should include.
Let's get started.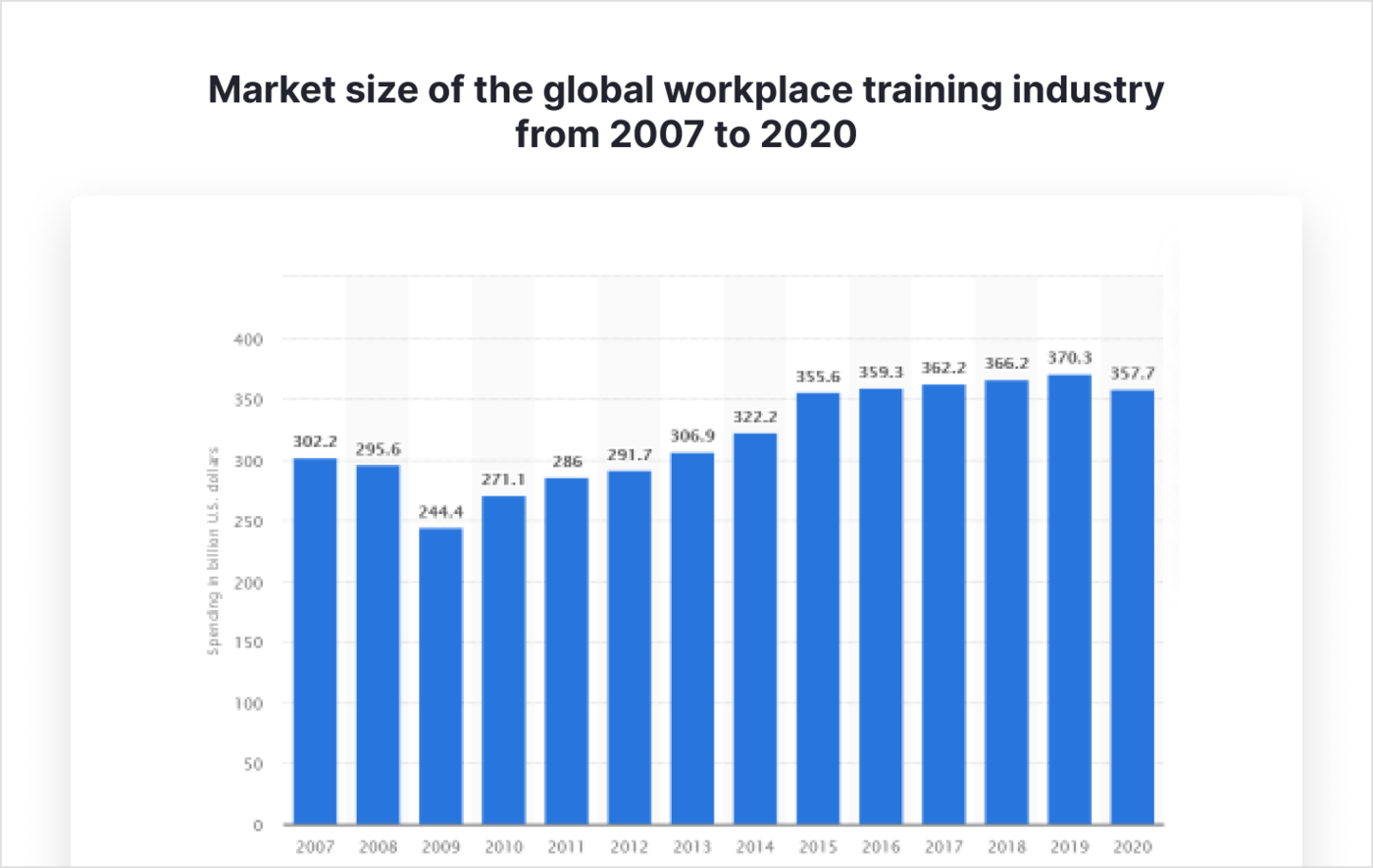 Source: Statista
Why Develop a Custom Online Employee Training Software
They say that not investing in employee training is a risky business, and there are a few good reasons for that:
Improved communication and course disbursement
With an LMS, the company can have a dedicated channel for all training-related communication. Employees receive notifications about course updates and have instant access to needed files.
Record keeping and managing data are also all covered with the adoption of an LMS.
Availability of training content
An LMS is compatible with all devices, PCs, laptops, tablets, and smartphones.
This makes it easier for the enterprise and the employees to access the training curriculum.
Multifunctioning
An LMS's area of usage goes beyond employee training.
It also improves and automates other processes, such as onboarding, pre-employment testing, qualifications upgrades, and skill assessment.
Cost-saving
LMS reduces corporate training expenses and gives a good ROI over time.
Most employee training programs presuppose the use of online classrooms.
This allows for the simultaneous training of people studying from multiple geographical locations.
Read also how to make an online course website.
Things to Consider Before Investing in Employee Training Software
Before you decide that developing an employee training management software is what your company really needs, there are few insights worth considering.
On-the-Job Training Problem
Why did Google withdraw from their cherished policy?
Excessive emphasis was placed on the employees' core tasks, and there was no time left for additional activities.
This problem is common to lots of businesses. Employers encourage their employees to learn but still expect the normal execution of usual duties. Learning and development are forced to become extra-curricular activities rather than a core part of work.
As a result:
The majority of employees lose their craving for knowledge.
An effective learning management system (LMS) should seamlessly entwine the training process into the workflow.
LTI Standards Compatibility
Learning Tools Interoperability (LTI) ensures that learning applications and tools get easily connected to other LMS, learning repositories, and portals in the cloud or on-premises, securely and flawlessly.
In other words, eLearning process management across the organization becomes easier as the users get to access additional external learning systems without having to manage separate logins. Single sign-ins will ensure that corporate system usage, administration, and management is more secure.
Ineffective Employee Training
The tool-first approach to employee training is the most widely used today.
Trainers concentrate on choosing:
Content medium
Employee training management software, and
Delivery mechanism
The question "What LMS should I use to train my staff?" comes long before the question "Who exactly am I training, and what are their needs?"
Consider making the training program appropriate for all seven learner types without forcing any of them to adjust to the training program and thus obtain the right knowledge.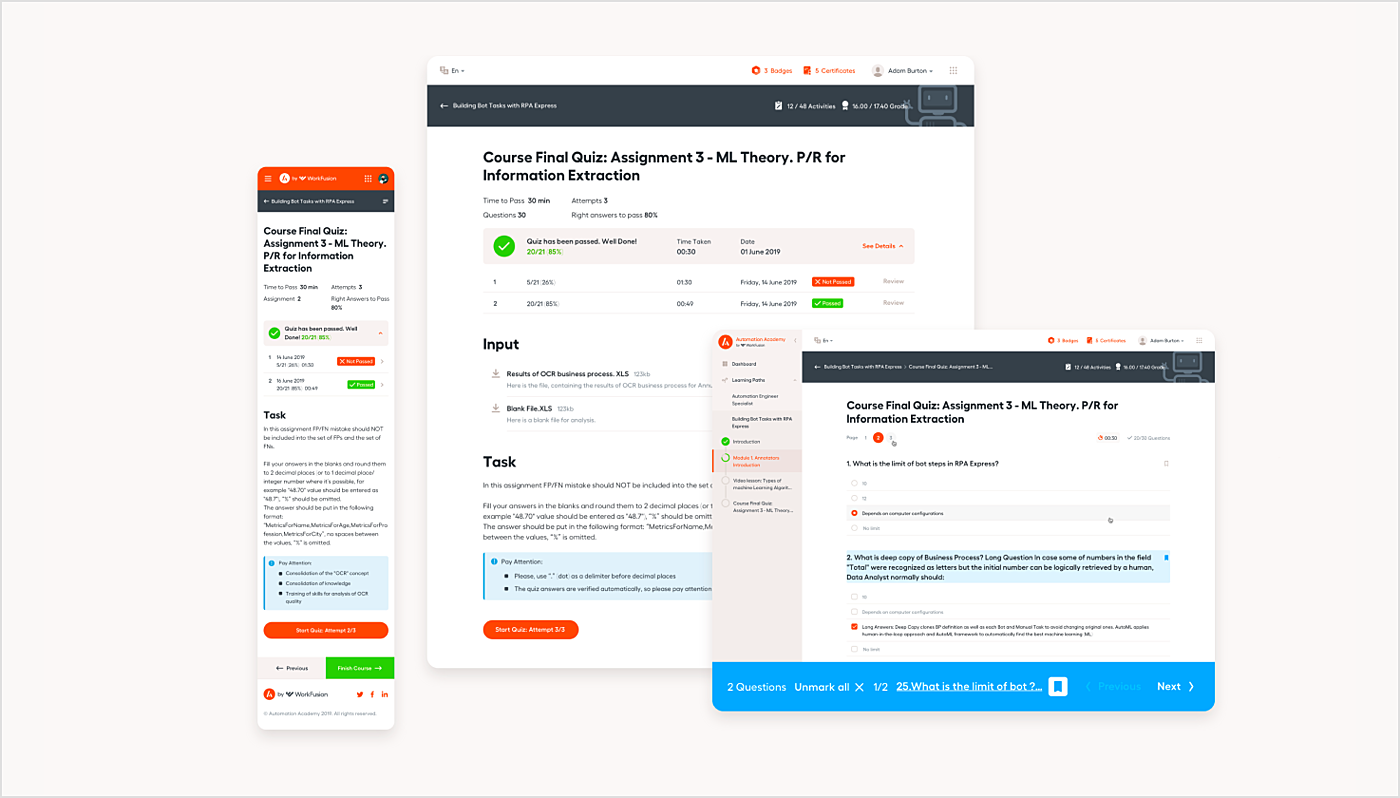 Source: Agente case
Read also how to create an online learning platform in 2021.
Engaging Employee Training
How do we make the training process engaging for employees?
You need to use a learner-first approach where strategy comes before tactics. When a trainer understands the needs of learners clearly and designs the program with them in mind, success is guaranteed. The following six stages of the learner-first approach should be considered:
Evaluate. Who are my learners? Why do they learn? What knowledge do they need? A solution to these questions will help you visualize the learning personas that will use your employee training software.
Build. How are my learners going to gain knowledge? What training tools should I use? Building a corporate learning software requires a design-based approach to the process of development and a full understanding of the required functionality.
Design. What content do I need to create? How would I like to present it? Consider making sure that the content of your LMS is interactive, challenging, and triggers sharing.
Test. Does the training course do the job? This is an opportunity to locate the gaps in your training program and bridge them in due time. Start your testing with hypotheses that are mapped back to your learning goals.
Disseminate. How am I delivering my learning content? Does my training scale? Present your training program to the learners.
Evaluate. Were the training goals achieved? What should I improve? Successful training meets a number of requirements. Make sure your program does as well:

Learners bridge their knowledge gaps in the course topic.
Learners apply their knowledge.
Learners are eager to engage in further training.
You have received feedback from learners which will help to improve the course in the future.
Design for an Employee Training Platform
One of the most paramount elements of such software is creating a UX design that all company employees find equally usable―both tech-savvy and the ones with basic technical skills. Read also: How to Design Educational Website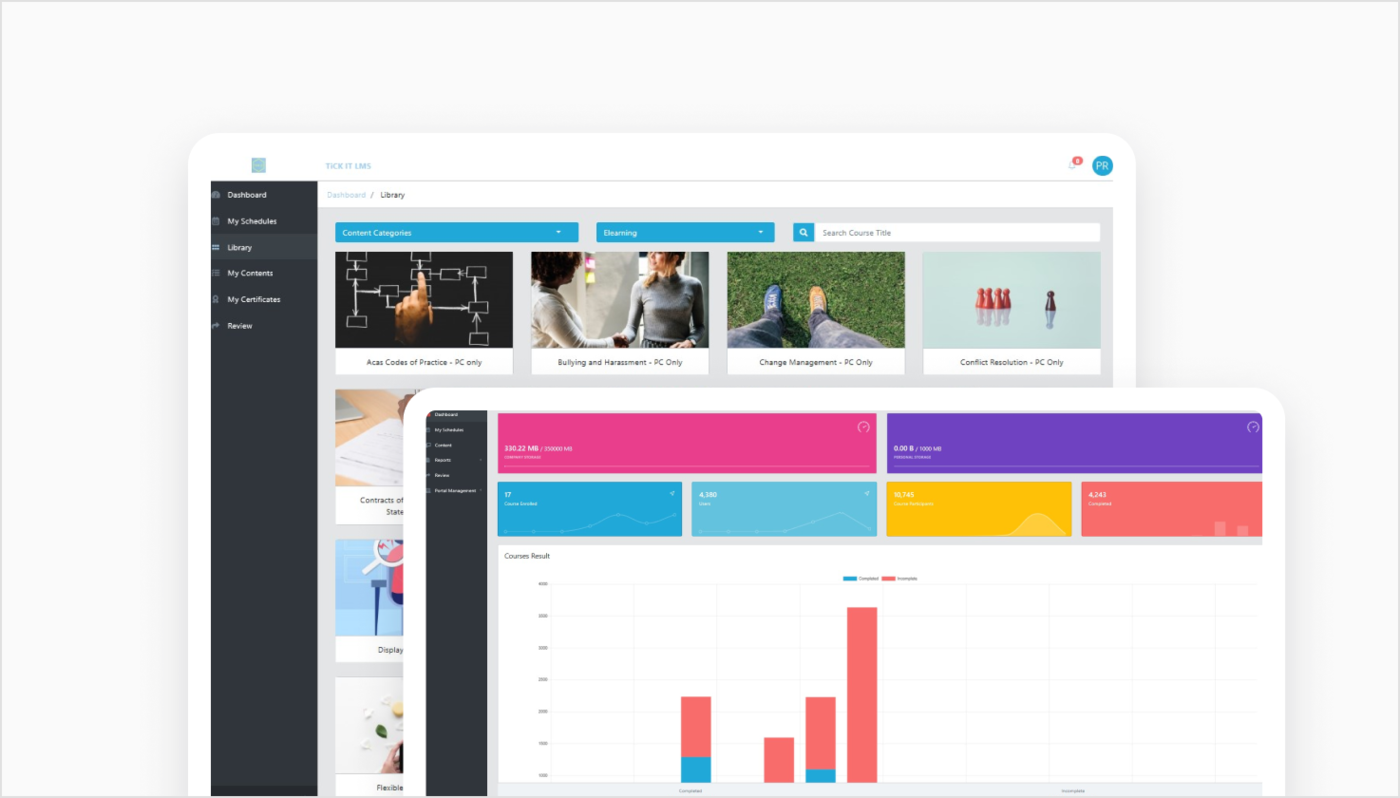 Source: Cortex
While we covered the best palettes for a website here, such software is distinct in its neutral colors though brand-defined. White, yellow, monochrome green, crimson, sky blue are quite common.
Following your business brand book and the corporate colors, opt for clean and minimalist design elements when building employee training software.
Easy-to-read fonts on bold buttons that have clearly articulated call-to-action will be also appropriate.
What Features to Include in Employee Training Software
When designing such kind of software, consider including the following set of features:
Navigation
Make sure to think through the system navigation carefully. All departments and their team members should be able to access the training that was designed for them easily.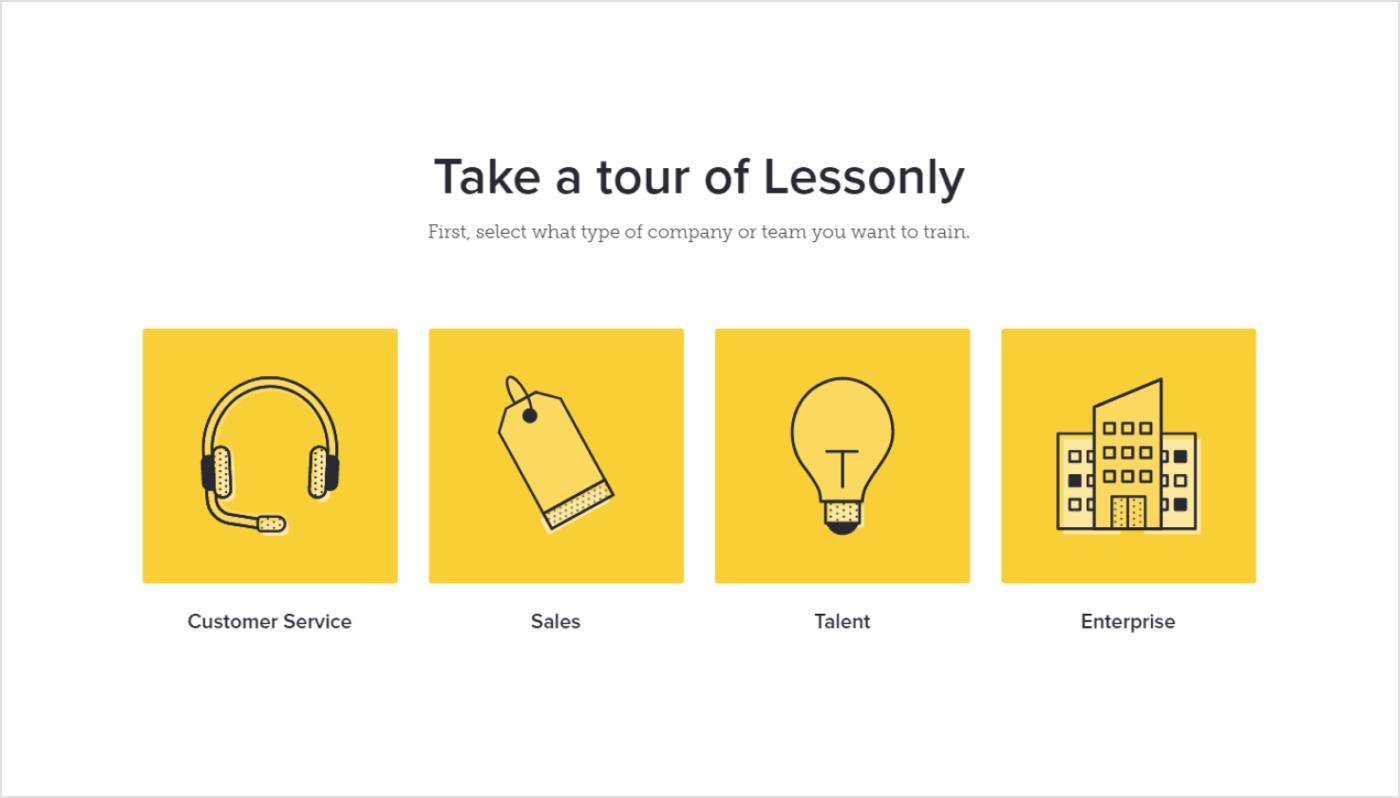 Source: Lessonly
Course Building
The functionality should enable you and the people in charge to create and add media-rich learning content to the system without any effort.
Various types of lessons and their formats should be supported, i.e., PDF files, video, audio, etc.
What else? Drag-and-drop has been the winner. It allows you and the people in charge to build content blocks intuitively: SCORM, quizzes, embedded content, combined with text and videos.
Also consider including practice simulators and other means to apply the obtained knowledge under realistic conditions and improve it.
Chat, screen sharing, ticketing, comments writing, webcam, and audio support options should also be included.
Read more about educational website design.
Blended Learning
Not all businesses can ensure 100% online corporate learning to deliver the intended results.
Blended learning allows combining both offline and digital learning successfully.
Besides creating a flexible teaching and learning environment with 24/7 access to the required materials stored online, it brings increased efficiency, combined with face-to-face training.
Learner Portal
A learner-centered single place to access all the required data will be required.
From here, your employees get to overview:
Courses that they are taking
Progress
Announcements
Tutor's and other students' comments
List of the student's assessments
Moreover:
All the targeted destinations of the employee training software should be made accessible here, i.e.:
Profile info
Navigation
Search
Calendar with upcoming events and deadlines
Help center
Data library with more details if required
Feedback collection
Asynchronous Learning
We are used to attending webinars on the set date and time.
At work, it can be hard to achieve for many. Flexible working hours plus some regular errands make their impact and force employees to ditch their scheduled classes.
Asynchronous learning with its flexibility and pacing come to the rescue. The staff gets to complete their studies and hand in home assignments within specific time frames. It enables them to manage their spare time effectively and get down to studying without any pressure.
Certification Management
Just as internal certification can be required by your company as a part of the pre-employment process or to prove professional suitability, it's also a great means to create a sense of achievement for the learner.
Reporting and Analytics
Reporting on team training is a must, as well as each employee's progress tracking.
Insights on their results allow identifying the possible knowledge gaps and eliminating them.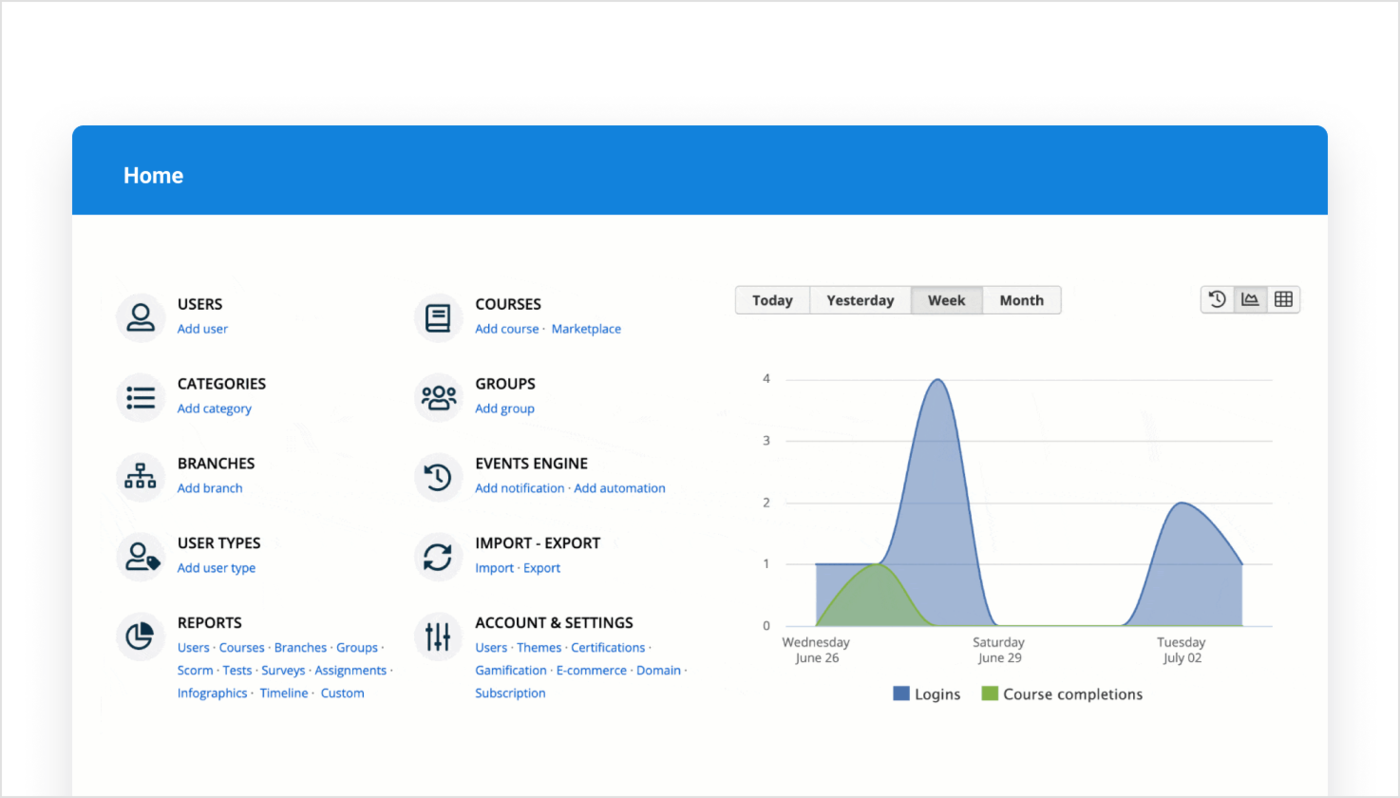 Source: TalentLMS
Gamification
Without chasing the trends, gamification in education has proved its effectiveness.
Competition plays its role in forcing specific learner types into completing their studies quicker, more efficiently, and with better results.
Consider adding the following gamification elements to your employee training management software:
Leaderboards
Quizzes
Test
Trophies
Awards
Progress bars
Levels
Scenarios
Simulations
Read more about gamification in the e-learning industry.
Mobile Learning
According to Docebo, 64% of learners find the ability to access training from hand-held devices essential.
Thus:
When creating employee training software, make sure it is at least responsive and mobile-friendly for both iOS and Android.
Instead of Final Words
An employee training software empowers your company to:
Update, iterate, and maintain content as you gain feedback from your learners, or as your products and services change.
Introduce online training certificates specifically designed for each course. They can be shared via social media or printed and proudly displayed in the office.
Make the design catchy. An LMS can support a company's brand style so that learners feel the uniqueness of the program and the company's personalized approach to training its employees.
Have content delivery options. Customize each version of your online training course for your corporate learners' preferred devices. For instance, the PC version may have additional graphics, while the smartphone version of the content may be simpler for on-the-go reading.
At Agente, we offer design-driven employee training software development services. Equipped with our knowledge and experience in building such solutions, you can trust us with your next development project.
Rate this post!
350 ratings, average ratings is 4.7 out of 5
Stay tuned for news
Useful articles from our content team right to your inbox!
Let's talk
Is there a challenge your organization or company needs help solving? We'd love to discuss it.