How to Design Educational Website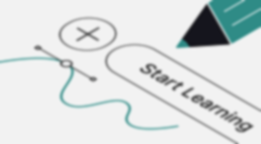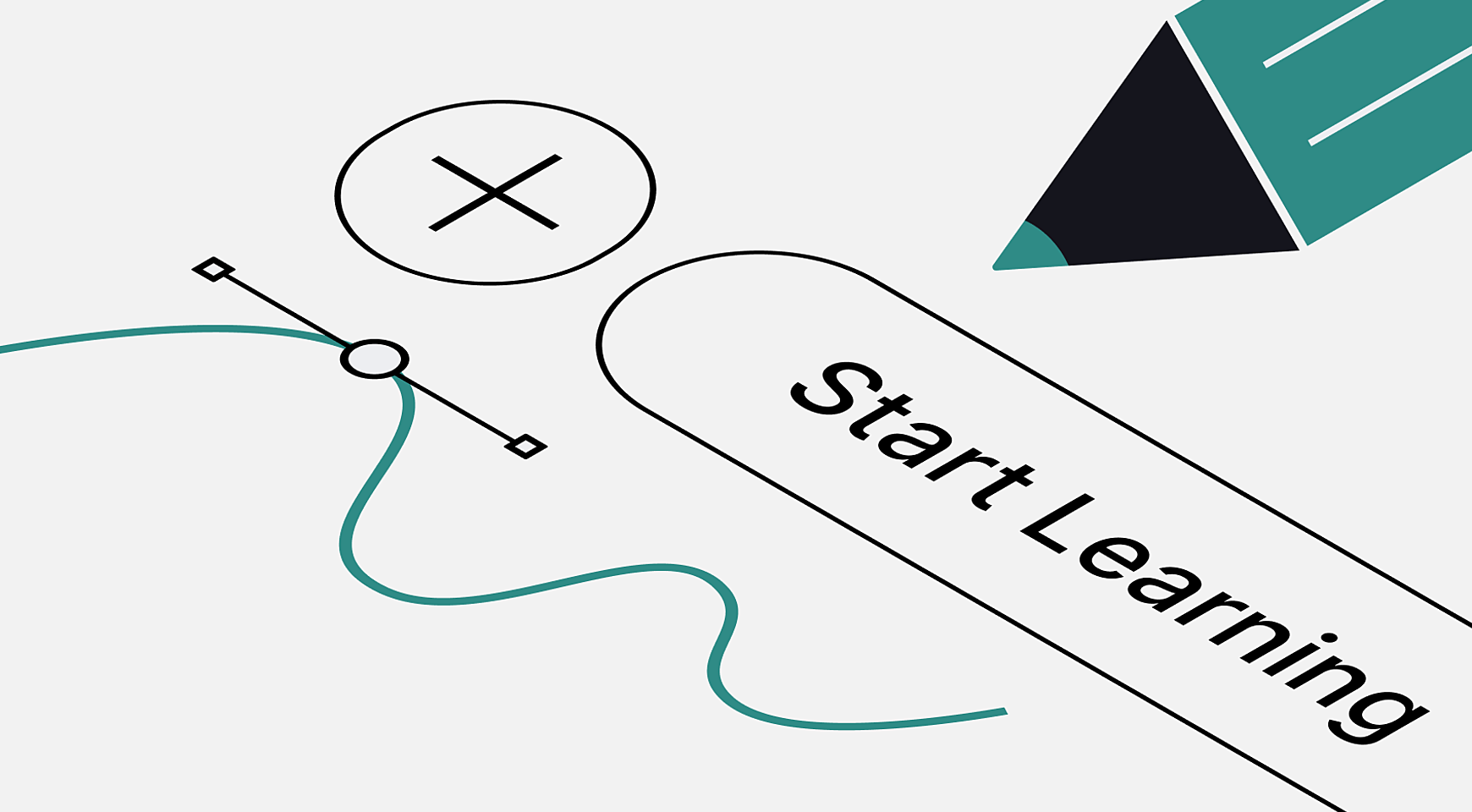 Today education is available more than ever before. Not only can we connect to our schools and universities online, but we can also enroll in the online courses and earn certificates and degrees without ever leaving our houses. While using good old vanilla chalkboard and grade book is not that bad, it's rapidly becoming out-of-date, with many educational institutions harnessing the benefits of new technologies, from school administration management software to online learning platforms for kids and adults. That's why it is critical for educational institutions to create a great web design.
After reading our article, you will gain some ideas on where to start, what to include in your school website design, and get some inspiration from best designed educational websites.
1. Set up your goals
Creating educational institute website design starts like any other design. You set up your business objective, define the target audience, and customize the website in order to achieve your goals. For example, if you plan to create website design for schools, you should address both pupils and their parents, who will visit the site. You'll need to balance bold and colorful elements with informative content and easy navigation in order to appeal to both target groups.
2. Elaborate on the visuals
We've recently discussed the importance of color palettes for website design, and the education industry is no exception. If you have a brand book for your educational institution, make sure your website colors match the existing scheme, to create a homogeneous brand image. For an e-learning platform, use neutral and convincing colors: blue, green, brown. Highlight important design elements, such as headers, footers, CTA buttons with other hues of matching the color palette.
3. Add Content and Media Elements
The well-structured, consistent and meaningful copy is half the battle. A website which combines useful content, and user-friendly elements of web design, will foster trusted long-term relationships with more students. Media elements make the website more attractive, and the learning process more interactive.
However, website design for physical institutions and online learning platforms will differ in their form and content. Let's see what features work best for each of the educational website types.
Features for university/school website
A good university or school website design should attract new students and guide the existing ones, so the following features will ensure that your website gets a better conversion rate, and more visitors, who will stay longer: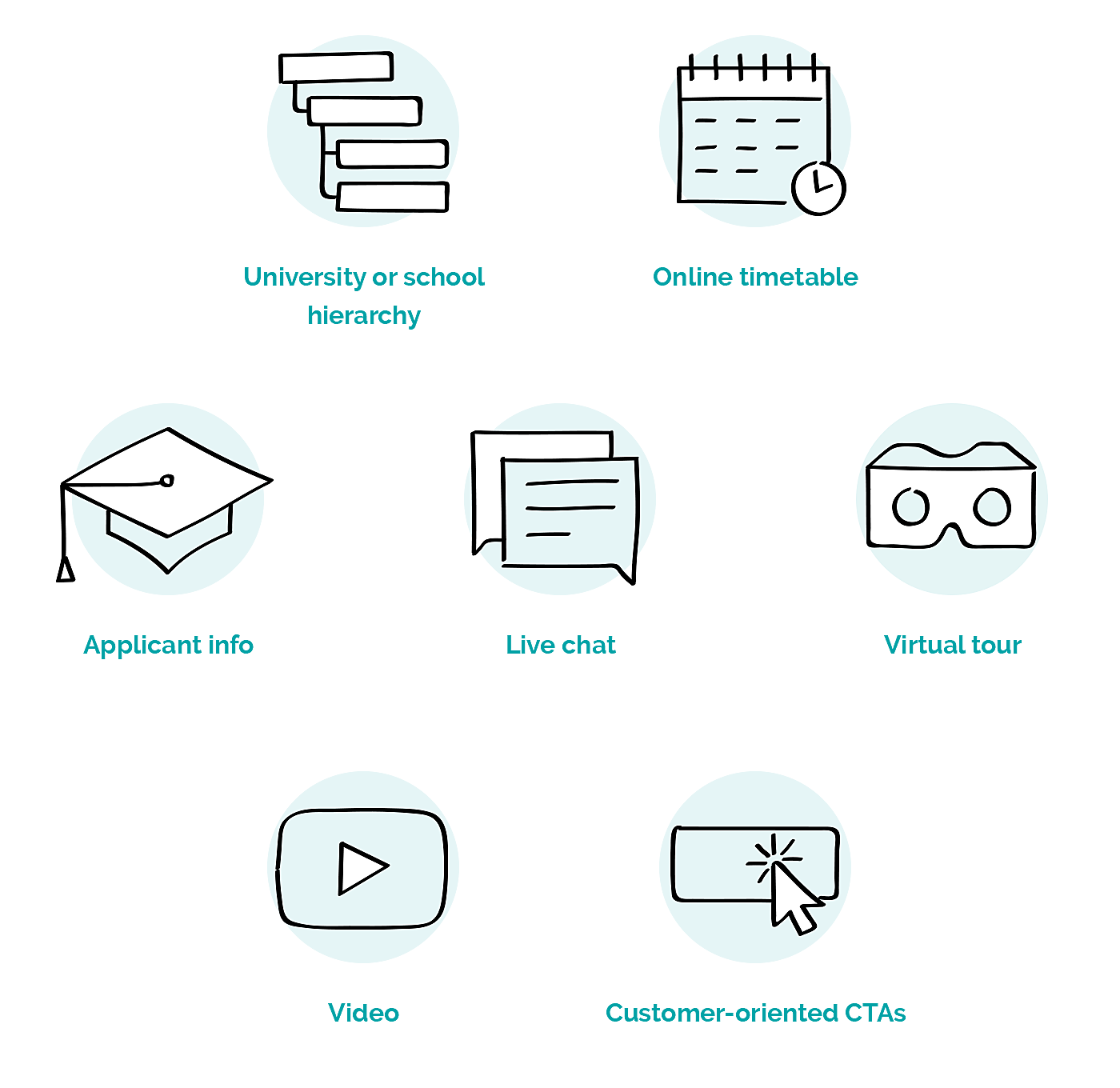 University or school hierarchy

Show how the faculties, courses, or subjects are arranged, the heads of departments, deans, and teachers, and make the site searchable across sections and publications.

Online timetable

Timetable functionality goes without saying, however, some features are often overlooked. For example, for the purpose of security, make the timetable available only after student/teacher login. If the university has several buildings or departments across the city, it's great to pin the studying locations to the map and provide directions.

Applicant info

Applicants are the vital part of the target audience: add some key dates of application and enrollment, include all relevant information, and let the visitors subscribe to notifications of the enrollment flow.

Live chat

A live chat option throughout the website improves user experience and helps you to generate leads. Voice interaction or chatbots are gaining more trust among millennial and generation Z users, so consider this option when defining the target audience.

Virtual tour

Videos, photos, panoramas, or 3D-tours will add to student engagement, and impress some potential students, even before they step inside the campus.

Video

If you want to go further in showing how amazing the life inside your university is, shoot some videos around the campus, with the help of drones. Put the videos into the background of some banners, or create a separate section where potential students can watch them. Not only it will show how things are inside your institution, but it will also build trust, and add to credibility.

Customer-oriented CTAs

A direct and clear call to action and application form will show what the institute wants its target visitors to do—apply, take a virtual tour, or subscribe to a newsletter. Many institutions pay no regard to these features, so you have a real chance to stand out.
Features for online learning platforms
E-learning platforms form the other category of educational websites that require a different set of functionality as they not only represent some institutions but in some ways, they are educational institutions themselves. That's why the focus is placed on the media elements and learning content. Let's see what special features should be used to enrich the functionality of a website for online courses: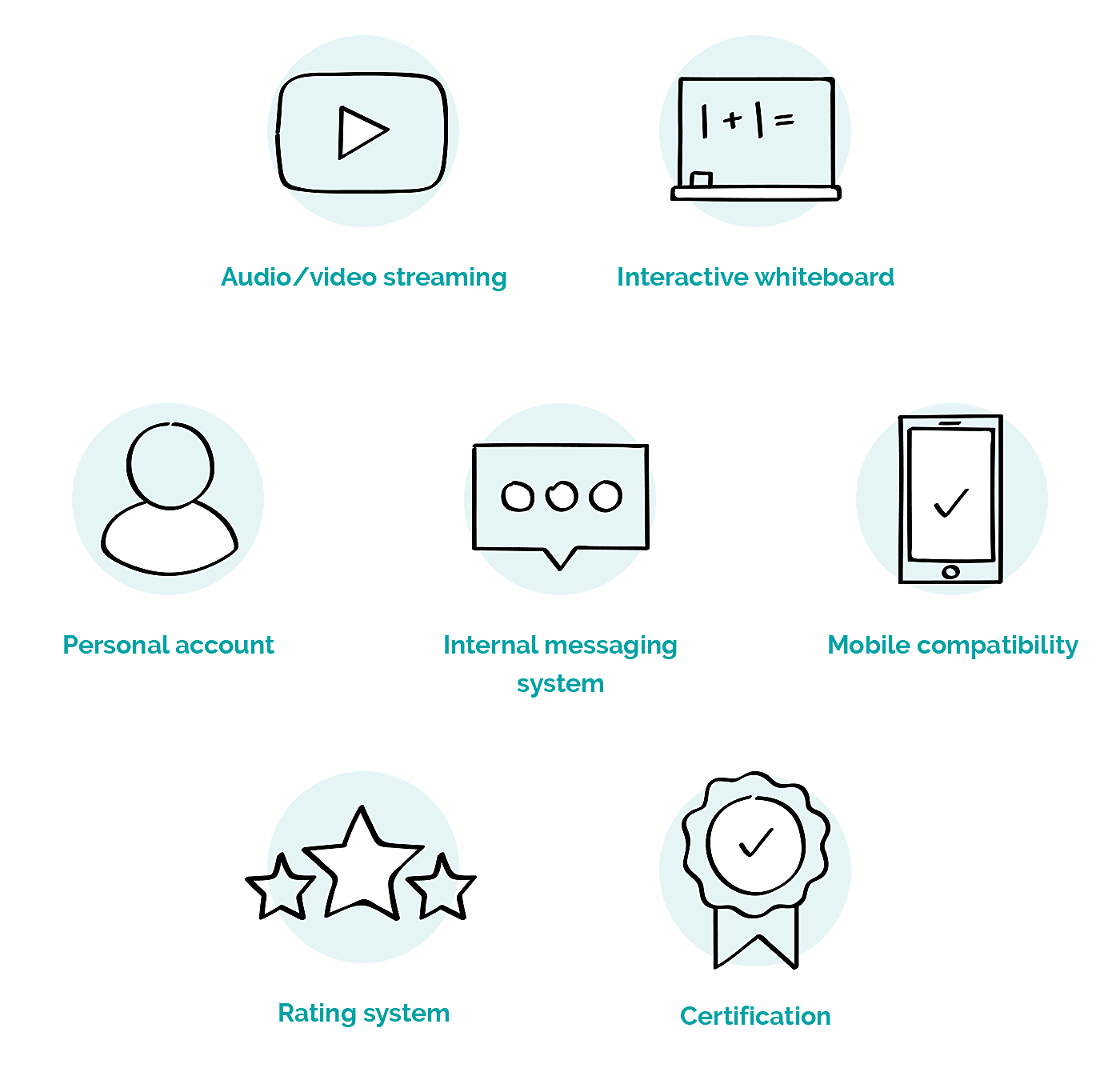 Audio/video streaming

The great way to hold lessons is to create online webinars. Unlike video, they allow learners to ask questions and to receive feedback in real-time. That's why video streaming, audio, and text-typing functionality is a must.

Interactive whiteboard

A workspace that contains an interactive whiteboard, where both teacher and student can draw, type text, or upload pictures in real-time, adds a gamification element to the working process and improves collaboration. The support of a highlighter, eraser, text zoom in/out, and uploading pictures allows for better learning.

Personal account

A personal account with an easy and safe login enables users to track progress, save learning materials, and find their mates in order to share their results, and communicate with each other.

Also, decide whether your courses are free, paid or have a mixed, freemium model. Paid programs will require integration with payment systems or implementation of in-app currencies.

Internal messaging system

As far as communication is concerned, it's great to build an internal chat function for teachers and students, that allows them to solve all the issues regarding lessons, and the learning process in general. As a result, you'll have a community of students and teachers, which can even be extended to a small social media platform within the educational website; this will increase loyalty and grow the interest of potential learners.

Mobile compatibility

According to Ambient Insight, the global five-year compound annual growth rate (CAGR) for mobile learning products and services makes 11.3% and revenues will reach $14.5 billion by 2019. That's why an educational website can't do without responsive design or even separate mobile app with some mobile-only features to expand the mobile audience and involve them into using both platforms.

Rating system

The rating system reminds the users of school grades, which stirs up learners' interest, as many of them want to be evaluated as they were in school or university. Additionally, a competitive element will encourage motivation among the users, and allow them to compare their success with their peers.

Certification

After completion of the learning course, users often want confirmation of their achievement. Take care to create certificates with a credible design, stating the name of the course, user grades, score, or completed level.
4. Get some inspiration
Well, it's not really the next step of the web design process; inspiration is something that should follow you the whole way through. We've chosen the best educational website design examples that present some great ideas for your consideration.
Automation Academy by Workfusion (designed by Agente)
This example lets you focus on the visual component of the website design. It features simple interactive tabs, attractive colors and textures, and quick-access icons, which all make this learning platform look welcoming and elegant.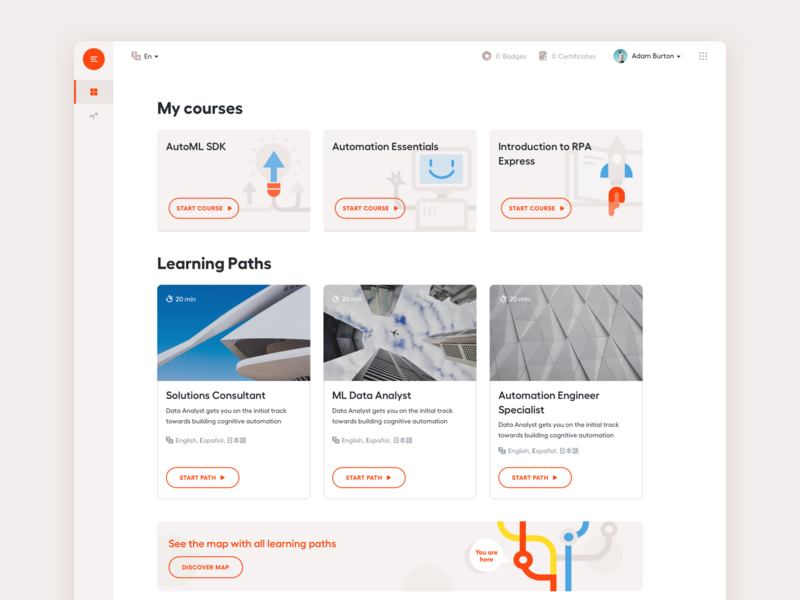 Source: AGENTE
Duolingo
Duolingo seems more like a game than an educational website, but that's what attracts users. Interactive lessons and a rating system foster gamification; a greenish-blue and white color palette with circular icons on the top create a pleasant and minimalist UI.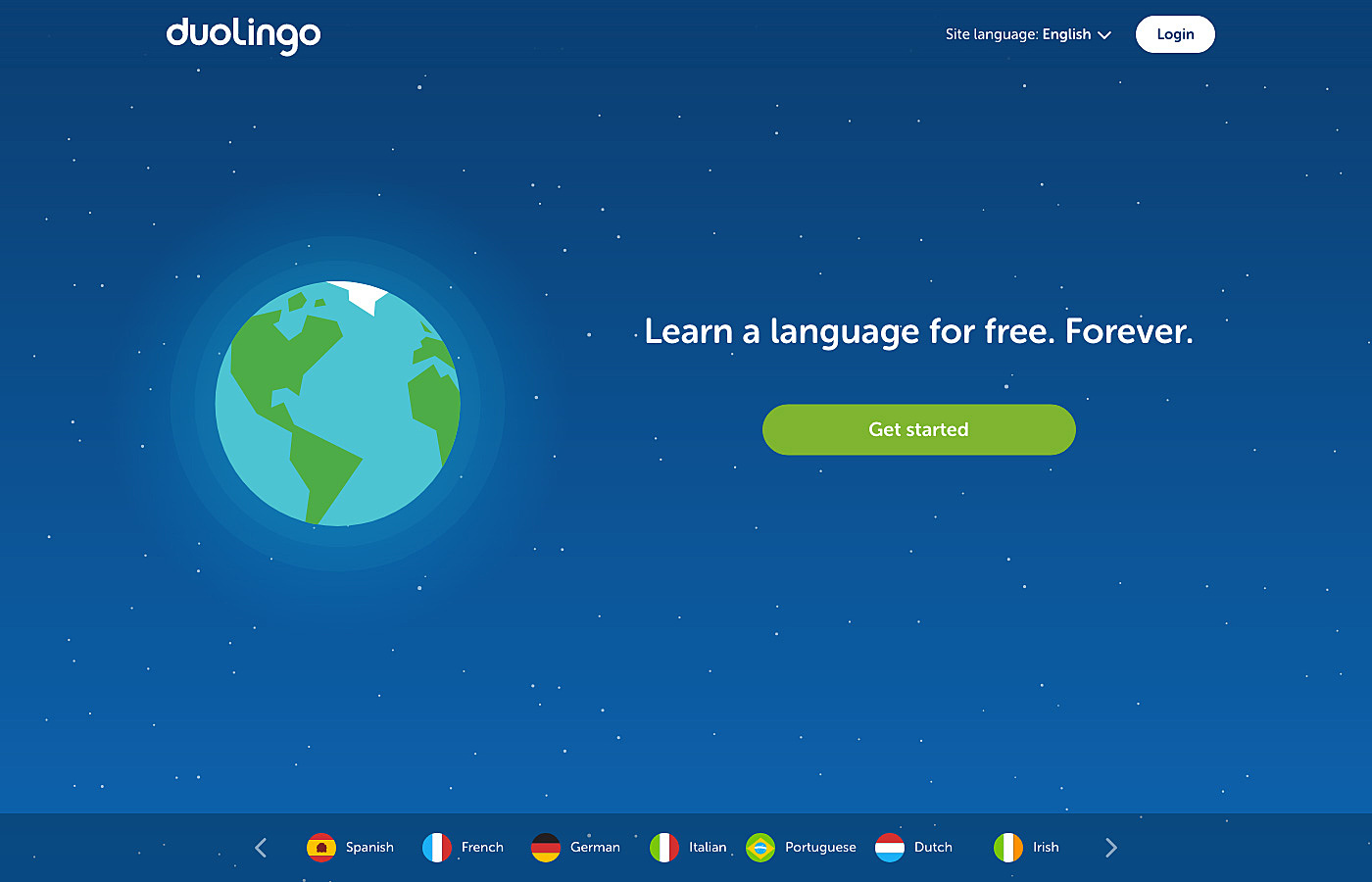 Source: duolingo.com
Culture
Blue and its hues is a traditional color for learning websites, and culture is no exception. Bold fonts and creative graphics on a two-colored background are recommended, with a CTA button for further exploration of the website.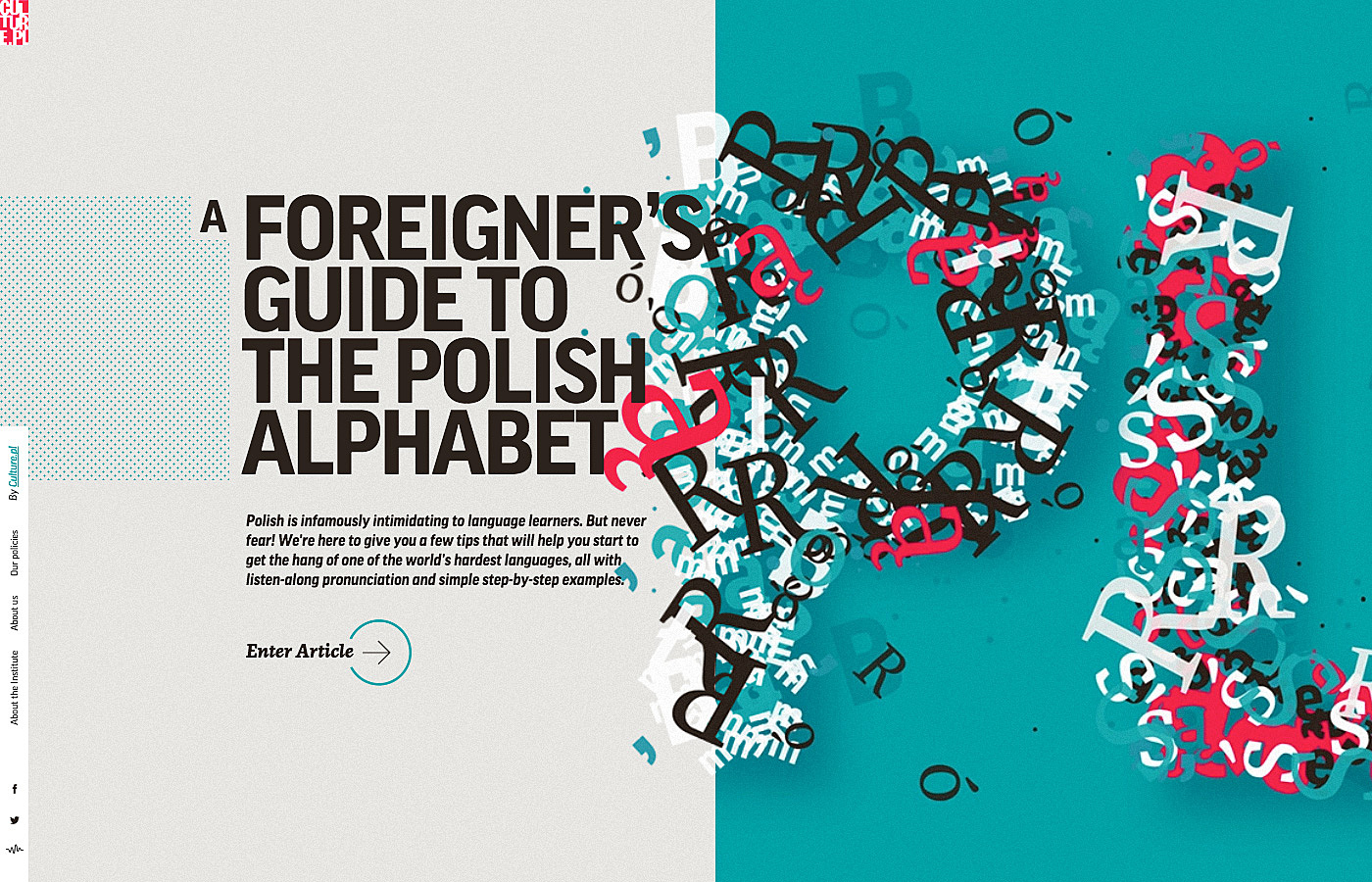 Source: culture.pl
Harrow school
The pictures of happy students on the main page, university heraldry, and intuitive sections of the website are standard in a successful educational institution website. Announcements with calls to action in the middle welcome visitors inside to explore the content.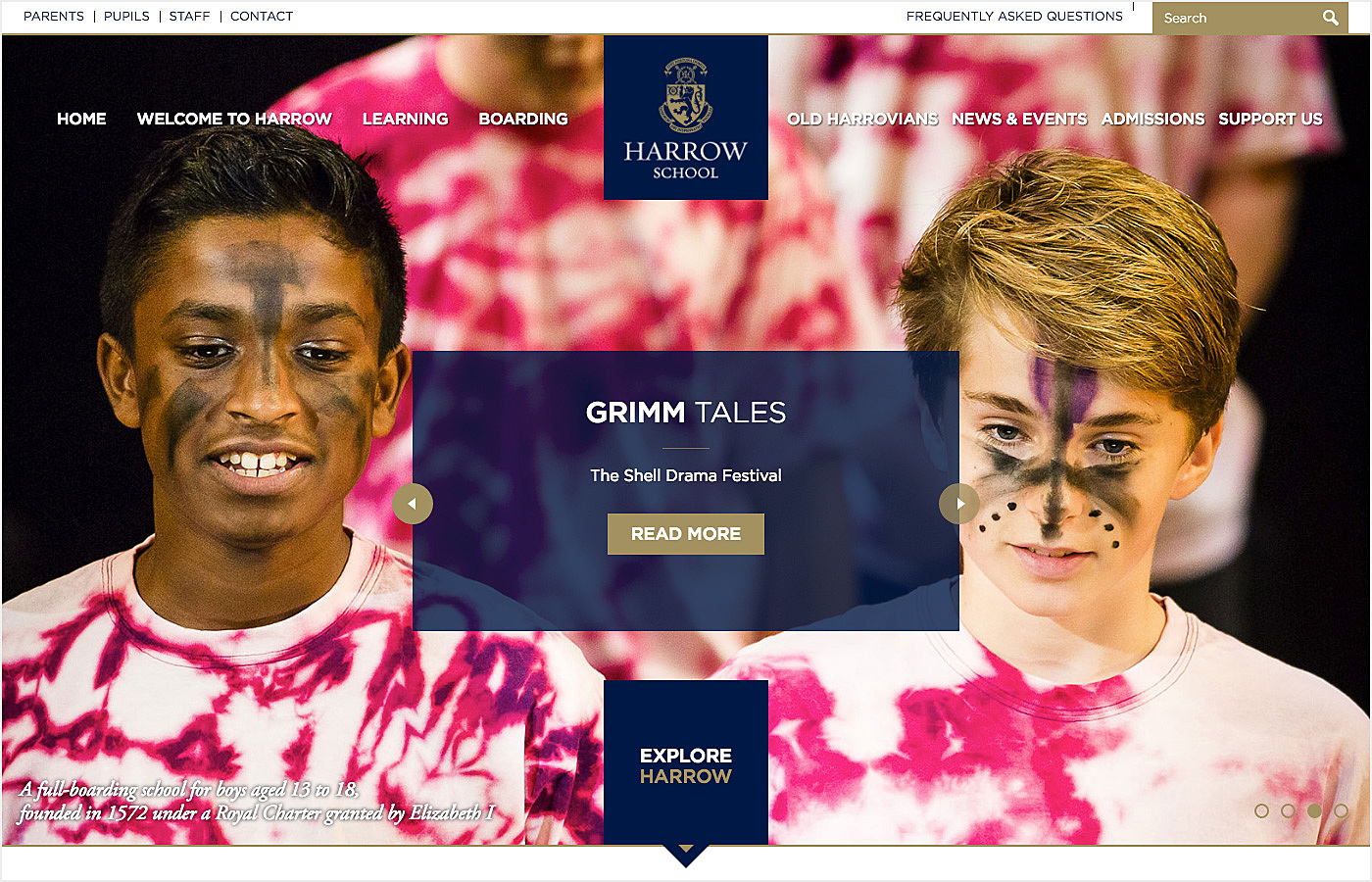 Source: harrowschool.org.uk
eNerd
Minimum tabs, diluted colors, and simple fonts help visitors to concentrate on the learning content. The funny panda logo and structured content help to make users stay.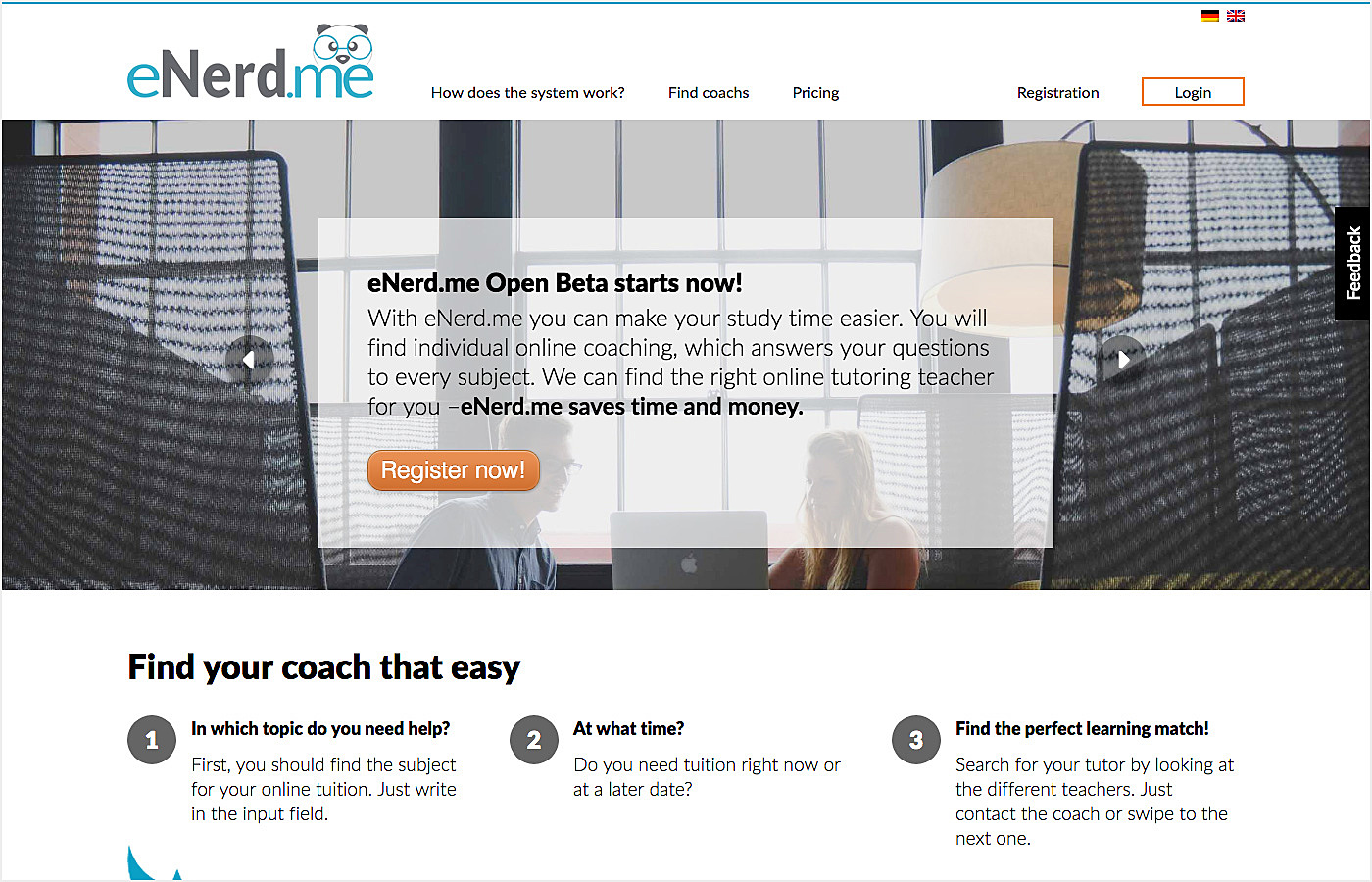 Source: enerd.me
Learning App
Video content with welcoming previews plus a simple sidebar menu for better navigation is the ideal UX formula for a generation Z learning website—easily digestible, and bright.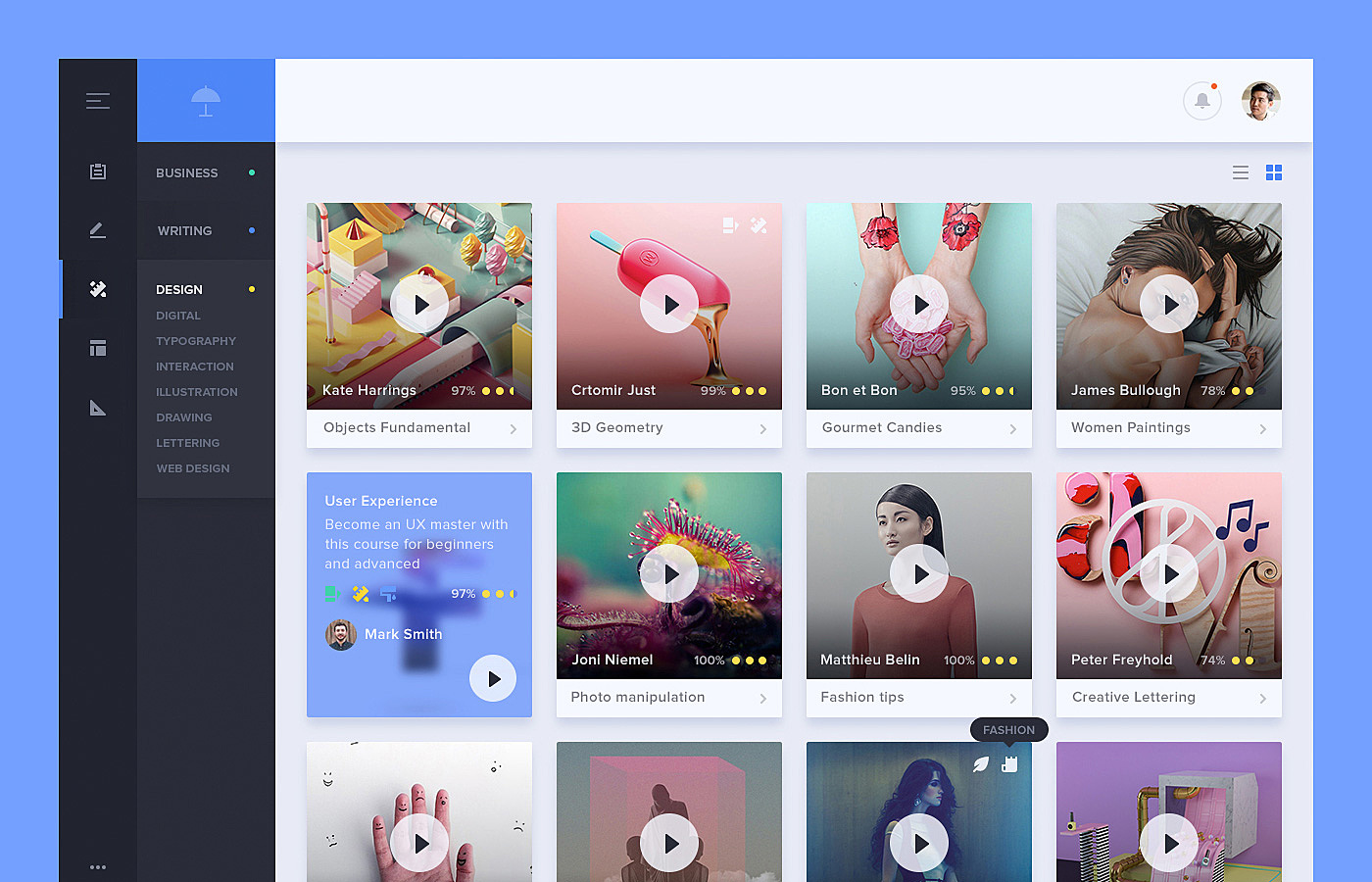 Source: dribbble.com
Digital Marketing Courses (designed by Agente)
Our new project involved the whole range of e-learning website development services. Note the hidden sidebar menu, custom graphics, and sections with Awards and Skills that encourage the motivation of learners.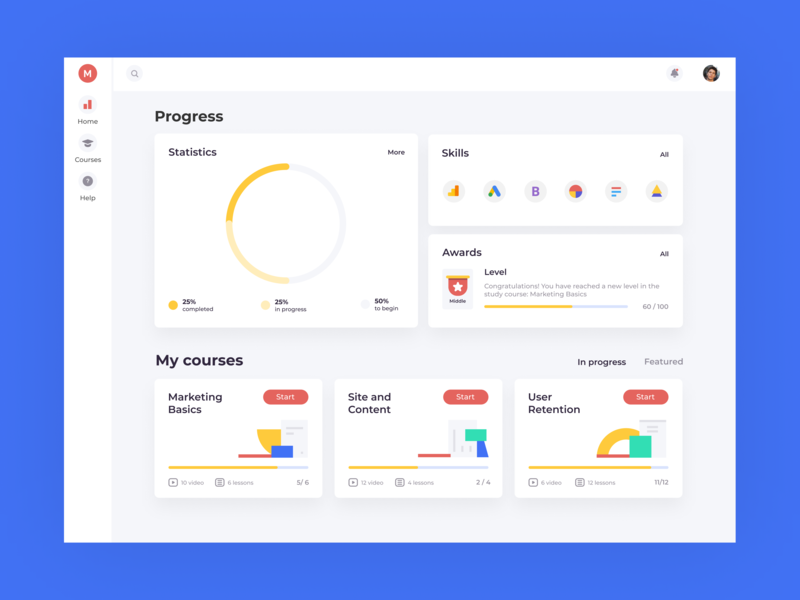 Source: AGENTE
Design!
We hope our article will help you get some inspiration for 2018 to design an educational website. Remember, website design takes a lot of time and effort, so without a professional partner your contribution may come to nothing. Contact Agente and we'll help you make you the educational website that will work for your audience.
Stay tuned for news
Useful articles from our content team right to your inbox!
Let's talk
Is there a challenge your organization or company needs help solving? We'd love to discuss it.