How to Create an Online Education Website Like Udemy?
The world loves e-learning. From college students to enterprise-level education―Forbes forecasts this global market a bright future that is expected to reach $325 billion by 2025.
But as the interest of users increases, so does the number of players that provide e-learning services.
At Agente, we know how to create an online learning platform. Based on our experience, we are happy to share some insider knowledge on how to develop a website like Udemy that can:
compete;
differ;
succeed.
So, if you want to find some inspiration and new ideas for your next project, read on for more insights.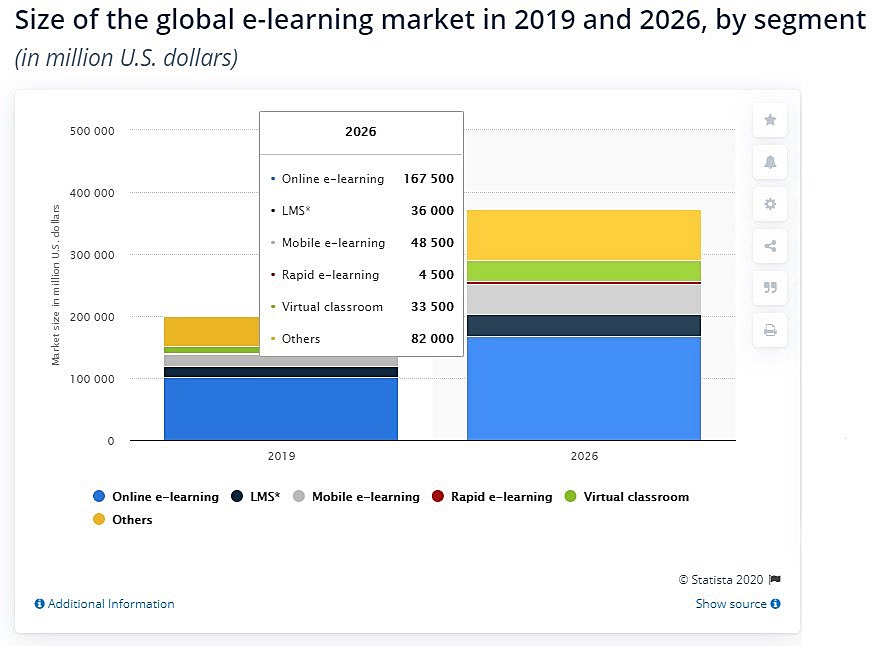 Source: Statista
How Do Online Education Websites Work?
If you are new in edtech, the first thing to explore would be what the existing e-learning behemoths offer:
Tons of helpful education content and top-notch e-learning experience.

Flawless, smooth, and bug-free user experience.

Ability to track their learning progress instantly.
Google ranks the following e-learning platform at the top:
Udemy

Coursera

edX

Khan Academy

Teachable

Udacity
Let's learn from the best and take Udemy as an example of a successfully built e-learning project.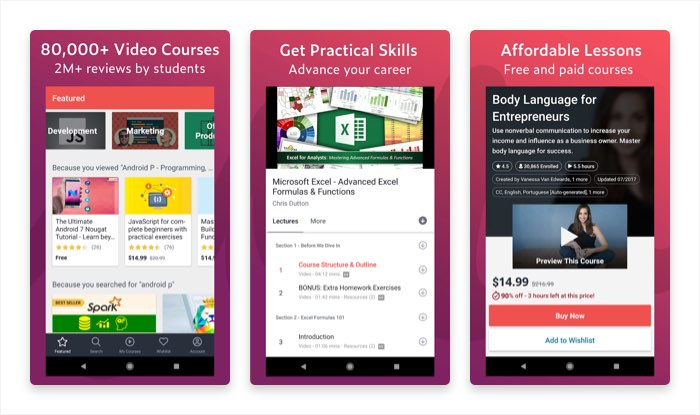 Source: Google Play
Where Udemy Get Courses
Udemy positions itself as a democratic educational system that allows anyone to learn from their database of more than 20000 subject matter experts.
The platform negotiates directly with teachers, giving them tools like video, pdf docs and PowerPoint presentations to deliver educational content to their audiences. The marketing and distribution part lies upon the shoulders of the Udemy team.
How Udemy Earns Money: Business Models
The question is, where does the money come from?
In the case of Udemy, the platform can be used by teachers free of charge. However, 50% of your course sales drops into the pocket of Udemy. Given that there are millions of students, with each course price ranging from $9 to $300, you do the math. The company definitely makes big money.
Nevertheless, there are other ways to monetize an online education platform:
Corporate subscription. You can connect with universities and companies and invite them to educate their students/employees through your platform paying a subscription fee for using the software.
Freemium model. This model allows you to offer free courses but provides optional premium services: one to one lesson with a tutor, specific learning materials, and paid certifications. This model fitsself-paced courses, as no schedule and no online webinars are required.
Advertising. Advertising in mobile or web applications must not be annoying. However, displaying some relevant audience-specific banners, or promoting sponsored courses from companies can be reasonable.
How Can You Differentiate From Other Online Courses?
As I have said, the market is swarmed with offerings, and for some reason, people may think that entering this competition doesn't make any sense.
Here are four reasons why you should make your own online courses website instead of connecting to the popular ones:
Exceptional Quality
Many online courses are notorious for the questionable, thinly-sourced courses they offer. You can step into the industry by offering premium-level, properly checked courses. To ensure this quality, you can collaborate with educational institutions or large companies.
Accurate Targeting
A lot of courses are quite generic, and most of the quality, in-depth courses are in English; the range of topics within the popular platforms like Udemy are restricted. Finding your audience in unexplored regions or providing narrow-focused courses for the specific niche may make you a fortune in the eLearning business.
Customer Policies
With your own custom platform, you can control customer policies and give publishers better conditions than other e-learning web apps offer. The same goes with the intellectual rights of the materials you provide, you know that it's only you who owns the course—no one is authorized to take intellectual property that belongs to you.
Mobile App
The opportunity to learn on the go is priceless for modern learners. The least you can do is embrace users of the web version and allow them to tap into a mobile version. Further, users will appreciate the opportunity of mobile-only courses, empowered with AR, VR or other innovative marketing shticks.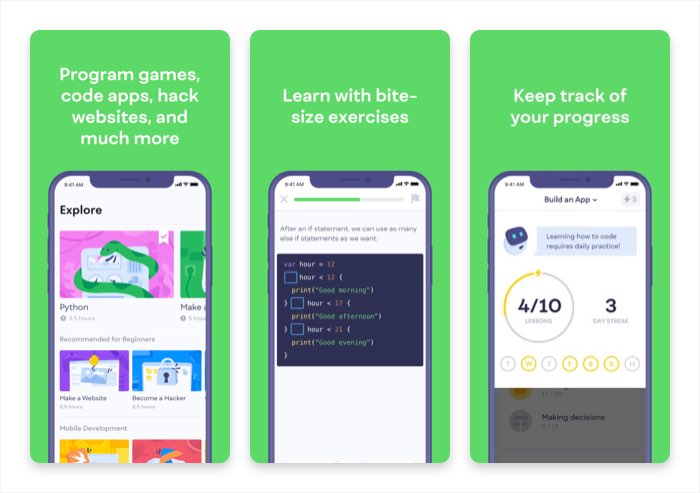 Source: iTunes
Minimum Tech Stack Required to Build an MVP For an Education Website
Now that it makes sense to start your own educational platform, let's see how to do it.
What platform is Udemy built on?
We've analyzed the tech stack of Udemy to find out what technologies can be used for an educational platform development.
Backend
The backend part is a server component of a learning management system that allows creating and delivering courses, managing users, storing data, sending notifications, etc.
According to Freelance, Udemy backend is written in Python with an in-house MVC framework that allows them to customize the system according to the changing user needs.
Frontend
The frontend part involves a user interface that is displayed in a browser allowing learners, teachers and website admins to complete their tasks.
Udemy's frontend is dominated by Javascript, Angular, HTML5, CSS3, and Bootstrap framework.
Discover more apps built with Angular in our new article.
Database and Infrastructure
As for the database, Udemy uses MySQL. They also use Cloudflare as a content delivery network and Fastly as a cloud platform to manage the big workload produced by multiple users on the website.
Moreover, to build an Udemy clone, you'll normally need various add-ons, plugins, and APIs that connect the system with third-party tools.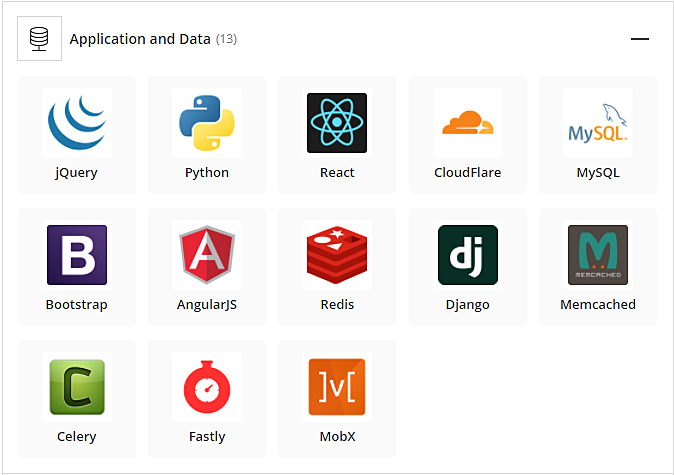 Source: Stackshare. Udemy technology stack
How Much Would It Cost to Develop an Elearning Website?
In order to create a website like Udemy, you'll need to follow at least these steps:
Research your audience and subject matter, and then build a UX strategy.
Work on e-learning platform design.
Create an eLearning platform or use an existing one.
Choose or develop a cloud-based LMS.
Choose or develop authoring tools including those for video, audio, graphics. etc.
Connect the system with external tools, as needed.
Develop a mobile app or a mobile version of an eLearning website.
With that in mind, delivering an MVP for an eLearning system can take up to three months. The cost of the development team will vary depending on the region.
Our Experience
The Agente team offers custom e-learning development services.
Lately, we have taken up some challenging and interesting projects in edtech, including online learning platforms.Explore some of them: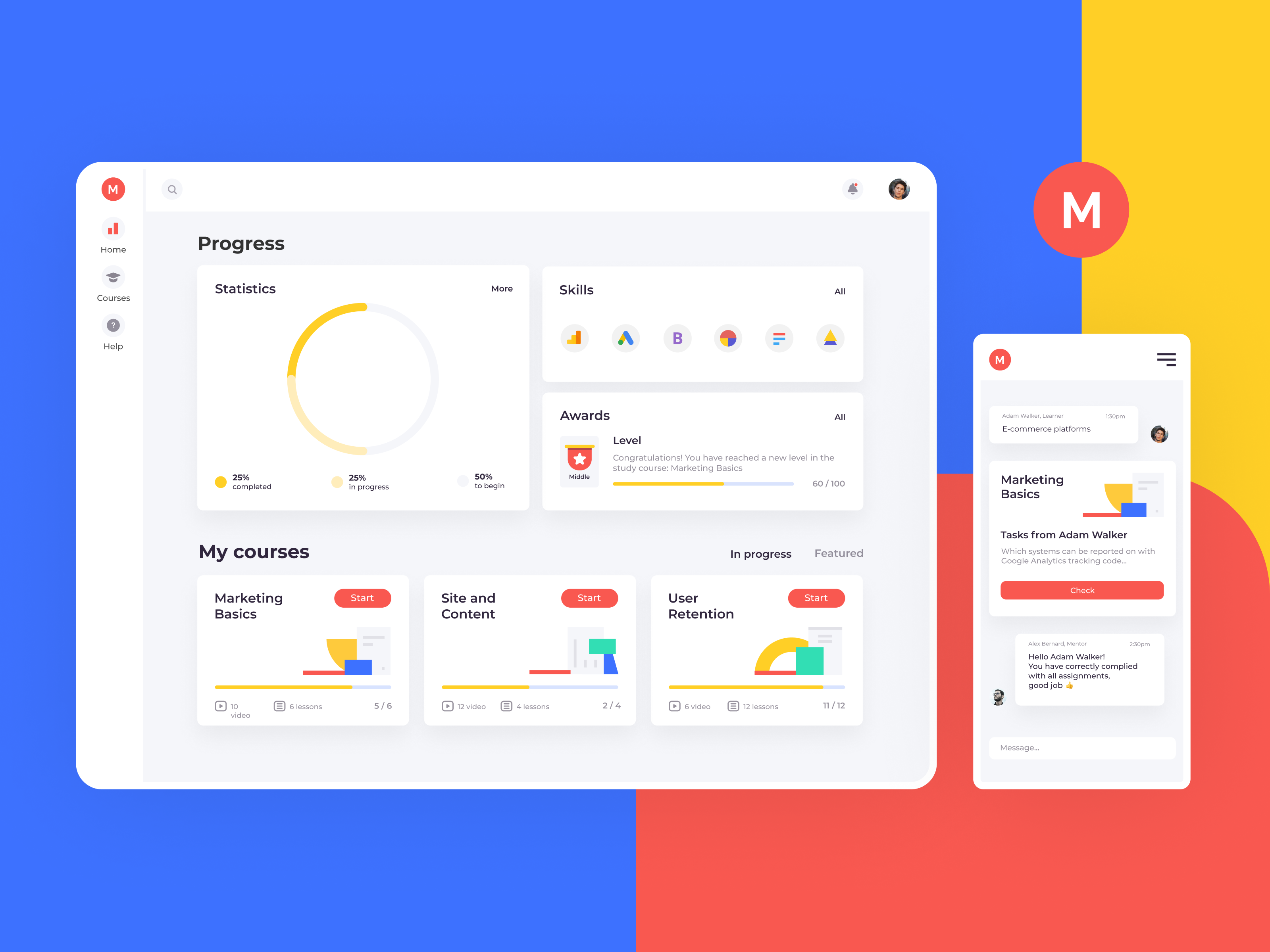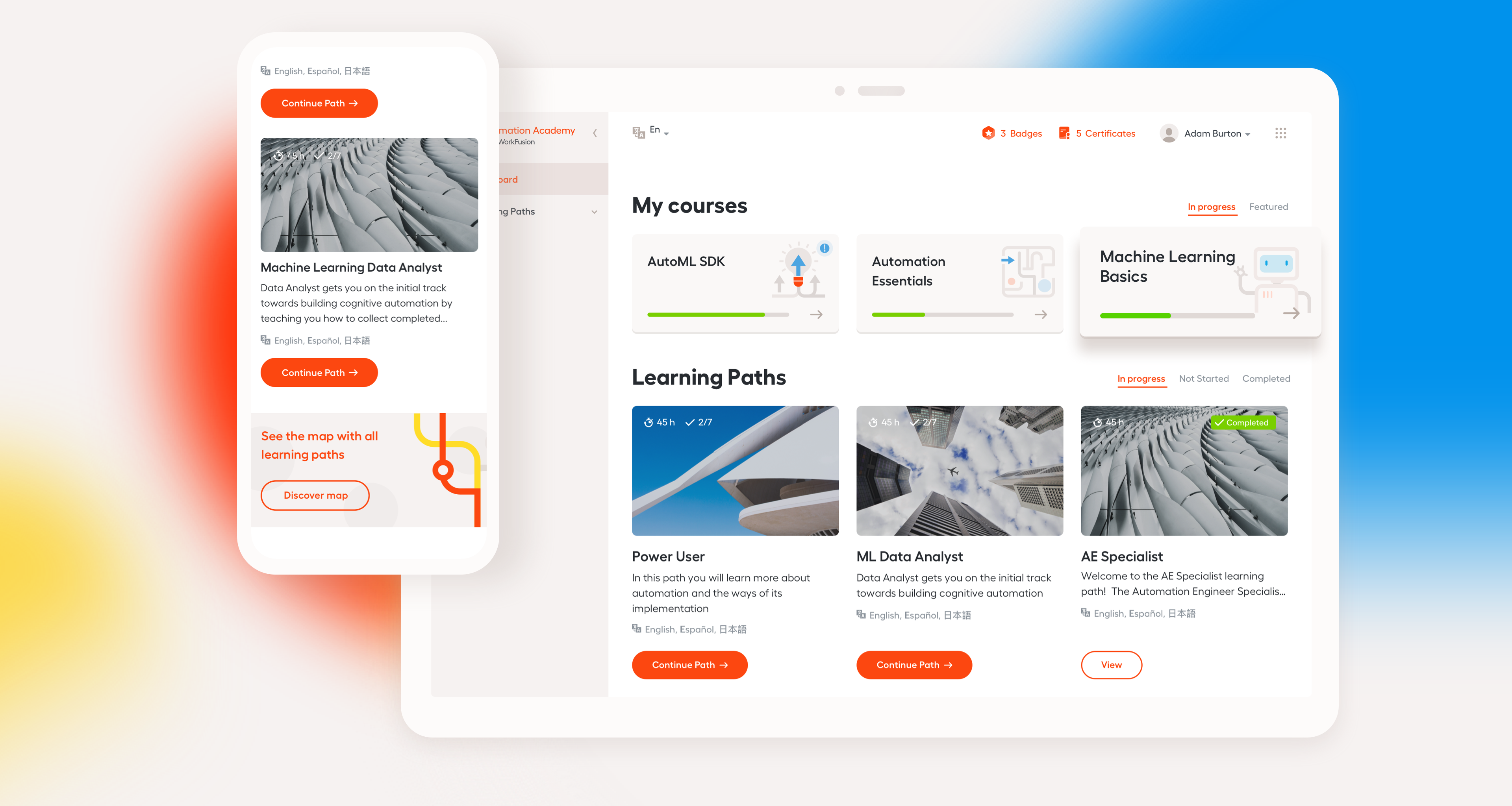 What does this mean for you?
We understand that your requirements may differ from those we described. They may include many more features and entail additional costs.
If you want to get an exact estimate for your project and find a solution that fits your budget to build an e-learning website, contact us and get a quote
---
FAQ: Make a Website Like Udemy
How much is creating websites like Coursera, Udemy, or edX?
To know exactly, you would certainly need to build a Udemy clon, contact the development company, and request an estimate. Multiple aspects should be taken into account to calculate an approximate price. Much will depend on the development approach that you choose (ready-made solution, custom development), the functionality you decide to include (man-hours required for specific UI elements, user profiles, notifications, course pages, etc.), hosting and security. All-in-all, with an estimated man/hour cost that equals $70―$150, the total cost to create a platform like Udemy would come within $35,000―120,000.

What is the best software to make a website like Udemy?
The following tech stack is most commonly used (but is not limited to) to build a custom online education website: Java, PHP, jQuery, Ruby, or some web framework.
How do I build an online education startup?
Great things have small beginnings. If you have an idea to build an online education platform, and then scale, first decide what educational services you are going to provide, what subject courses you are targeting, how you plan to deliver the courses to the audience, what makes you better than the competition. Doing the homework and with the help of the data that we provide in this post, you will not only manage to develop a custom website like Coursera or make a website like Khan Academy, but you will come with a unique offer and go viral.
How do websites like Coursera and Khan Academy make money by giving out free online courses?
These two resources have different business models. Khan Academy is more Wikipedia-like, i.e., it is financed with donations. Conversely, Coursera makes money through such means as offering certification, selling courses to Universities, promoting content, employers consultancy.
Stay tuned for news
Useful articles from our content team right to your inbox!
Let's talk
Is there a challenge your organization or company needs help solving? We'd love to discuss it.