Best Practices When Creating MVP For Startups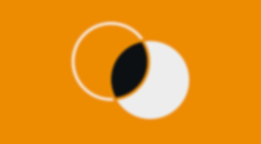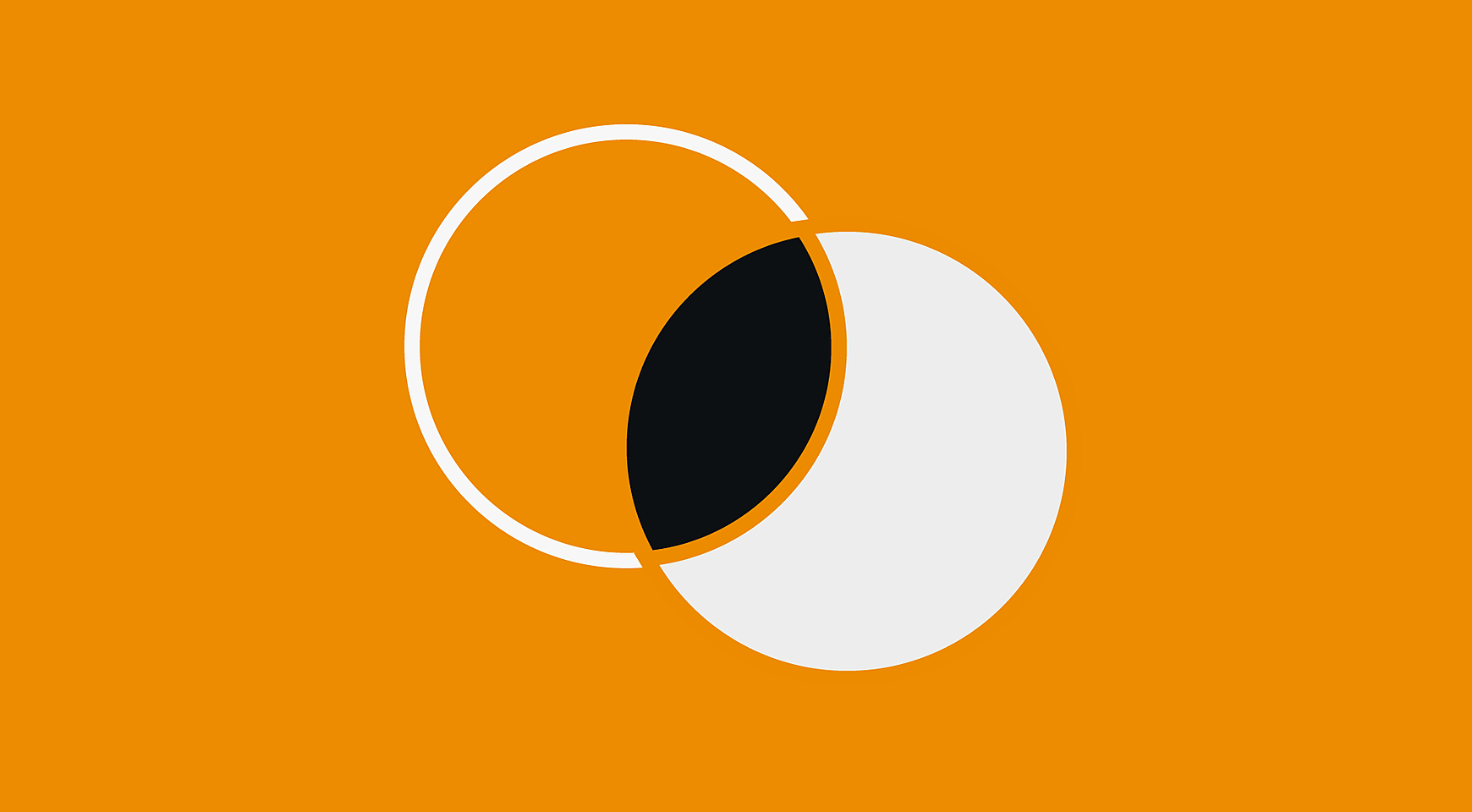 In a startup's early days, penetration rates can be more critical than pixel-perfect design and full functionality. How do you check whether a product solves the problems of your target audience without wasting resources in vain? How do you confirm that the idea is worth investors' attention? Here's where the concept of the minimum viable product, or MVP, comes into play. It has helped millions of lean startups to push their ideas to market.
Let's see how to build the right MVP in 2019—one that is not poor.
What is an MVP
So, what is an MVP?
An MVP is the simplest possible expression of your product that still delivers on your core user need. The primary goal is to test a hypothesis that a product is necessary and useful.
However, this is not a "draft" version of a product.
If you're planning to build an MVP in a hurry, then raise funds, then throw it away and start from scratch, just hold on right there and read this article.
Look at the picture below. A product with half-baked functionality and plenty of bugs is not an MVP. The main point is to develop a product that:
Has the minimum set of features to operate (functionality)
Is bug-free and secure (reliability)
Has an understandable and intuitive interface (usability)
Is a pleasure to use for your audience (brilliant design)
And—most importantly:)—falls inside the limits of your budget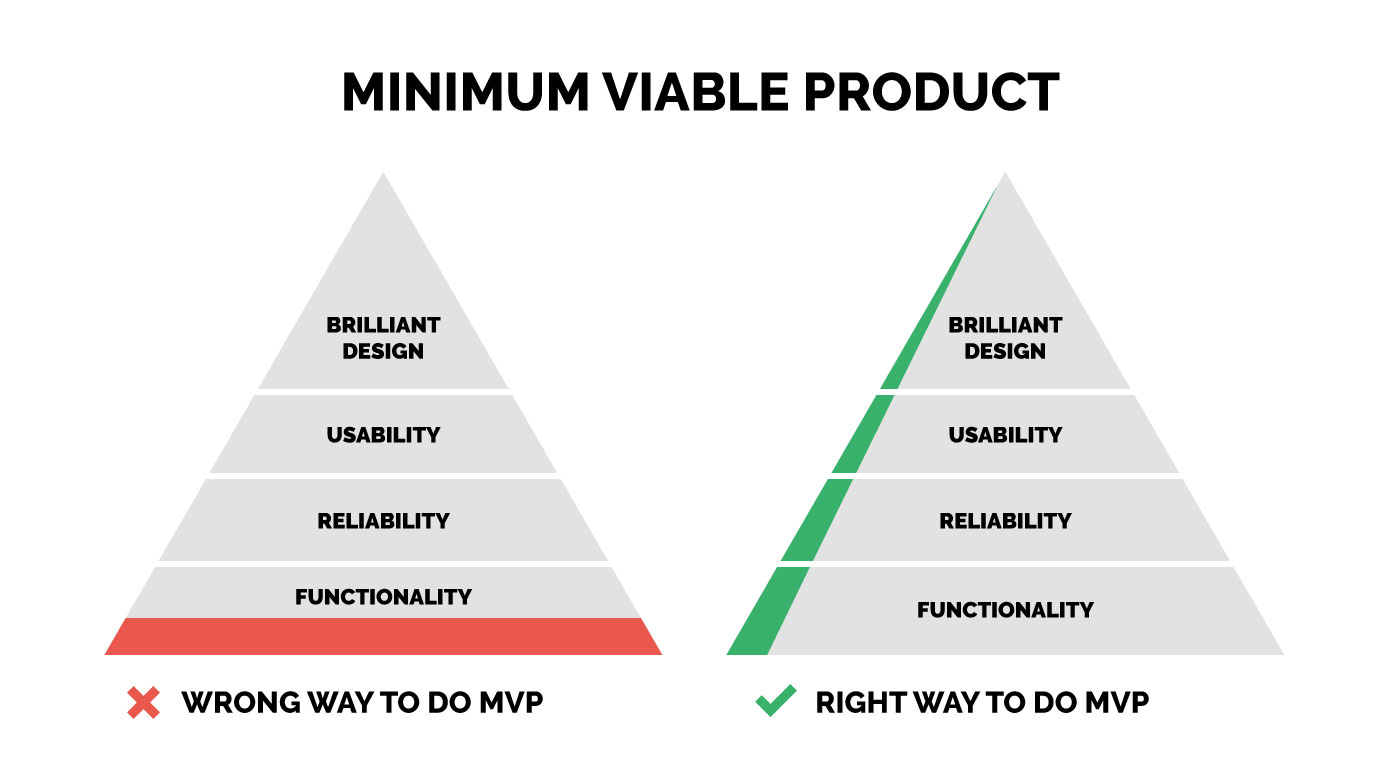 Steps to building an MVP
What will the usual workflow in bringing your startup idea to life look like? While working on MVP product development you'll have to complete a couple of stages before its completion.
Define your audience
First, identify who your customers are and what is the problem your product will solve for them. Why would anyone buy that product? And who are these people?
Imagine that you are going to build an e-commerce fashion app. Read also: Fashion Website Design Examples. Buying clothes is a usual task for many people, so what makes your app so special that it can solve a specific problem?
That's where you need to specify the goal of your app. For example, you would like to aggregate luxury clothing and accessories collections of both famous designers and new names in the world of fashion within a single platform.
Next, you need to create user personas—fictional representations of your typical customers—and analyze their flow, i.e., the steps they need to take in order to reach their goal, which is to buy fashion clothing online. Read more about user flow in our article.
Come up with the exact features
Now you have decided on the features and services that will be in your final product. However, an MVP can contain only a few of them, so ask yourself these three questions:
What will the main feature of the product be?
What features are unique on the market?
What features will delight users?
Write these features down and prioritize them in categories. You can create a matrix that maps the must-have, optional, and excessive features into several stages (releases).
Look at the table below. This is a simplified example of feature story mapping for an e-commerce website MVP (the same goes when you create an online learning platform, a travel app, or any other product). The top row is for must-have sections of a product.

After prioritizing the features, define the ones for the first release, which, in fact, will be your minimum viable product. Under each stage, you can see a number of features dedicated to each release. Normally, the first release makes an MVP.
Choose tools and a technical stack
One of the most popular judgments about an MVP development process is that technology matters less than the idea. If you're going to extend it to the minimum functional product, it would be a good approach to take care of everything in advance.
However, this takes time and money, so you have to consider reliable but easy-to-use solutions:
Simple website templates: Squarespace, Wix, Sitebuilder
Prototyping tools for MVP: Invision, Webflow, Bubble, Proto.io
Industry-specific platforms: Shopify, Medium, Magento
Web development frameworks: Wordpress, Meteor
Develop your MVP
Now it's time for the real action. If your company is small and has limited sources, probably you cannot afford the custom MVP web development. Then, do what you can with the existing tools.
However, the only way you can create a more satisfying, unique experience is to code your MVP from scratch. If you are able to find a reliable and experienced software developer, you'll save time on non-viable unprofessional releases.
Test and iterate
Since MVPs are generally developed in resource-limited environments, actual testing of the product's functionality is often overlooked. However, user acceptance testing is a must. A product should present a viable value proposition to its audience.
Hand over your MVP to real users for beta testing. It means that a product is going into the "real" world. Listen to the feedback from your users, and implement the changes. But note that only crucial fixes are made at the MVP stage.
Best MVP examples
What makes us think that an MVP can grow into a successful product? If you look through the Internet, you'll see plenty of MVP success stories from Dropbox, Uber, Groupon, Buffer, and more. We would like to tell you about these three:
UberEats
UberEats is a great example of an MVP. The app has a simple vanilla interface with minimum features: high-quality food photos, basic categories and some info on when the driver is arriving with your meals.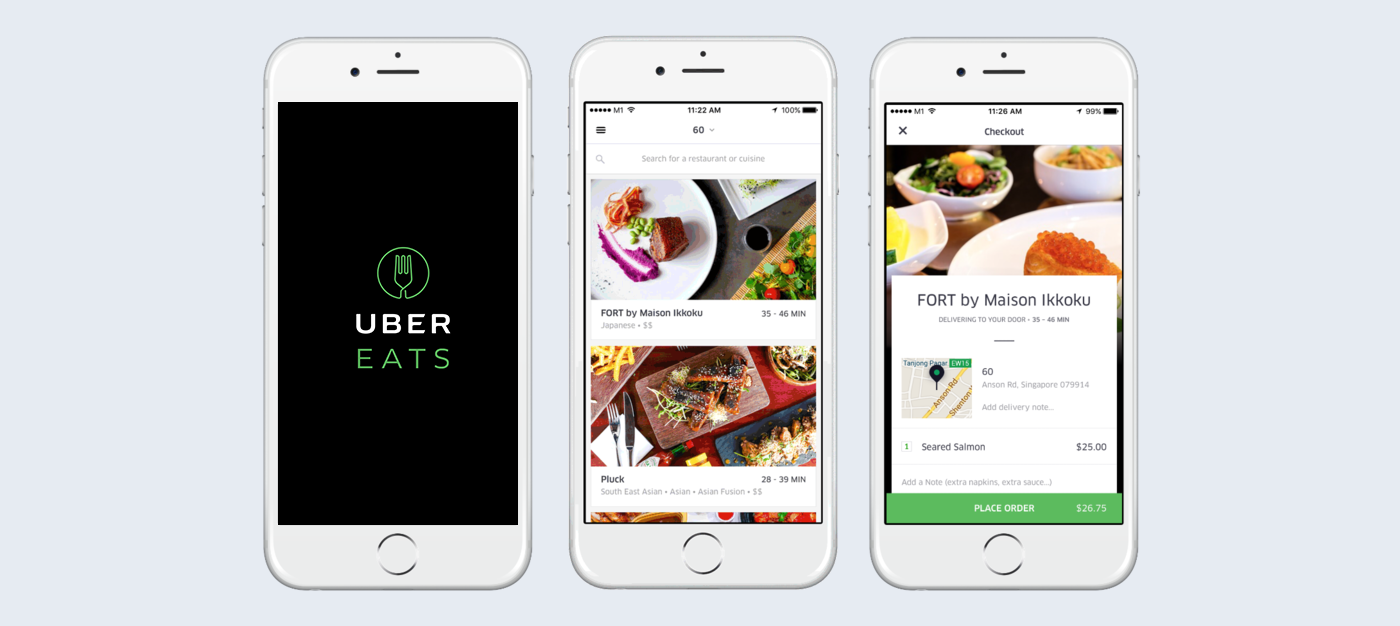 Source: Stuff TV
Snapchat
Snapchat's MVP was as simple as that–it has the only feature: to send and receive photos that would disappear in 5 seconds. They wanted to test a hypothesis whether users want to see disappearing photos or not.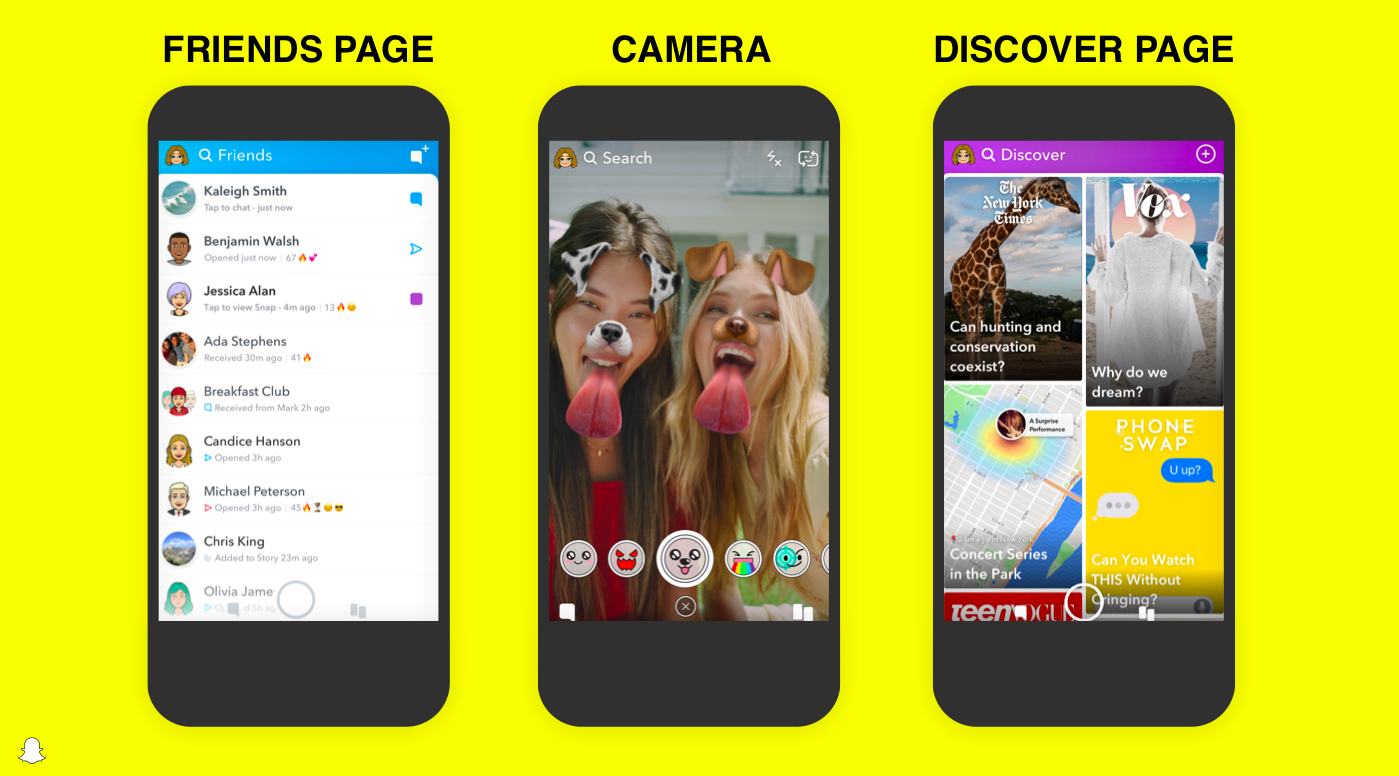 Source: Business Insider
Tinder
Tinder is an example of an MVP that was so good at the first release that it stays pretty the same up to now. The secret is its simple experience, "iconic" swipe feature and great design that has become flatter over time.

Source: Global Data Insights
Best practices for making a successful MVP
What can be done to improve and speed up the process of creating an MVP? We gathered a few best practices.
Proper research of audience and competitors
Most of the product owners fail to conduct proper research of their competitors.

Almost everyone is aware of the need to check the similar products on the market and make sure an MVP will offer something unique.

What is there are no direct competitors? It is still not enough just to showboat the product's uniqueness. Make sure it provides value to customers.
Ready templates
Don't re-invent the wheel. As time and cost matter a great deal at the MVP stage, you should:
Use ready tools and templates. At the MVP stage, there is no need to develop libraries and plugins. Most of them can be found online, open source.
Check other company products—probably some parts of functionality have been developed earlier. This also concerns software components.
Employ your company's UI kit, if any.
That will speed up the development process and create a consistent look for out-of-the-box products.
Active communication between developers and clients
Striving to stay within the time and cost limits, clients actively suggest technical solutions that they have used before.
In fact, knowing the business goals, the capabilities of the current MVP and its implemented functionality, developers can suggest the optimal option to meet the client's challenge and thus save time.
To bridge the gaps between the two project visions, active and frequent communication is the key.
Minimum Delightful Product
Building a product that satisfies customers is not enough. You need to have something they LOVE. Remember that it's the real user who you're building for, not just investors.
Having researched their needs and received their feedback, you'll be able to provide unique value to them.
Measuring success after the release
To predict the success of your MVP, you need to track metrics that indicate how your users interact with your product. At a minimum, check:
The number of sign-ups.
The number of downloads and launch rates.
The percentage of active users, and user behavior.
Client acquisition cost.
Client lifetime value.
Bounce rates.
Knowing how your product is performing will help you understand whether it is going to survive on the market, or whether it needs significant improvements in functionality or marketing strategy.
Legal risk mitigation
One major difference between a large company and a startup is that a large company has significantly more brand risk and more sensitivity to legal risks. A startup has no reputation and less concern for "bending the rules" because of their lack of reputation and exposure. Test a particular value proposition in an invite-only closed beta tester group and claim your intellectual property rights as early as possible.
Conclusion
In this article, we have shared our experience of MVP development for startup and we provided some best practices in its completion.
We hope you learned a couple of lessons after reading this post:
Don't make a full version of a product.
Make a minimum viable product simple but delightful.
No critical bugs are acceptable.
Test as early as possible.
Get users' feedback.
Launch-test-iterate until minimum viable perfection:)
Remember: any product is viable only in regard to the market it has been built for. If the market changes, the viability changes as well.
Thank you for reading! Share your thoughts in our live chat. If you need to create MVP for a startup to prove its viability, feel free to contact Agente for consultations, strategy building, and development.
---
Further reading: What is proptech industry?
Stay tuned for news
Useful articles from our content team right to your inbox!
Let's talk
Is there a challenge your organization or company needs help solving? We'd love to discuss it.