Requirements for Website Design: Agente Example
"We didn't ask for that!" How many times have you said this to your web design contractors? Or how many times have you just put up with designer's work but stayed unsatisfied? We can't stress enough —behind each successful website, there are clearly communicated website design requirements. You wonder where to start? Let us explain what a web design brief is and why it matters.
What is a brief?

What is the first word that pops up in your mind when you hear the word "brief"?
Let me guess. Short? Summary? Abstract?
In general, the word "brief" refers to "A concise statement or summary."
As for web design, brief means the gathering form containing requirements for website design, so we can call it a summary, or an abstract of the overall project management plan.
There are no clearly defined rules of how to gather requirements for a website design, as they may differ from agency to agency. What is really important is to make sure they are short, clear, on business, and cover all the elements stated in web design requirements.
Who should fill in a brief?

It depends. There can be a project manager, a business analyst or a marketing manager from the client's side if there are any, or even a business owner — in short, it should be a stakeholder responsible for the website and capable of creating full and adequate requirements. Mind any website user, the brief should be created with a careful eye to customers, staff members, and website admins.
What happens when requirements are poorly gathered?

Unfortunately, too many clients rely on designers' intuition and ask to cover the lacking details with something "of your choice" or "trendy". This is a common mistake, which inevitably leads to misunderstanding. Agente developed their own way of dealing with blank spots in a brief — we provide a web design requirements template and arrange a Skype meeting where our business analyst carefully enquires about any project-related details.
Criteria to cover all the website design requirements
Business goals

Web design requirements checklist starts with quite general things that will determine the overall strategy and indicate key elements to be included. Remember, everything that you can tell about your company matters, but we suggest to begin with these 5 facts about your company.
Company Industry
Depending on the industry type, your website may differ tremendously. For example, when you imagine a traveling website, there's something like the picture below emerging in your thoughts, so apparently, stating your industry specifics will define the key elements to be included in your interface.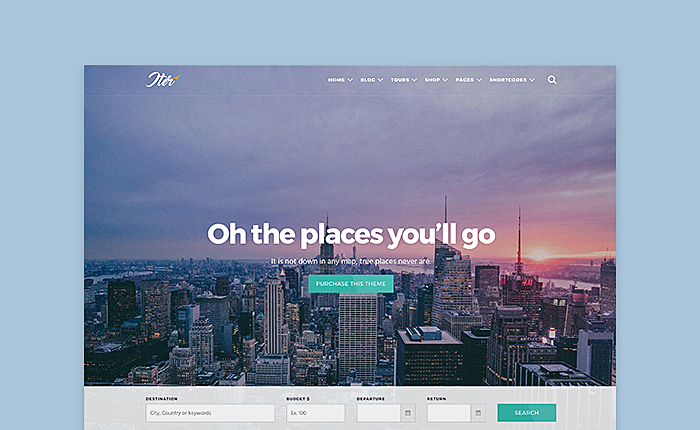 Source: giogadesign.com
Product Purpose
The second thing you need to outline is what you are going to achieve with your website: to spread a word about yourself, to sell your product, to invite your visitors to an event, etc. If you ask for a redesign, explain what you didn't like in your previous website, for example, outdated styles, or the fact that nobody visits your website.

Target audience
Draw a typical image of an average people you expect to see as your website visitors — define their age, gender, region, other parameters. Probably, you faced a typical portrait of your customer while outlining your marketing strategy, however, in this case, they determine not only content but also its form.
Just look at how the region factor can fully transform your website:
EuroNews website in the United Kingdom: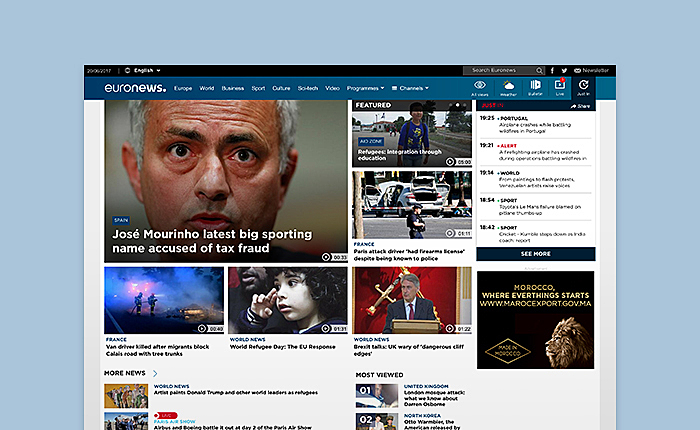 EuroNews website in Iran: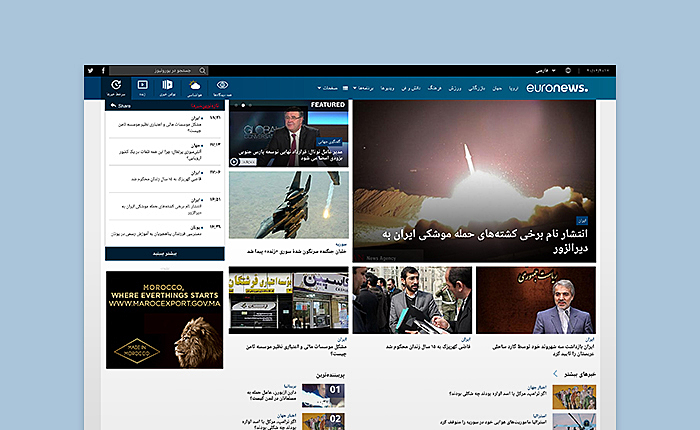 Source: euronews.com
Competitors
If you care much about your business, you must have analyzed hundreds of times why your business rivals succeed or fail. One of the main factors is their online presence, namely their websites — review them, watch their demos or get inspiration from the platforms like Dribbble or Awwwards.
Content and navigation

Content is king. That's why when it seems that you're done with a core set of web design requirements, it's time to decide what should be inside.
What content would you like to add or update? What's the best way to organize sections and lead your customers to the content they search for? How should the elements be named and positioned? Name your sections with short and consistent titles like on Sarpino's website developed by Agente.
Moreover, if you have any corporate images, videos, fonts, logos or other branded content, make sure you communicate them to your design team.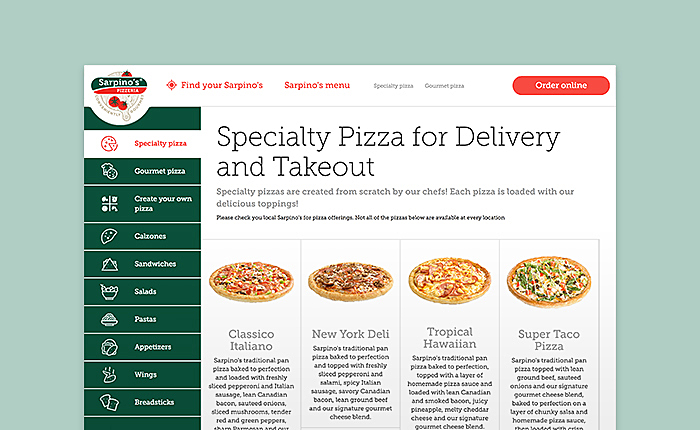 Source: gosarpinos.com
Layout
Simply put: you don't need to be tech-savvy and define where the margins of your site should lie or what the elements, parameters or alignment should be. That's where a design professional comes into play. However, you can express your wishes about the header, footer, and sidebar positioning in the requirements gathering form.
Responsive design

When it's time to deal with screen resolution, there's always a dilemma of choosing either responsive or adaptive web design. There's no one-size-fits-all approach in this case, but we hope Agente's guide will help you understand what's good for you.
Visual style

Experience shows that the first thing clients know about how they want their website to look at is the colors and styles. Let's see what matters more when it comes to visuals.
Colors
Feel inspired when it comes to colors? Keep calm and don't break into a rainbow palette. 2-3 colors are absolutely enough for the start, and you better make sure they conform with your corporate styles and branding.
Points of focus
If you need to emphasize something, indicate what exactly it is. The focus can be achieved with color changes, size changes, animation, etc.
Technical requirements

Once you have a picture of the scope and scale of the future project, go with technical details. For example, if you create a website for online courses, you should bear in mind content regulations. Analyze existing frameworks, web servers, databases. Evaluate what integrations may be needed and how they will reflect on the UI and UX of the website.
Budget
This might be the most painful part of requirements gathering. Try to include the amount you're ready to spend on research, development, design, support or other project stages you are requesting.
Schedule
A schedule is a must. It's critical that you add a deadline to your website design requirements document and outline the period for each of the project milestones to make sure you're on the same page with design and web development team.
Agente brief

As you can see, the process of gathering requirements for website design may vary, and criteria can be changed depending on the client's specifics but making it good will ensure successful designing and development work.
In case you need structurize your project requirements and discuss your business idea for website design, feel free to share with our team and we will send you our brief for filling design requirements.
Stay tuned for news
Useful articles from our content team right to your inbox!
Let's talk
Is there a challenge your organization or company needs help solving? We'd love to discuss it.