Choosing an Outsourcing Engagement Model: What Is Right For You?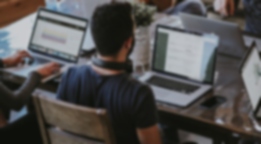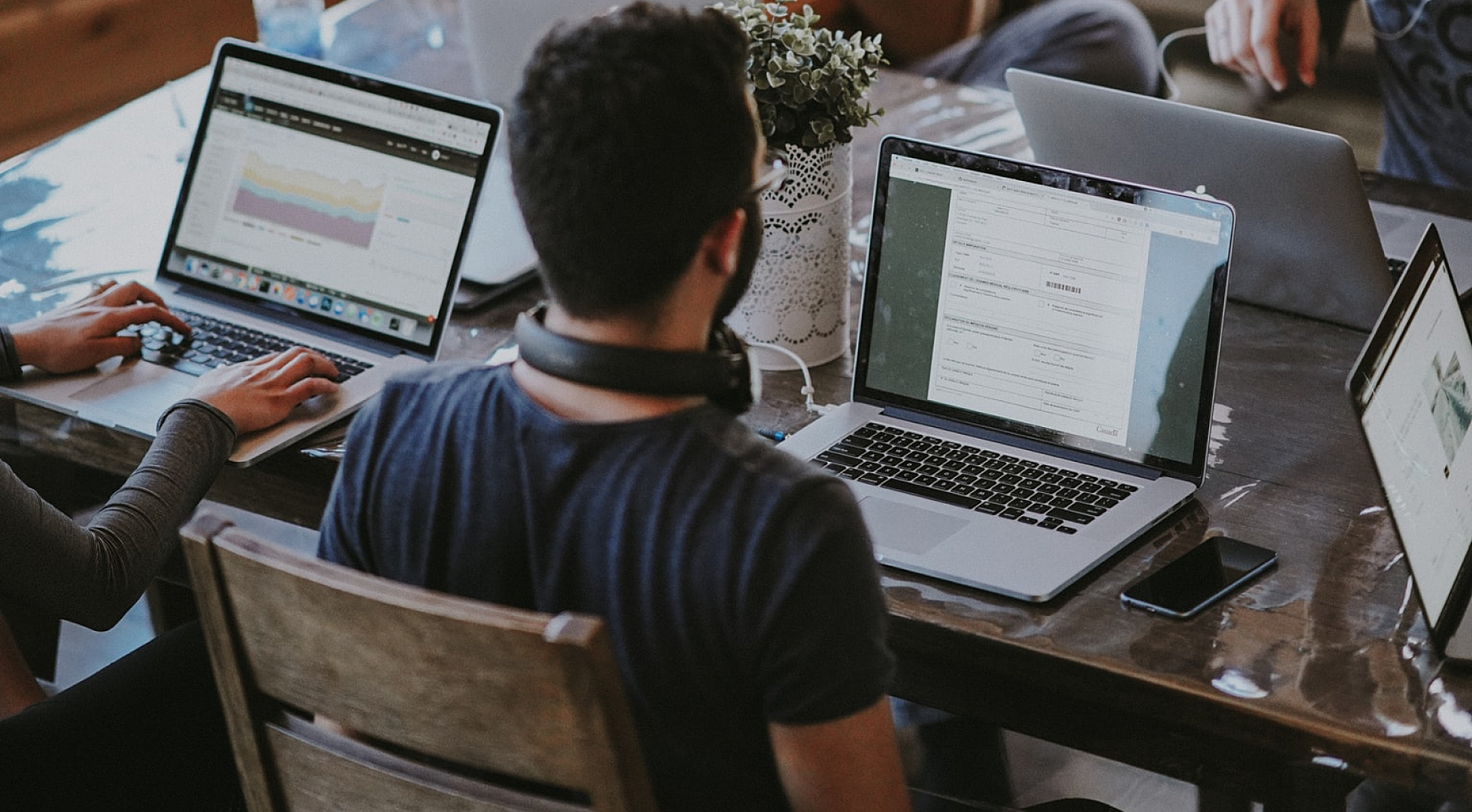 In one of our recent articles, we talked about outsourcing software development as a response to a crisis. In outsourcing, there is no universal customer engagement model to match every company`s needs. It's time to look closer into the types of outsourcing models and explain which ones we offer at Agente.
In this post, we talk about various types of outsourcing in regards to location and client – outsourcer relationships.
Location-based engagement types
Each model discussed below can be performed either onsite, onshore, nearshore, or offshore.
On-site. A service provider sends its skilled professionals to work in your office for a fixed period of time.
On-shore. A company outsources services to a provider within the same country but outside the company.
Nearshore. Services are outsourced to a provider in a neighboring or nearby country (e.g., in the same time zone).
Offshore. A company outsources services to a provider in a more distant country.
Our experience:
Agente can send specialists to a client during a discovery project phase (to run a workshop, get to know the stakeholders and make user research). However, if the services you require can be performed distantly (e.g., design, software development), there's no need for the onsite presence of specialists, especially post COVID-19 pandemic, when any unnecessary human contact should be avoided.
We practice a number of engagement models in outsourcing giving the customer freedom to shape our business relationship.
Dedicated team
In this case, a remote team from the service provider is dedicated to the realization of your project. The dedicated team works on a certain project exclusively full-time with direct reporting to the client. We are responsible for recruiting services, administrative support, and all the resources for the realization of the project.
What is the client's role then? The company interacts with the team, monitors daily activities and stay current with the overall progress of the project.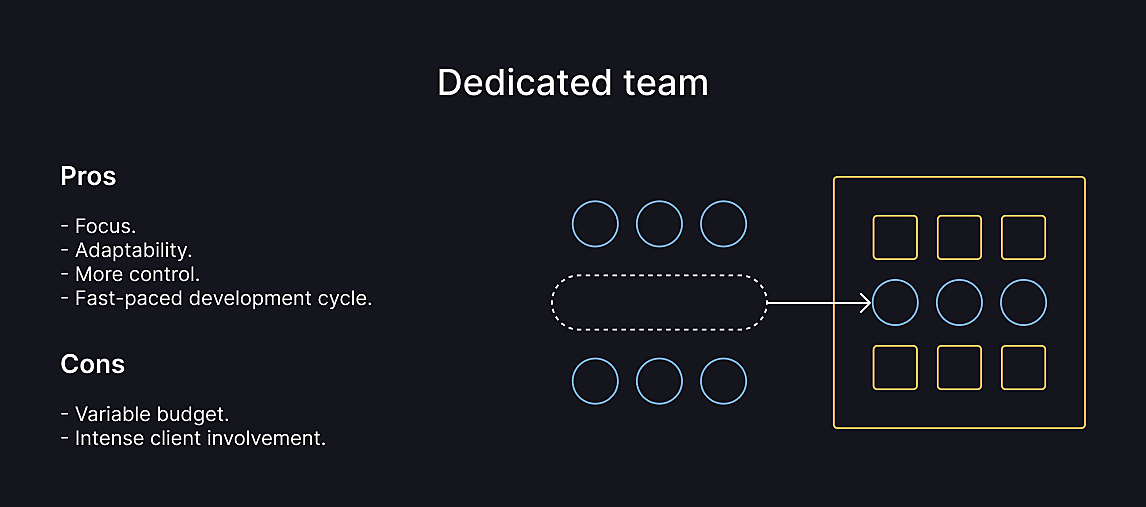 How does it work?
Step 1. The product owner and product manager from the client company outline the services, number of employees and skills required for the project.
Step 2. We hire a dedicated team that corresponds to these requirements.
Step 3. The team and the client agree on the workload, project requirements and the timeframe.
Step 4. The dedicated team starts working. The product owner and product manager from the client's side have full management control over the project.
Pros
Focus. Skilled professionals are concerned with realizing one project which increases the speed and quality of results.

Adaptability. The dedicated team model allows the team to reconfigure at every stage of the project according to the current needs and requirements.

More control. The client gets full control over the selection of candidates and the management of dedicated team members.

Fast-paced development cycle. A more hands-on approach from the client and focused development team allow the whole process to proceed at a higher pace. A project can also be started faster with incomplete requirements.
Cons
Variable budget. You can't determine all the costs at the start of the project. That's why clients need to plan their budget taking into account extra expenses.

Intense client involvement. Project owners and managers become part of the team. They need to be completely involved in the selection of team members and they have to communicate with the dedicated team members on a regular basis.
Project-based
With a project-based model, the client specifies an exact scope of work and timeline before the project starts. Agente takes on the responsibilities for development and project management. In other words, we become a technical solution provider. Any change requests are discussed separately and charged over budget.
This model is your choice if you have a clear business vision for the product, have a fixed budget and know your timeframe and budget. We can oversee the whole scope of work and requirements and will deliver your product within a strictly defined timeline.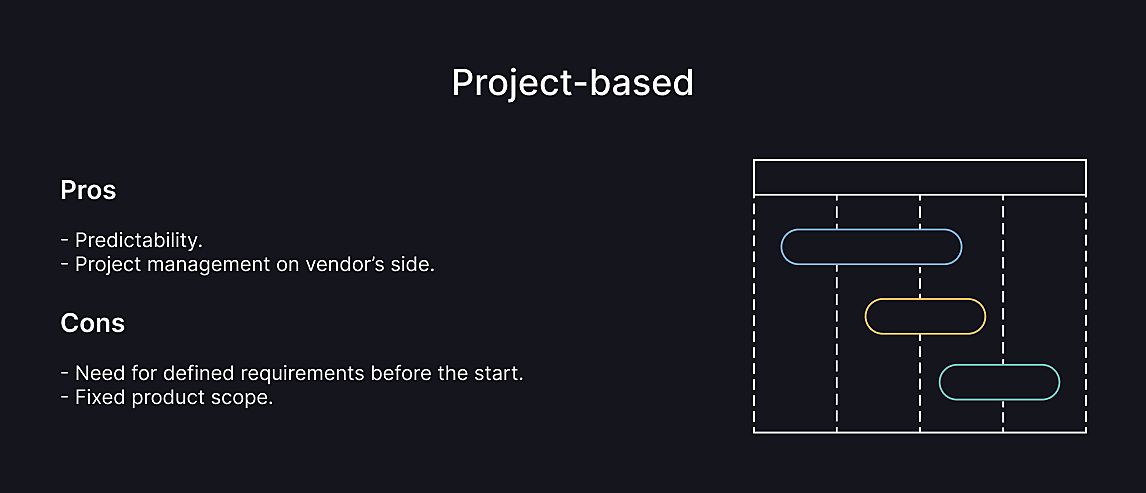 How does it work?
Our software developers and designers do all the scope of work involved in the client's project, including UX,UI, frontend, backend, API integration, testing, and bug fixing.
Pros
Predictability. You know up-front exactly what results you can expect, at what cost, and within what timeframe.

Project management. As a rule, all the project management is on the vendor's side.
Cons
Need for defined requirements before the start.

Fixed product scope. Anything beyond the scope should be paid over budget.
Product as a service
We are fully responsible for the product from A to Z. We establish a product development team and create a turnkey solution for you, from design and planning to development and support. No need for project management from the customer's side.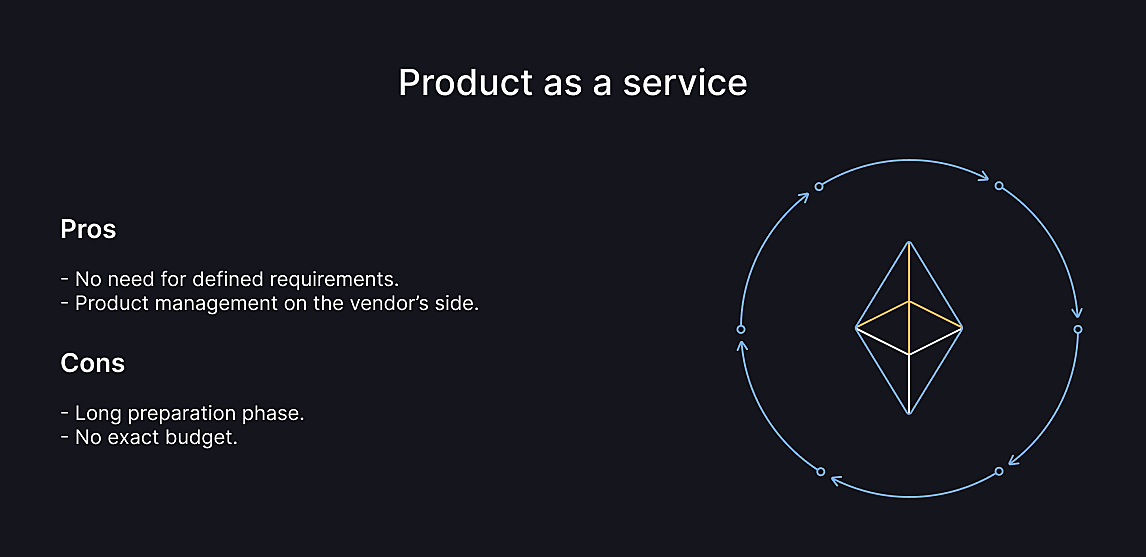 How does it work?
Step 1. This a discovery phase, in which we gather information about your product: Business problems you want to solve, budget, timeframe, users.
Step 2. On the basis of this information, our business analyst finds a technical solution that will suit the case. Our software developers define a suitable technology stack and our designers create wireframes to demonstrate UX.
Step 3. We create the product: UI, frontend, backend, API integration, testing, bug fixing. Our team follows the agile methodology and provides an estimate for the scope to the client.
Step 4. This is an optional step where we maintain the product after launch. It requires signing a separate contract for several months.
Pros
No need for defined requirements. We do estimations and tell you how to run a design workshop and identify product goals.

No need for product management on the client-side.
Cons
Long preparation phase.

No exact budget.
Single-service
A single-service or on-demand outsourcing model provides the client with a possibility of paying for a particular service. For example, Agente provides you with a specific service that is not available in-house. The services include usability auditing, product design, and web/mobile development or testing. The team and the delivery process is managed on our side.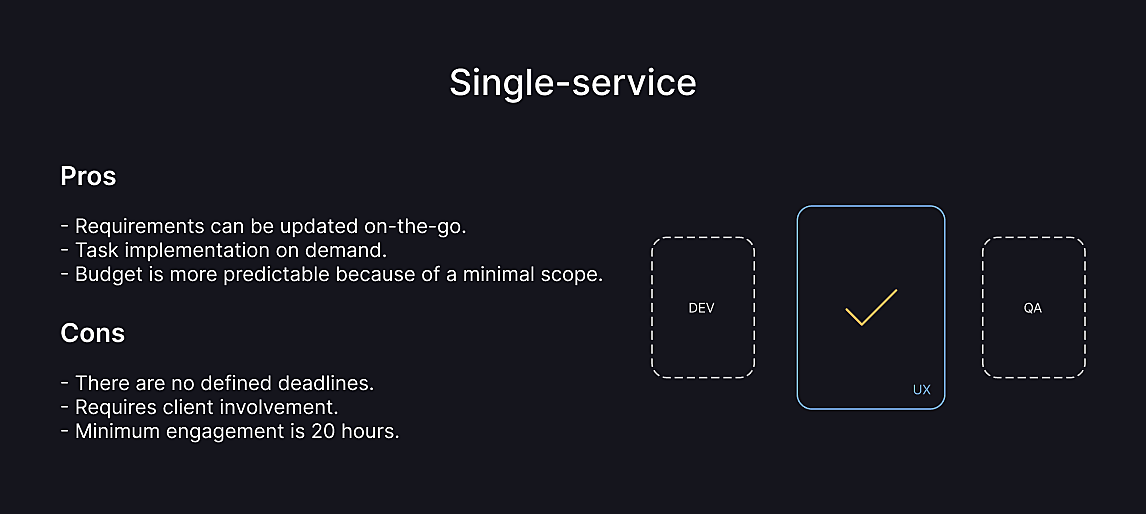 How does it work?
A client buys a number of hours that will be spent on any of the services that Agente provides. Such a project is billed for actual work scope based on hourly rates of employees, plus the costs of materials. The main advantage of the single service model is the opportunity to get the specific expertise that your team lacks and adjust requirements, while a vendor provides their quality services.
Pros
Requirements can be updated on-the-go.

Task implementation on demand.

The team is highly skilled in a specific service.
Cons
There are no defined deadlines.

Requires client involvement.

The minimum engagement is 20 hours.
Let's compare engagement models in outsourcing
The key takeaway is that every other project requires a unique approach and specific engagement model, depending on the longevity and complexity of requirements, client's involvement and communication, and tactical and strategical plans of the company. We compared the models in outsourcing against the most critical parameters: scope of work, budget, communication:

Contract types in software development outsourcing
So, what about billing? Let's take a look at how the above-mentioned software development engagement models can be billed. The main contract types include:
Time & materials, when the project is billed at the rate per rate based on actual time spent by designers/developers.
Fixed-price contracts, when the project is billed at a flat rate, regardless of the time spent.
The choice of the contract type as well as the engagement model depends on the requirements of your specific project you'd like to outsource. Contact us and we'll consult you on what fits you best.
Stay tuned for news
Useful articles from our content team right to your inbox!
Let's talk
Is there a challenge your organization or company needs help solving? We'd love to discuss it.