When to Use Ruby on Rails and How Can it Benefit Your Product?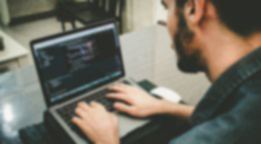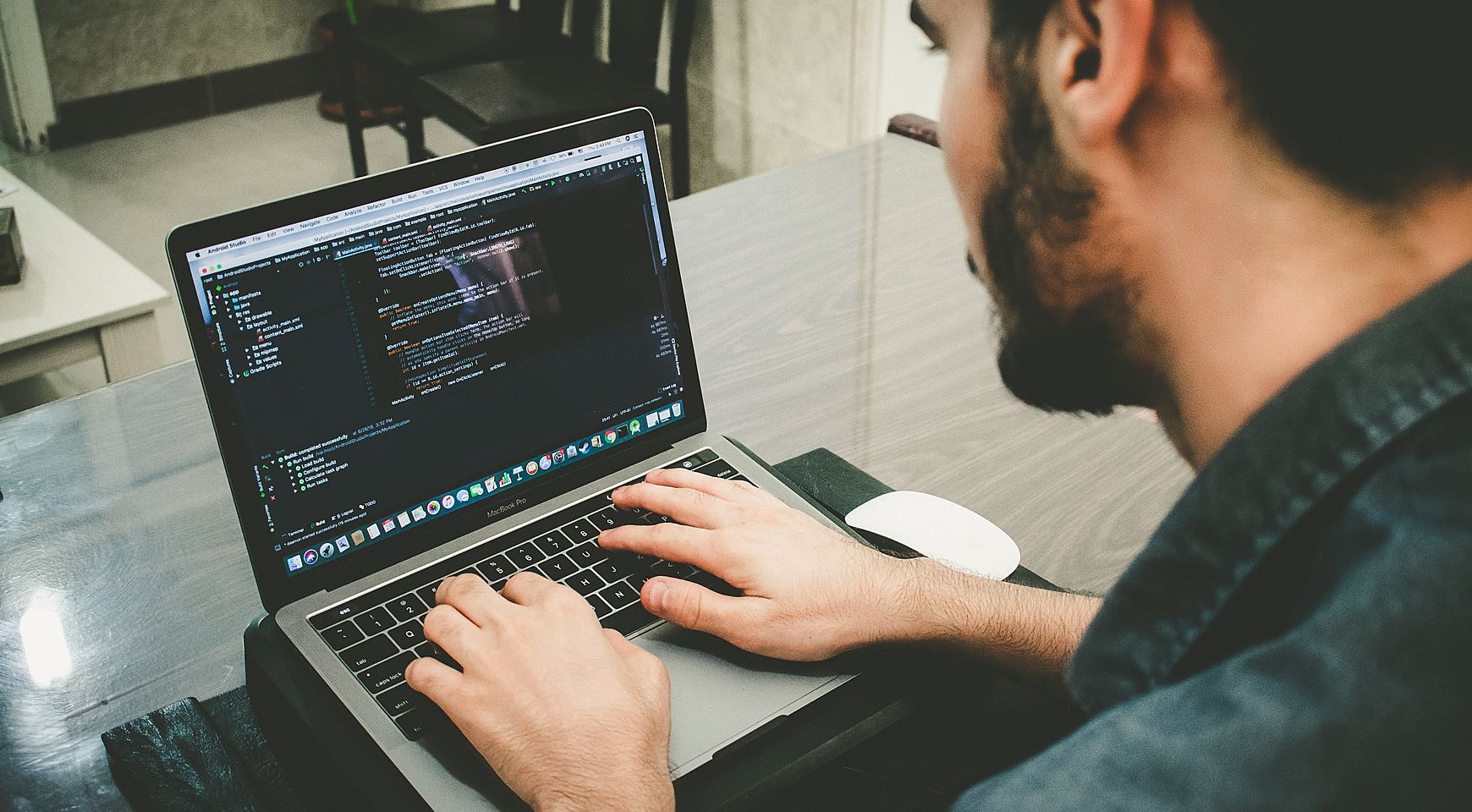 'Ruby on Rails is dead.' You are highly likely to find such guesswork on the web as the programming language Ruby―together with the Rails framework―usually gathers a list of myths, biases, and prejudices around itself.
But wait, here's something:
Ruby on Rails has been the most popular coding language by graduates at coding bootcamps. It estimates 47% of graduates who learn RoR. It is 18% more than full-stack JavaScript, the second most popular programming language, according to Statista.
With this in mind and based on our experience in software development, let's dig deeper into why Ruby on Rails (RoR) is an up-to-date language, debunk the common myths, and explore what projects this framework will be a perfect fit for.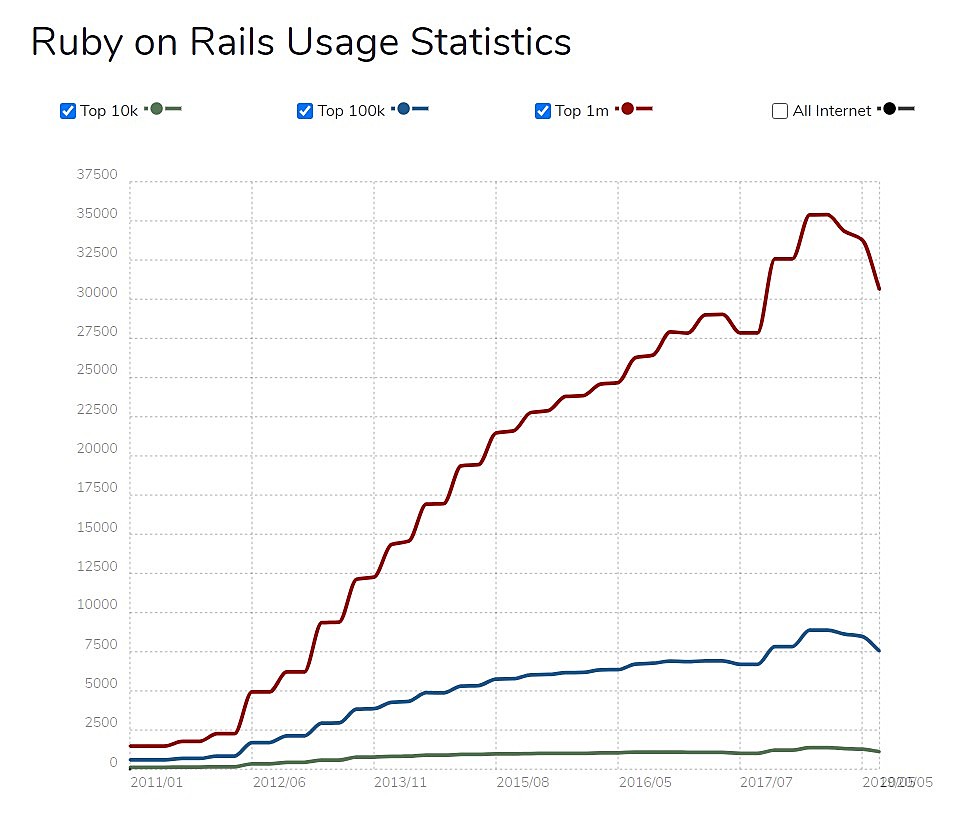 Source: Builtwith
What is Ruby on Rails?
It happens quite a lot. Many non-developers often confuse Ruby and Ruby on Rails.
Let's talk this out.
Ruby is the dynamic programming language that has been around since 1995. It focuses on simplicity and productivity. Ruby boasts a convenient syntax that is a pleasure to read and easy to write. That's the rationale why many developers opt for this language.
Ruby on Rails is the framework written on Ruby that appeared in 2004. It's not the only framework written in this programming language, but the most popular one with the largest community of contributors. They evangelize Rails as it facilitates the development process drastically and allows combining multiple components of a project.
It's vital to understand that Ruby on Rails is not a CMS (Content Management System). The latter can be set and used by even those who are far from programming. Conversely, any framework requires project development and the work of domain experts. Frameworks are a perfect tech stack for building projects with rich functionality faster and more conveniently.
Here's Some Buzz…
Every cook praises his own broth. That's how many myths and prejudices originate.
Was it Twitter that once gave up on Ruby on Rails or some other reason, but developers who are not acknowledged with Ruby on Rails well enough, often accuse the framework of:
low speed, and

poor scalability of projects.
In the beginning, Ruby did have certain issues with performance. This gap was practically closed within the latest updates.
Currently, low performing web applications on Ruby will tell more about how qualified a developer is, rather than about the programming language and the framework themselves.
What about scalability?
Remember Kickstarter, Groupon, Basecamp, GitHub, Airbnb, Soundcloud, Shopify, and Zendesk. They are written on RoR, and don't seem limited or have any problem with scalability.
Simply put: Performance issues on any project are often not the question of a wrongly selected programming language or CMS. Frequently, it's the question of poor project architecture, data caching, or database optimization.
What Makes Ruby on Rails Perfect for a Business Project?
Every Ruby on Rails developer chooses the framework for a range of reasons, which include:
MVC Model.

The Model-View-Controller allows speeding up the development cycle, fixing errors promptly, and making fast edits to the business requirements of a project.

Source: Medium
Databases.

RoR works with all popular SQL databases. It allows focusing on implementing the set business goals instead of writing an abundance of low-level SQL-commands.

Templates.

Ruby on Rails also supports template engines for web development. It allows building frontend templates much faster. RoR works with such template engines as ERB, HAML, SLIM, Liquid.

Deploy

& testing.

The more business logic a web app has, the more complicated it is to update it. In Ruby, there are tools that allow running an update using one single command. The automation system will do the rest of the job.
What does this mean for you and your project?
Fast Development Process
Projects on RoR are developed faster than the similar ones on PHP, Python, or Java. It is entirely due to the technical characteristics and the architecture of the framework. The well-thought-out conventions facilitate the configuration process. Plus, Ruby on Rails offers decent development tools (utilities, generators, ready databases, extensions, and modules).
The development time is money. The more time a developer spends on writing the code, the more expensive the project becomes. Rails is agile and has it all for rapid project development.
Complex Business-Logic Made Easy
The conventions behind the Rails code allow creating a clear code that is easy to support and modify timely. These conventions of the framework make the created code easy to support especially in case you hire Ruby on Rails developer. Alienability of the code, i.e., the absence of the necessity to address the same developer in case of support or adjustments, is critical for any project developed outside the company.
Source: Freepik
High Reliability and Maintainability
The Test-Driven Development (TDD) approach is often used for projects on Rails. It offers massive opportunities for testing, making the created solutions more stable, bug-free, and easier maintained.
The operability of the framework itself is guaranteed by automatic testing. It ensures the reliability of the code and closes out any possible downfalls.
Isn't it essential for a business?
The stability of a web app is paramount for the successful operation of business workflows.
Scalability, Productivity, and High Load
The Ruby on Rails frameworks has been tailored for projects with high requirements for accessibility. Rails apps get perfectly deployed and operate alike in server clusters and cloud projects. This criterion is critical for the majority of web services. To be maximally effective and attractive for a user, they must maintain high uptime and performance.
Qualified Developers
The more qualified a developer is, the more proficient, inexpensive, and faster a project development turns out to be.
There are fewer RoR developers indeed (especially when compared to PHP).
Why?
The percentage of newbies in Ruby on Rails development is close to zero. Often, Rails developers turn to RoR after a couple of years in PHP development behind their backs. The learning curve drastically reduces the number of unskilled specialists working on a project.
What Projects Will Ruby on Rails Suit the Best?
In the pool of the available server-side frameworks, RoR becomes a reliable tech stack for startups that intend to snowball into a large-scale project. So far, the framework boasts proven success history with the following use cases:
Shopify. Yes, it was written using Ruby on Rails in 2006. Today, the CMS is a home for over 1 000 000 merchants and keeps scaling.
The modular approach of RoR makes the framework optimal for developing B2C, B2B, B2B2C, or subscription-based e-stores. It has it all not only to kickstart a project quickly, but make it functional and eye-candy.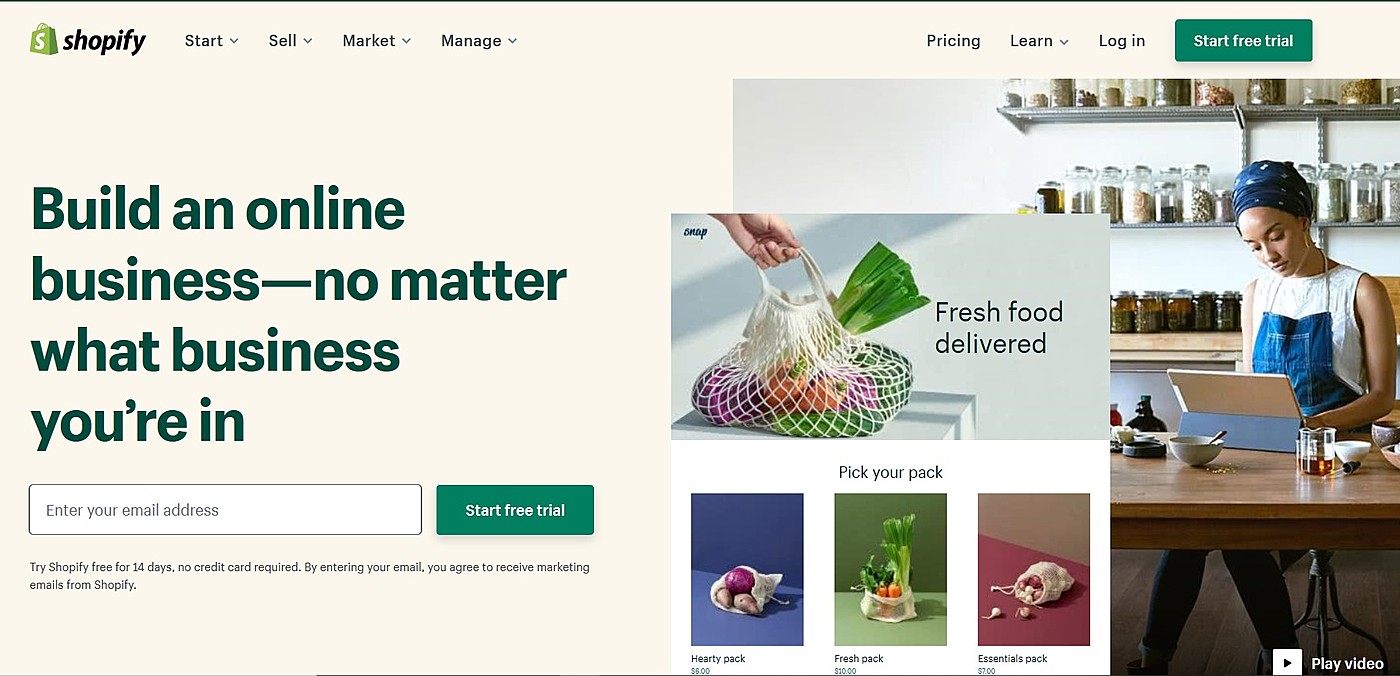 Source: Shopify
Groupon. Every bargain hunter knows this site. Such online destinations are well-known for gathering much traffic, as well as bringing quality leads. Ruby on Rails will be perfect for the fast development of such a project.
Couchsurfing, Fiverr, and Clarity. It is not a full list, but you get the idea. RoR has it all for building two-sided marketplaces for buyers and sellers.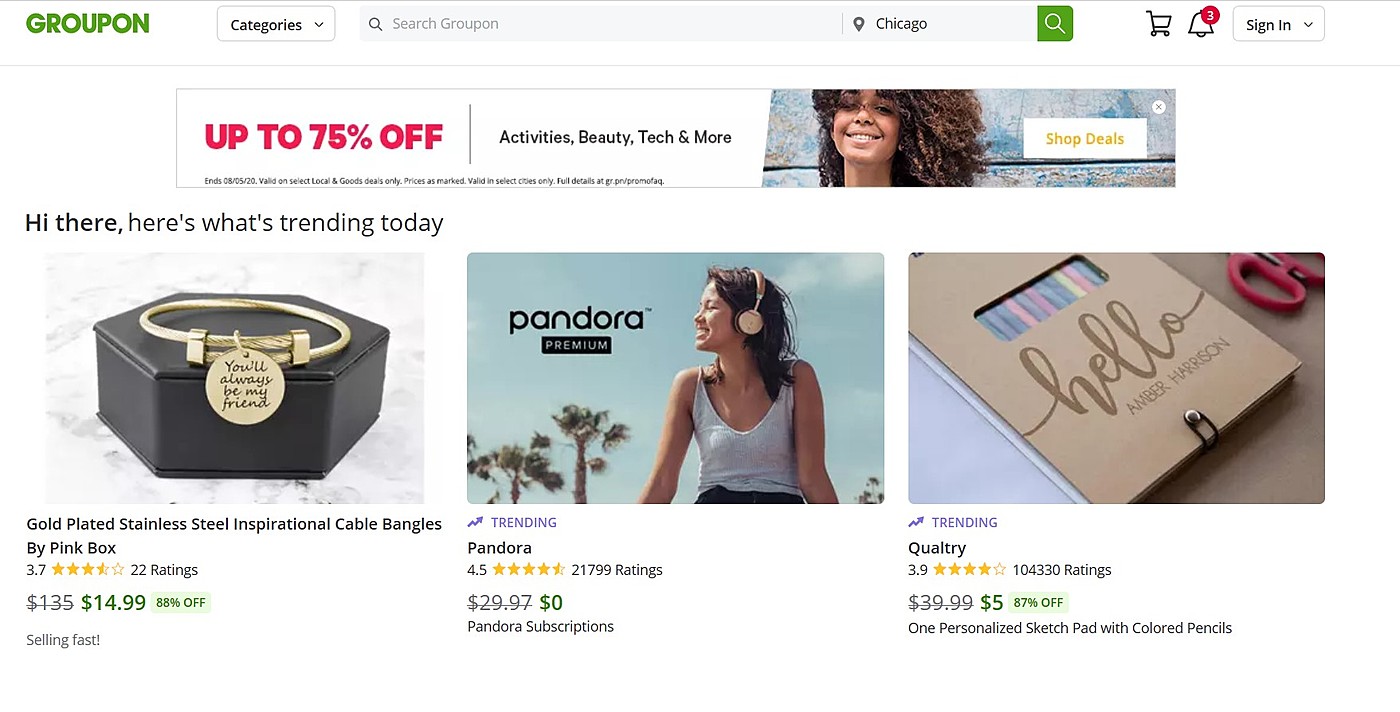 Source: Groupon
Datings sites & social networks
We are living in the social world. Likes and comments, message systems, relationships and public activities are just some of the functionality that guarantees better on-site user experience. All can be easily added with the help of Ruby on Rails gems (libraries).
Twitch. Every gamer's home from home developed on Ruby on Rails would be the best example here.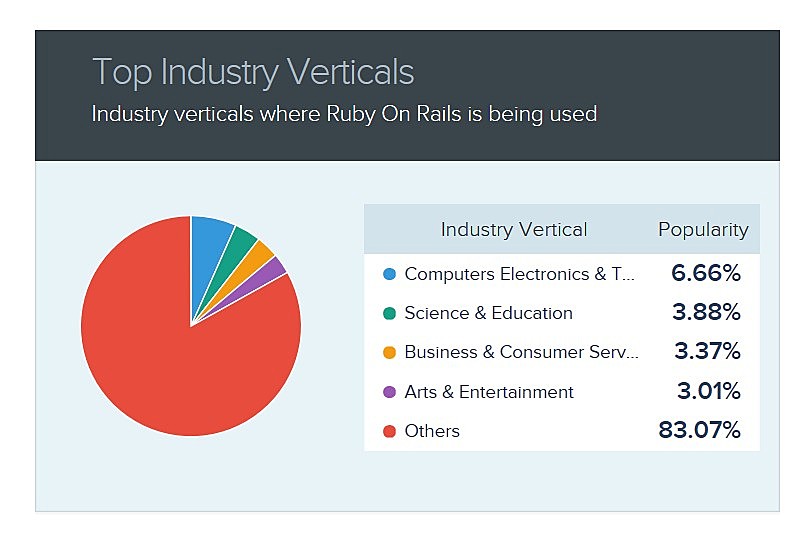 Source: Similartech
Yellow pages (the Internet Yellow Pages). It's a business directory that lists their contact details, and the biggest website run by IT&T.
Services, SAAS solutions, data portals & e-zines
Zendesk, UserVoice, and Github are some of the most popular and widely-used solutions that chose RoR for their development and did not substitute it as they scaled. Time has proven them to remain secure, well-performing, and reliable.
For the Finale
Yes, Ruby on Rails is old but extremely mature. It offers sophisticated, high-performing web application development that is fast, secure, and bug-free. RoR is versatile and can combine the sleek and the powerful.
The open-source framework is strong enough to launch MVPs that satisfy the market, then grow them into startups, and scale into large world-known companies with time.
The brightest ideas are made easy in the right hands of an established Ruby on Rails Development company. Agente.
Stay tuned for news
Useful articles from our content team right to your inbox!
Let's talk
Is there a challenge your organization or company needs help solving? We'd love to discuss it.