12 July 2018
How to Build a Peer to Peer Marketplace Website?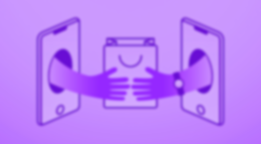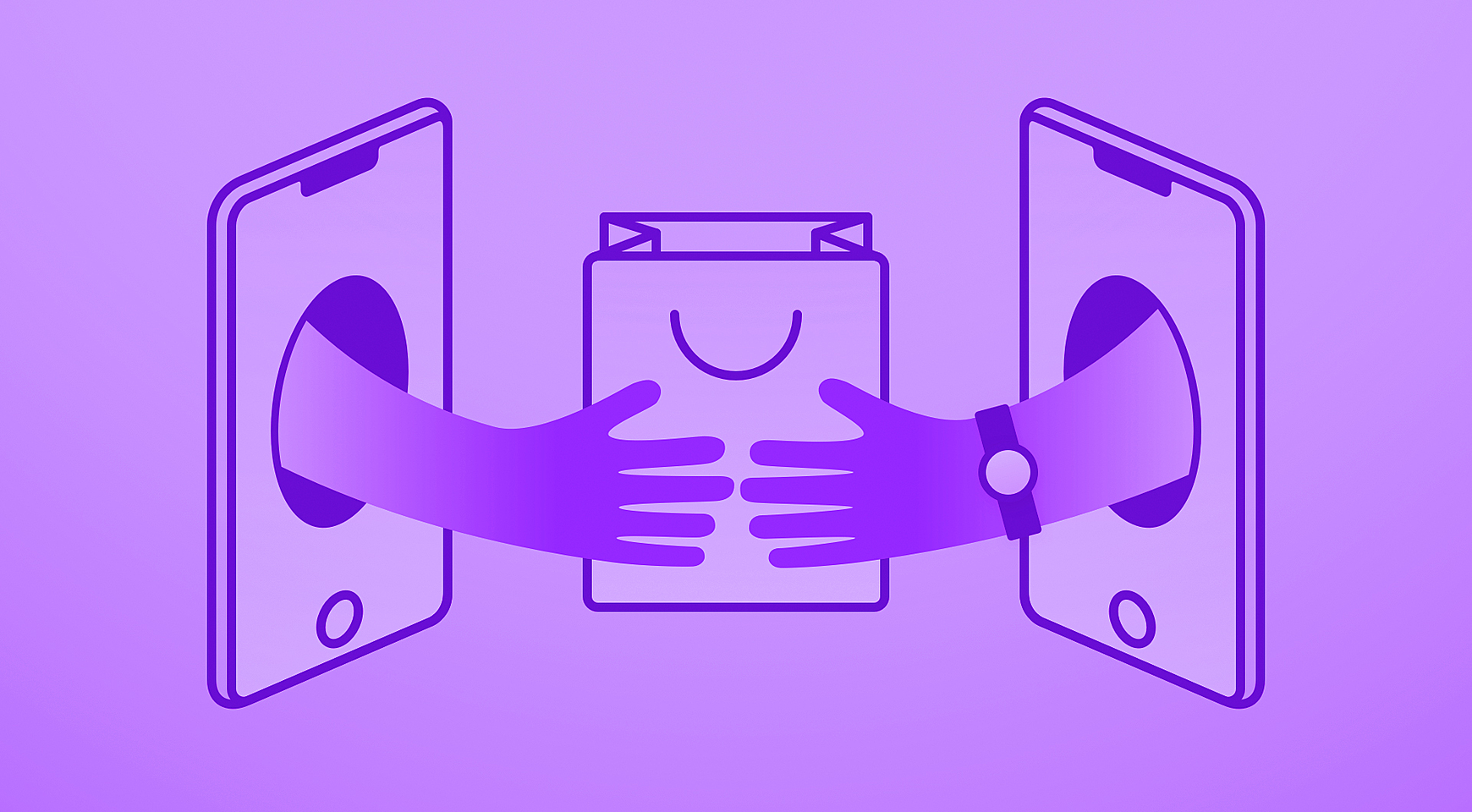 With the growing popularity of decentralization and the sharing economy, people are starting to show more interest in building a peer-to-peer marketplace for e-commerce. The idea of removing an intermediary from the transaction and giving more power to consumers sounds so promising that ever more people want to know how to build a marketplace website.
In this article, we'll dig deeper into the functionality, main implementation stages, and cost to develop a peer to peer marketplace; we will help you to decide on the best option to start your online P2P business.

What is a peer to peer marketplace?
A standard online marketplace is a place where a regular user can buy any product or service. Users can add a product, get reviews, ratings and control the sales of products at your marketplace.
This is the main difference between marketplaces and online stores like Shopify, Spree, and Magento. CMSs described above, can certainly help you to create the online store, in which you will be a seller, but users can buy only your products and services.
To understand what a peer-to-peer marketplace is, let's see how it differs from a standard online store. In a classic Internet store, a user acts as an intermediary who brings producers and buyers together. In a marketplace, vendors can add their products, set up prices, get reviews and ratings, as well as controlling sales by themselves, which is normally not possible within an online store.
Marketplace functionality
Depending on the structural complexity of your marketplace website, you can go two ways:
Build the app from scratch
Build using an existing platform
Building an app from scratch demands much effort, time, and money. There are three reasons why you need to develop a peer-to-peer marketplace from scratch:
The choice of technology stack
Flexible architecture
Unique design
But what if you want to set up the marketplace quickly? The best option is to create a marketplace website using a ready platform. The functionality of these marketplace platforms might seem very similar, but each of them can make your marketplace more powerful and interesting for sellers and buyers. We've compared the most important features of the popular marketplace platforms: Sharetribe, Near Me and Arcadier. Check out the table with the options they provide.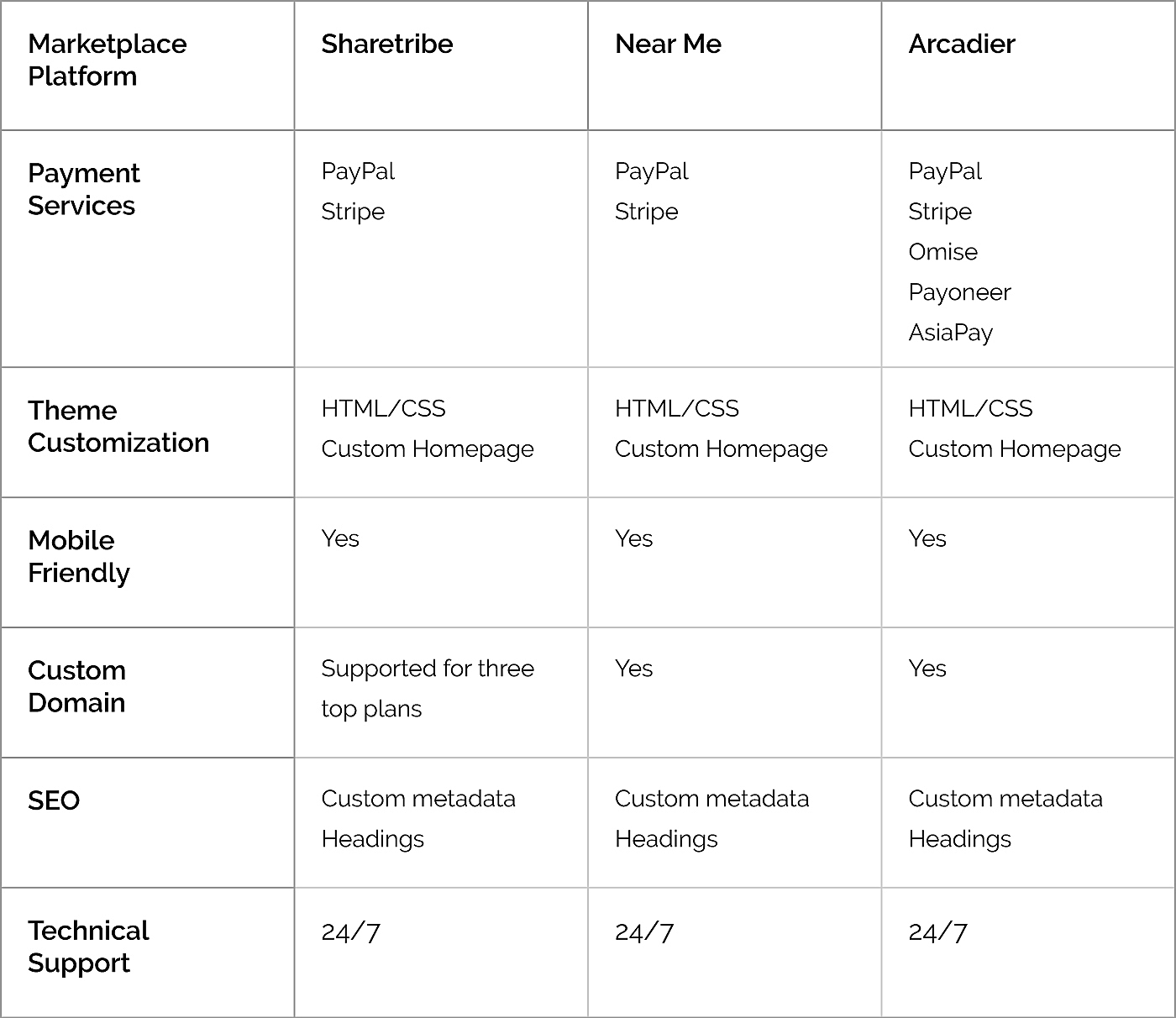 This table shows that each of these two-sided marketplace platforms can be integrated with the widespread payment services. Each platform provides customization of the theme, which allows you to build a website with an awesome UX and UI. In cases of issues arising, the providers' technical support will help you anytime.
However, you may experience some problems when building some custom features on top of the existing platform functionality. In particular, you will be dependent on the updates and upgrades of the functionality.
Cost
All of the following platforms provide their features for a monthly/yearly payment but there are also platforms which don't require any payment. Check out the most popular platforms in the table below and choose the plan which suits you best, based on the needed functionality.

Stages to build a marketplace
Building a marketplace using a platform like Sharetribe, Near Me and Arcadier, is very quick, with only a few stages:
Create an account in the platform
Choose the plan
Customize the theme (styles, images, etc.)
Configure services (payments, SEO, DNS)
After that, your online marketplace website is ready in a short time. For this option, you should pay for hosting, technical support and software updates. The main advantage is that you can quickly launch your marketplace without development specialists, and get simple access to the back office from your browser.
To build a marketplace from scratch, there are many stages and processes to make your app a good quality one. Here are some of the requirements to develop a two-sided marketplace platform:
Write technical documentation
Choose a stack
Search developers & UI/UX specialists
Create design
Develop the marketplace
Test it
Release a project
After all of these stages, your custom marketplace will work; however, this option takes a long time to come to fruition. The main reason for using this option is to make your app unique. You can create a marketplace with a custom UI and UX, and implement the business logic of your choice.
Read also: Guide on Creating the NFT Marketplace
Final Thoughts
Peer-to-peer marketplace development is limited to two solutions: build from scratch or build using an off-the-shelf platform. Be careful to choose what's best for your business depending on the specific needs, available time and budget. If you cannot decide on the right option, drop us a line for professional consulting, design, and development services.
---
Read also: Financial website design inspiration.
Rate this post!
256 ratings, average ratings is 5.0 out of 5
Stay tuned for news
Useful articles from our content team right to your inbox!
Let's talk
Is there a challenge your organization or company needs help solving? We'd love to discuss it.