Telehealth App Development: the Right Way to Build a Platform in 2022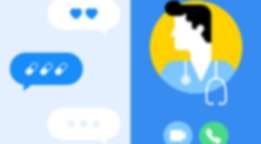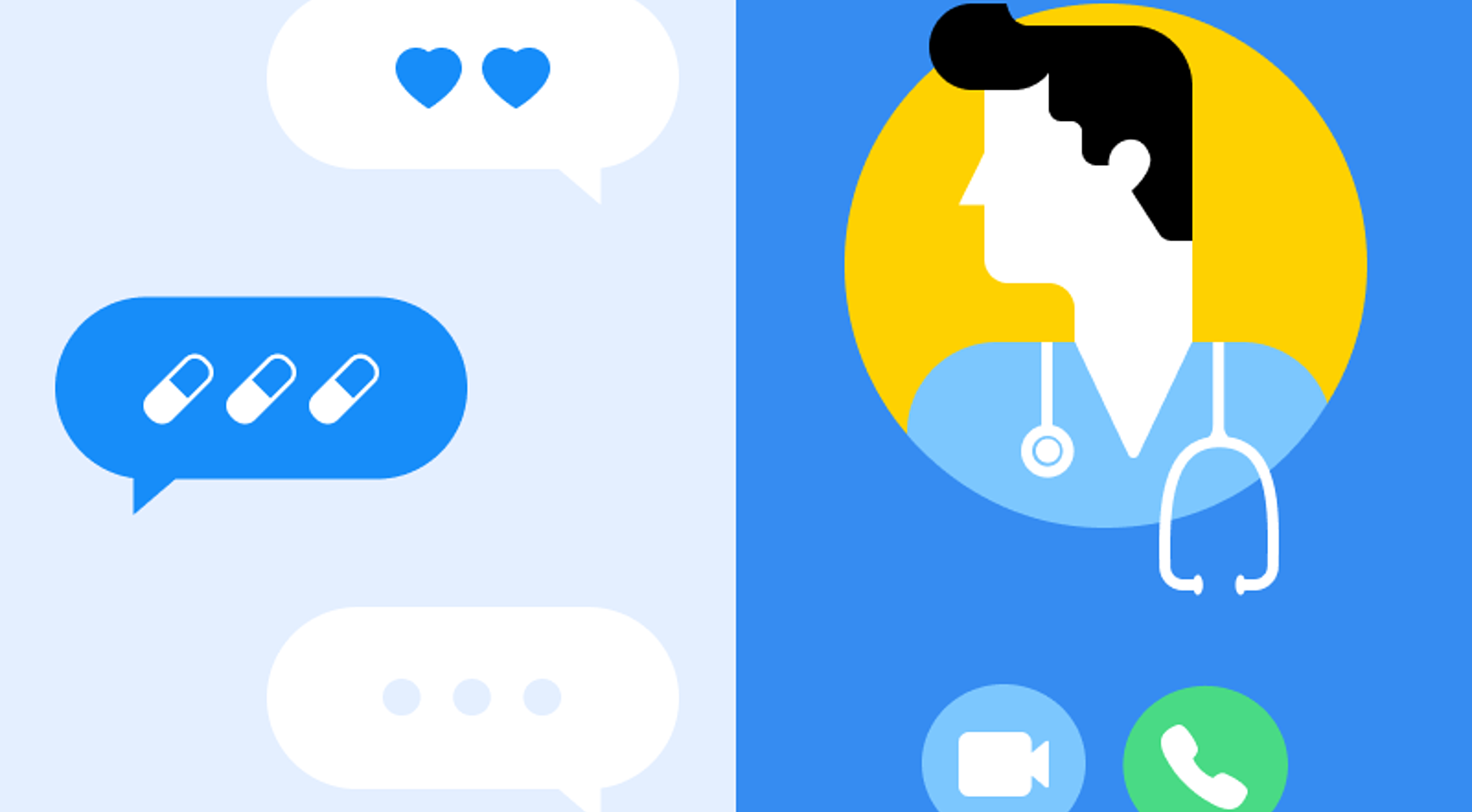 The remote provision of clinical care―telehealth―started to gain traction in March 2020 when the world became exposed to the COVID-19 pandemic. The offline healthcare institutions were overloaded. Patients were stricken up with confusion and the new reality.
Consequently, authorities were forced to adjust country-specific public health guidelines and introduce pandemic-related telehealth policy changes.
What has it led to?
The healthcare sector had to turn online, and last year's 154% increase in telehealth visits speaks louder than any words.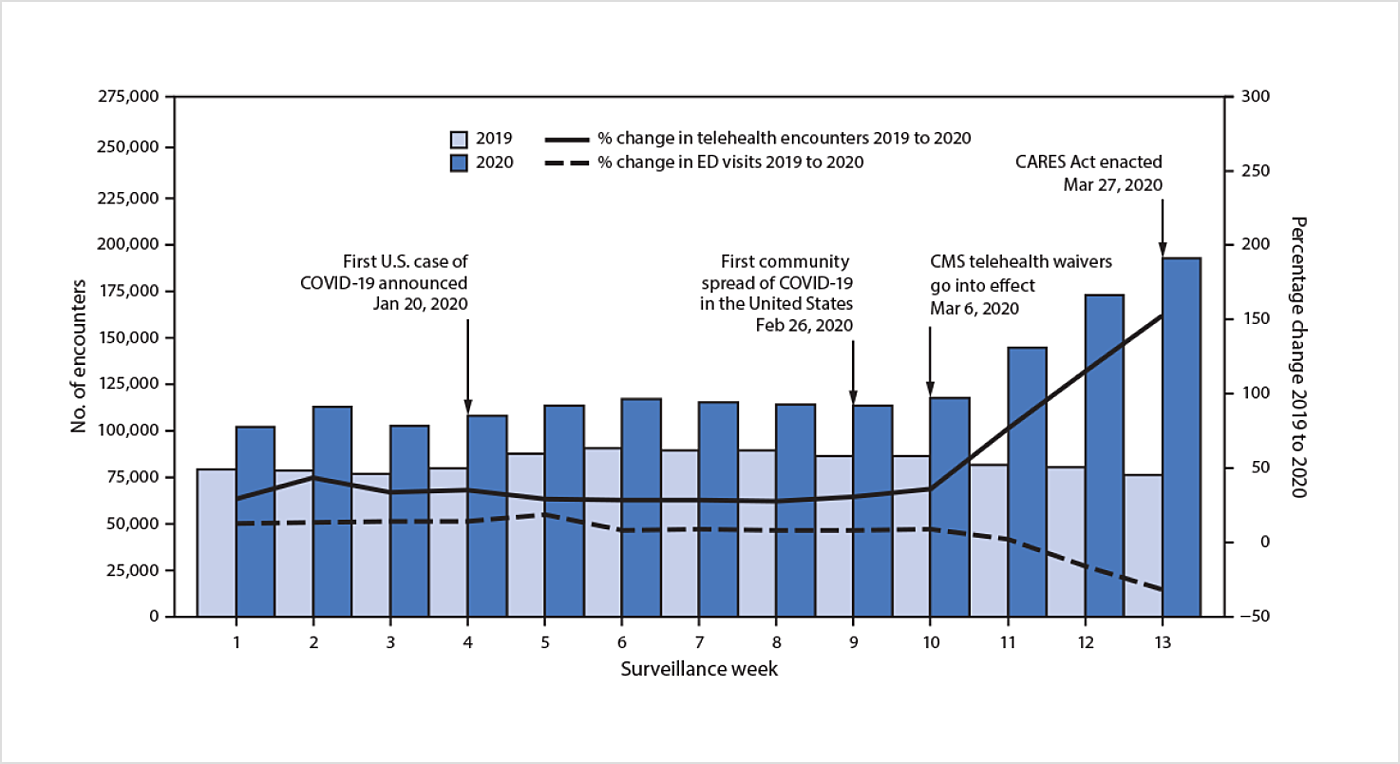 Source: Centers for Disease Control and Prevention
Based on the Agente team's expertise in custom healthcare software development, let's consider in depth how the introduction of telehealth functionality can benefit your healthcare institution, medical workers, and their patients.
This article also shares step-by-step guidelines on telehealth app development and must-have features to include in such a project.
What is Telehealth?
Telehealth is the application of technology and communications to provide remote care for patients.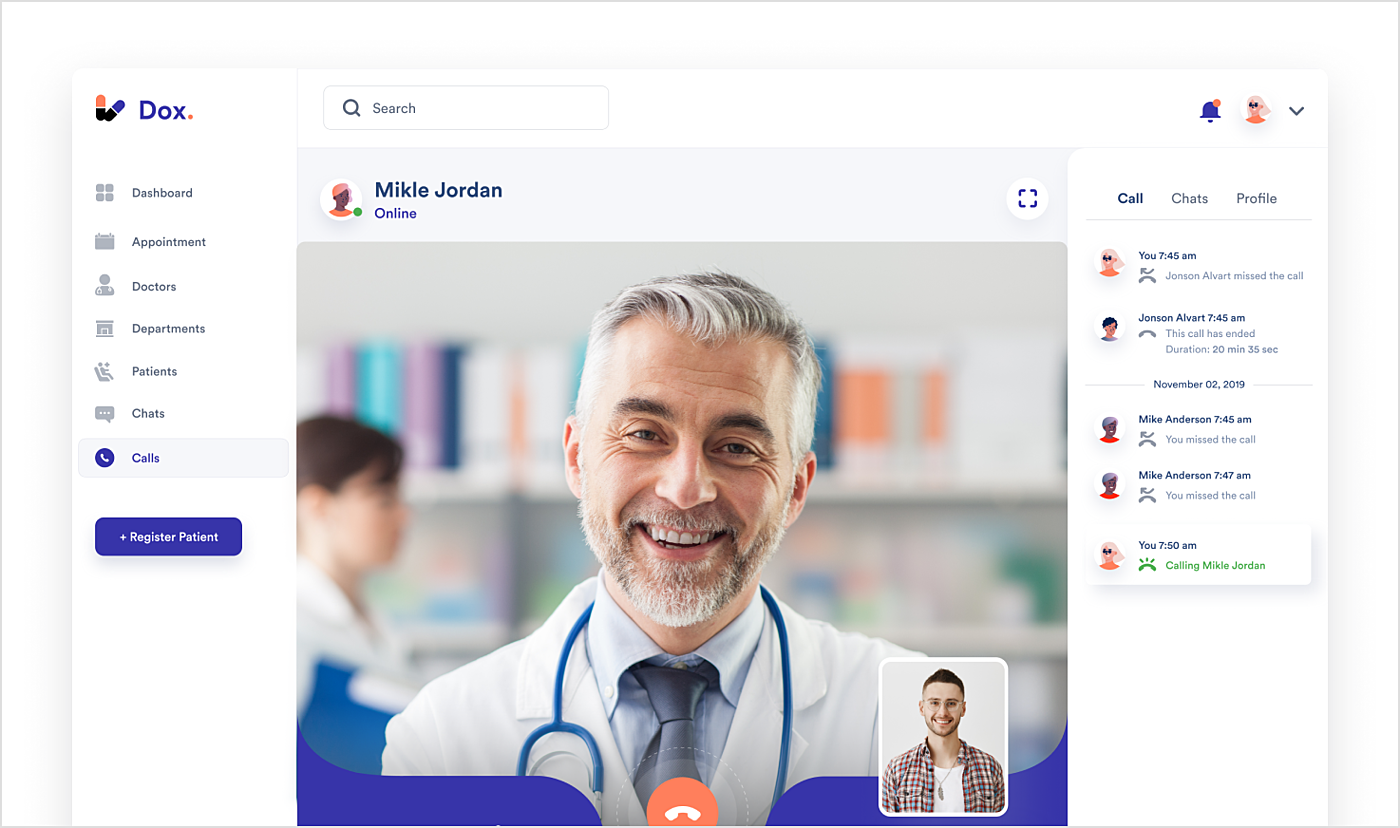 Source: Dribbble
The ultimate goal of telehealth software is to help in emergency situations where there's no access to medical institutions.
For example, when a doctor is on an emergency home visit and needs advice from a narrowly focused specialist, they can get remote assistance with the help of video streaming apps and connected devices.
It's natural to think of telehealth as remote consultations because of the ability to schedule and hold appointments online. However, it goes beyond that and can cover online therapy, teleneurology, teleradiology, teledermatology, and more.
Telemedicine app development is widespread in medical practices now for many reasons:
Worldwide availability of medical services
Ability to optimize patient flow
Fast and convenient medical care delivery
Unified medical record keeping
Standardized patient monitoring system
Better organized administrative task management
Application across multiple medical fields
Conversely, for the patients, telehealth makes medical assistance more accessible thanks to its reduced costs and remote nature. The efficient scheduling and time management that telehealth brings increase the level of convenience too. Moreover, patients get a chance to access their EHRs and obtain their personal health information if required.
What Types of Telehealth Apps Are There?
The most common case for the telehealth app as a self-service healthcare kiosk is video conferencing with a doctor. Such a connected care solution incorporates web or mobile apps with audio and video streaming or CTI, along with a messaging system and the ability to share files and connect to the wearables. The admin panel here usually covers organizational factors such as medical records storage, scheduling, task management or telehealth platform may be integrated into the existing EHR/EMR.
Ultimately, telehealth platforms can be broadly divided into three groups:
Remote Patient Monitoring Platforms. A remote monitoring solution includes sharing and storing patient data collected by connected devices. Most of these solutions rely on cloud-based workflow and allow physicians and hospitals to monitor patients and their indicators outside the conventional clinical setting 24/7.
Asynchronous Telehealth Platforms. Also known as store-and-forward technology, asynchronous telehealth means capturing data locally, storing it temporarily, and transmitting it at the convenience of a medical specialist. This software includes features like patient profiles, messaging, EMR storage, and payment processing. It's critical that patient data transfer channels are secure and comply with the regulations of the health care providers' country.
Synchronous Telehealth Platforms. Synchronous telehealth means two-way communication that requires the two participants' presence at the same time to ensure real-life communication. Such interaction often occurs with a patient or represents online networking with another specialist via live video conferencing.
How COVID Changes Telehealth Industry and New Challenges
The world is experiencing unprecedented challenges from COVID-19. The healthcare sector was affected significantly and had to revamp its multiple processes to cope with an increased patient flow.
The interest in the telehealth market and telehealth app development is primarily piqued by the coronavirus events. It has both direct and indirect impacts on reducing the spread of coronavirus as medical institutions can track symptoms and offer assistance while ensuring social distancing.
In response to the COVID-19 threat, the US administration removed telehealth regulations to expand virtual healthcare services for free to those with Medicare.
One of the critical points of the new regulation is that the U.S. Department of Health and Human Services has temporarily loosened HIPAA privacy restrictions. Doctors can use FaceTime, Facebook Messenger, and Google Hangouts to connect with patients during the coronavirus outbreak.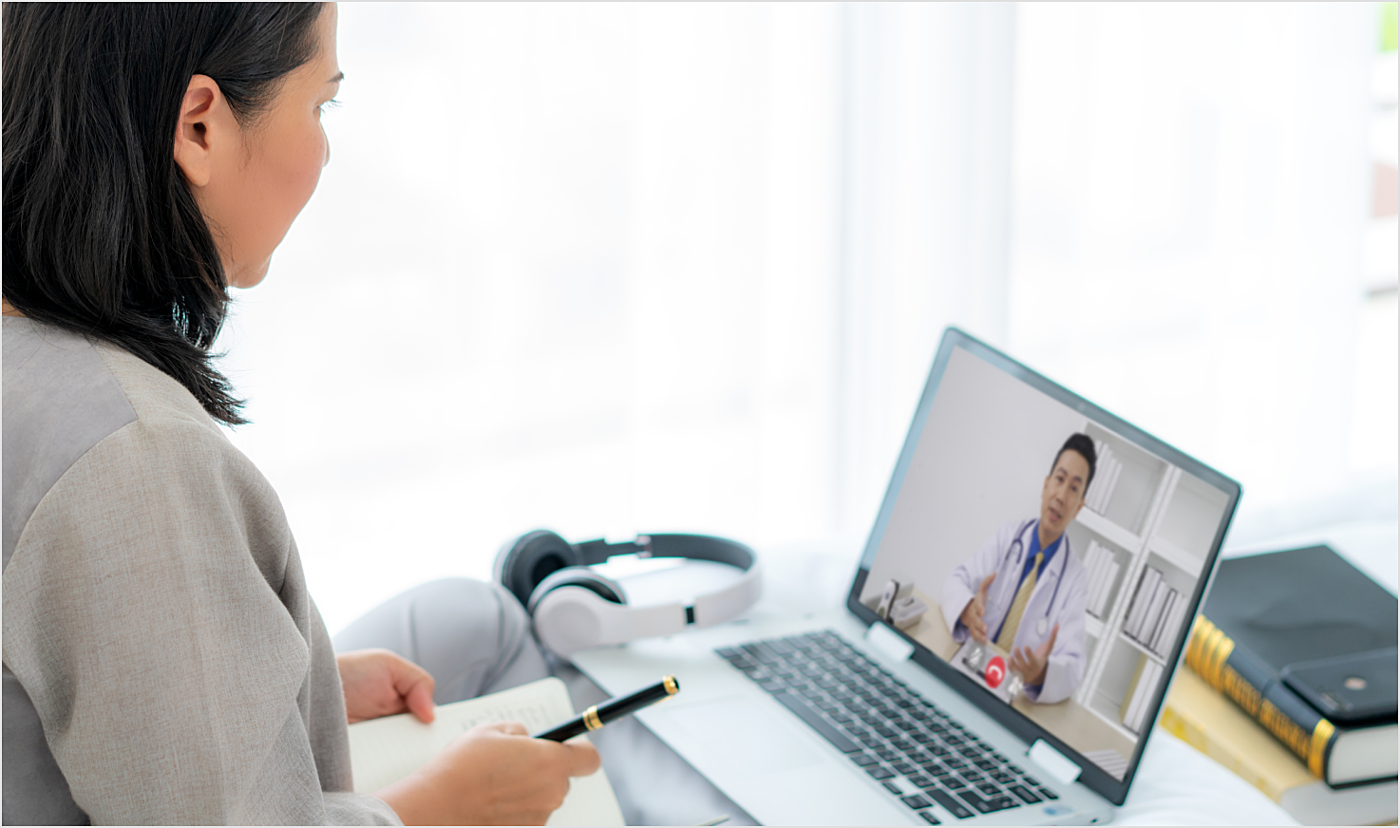 Source: Freepik.com
Uninsured people can benefit from low-cost doctor visits via telemedicine apps such as Amwell, HeyDoctor, or PlushCare. These companies are reporting the exponential growth of online appointments since coronavirus arrived.
The stats show that telehealth software development is likely to increase even further.
The need for staying home and getting qualified help even aside from coronavirus will rise due to one simple reason: remote medicine is very convenient. Your patients receive the same doctor's opinions and follow-ups yet are tied to a specific location in the world.
Hospitals, in their turn, may benefit from lesser loads and fewer no-shows caused by rescheduling or quarantine. It helps healthcare organizations grow their revenue and expand the reach of their care.
Paradoxically, this success of telehealth has created several challenges for the healthcare systems:
More complex care requirements
New investment costs
Adaptation of long-present models of care and work processes
Benefits of Telemedicine Software Development
Now, we know what has given telehealth such a boost and the reasons and new challenges behind it, so let's consider how advantageous the technology is for all the healthcare system's major participants.
Benefits for Patients
Here, telemedicine brings the ability to deal with numerous healthcare gaps which, previously, were impossible to fill. Some of them include:
Better healthcare accessibility for remote areas. Some rural locations in many countries worldwide still don't offer nearby medical services. For example, according to a survey conducted by the Australian Institute of Healthcare and Welfare, three in five people say that one of the reasons for not seeing a doctor was not having one nearby.
Easier healthcare access for the elderly and disabled. Healthcare accessibility has always been acute for such patients. With the simultaneously arising question of technical literacy for the elderly people, telemedicine brings such patients a chance to receive quality medical assistance from the comfort of their homes. It is especially critical at the time of the pandemic and reduces the chances of exposure to coronavirus at offline hospitals.
No waiting in a line. Is there anyone who enjoys long waits? Telemedicine accommodates appointment scheduling with ease. No need to sit in traffic jams or stress out about being late. Your patients can quickly switch from their daily routine to get on a video call with their physician, for example.
Medical records overview. Many are Google-friendly and love studying their medical records just to get a n overview or keep things under control. Moreover, it brings the ease of medical data sharing with private physicians or even some family members.
Benefits for Physicians
A telemedicine platform brings the following benefits for healthcare specialists:
Ability to collaborate with medical centers. Multiple professionals strive to become independent or even self-employed. Healthcare professionals often seem to live at their work. Joining your telemedicine app could bring them more freedom and opportunities.
Real-time access to the patients' data. Telehealth solutions provide integration with EHRs, allowing medical specialists access to the the required data from anywhere, and enabling them to monitor the patients' indicators.
Better time management. Medical professionals are often overwhelmed with work. With a telehealth self-service app, they can better balance life and work activities.
Benefits for Owners of Medical Institutions
Telehealth brings another set of advantages:
Reduced healthcare costs. Just as it reduces the cost of renting a working space, self-employed physicians can join the service.
Higher customer flow. The pace of life has become even more busy. Customers hate to wait. Thus, offering quality on-the-go consultations could become your competitive advantage and thus generate more revenue.
Better personnel management and KPIs. Such a improves the effectiveness of the provided healthcare self-service, ensuring your workspace is a pleasant place to be, and distributing the doctors' workload evenly.
Improved patients' experience of care. The likelihood of the patients' and their families' engagement or self-service in healthcare outcomes is critical for any business. Convenience, follow-up messages, and flexibility bring top-level experiences.
What Is Inside a Telehealth Project
Let's concentrate more on how to develop a telemedicine app and the components it can include.
In a nutshell, there are three options to choose from:
Web-based telemedicine platform
Mobile-based telehealth platform
Combination of a mobile app and web platform
Web Platform
Healthcare organizations that follow a patient-centric telemedicine app development approach often see this option as the way to go.
They find the requirement to download an app a much more difficult onboarding than, for example, sharing a link with the patient to connect with their telehealth appointment or account.
Thus, the patient seems to be just a click away from telehealth without needing to free up space for new software.
Just as a single link connection to a specific page works, time has shown that some patients are willing to download an app (like Zoom, Skype) to communicate with medical professionals.
Mobile App
This option allows the creation of an arguably better experience for the user. Push notifications notify the user about an upcoming appointment or remind them about some paperwork they need to hand over.
Nevertheless, mobile apps seem ideal for ongoing care. For example, it can be birth control scenarios or instant control of specific healthcare issues.
But which side is going to win?
The choice depends on whose needs you consider as primary: the patient or the clinician. Your business-specific requirements and goals are also paramount decision-shaping factors.
You should note that web-based applications must still be optimized to work on mobile devices. If they don't, offering telehealth can become a challenge.
How to Make Your Project Compliant
Before plunging into mHealth software development, make sure to get acquainted with the corresponding regulations and legal requirements. Otherwise, ensure that your telehealth product development partner is acutely aware of the compliance requirements for your project:
Health Insurance Portability and Accountability Act (HIPAA)
This United States federal statute provides security and privacy provisions to safeguard medical records.
As real-time video conferencing in telehealth is the best means of communicating with the patients, the application of such technology involves personal healthcare data sharing and exchange.
HIPAA requires healthcare providers to ensure and maintain the security of electronically protected healthcare information (ePHI). Violation of the HIPAA requirements is punishable with a $250,000 fine.
For secure telehealth platform development, to be HIPAA compliant, you must offer:
Strong entity or user authentication
Enforced access controls
ePHI integrity and end-to-end encryption
Granular audit
Secure data transmission
IEC 62304
This international standard defines the lifecycle requirements for medical software development. Compliance with the standard's regulations apply to both the United States and European Union.
Open Web Application Security Project (OWASP)
Being a nonprofit foundation, OWASP operates to ensure high software security. It includes weak passwords, outdated software and components, and more.
"You're dealing with the vendor and the platform, you're dealing with the provider's environment, and you're also dealing with the patient environment. So pretty much anything that you look at as far as a risk or vulnerability, you have to triple [the risk] because those threats and vulnerabilities exist in three interconnected arenas."

George Jackson Jr., Senior Principal Consultant at healthcare cyber-risk management firm Clearwater
FDA 21 CFR Part 820
Also known as the Quality System Regulation (QSR), these regulations ensure that medical devices are both safe and effective.
At Agente, we have proven experience in rendering telemedicine website development services in full compliance with HIPAA, IEC 62304, OWASP, and FDA 21 CFR (Part 820) requirements.
Step-by-Step Guidelines on Telemedicine App Development
To ensure the successful development or finalization of your telemedicine project, we recommend these six steps:

Step #1. Business Requirements Analysis
In the process of sharing the business ideas and goals for your future telehealth project, its technical feasibility and estimations will take place at this step.
Your telemedicine app developers must have a clear idea about the possible telemedicine monetization options to flawlessly iterate them in the project.

The main healthcare app business models are:
Subscription. One of the most popular models, in which doctors and/or patients pay for membership and the app publisher receives the appropriate fees.
Consultation fees. The doctor can charge their fees per minute or per visit. In this case, the app charges a percentage, similar to some Uber-like apps.




Source: Dribbble

Franchising. It is relevant to software products with extensive competition on the local market so that they are willing to sell their apps overseas.

SaaS. Software as a service model is an excellent fit for product development companies in the health MedTech industry. You can offer them a telehealth platform as a service and charge per account/per user.
Step #2. UX Strategy
Flawless and intuitive navigation is especially critical for telehealth development solutions as they target users with individual technical skills.
A thought-out UX strategy will let you design an information architecture that correlates well with your user personas. You will work on building the user flow map too.
Step #3. UI Design
At this stage, you will be offered a review of wireframes for your project. You will see the way your telehealth app will look on devices with various screen resolutions.
Step #4. Telehealth App Development
Following the technical specifications, the team of developers will bring all your ideas to life. Once both the back-end and front-end are built, they will be connected to pass the live data between the two.
Step #5.Quality Assurance
The quality of the code is the king. This stage is about perfecting your project and making sure it goes live without any critical issues.
Since telehealth apps have complex functionality and they transfer sensitive data, the testing cycle will be finished only after all bugs are fixed.
Step #6. Project Release
Would you like to release your telehealth project by iterations or in full? You can also opt for the continuous integration (CI) or continuous delivery (CD) methods. They give you the opportunity to deliver an app by introducing automation into the stages of app creation, testing, and deployment.
Either way, your software development partner will recommend a project release method that suits your requirements the best.
Step #7. Post-Release Support
As your project goes live, there is still much to do: bug fixes, new features, and updates.
At this step, the results are analyzed, and assumptions are made to make the necessary adjustments to your project development roadmap.
Most Common Telemedicine App Features
Analyzing the telehealth solutions on the market, we've selected several must-haves for both patients and physicians. Here's what features to include into your telemedicine app development backlog:
Video- and Audio-Streaming
Treatment using a remote screening solution is impossible without video visits, and real-time HIPAA-compliant video and audio calls have proven to be more effective than recorded ones. They are used in two common scenarios:
Virtual doctor-patient consultations via audio/video conferences with multiple participants. It's critical here to offer the ability to save or download video consultations. These files can be added to the patient's personal profile and used to track the progress of the clinical record.




Source: Dribbble

Doctor-to-doctor telenetworking allows one physician to refer to the relevant specialist. Such remote collaboration between doctors is a great way to ensure the right remote treatment for the patient. Physicians can exchange working materials remotely.
Text Messaging
Usually, telemedicine apps have a standard one-to-one messenger for communication between doctors and patients. This functionality could be enough for an MVP, but a fully functional telemedicine platform development should include advanced features:
Multi-user chat
Chatbot with FAQ and rapid scheduling
File, video, and image sharing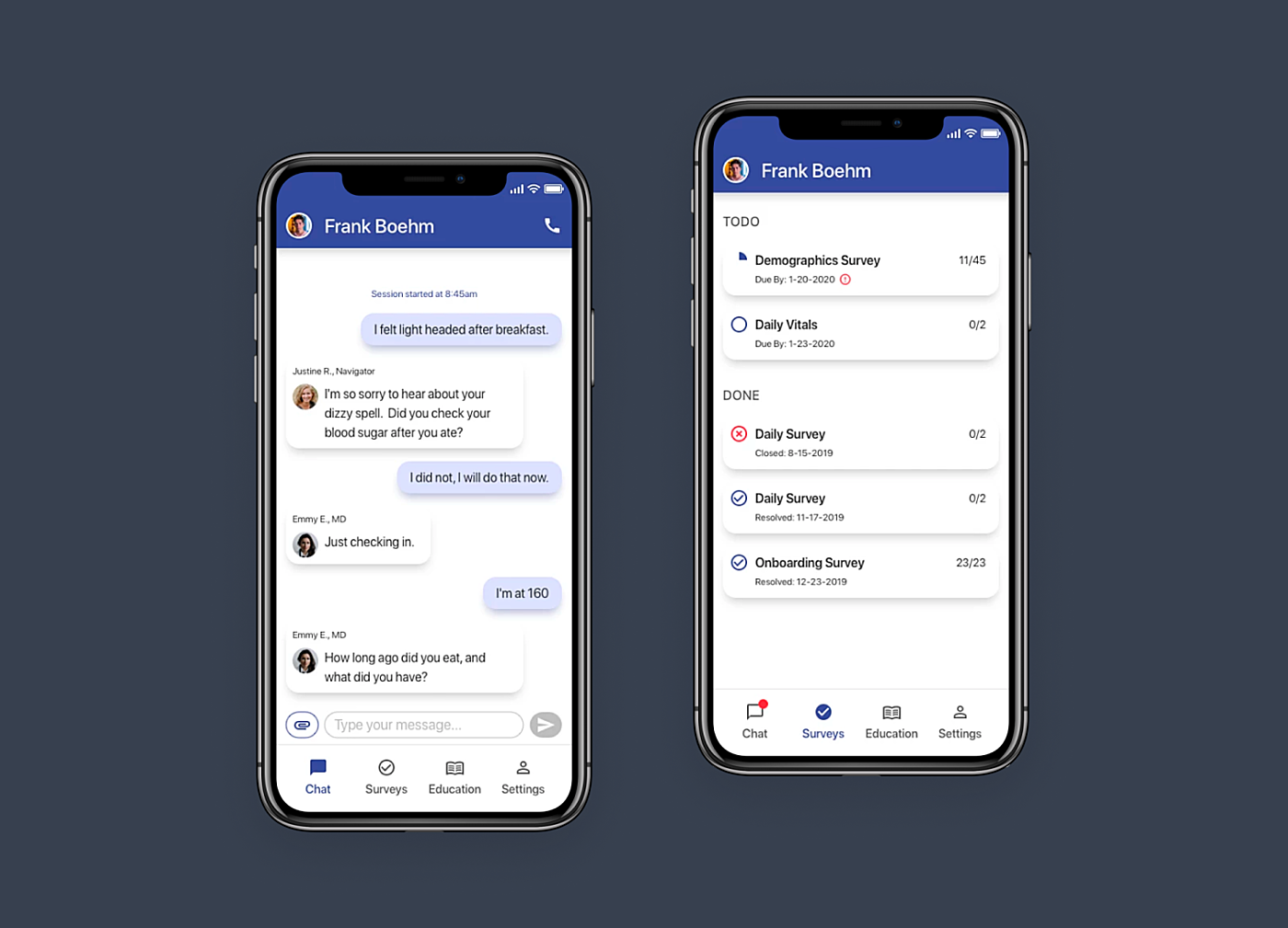 Source: Dribbble
IoT and Connected Devices
Here, the telehealth concept is very similar to the Internet of Things. They both have a network of physical objects for data collection and exchange.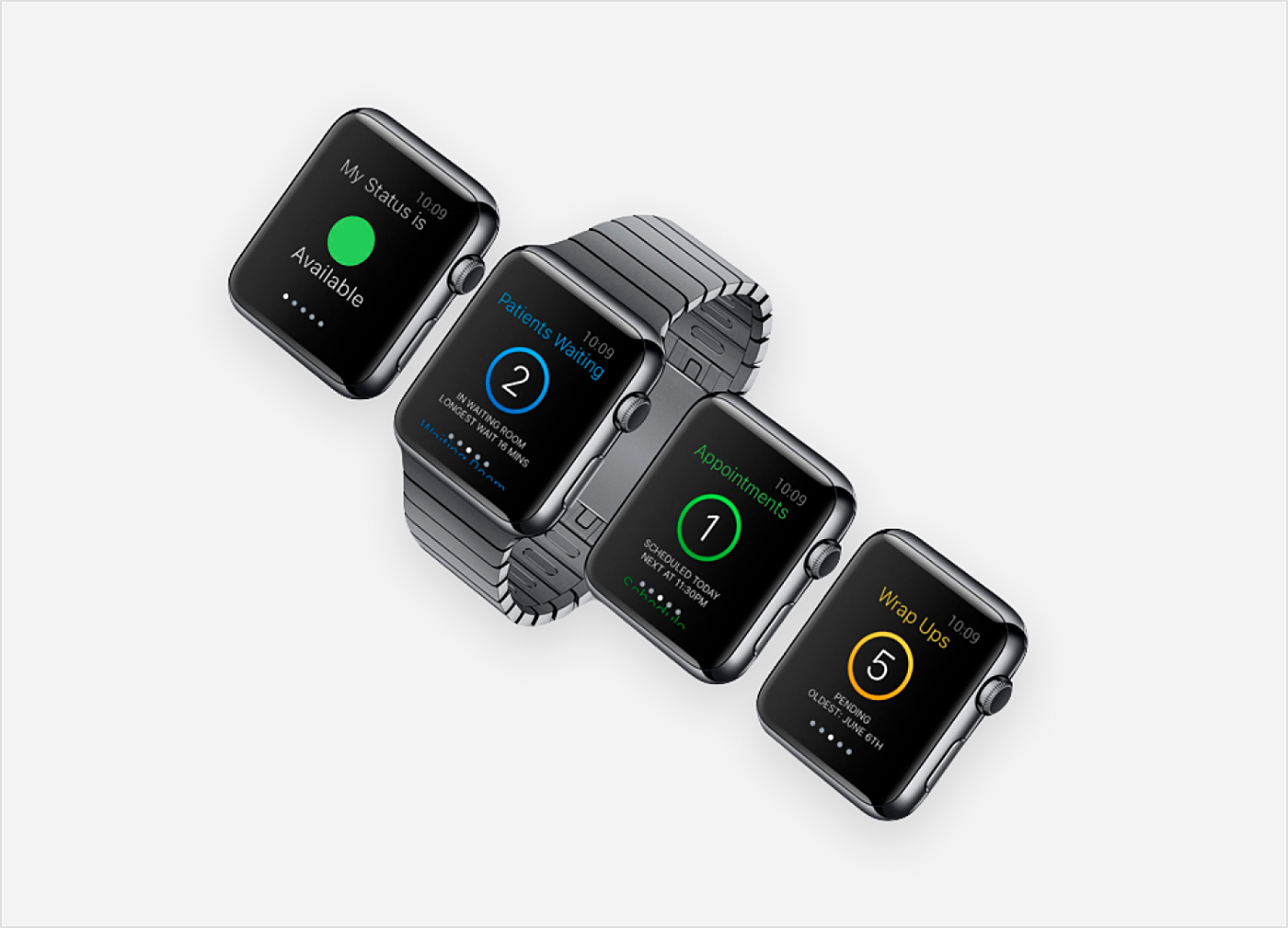 Source: Dribbble
However, even though doctors can see some visual symptoms of illness remotely, they cannot measure each patient's temperature, blood pressure, or blood sugar level. If a patient has a certain level of competency in measuring these metrics independently, telehealth can be even more powerful with connected devices.
That being said, the main advantages of IoT in telemedicine app development solutions are:
Access to the results from wearable for remote patient care and monitoring
Personal patient education and faster, fact-based generation of prescriptions
EMR/EHR Integration
EMR (electronic medical record) or EHR (electronic health record) is a must-have for tracking and managing patient records and medical history.
In a telehealth software system, these records allow doctors to fill in the patient's information right after the remote visit.
Conversely, the patients can visit an integrated patient portal and view any changes since the previous visit.

At Agente, we know how vital it is to foresee the possibility of telehealth software integration with the existing EHR/EMR systems. In our projects, we do our best to ensure this possibility.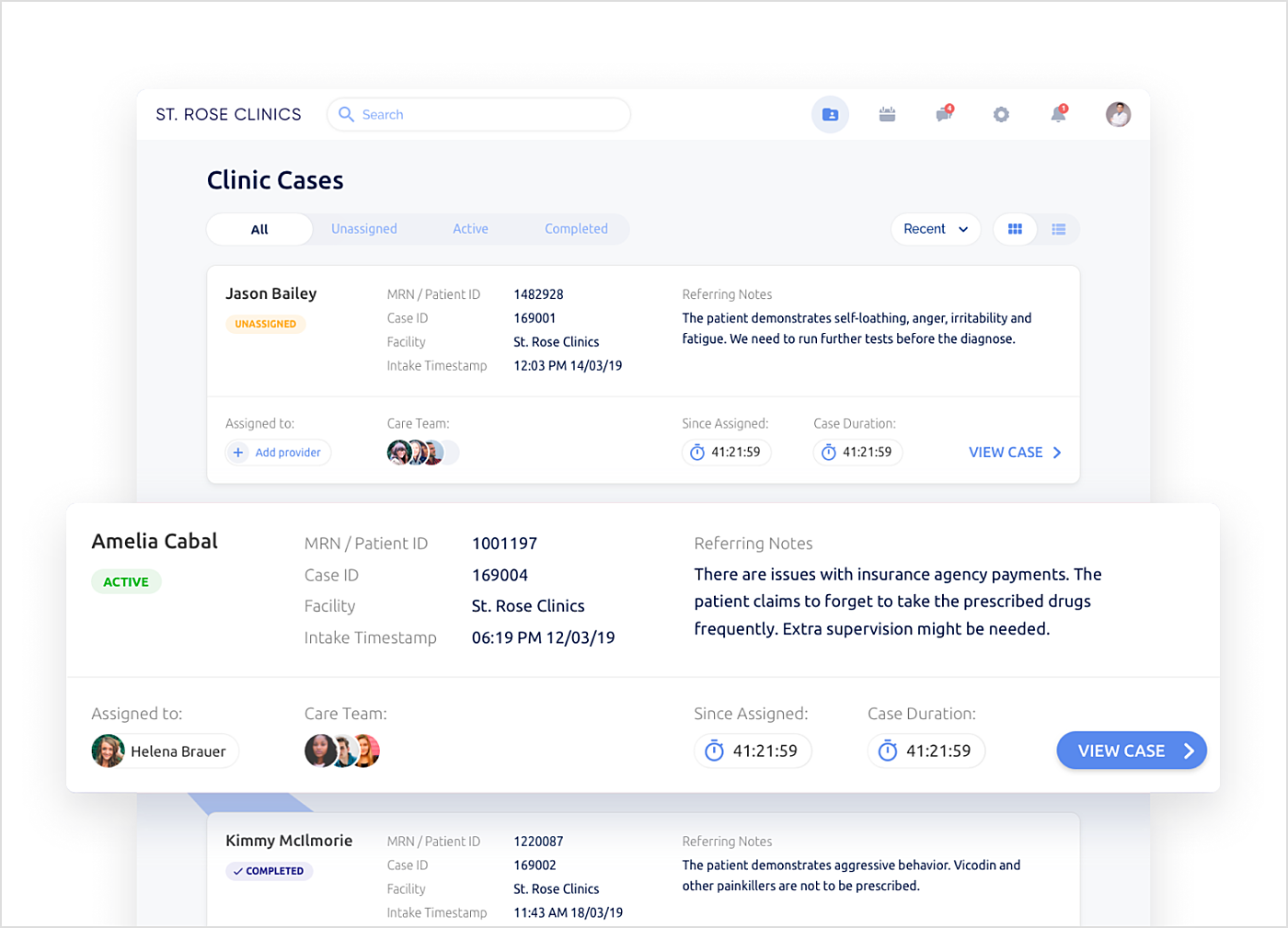 Source: Dribbble
Payment System Integration
Reimbursement for telehealth treatment is a complicated process. Any telehealth software solution should have an advanced medical billing system in place; it will help healthcare providers to generate electronic bills and manage patient payments and co-payments.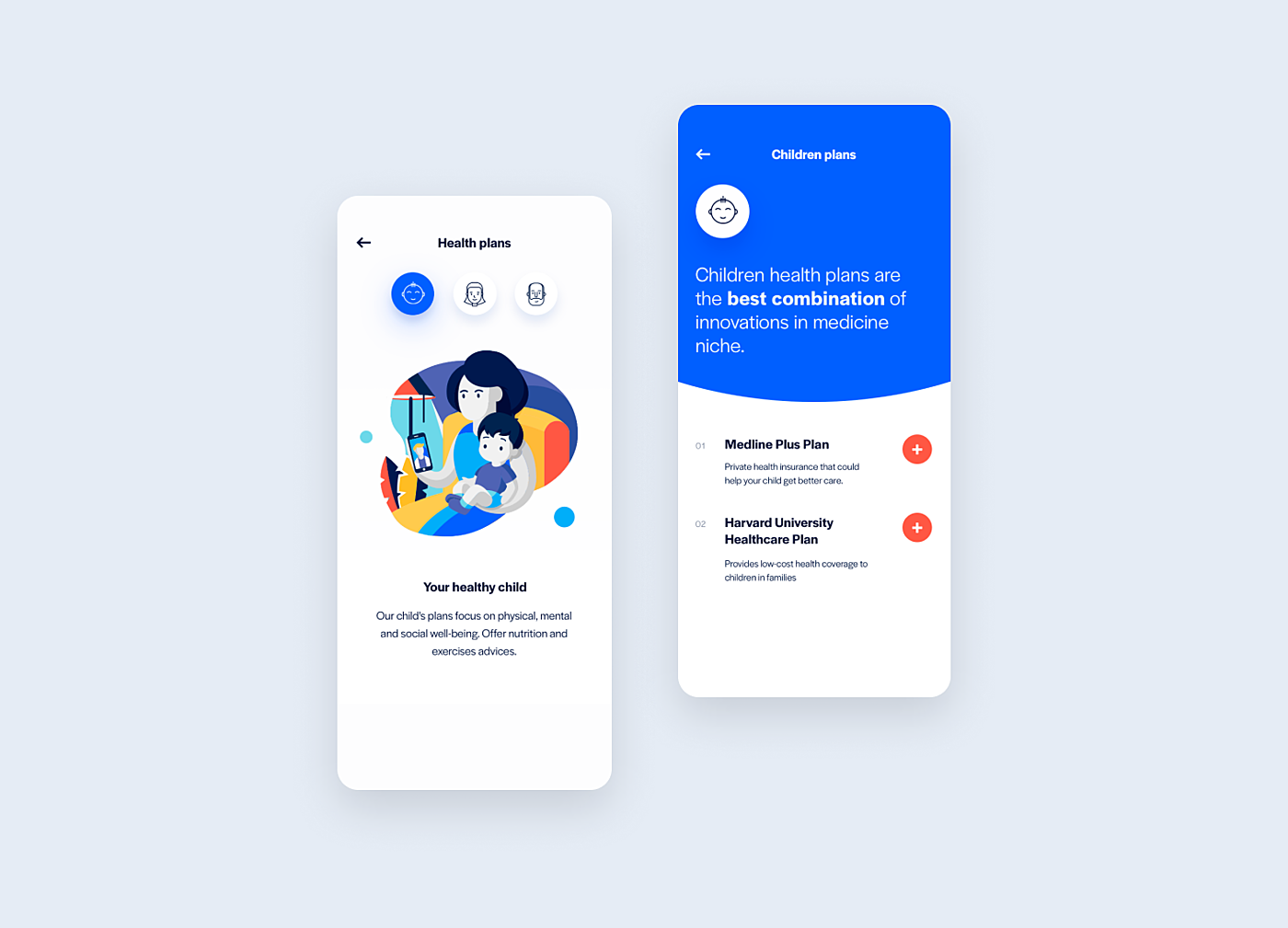 Source: Dribbble
Analytics and Reporting
An ideal telehealth management solution should have predictive analytics built on the previous patient history and historical events. Predictive analytics algorithms should define data relationships and ensure that the system can predict potential medical outcomes.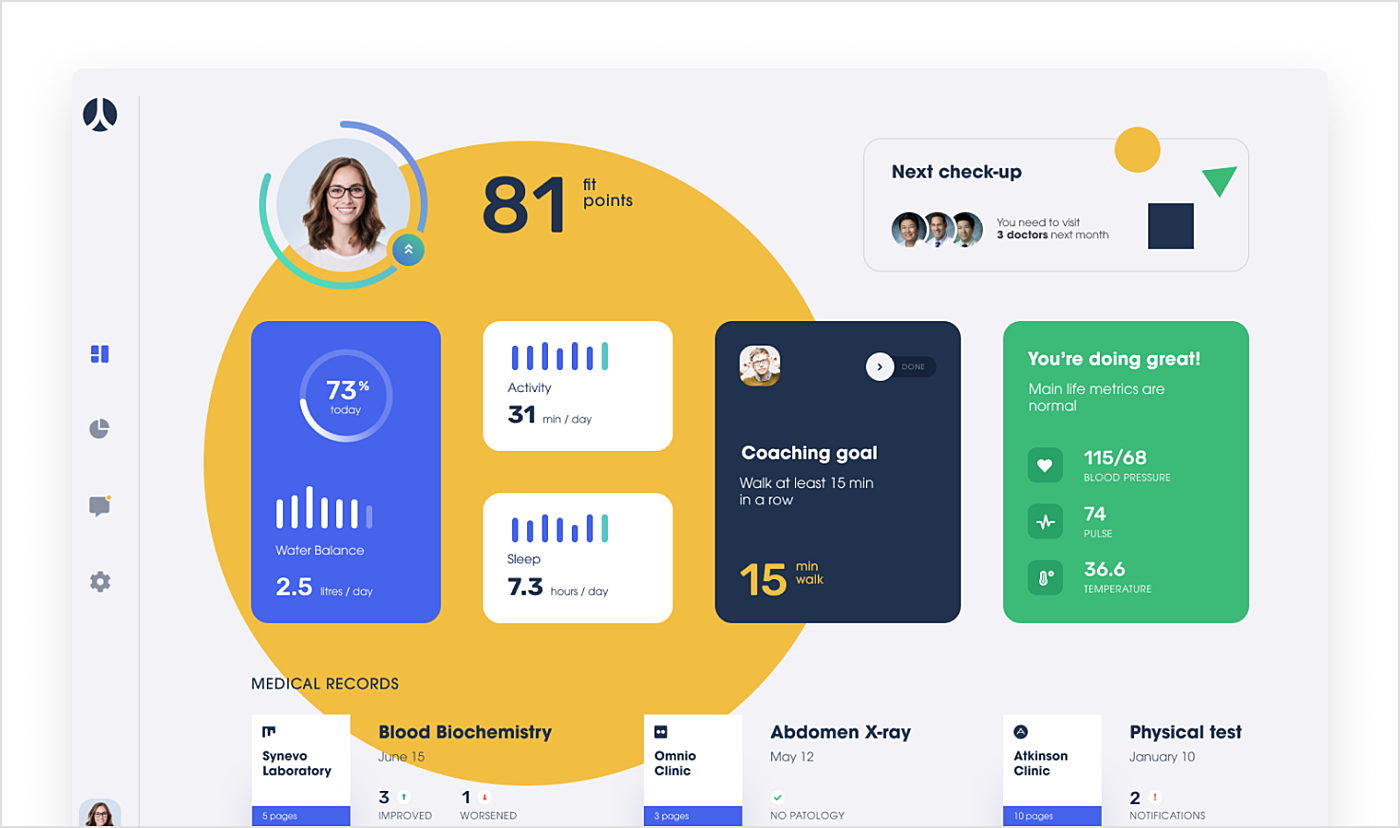 Source: Dribbble
Gamification
The most popular use cases for gametech include educational games for patients and health workers, as well as motion and nutrition tracking apps for telefitness or remote rehabilitation.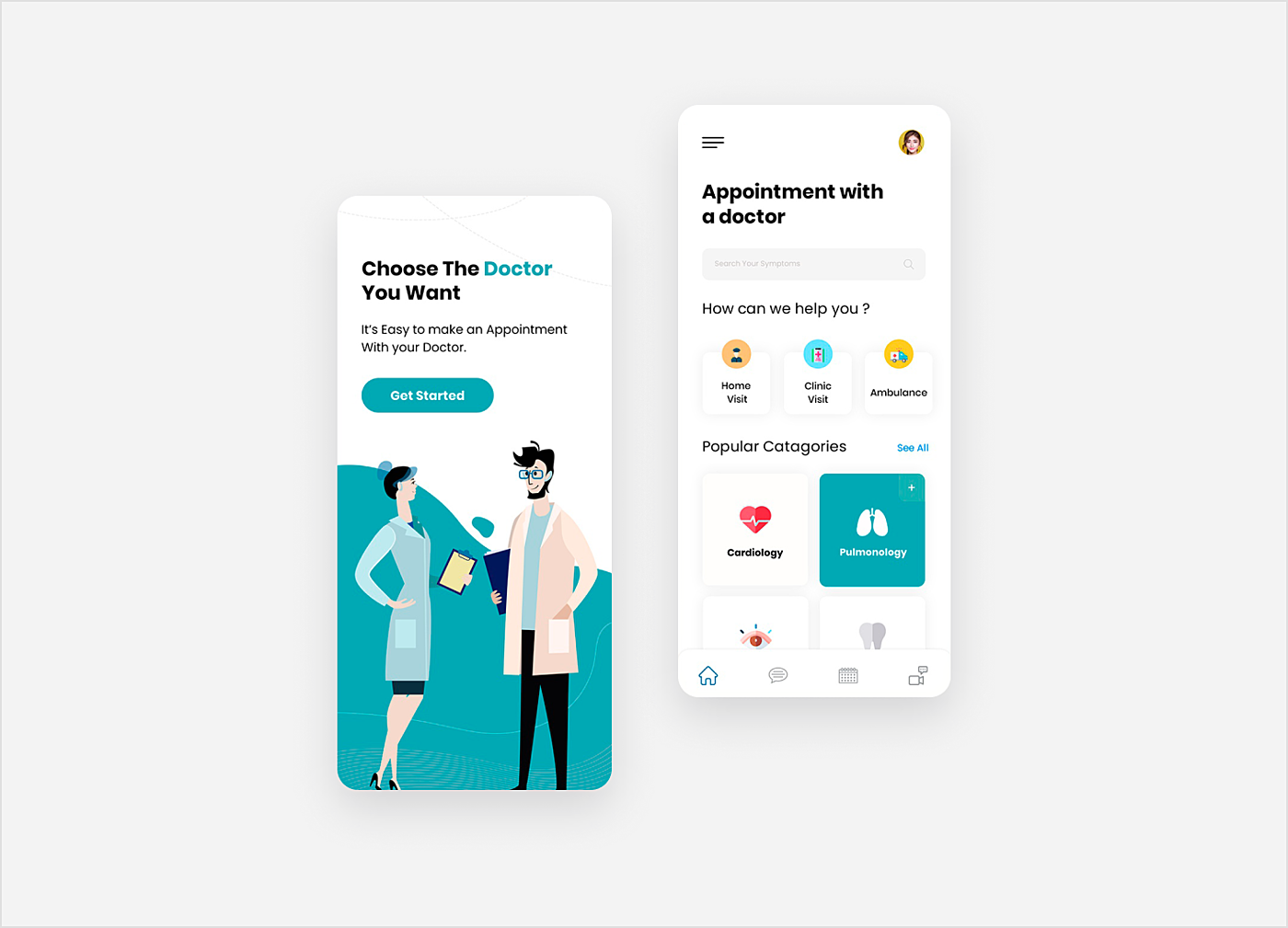 Source: Dribbble
Virtual Reality
VR technology is widely used in telehealth to imitate physical presence during remote appointment. Other use cases include remote or augmented surgery, medical visualization, and rehabilitation in neural psychology.
Who Needs to Be Hired to Develop a Telemedicine App?
The online world offers a pool of options and opportunities. But what should you consider I order to find the telehealth development company that meets your business requirements the best?
You probably have a list of requirements for your future software development partner. After you shortlist the available companies, make sure that you consider competencies such as:
Experience in healthcare projects development, relevant case studies.
Development in full compliance with healthcare development standards needed for your project, such as HIPAA, HL7 FHIR, DICOM, IEC 62304, OWASP, etc.
Customers' feedback: Clutch reviews, Google mentions, social media activities, independent reviews.
Company's values and approach to software development.
Agente Expertise
If you decide to develop a telehealth project, you need an experienced medical software development company as a partner.
The Agente team has the knowledge and experience in healthcare software development following the industry best practices.
Patient Portal App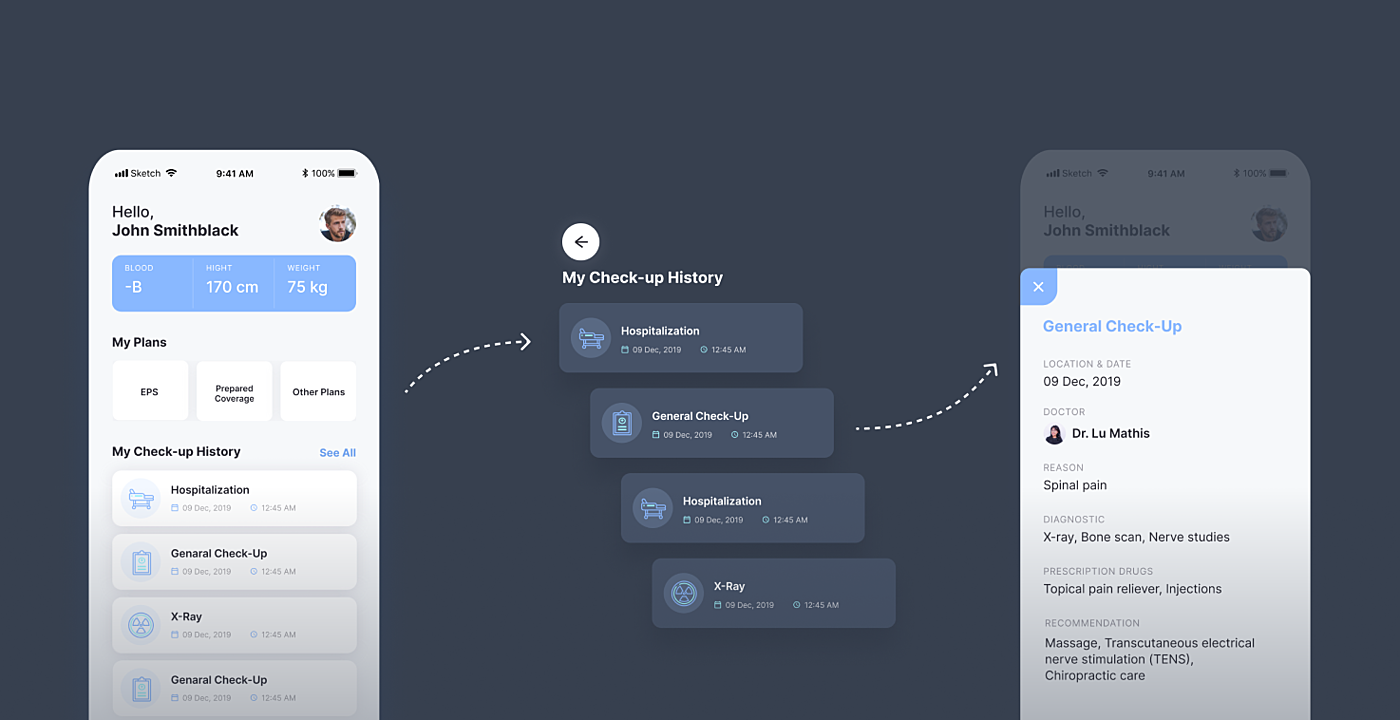 Source: Agente case
The project's goal was to create a patient portal app that allows the patients to conveniently overview their personal data, plans and appointment history.
With security considerations in mind and full compliance with the requirements of the corresponding regulations, we've designed an MVP that offers a patient dashboard with records of patient visits, check-ups, plans, etc.
Takeaway
Telehealth apps are the new reality of modern medicine. People are urged to obey social distancing, yet get quality health care and keep in touch with medical specialists.
The coronavirus crisis has shown a strong gap in the patient demand for remote help and online doctors. That's why there's much for the health tech market to offer.
Are you still not sure whether your medical institution needs telehealth app development services or not? Drop us a line! The Agente team will answer any questions on how to make a telemedicine app that you may have and enthusiastically pitch in for your future healthcare project.
Stay tuned for news
Useful articles from our content team right to your inbox!
Let's talk
Is there a challenge your organization or company needs help solving? We'd love to discuss it.