10 Best Medical Website Design Examples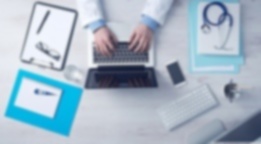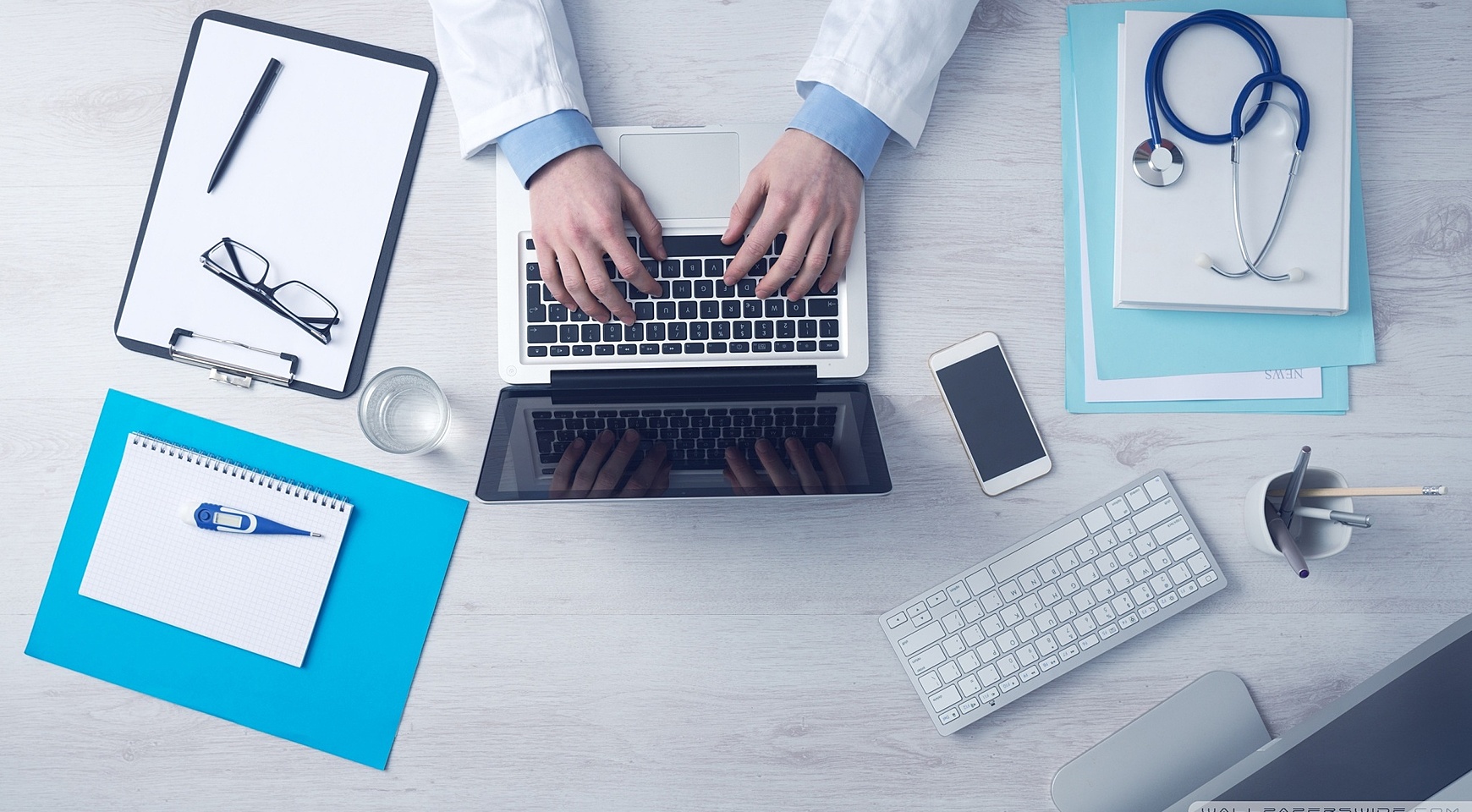 10 Best Medical Website Design Examples
Today the number of Internet users is enormous, and it is still on the rise. According to a study by Pew Research Center, approximately nine out of ten adults use the Internet in the U.S. alone. The Internet has turned into a valuable source of information. For instance, more than 70% of connected adults look online for health information. The Internet is an effective business tool, and companies and individuals go online for different purposes: to provide better customer support, draw attention of new customers, cut costs, etc. Healthcare organizations and professionals actively build the online presence, too, and launching websites is the most common strategy.
A medical website design may become a daunting task for website designers who lack relevant experience. Healthcare providers must be extra cautious when they choose a design company, as various crucial issues are to be taken into account. E.g., a website must be HIPAA-compliant to ensure patient data security and eliminate any potential data breaches.
Major Types of Medical Websites
This article discusses a custom website design in detail by providing examples of best-in-breed healthcare sites and discussing essential features that they should have to leave their competitors behind. There is an extensive range of healthcare sites that will give you some inspiration for healthcare website:
1. Medical Catalogues and Portals
They are devoted to a specific hospital or medical center and contain comprehensive information about services that the institution offers, their staff, locations and directories, working hours, and more.


2. Hospital/Medical Center Websites
People visit these sites to read information about healthcare institutions and doctors, read real people's reviews, find hospitals and/or healthcare professionals that can treat their diseases and medical conditions, send inquiries, etc.



3. Medical Marketplaces
These marketplaces offer general or specialized medical services to their visitors. The sites contain doctor ratings, throw light on qualifications and experience of doctors who listed their practice there, enable online appointment booking, etc.



4. Medical Practitioner Websites
Medical practitioners have started to launch separate websites to promote themselves. They demonstrate their knowledge to visitors by publishing blog posts, including customer testimonials, and sharing healthcare news.


5. Online Doctor Consultation Platforms
Being too busy to spend their precious time on face-to-face visits, many people take advantage of online consultations. They use this service to receive detailed medical advice from certified specialists by using the Internet connection.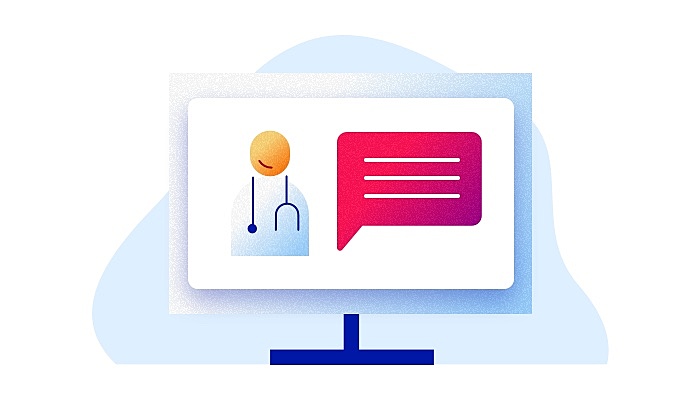 Must-Have Features of Medical Websites
What makes a successful website that keeps visitors returning? Here are some features that can be employed to make a medical website design that visitors will love.
Medical Catalogues and Portals
Such websites do not need a sophisticated design with multiple images, animations, colors, etc. They should have a simple and clean design. As their main purpose is to help visitors find the medical information they need, these sites should have a search box that is visible to all visitors, no matter on which page they are. A big search box may be located on the top of the home page or in its middle to let people start searching right after they access the website.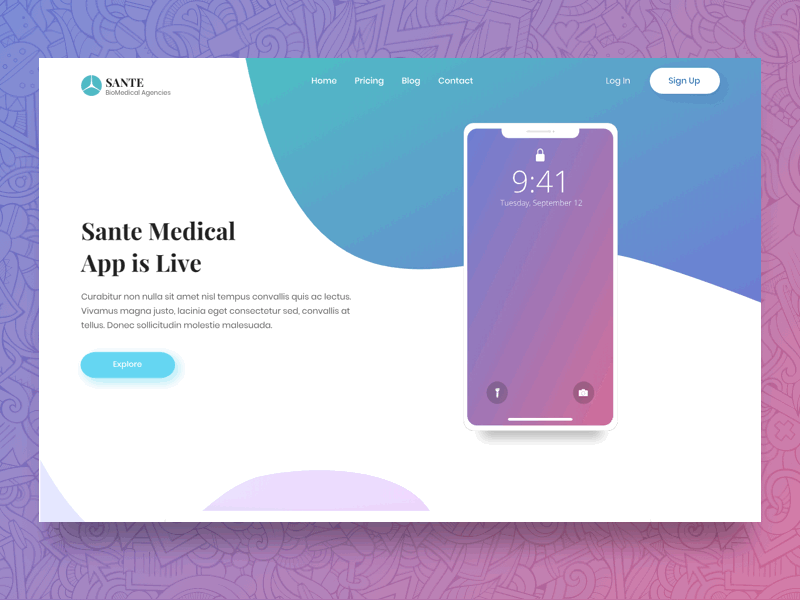 Source: Dribbble
Site developers should make sure that a website is intuitive to use by placing the main navigation bar on the top of the website, using sidebars and call-to-action (CTA) buttons, like caredash.com does.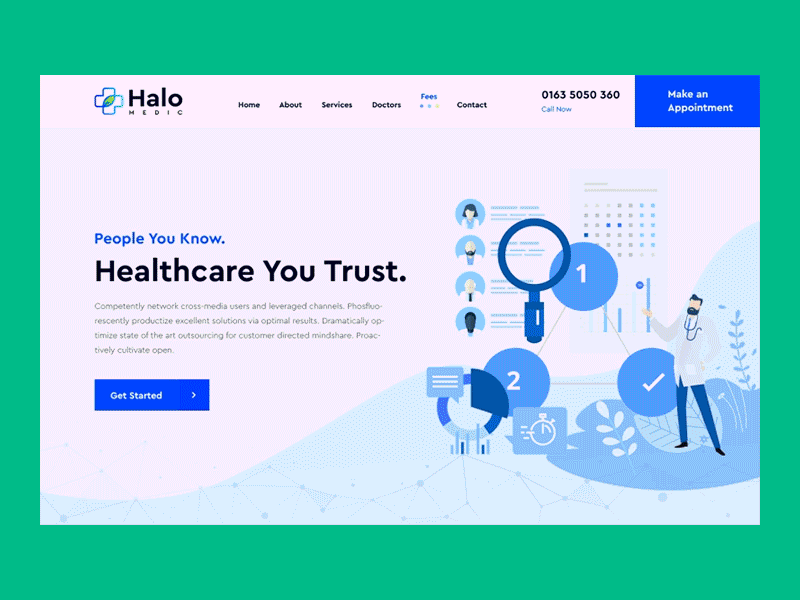 Source: Dribbble
Hospital/Medical Center Websites
As these sites promote services of a hospital/healthcare center, they should extensively use CTA buttons right from the main page to encourage visitors to take certain actions: find a doctor, request an appointment, manage an account, and more.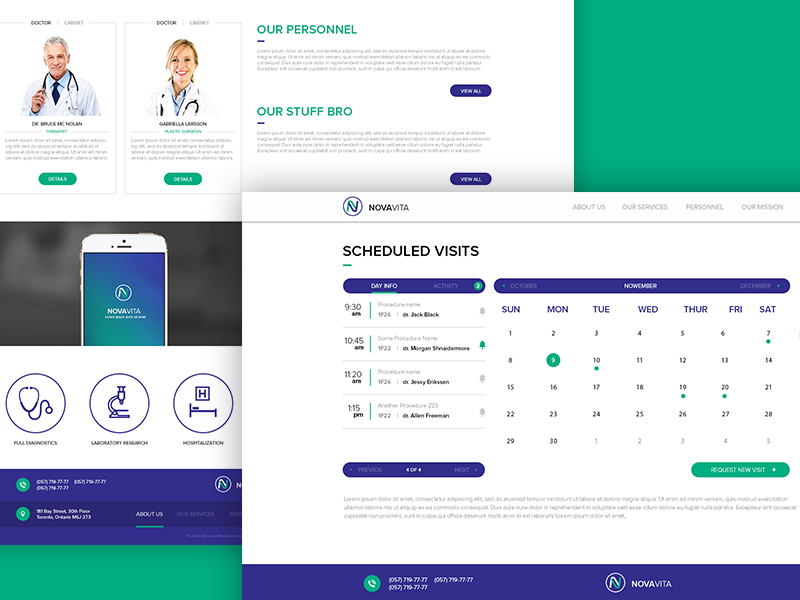 Source:Steelkiwi
A medical clinic website design should not be too complex. It is a wise idea to include a looping video on the homepage of the site to let first-time visitors get acquainted with the medical institution. Real photos of employees and interior as a background image are one more option for the hospital website design.
Contact details (e.g. phone number) should be found in the header so that visitors could find them at any time. The navigation bar should be displayed on each page to make a search easier. Patient stories, testimonials, and different achievements should be showcased to build credibility and trust.
Source: Dribbble
Medical Marketplaces
These marketplaces do not require an innovative healthcare website design, as they are developed to connect service providers with customers. Yet, if a marketplace specializes in specific services, there is more room for imagination. For instance, orthoindy.comhas an introductory video that gives visitors a brief insight into the services that are rendered.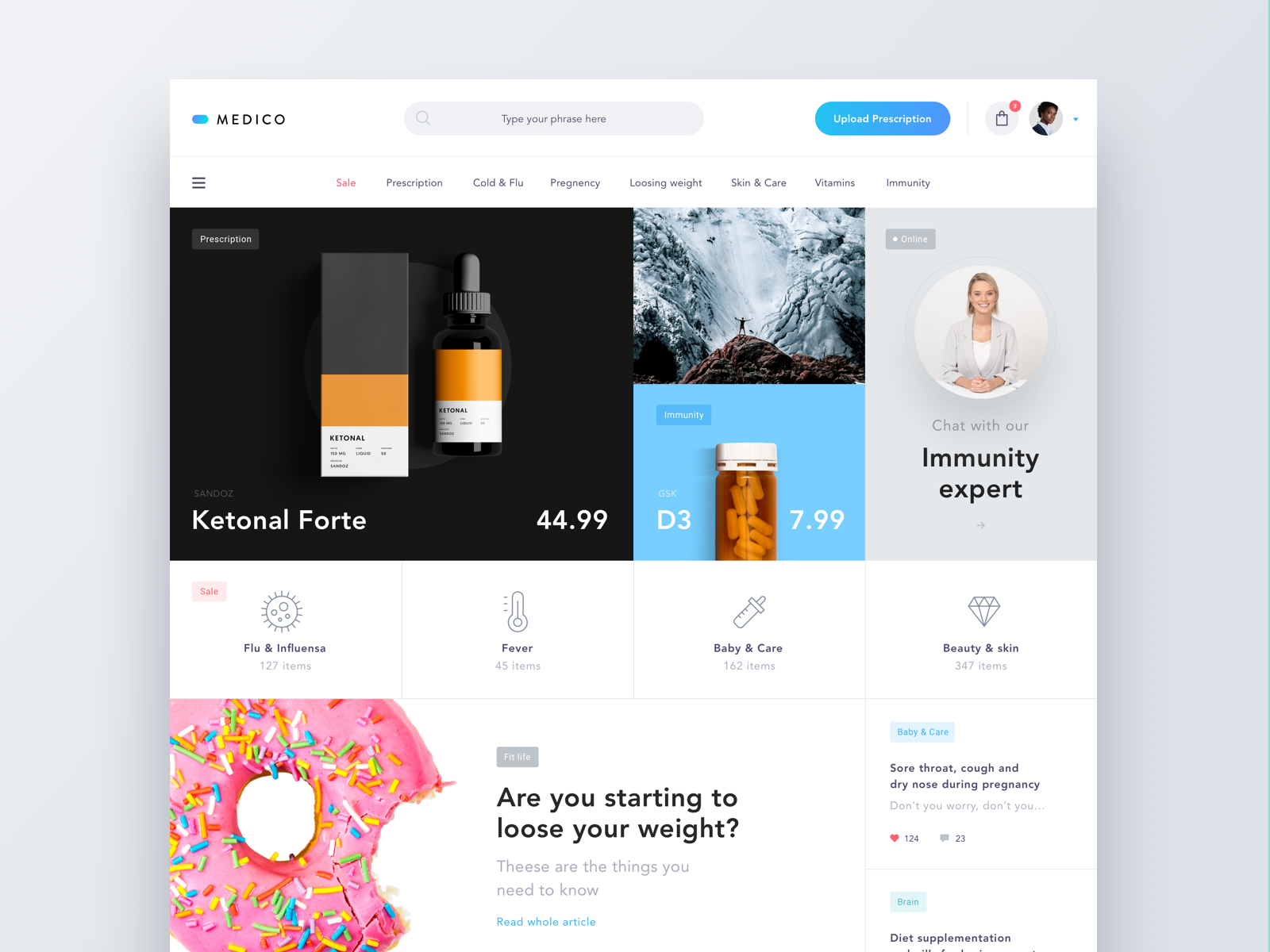 Source: Dribbble
The search box is as important here as it is for medical catalogs and portals. An advanced search can be utilized to show visitors all the options that are available. E.g., Zocdoc lets users an advanced doctor search where they can choose not only symptoms/doctor's specialization but also gender, language, etc.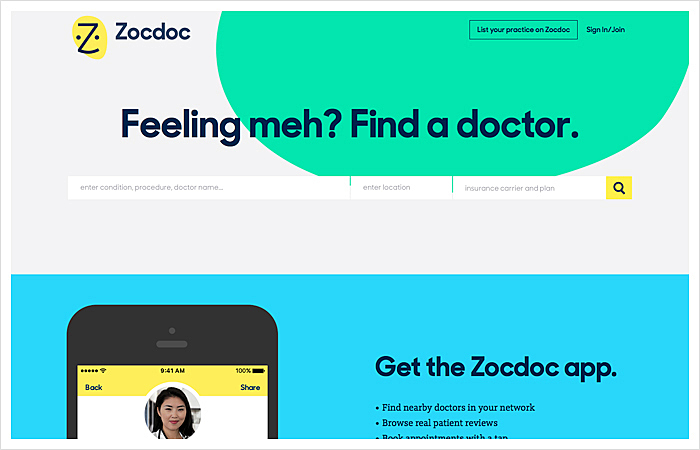 Source: zocdoc.com
Such websites should have rating systems based on customers' reviews, and service provider profiles that contain detailed information: education, experience, and certifications. CTA buttons cannot be neglected, too. They should be found on each page to suggest some sort of action to visitors.
Medical Practitioner Websites
A medical practice website design is to a certain extent similar to the one of a personal website, as they both are dedicated to a specific person. But unlike personal sites where someone's personality is the center of attention, these websites cover the professional goals of their owners to create a favorable first impression.
Source: Kaplan Orthodontics
They are an extension of the practice, and medical specialists may let site visitors request appointments (by clicking CTA buttons), watch videos, order books that are written by the medical practitioner, share their thoughts in the guestbook, send messages, and more. The website design for doctors should contain photos of their owners to earn potential patients' trust.
The other reputation-building feature for doctor website design is a blog that spreads trustful healthcare information among the readers. Also, it's a good practice to add a newsletter subscription CTA button as a part of medical practice website design and share publications, news, and press releases that matter most.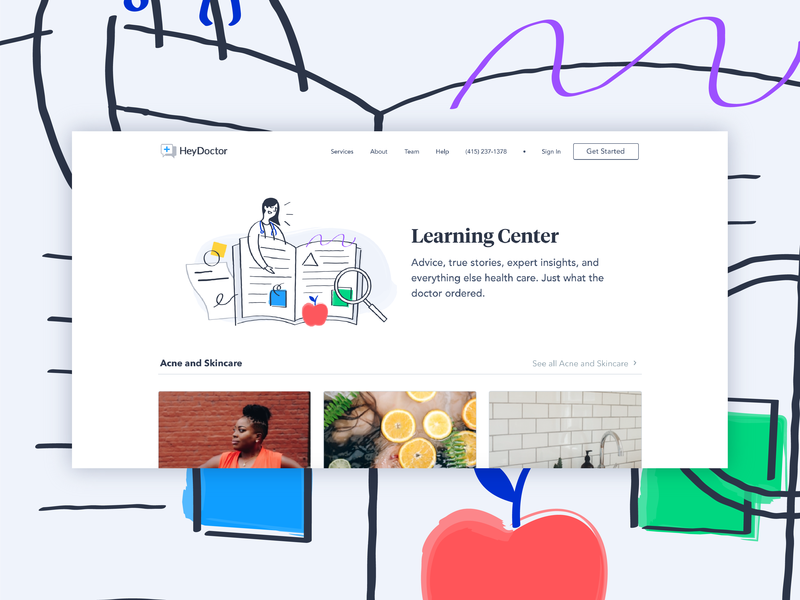 Source: Dribbble
Online Doctor Consultation Platforms
When it comes to an online medical office website design, demonstration of such services is the focus of attention there. Designers usually employ an introductory video for this purpose.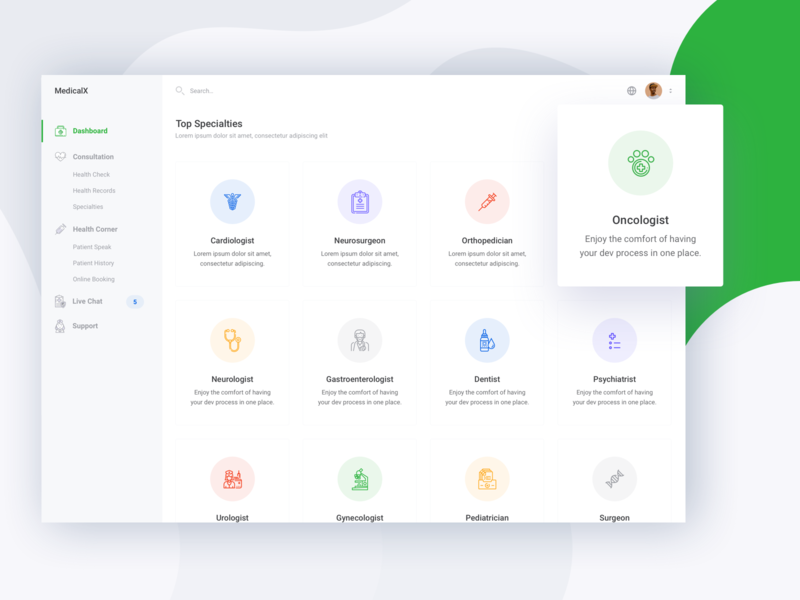 Source: Dribbble
These platforms should be easy to use, as people of different age and physical conditions may utilize them to get a consultation. In short, the sites need a simple and intuitive navigation. CTA buttons should be also employed on each page.
Some sites suggest visitors start their journey with search activities by entering their symptoms, medical conditions or a medical specialist title they look for.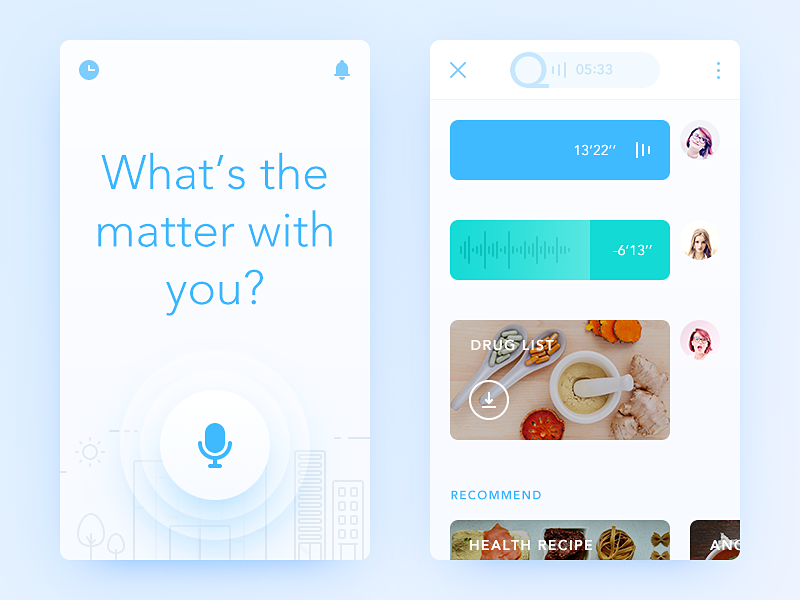 Source:Dribbble
It is essential to include precise information about medical professionals who provide services via the website, include customer testimonials and reviews and enable a rating system.
Other Considerations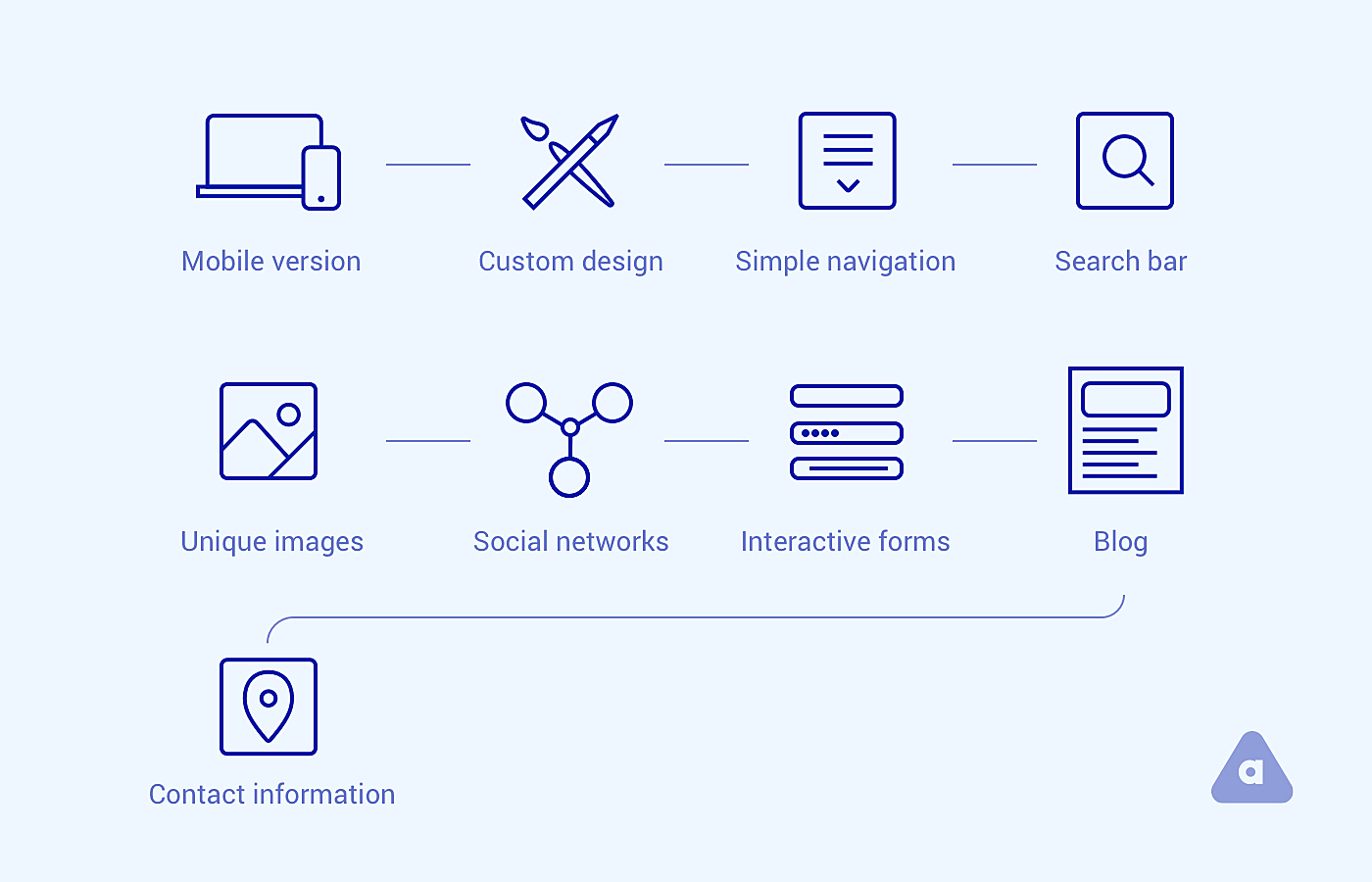 There are some other features that are applicable to any healthcare websites:
The number of people who use their mobile devices to access the Internet is skyrocketing, and that is why it is a clever idea to choose a responsive website design (Google loves it) or create a separate mobile version of the same.
Custom website design is always better than predesigned website templates, as it lets developers build a site that is distinct from others and provide a unique experience to its visitors.
The website navigation should be simple enough to eliminate any difficulties for unseasoned Internet users.
The search bar should be available on all the pages, thus allowing visitors to start searching for information they need from any page.
It's better to get rid of stock photos and use unique images, icons or real photos.
Do not forget to include links to social media accounts.
Utilize interactive forms (e.g. to book an appointment) and include HIPAA-compliant patient forms.
Create an information portal by starting a blog.
Show contact details on each page and do not be afraid to employ CTA buttons everywhere.
Conclusion
Medical institutions and specialists are increasingly interested in building their online presence by launching their own sites. It is important to find the right web development team that can make an outstanding site by utilizing the latest design techniques and taking into account domain-specific requirements (e.g., HIPAA compliance).
A successful healthcare site can become a vital tool that can be used to attract new clients and retain existing ones. We hope that this article with several medical website design examples became a source of inspiration for you.
Stay tuned for news
Useful articles from our content team right to your inbox!
Let's talk
Is there a challenge your organization or company needs help solving? We'd love to discuss it.