12 February 2019
What Does a UX Designer Do in 2023: Role & Responsibilities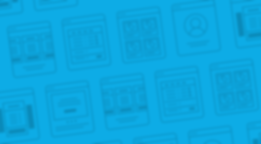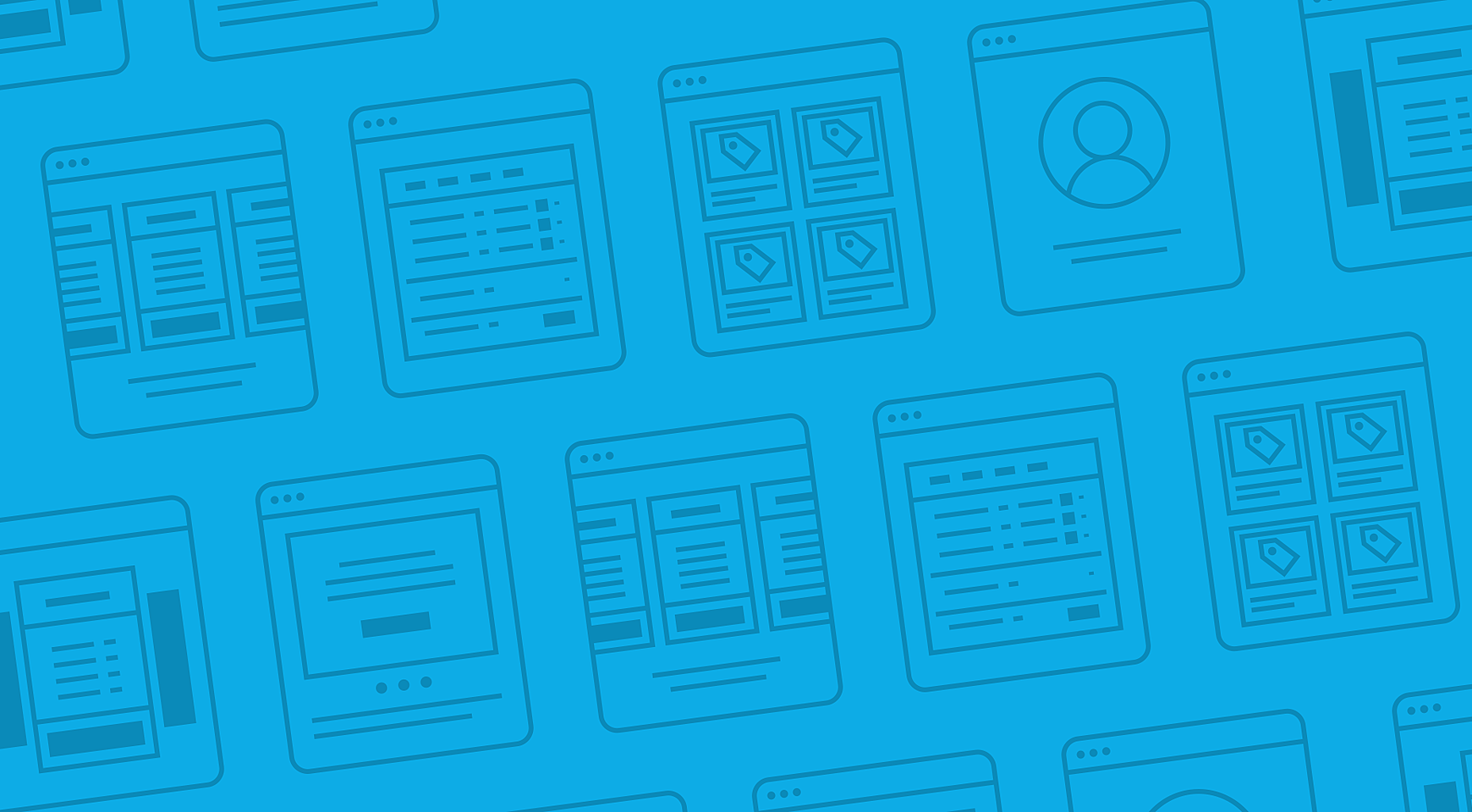 Open Indeed, a worldwide employment-related search engine, and type "UX designer" in the search bar. You'll see 9,230 active vacancies. Apparently, there's a high demand for qualified specialists, so we decided to explain UX designer responsibilities, the tools they use, the ways to acquire must-have skills. and the difference between UX and UI design.
In this article, we will talk about what UX designer should really do, what is the role of UX designer and responsibilities. Also we will consider a lot of useful as far as UI and UX design are concerned what every designer needs to know.
What is a user interface (UI) design?
User interface design deals with the form, outward appearance, and interactivity of a product. It is responsible for the transmission of a brand's energy and visual unity to the interface, to maximize user experience. You may use it as user interface definition.
In other words, a UI specialist is often responsible for:
— Product's visual appearance and graphic representation;
— Product's interactivity and responsiveness to a user's actions.
What is a user experience (UX) design?
Here's the user experience definition: The purpose of user experience design in digital products is to refine the client's gratification through the availability, and applicability provided by the interaction with a product.
So what does UX designer do? In simple words, UX designers are mainly interested in how the product feels. It is about enriching the experience that people might have while using the product.
The main challenge of the UX designer is to guarantee that the product is logical, clear and user-friendly. The usual way to achieve this for UX specialist is to conduct user behavior observation tests. The tests are iterative, the results of each batch of tests are analyzed to identify and improve the difficult and rough "user stories."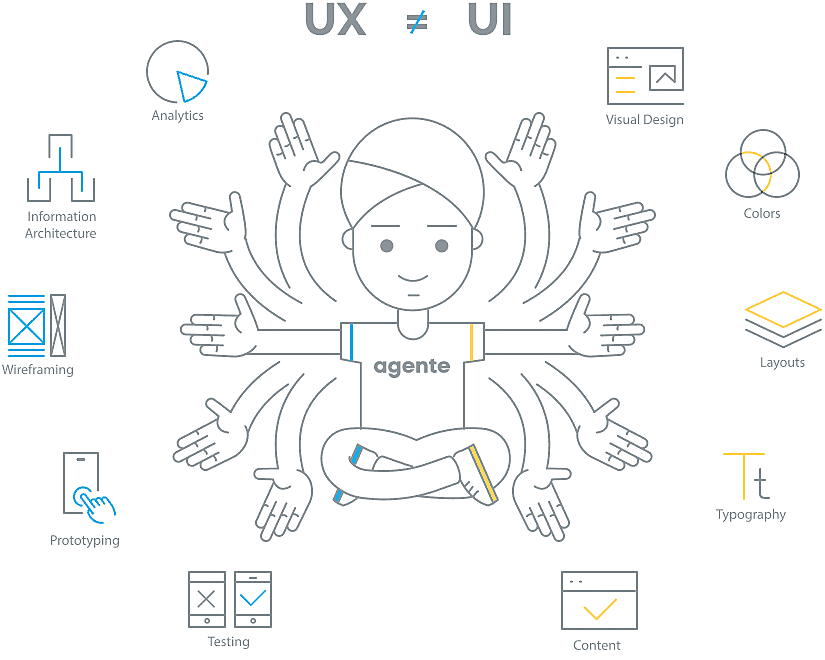 UX design process

stages:
1. UX strategy formulation
At this stage, a UX-designer analyzes the project goals and objectives, its status (start-up or existing project) and creates the project description. This step occupies an important place among what a UX designer does.
2. Analysis stage
If the end product exists already, a UX-designer should perform a complex assessment of its current state. They would report the problems and recommend necessary fixes based on their research.
Next, the peer analysis is conducted by UX designer. Let's review the features and tools of such a study:
2.1 Personification
A persona is a mythical character that mirrors one of the user classes for whom the product is developed.
Making personas for the project includes interpreting the different analytic data, conducting consultations, user behavior testing sessions, and other surveys into a small number of "common" users.
The main purpose of personification is to identify and reflect the prospective user base templates.
2.2 Storyboards, Scenarios
A scenario is a chronological record of "a common day" for a single persona, describing how the application or site matches into their daily lives.
A storyboard is a tool to describe when, why and how people use the product. It could be a simple draft sketch - to clarify ideas and give form to them, or a more polished comic – to ensure the efficient involvement of the audience.
3. Wireframing
Many of the UX-designers start the new projects from wireframes, as designing a fundament of the site layout is something everybody can sort out. A wireframe, as an approximate guideline for the interface layout of a site or an application, is the tool most widely associated with UX-designers.
4. Prototyping
After creating the static wireframes, the next step and, at the same time, the direct responsibility of the UX designer is the creation of a clickable product prototype based on them. Such prototypes can be tested by an internal team, client or focus group.
5. Prototype testing (wireframe level)
At this stage, user experience designers run various kinds of tests, like thorough internal or external testing using multiple tools and techniques. As a result, they create a list of needed fixes and changes (stages 3 to 5 can be repeated several times until a suitable result is reached).
6. UI design
Despite the fact that this part of the work is done by UI-designers, it must be included in the overall flow of the product's interface design. At this stage, the designers draw all the screens and pages, as well as create the styles, looks, and feels of the final product.
7. UI prototype testing
At this stage, designers test the prototype of an almost finished product. Stages 6 and 7 can be repeated iteratively. Sometimes stages 4 and 5 are excluded from the production cycle and all the testing is done at the "UI prototype design" stage. Such tests may include:
7.1 A/B testing
A UX expert could conduct research to match the efficiency and quality of user experience in different GUI elements. They can test such hypotheses as "A blue button is more catching than a yellow one." They can create and investigate multiple design versions, and discover what a "better experience" represents.
7.2 User Testing
User testing is a process of demonstrating the product to users, asking them to take some actions planned beforehand and to voice their opinions. The number of test iterations and the number of testers depend on the project budget and timeframe.
8. Transfer stage
At this stage, the project files and documentation are passed to developers.
9. Visual QA
The main goal of VQA is to make the product as close to perfect as possible. It is imperative to check the product for possible issues after the development team had implemented the UI. At this stage, the appearance of the product is evaluated and checked for possible bugs, inaccuracies in the interface elements (wrong font or the displaced button), or localization flaws.
10. Product launch
The work of the UX-designer doesn't stop with the product launch. The feedback from the real users is analyzed for possibly missed problems in the product's project. In some cases, the project can be restarted from the second stage.
The process of testing, designing, implementation and feedback analysis can be iterated many times in a row.
UX Design Process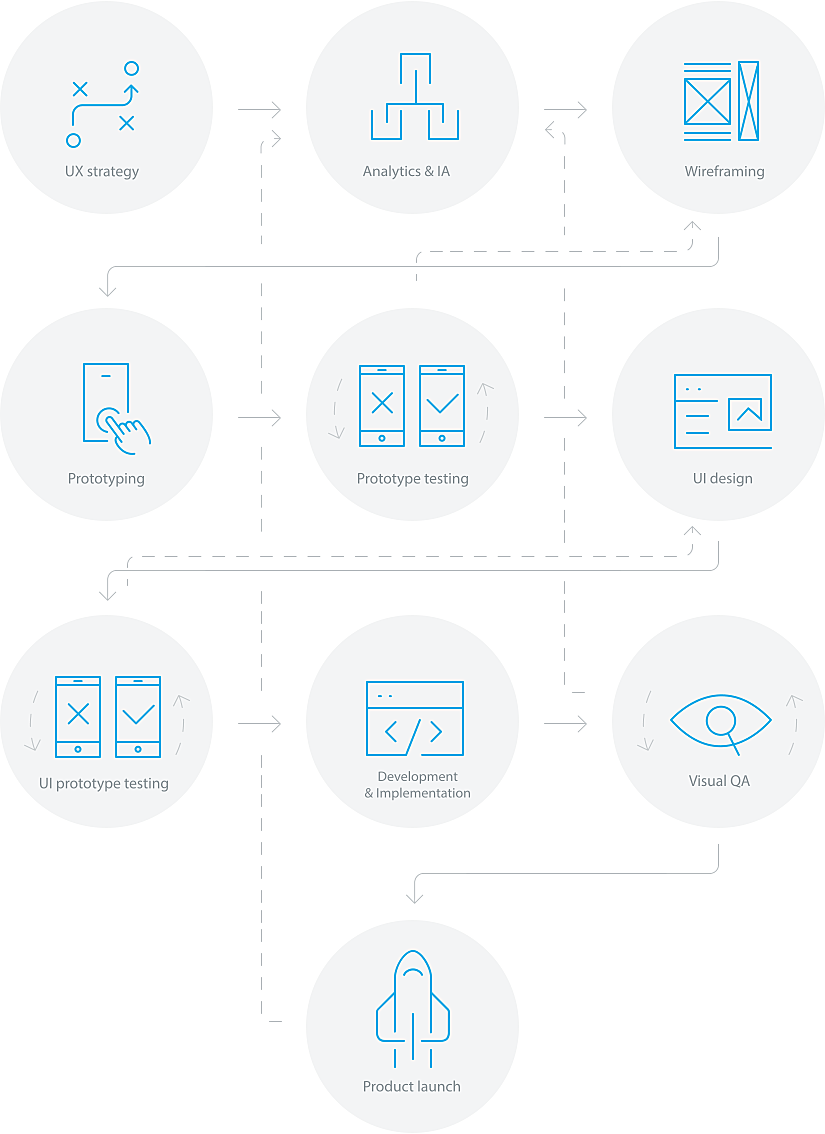 UX designer's responsibilities
Website user experience audit and strategy formulation: At this stage, UX designers analyze the product to detect its bottlenecks, define opportunities and improvements and specify its structure.
Wireframing and prototyping: This function of a UX designer includes wireframing and prototyping to draw the outline and the layout structure, as well as usability testing.
Implementation and analysis: This stage presupposes coordination with UI-designers and developers, research and reiteration.
UX designer tools
To become a UX expert in a rapidly developing world, it is necessary not only to do a diligent job, but one has to stay up to date with modern techniques and technologies and also be versed in tools of the trade.
Here're some of the most common wireframing, prototyping and design tools, known and used far beyond the circle of the designers:
Adobe Photoshop: The good-old Photoshop becomes your go-to choice when you have a number of UX projects and don't have time to learn new programs. The tool can be used for making wireframes, mockups, user journeys, and sitemaps. Even though this tool includes no ready libraries of interface components, designing general ideas, grouping elements, and layers can be done quickly and easily.
Sketch: This is a must-have tool for those designers who want to make things repeatable and fast. Check out what you can do with this program:
Make prototypes
Think through user flows
Create personas
Design handoffs and specifications.
Adobe Illustrator: A mighty vector drawing tool considered to be a quality standard by many designers. This is a superior software that allows you to work with text and shapes, create reusable artwork, organize content and export assets. For more information, you might want to check out our article Best UI UX Design Tools For Designers Toolbox.
UserTesting: This service relieves the stress of prototype testing. UserTesting team recruits your target users, administer the tests remotely, and deliver the results within an hour. One of the cool features is that UX designers get videos of the users, so they can gauge facial expressions and general emotional responses.
Optimizely: The tool is similar to the previous one but only focuses on A/B testing. Comparing usage data (e.g., CTA) from two different versions of your product helps make important decisions on the right UX design.
XMind: This absolutely free app is great for organizing your thoughts. It's open-ended "mind mapping" diagramming tools help to brainstorm and explore ideas. The tool's organizational capabilities make it a great task manager.
UX designer salaries
If you want to start your career as a UX designer and wonder how much they earn, the following information might come helpful.
Average annual salaries in different countries:
What skills does a UX designer need to start?
UX design reminds od a quest, where you have to discover every possible mistake which will prevent a user from slick and smooth interaction with the product. Here's the essential skillset any UX designer needs.
Logical thinking and analytical mind-set. You can't understand user flow and built business processes without logic.
Attention to detail. You need to be pedantic to be able to notice and fix the problems that most people don't even see.
The basics of composition. It influences our desire to engage with content. The knowledge of composition allows designers to make information appear in ways that convey different meanings or leave different impressions.
The knowledge of coloristic. Right colors are powerful weapons that grab users' attention and convey a good impression of the product.
UX copywriting. This is a rare find. UX texts should be brief, catchy, and to the point.
Empathy. For good UX designers, users' comfort is paramount. It's much more important than their own preferences.
A healthy response to criticism. Oftentimes, UX designers have to start all over again and fix loads of issues. That's why it's crucial to be mentally resilient and consider corrections and updates as a part of a creative process.

Ways to study the UX design
Twenty years ago it might have been okay for an employee to work for the whole of their career in one company, learn one precise role, and stay there until retirement. But nowadays things are getting inspiring. Junior positions now require a wide range of skills. Progressive companies are defining new career ways. It's an enthralling time to act and study.
Seems like the education system can't really catch up with the modern market of such occupations like UX-design or computer graphics in general, and this is where the numerous online courses rise.
Here are some tips for successful studies:
Here are some tips for successful studies:
Attend lectures, meetups and seminars with UX experts from top design companies. It's always useful to learn from the mistakes of other professionals. Also, this way you can make contacts with influential people and get a critical review of your works.

Understand the field

(learn the main differences between UI, UX, graphic and web designers).

Read during your study

(here are some articles for beginners or advanced scholars).

Subscribe to online courses

(generalassemb.ly, uxmastery.com, or coursera.org).

Learn different tools

(Adobe Illustrator, Photoshop, Corel Draw, Sketch, etc.).

Copy the masters

— don't be ashamed to copy great works at first, and take a leaf from a pro's book.
Hone empathy skills. UX design is all about knowing how to help people get the most from the interaction with a particular product. That's why you need to develop empathy skills. It's important to spend your time and effort on understanding key empathy-building techniques, such as extreme users and empathy maps (a visualization tool you can use to analyze user personas).
This is not the complete manual on becoming a great UX-designer, but now you have a base to start from. If you are interested, you might want to read the full tutorial here.
What is a UX designer

?

As you can see, the UX designer role is complex and could include some analyst's and information architect's parts. It's a stimulating and rewarding creative job. The main purpose of a UX designer is to link business objectives to a user's needs through extensive testing and improvement until the result satisfies all sides of the process.

Agente UX team is ready for new challenges. Reach out and we'll help you to link business objectives to a user's needs through extensive testing and improvement until the result satisfies all sides of the process.
Rate this post!
961 ratings, average ratings is 5.0 out of 5
Stay tuned for news
Useful articles from our content team right to your inbox!
Let's talk
Is there a challenge your organization or company needs help solving? We'd love to discuss it.