8 Tips to Create Self-Serving POS and mPOS Interface Design
The use of points of sale (POS) and mobile points of sale (mPOS) has increased since the COVID-19 outbreak. Social distancing has encouraged delivery services to employ mPOS more intensively to avoid contacting with physical money that might have Coronavirus on them. Self-service POS has also become more widespread to reduce contact with shop staff.
As we interact with POS systems more and more closely, there are more demands for their design and functionality. That's what we're going to discuss in this article.
Self-service POS features and benefits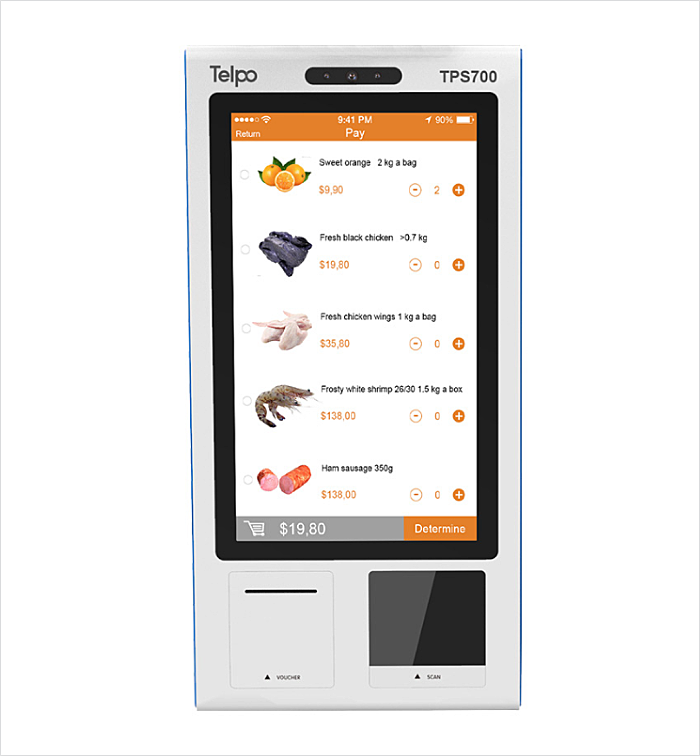 Source: Telpo
Self-service point of sale systems are increasingly adopted in public places like restaurants and shops.
In restaurants, the systems free up the staff and allow them to focus on the quality of service. Customers use the systems for two primary features: self-ordering and self-payment.
With a self-ordering feature, you can customize orders, see pictures of menu items and read the ingredients, as well as view specials and discounts.
The self-payment feature includes the ability to split the bill, calculate tips and choose whether you want or not a receipt.
More than 85% of consumers also use a self-service kiosk when they shop. This option helps shops to reduce labor cost, and customer service benefits from shorter wait times.
mPOS features and benefits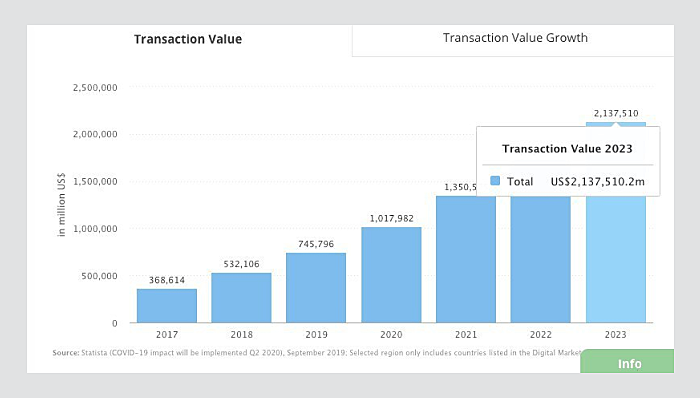 Statista: transaction value in the mPOS payments segment amounts to US $1,017,982m in 2020 and US $ 2,137,510m by 2023.
Mobile POS makes it possible for any business to set up a shop and accept payments anywhere. This is especially relevant amidst self-isolation and online ordering and taking businesses off into a delivery mode. Mobile applications for POSs are flexible, affordable, and feature-rich. Here are the core features:
You can run an e-commerce store. In this case, you should think of a payment processing system like PayPal, Clover Go, SumUp, or Square.
You can manage your inventory. Most mPOS options allow you to keep a record of items for sale, add photos and descriptions, as well as list item variants at different prices.
You can offer customers with discounts and deals. Most mPOS will support promotions and special offers. You can also set a discount on a collection of items or individual ones.
You can run a virtual terminal. They allow you to take payments from any internet-connected computer. All you need is to log in through your browser and plug in the card information. Even if you don't use it, a virtual terminal is a good backup option to accept payments.
You can even create employee accounts and set permissions. You can't fully appreciate this feature if you're the only person running credit cards. If not, this opportunity is a great security boost. Creating sub-user accounts for your employees will allow them to manage basic functions such as completing transactions without access to more sensitive features like sales reports and the ability to issue voids or refunds.
What differs self-service and mPOS systems design from other apps?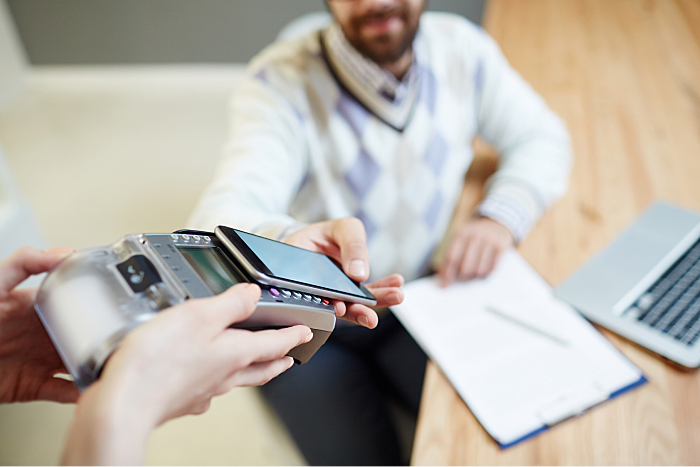 Source: Freepik
We proceed from POS features to its design. In general, POS designers should take into account the setting where the system is used and deal with multiple context and user issues. Let's look at each closely.
Distance to screen. Standard usability guides for font sizes in apps don't apply to self-service and mPOS. Very often cashiers can't adjust the position of the device because they have no space on the counter, and buyers are also restricted in their movements when they are standing in front of a self-service POS. Therefore, the font should be at least twice as large as in mobile apps.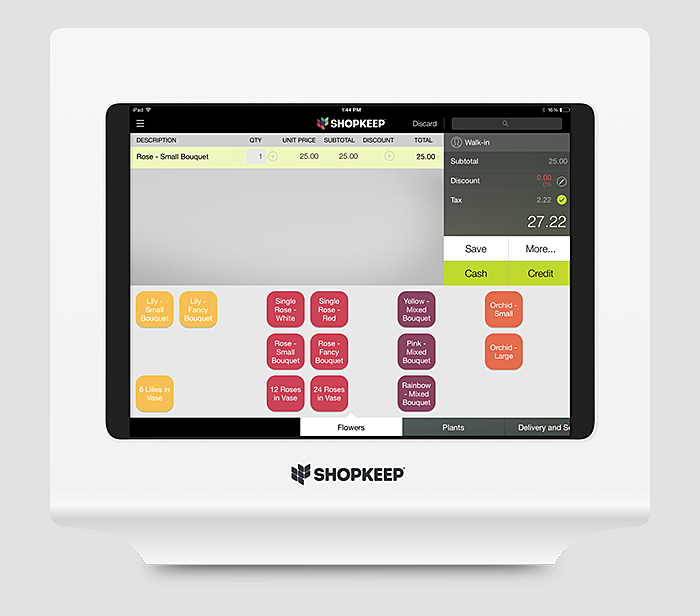 Source: Capture GIS
Time constraints. All usability barriers should be eliminated to make transactions as quick as possible. It will help to reduce queues. Designers can't change a shop layout or increase the number of POSs to completely avoid queuing. However, they can make the design more intuitive.
User attention. This factor is more relevant to mPOSs that self-service checkouts. The design of mPOS systems should be simple to enable cashiers to switch attention from the device to the customer.
Visual impairment. Designers should take into consideration lighting issues in stores (both too dark and too bright light) and the fact that five percent of the general population have a mild visual impairment.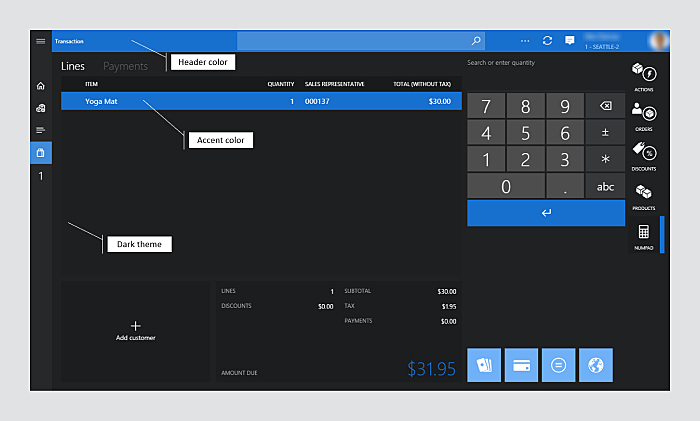 Dark mode for shops with poor lighting. Source: Microsoft
Left- and right-handedness. POS system interface design should be tested on both left- and right-handed users.
Employee misconduct and errors. Working on a POS interface design, it's important to be mindful of employee theft and the effective ways to prevent fraud. Often customers pick the wrong item or don't have enough money and need to void a purchase.Сashiers can use this method to commit fraud (for example, don't return the purchased item). POS has to restrict access to void out sales, thus minimizing the possibility of thievery.
Another problem is to reduce the frequency of transaction errors which occur quite often because a cashier or a customer at the self-service check-out has to work fast.
Consequences of bad mPOS interface design for business
Before proceeding to the tips for an effective self-service POS and mPOS system design we should mention the consequences of a lousy one. Indeed, what if you skip out on these POS design peculiarities?
The consequences of a design like this, namely the clashing colors, small typeface, and Windows 95 styling of the buttons are quite sad.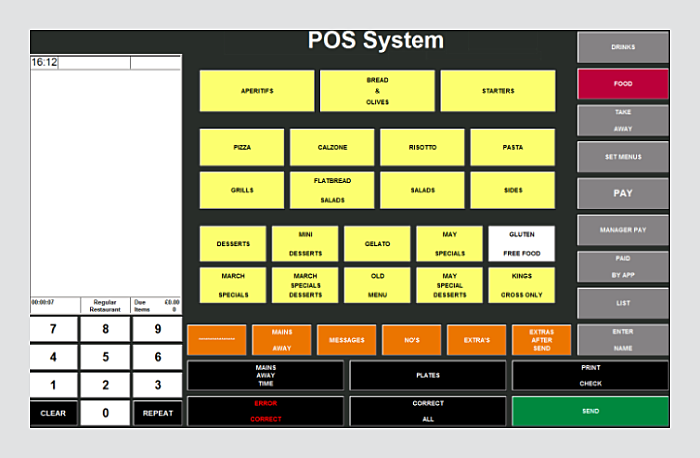 Source: Stack Exchange
First of all, ineffective design leads to low customer satisfaction. Poor POS experience will keep the customer from coming back again because their shopping experience has been too time-consuming and ineffective. Customer dissatisfaction subsequently leads to a drop in sales and a decrease in ROI.
Tips for self-service POS and mPOS system design
We've made it to the meat of the article – tips for effective POS interface design that reconciles aesthetics and usability.
1. Make it ergonomic
In mPOS and self-serving POS design, aesthetics and usability should go hand in hand. Sometimes users love absolutely hideous design because they've learned different shortcuts. However, there's no correlation between these quirks and the design. It's always possible to take all usability tricks from the old interface and integrate into a new, pleasant to the eye one.
2. Take into account the level of user experience with a POS
Self-service POS system design should be equally convenient to use for both proficient users and newbies. All the functions should be intuitive so that a person new to the game could quickly make a purchase.
Every minor inconvenience in the UX flow will delay thousands of people every day. Proficient users usually find other, quicker ways to check out. For example, instead of searching for an item in a catalog, you can type in its unique number.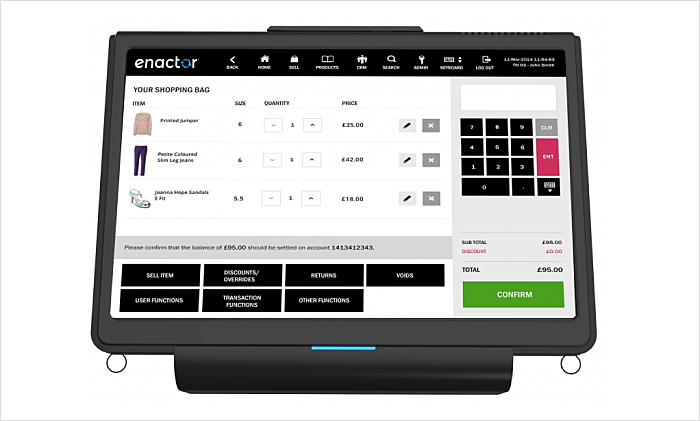 Source: Enactor
3. Think twice whether to use a design pattern
Self-service and mobile point-of-sale interface design can't rely on this trick because the same pattern rarely applies to different systems. We've already discussed why in the part "What Differs self-service and mPOS Systems Design from Regular Apps?".
4. Be careful with updates
POS is a system used for hours each day. Therefore, people get used to the interface and making any considerable changes will lead to user dissatisfaction. Especially among cashiers who already heavily rely on the system's automated features and shortcuts.
5. Maintain coherence and logic in the design
Either you are a customer in a shop scanning your product in a self-service checkout or a cashier working with a POS system, time- pressure factor will make you stressed. In this case, logic and coherence in design will help both users operate faster.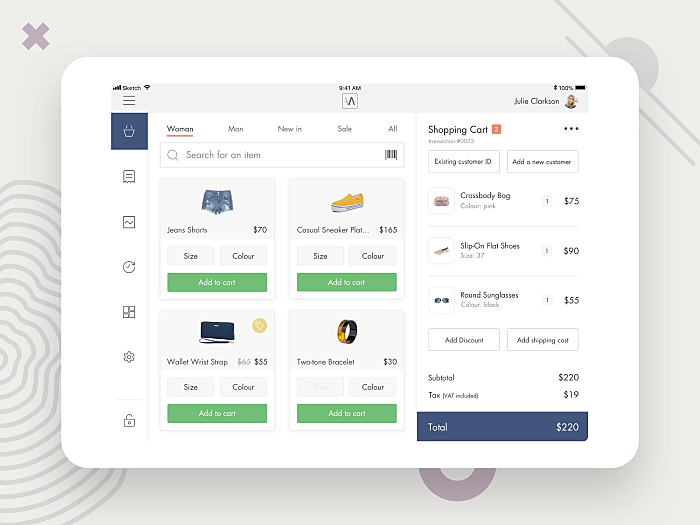 Source: Pinterest
6. Use icons and buttons wisely
We've already discussed that POS systems need bigger typeface, so physically there's less space to place any images. It's a simple way to improve a legacy POS design by adding cool icons and images but not the best one. Every element on the screen should be functionally loaded. Odd icons and images will distract users.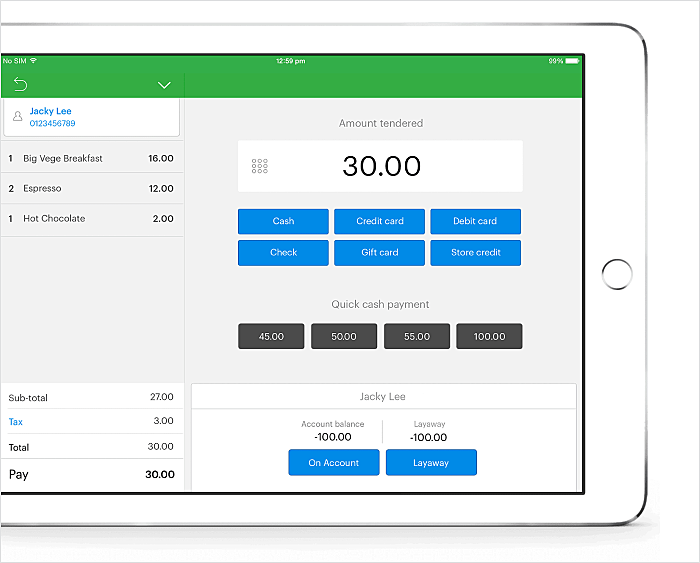 Source: VendHQ
It's another story with buttons. The contemporary trend is to hide or remove buttons. However, when users are searching for the button to press and fail to complete an activity, the last thing they'll appreciate is trendy minimalistic design.
7. Know the hardware
Mobile and web designers are free to create any kind of design because, in all probability, it will go with any hardware. Each POS provider has a different hardware solution. It means designers should bear in mind display peculiarities and connectivity issues.
8. Use validation reasonably
It's necessary to give users feedback about their actions. However, it is annoying when a POS system asks to validate a dozen of steps in one session. Think where this activity is critical (for example when an error occurs) and where it can present a hindrance to users (e.g. asking if I'm sure I want to pay with a card).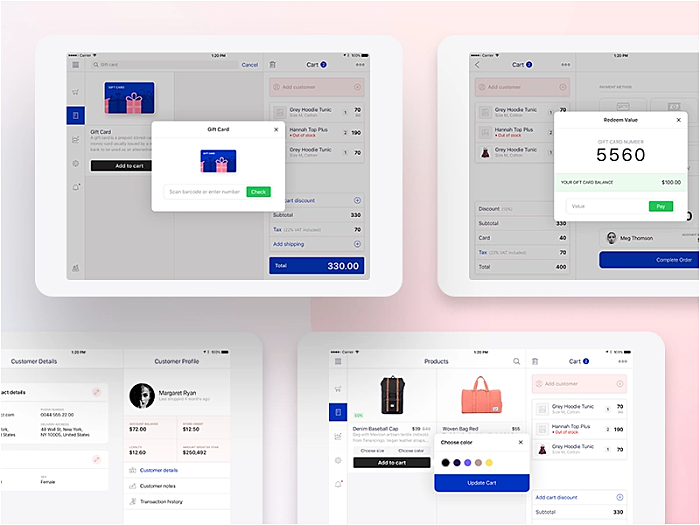 Our experience
Agente had the opportunity to work on several POS-related projects: POS terminal UI design and self-service POS interface design.
In the first project, we designed a user interface for the retail point of sales terminal. We managed to improve the user experience for several user scenarios based on the prototypes that we received from the customer's development team.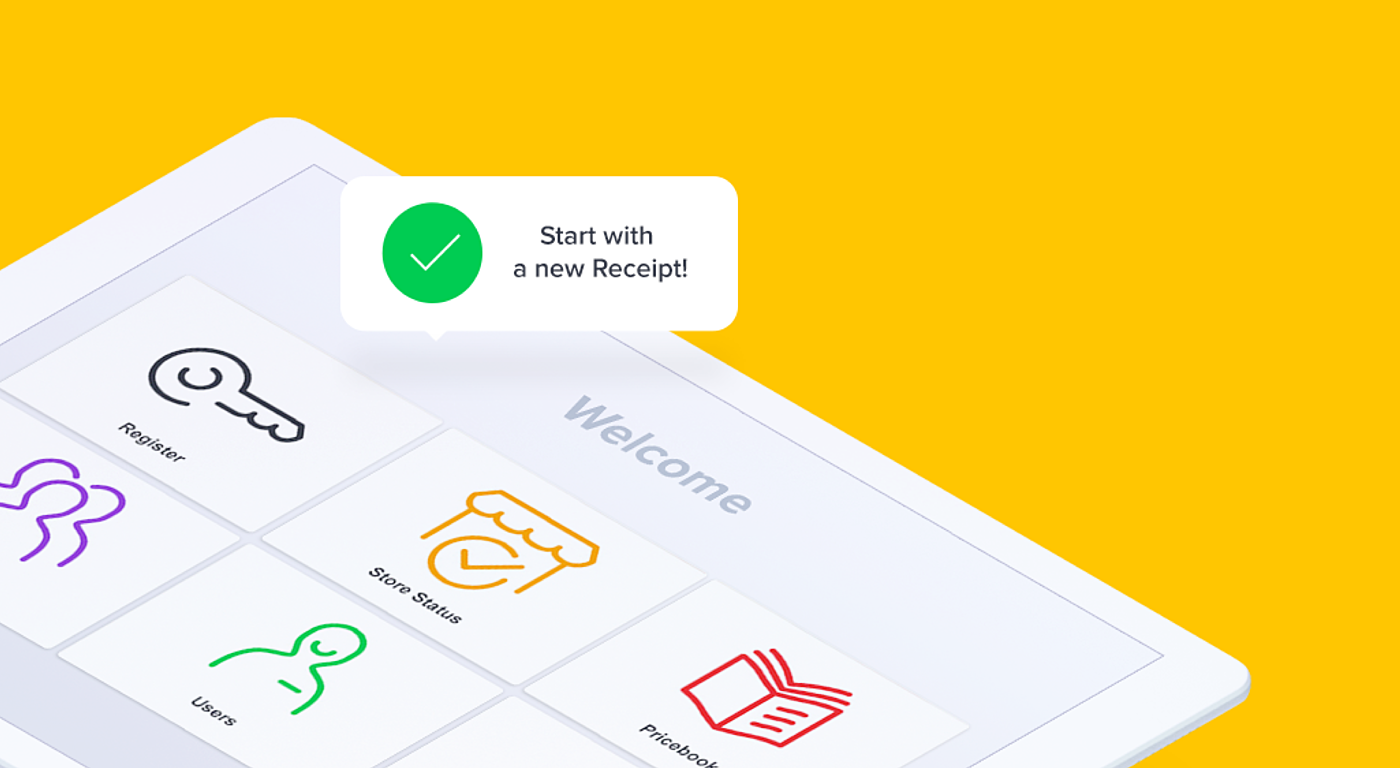 Source: Agente
In the second one, our team designed the self-service POS user interface for several user scenarios and device resolutions.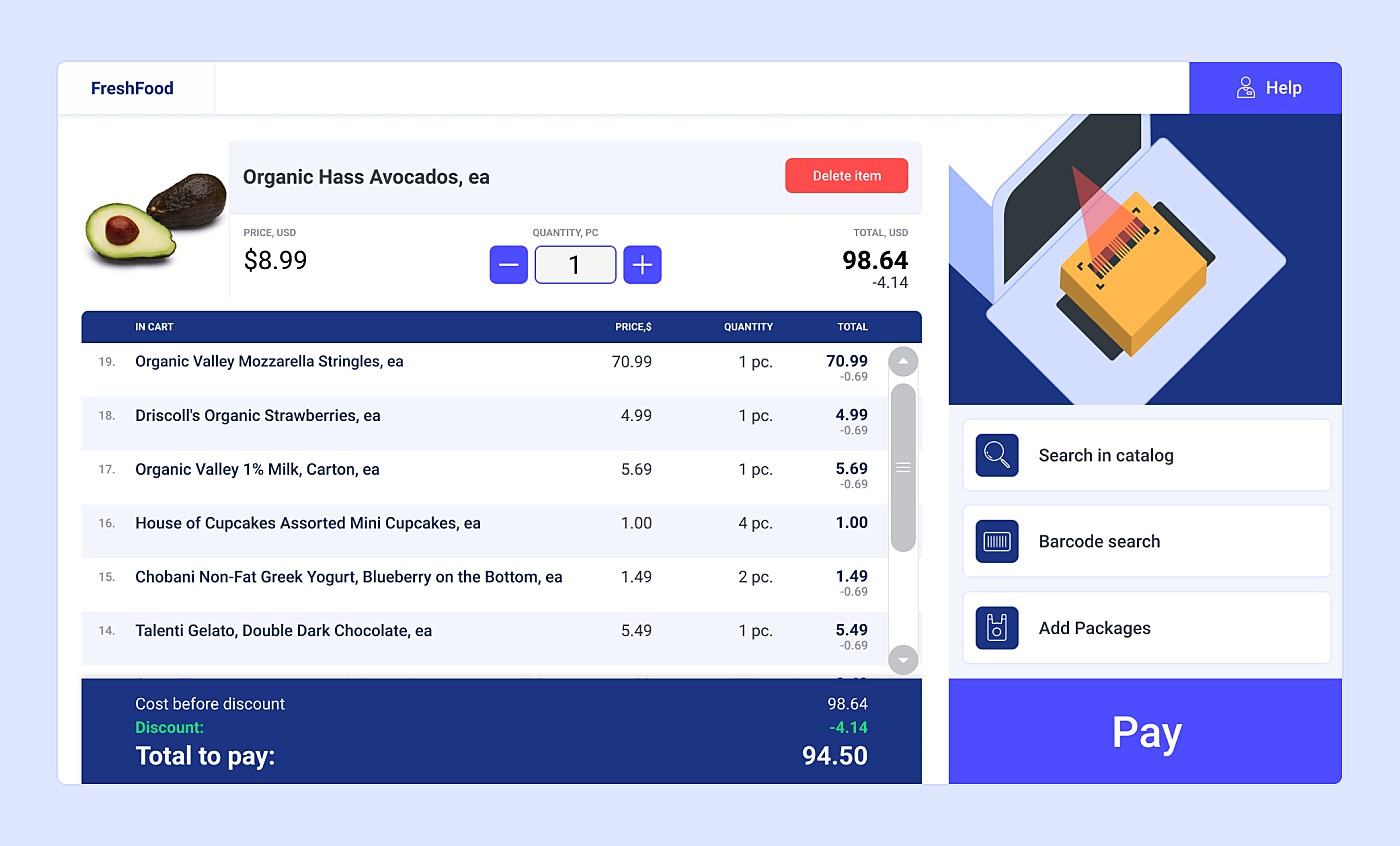 Source: Agente
Take away
Designing a self-service kiosk solution and mPOS system interface needs taking into account far more factors than creating a UX/UI for a mobile or web app. The two general principles are: consider user context and put functionality first.
Stay tuned for news
Useful articles from our content team right to your inbox!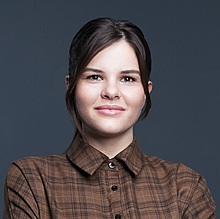 Sveta Yurkevich
Marketing Manager
Was this article helpful?
We would like to hear your opinion and improve our content
Thanks for your rate!
Let's talk
Is there a challenge your organization or company needs help solving? We'd love to discuss it.