All You Need to Know to Hire Top-Class Angular Developer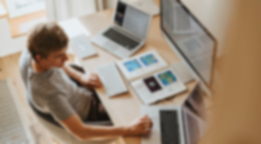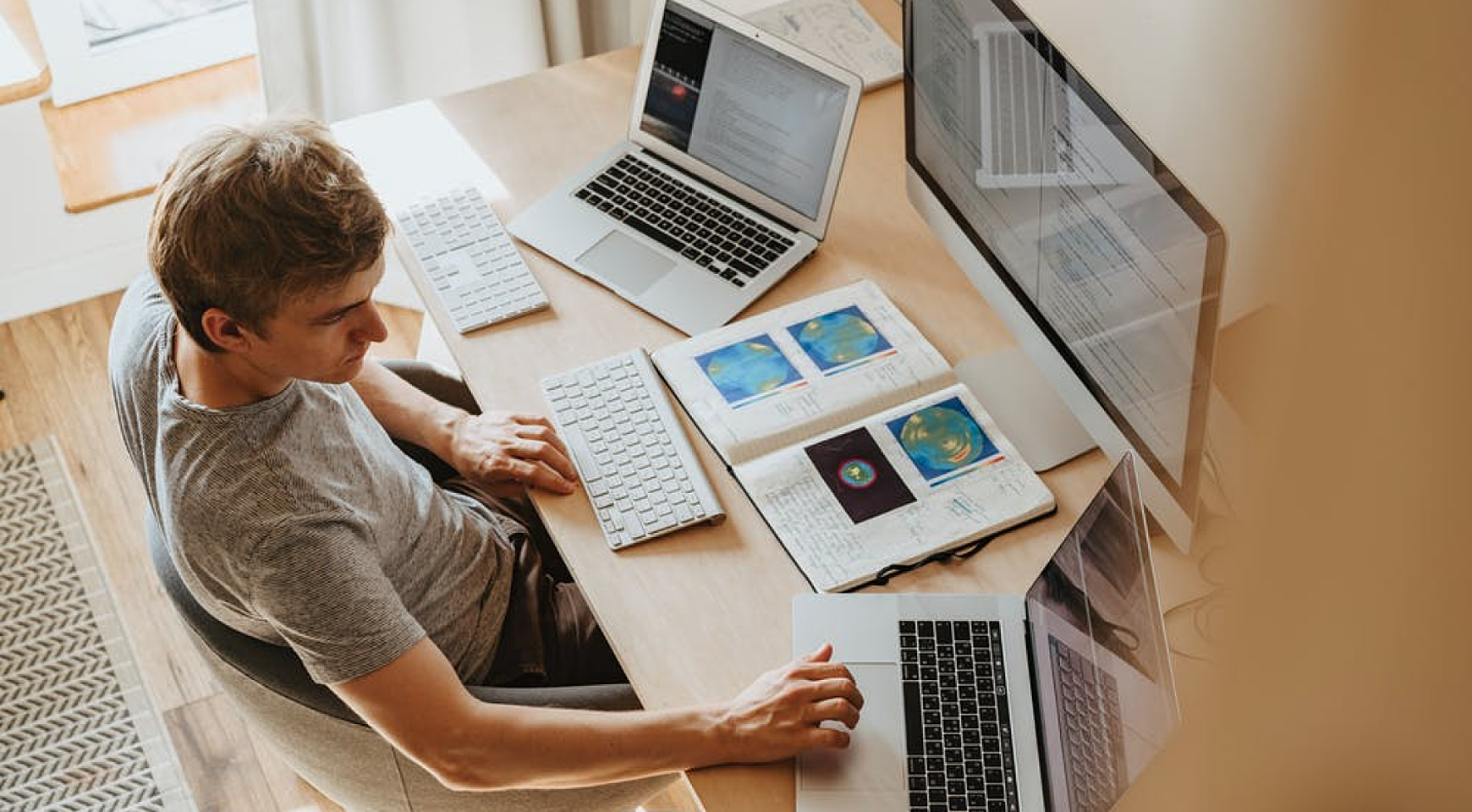 Just as the world is turning towards mobile-first interaction with brands, users expect the communication to be cross-platform, i.e., available no matter what device or its screen dimension comes across their fingertips. It has triggered significant changes in the strategy for front-end development and created challenges for people looking for the right tech stack for their projects.
From this article, you will learn how Angular can pitch in your next front-end project, what kind of projects it will be the best fit for, and what exactly you must consider to hire dedicated Angular developer.
What is Angular?
Like many grand things, Angular appeared as a side project and grew over the years into one of the most popular and recommended JavaScript frameworks.
How did it all start?
In 2009, Miško Hevery and Adam Abrons launched a project called <аngular />. It was aimed at helping both developers and designers create web-applications using simple HTML-tags. These were the angular brackets <> used around tags (such as <i>, </i> <br>, etc.) that the name of the framework originates from.
When Miško started his job in Google, he managed to talk the team―including Brad Green, the Engineering Director at Google―into rewriting some of its projects using Angular. It allowed them to optimize the code and deadlines drastically, and triggered the popularity of the framework used today by more than 1.5 million developers: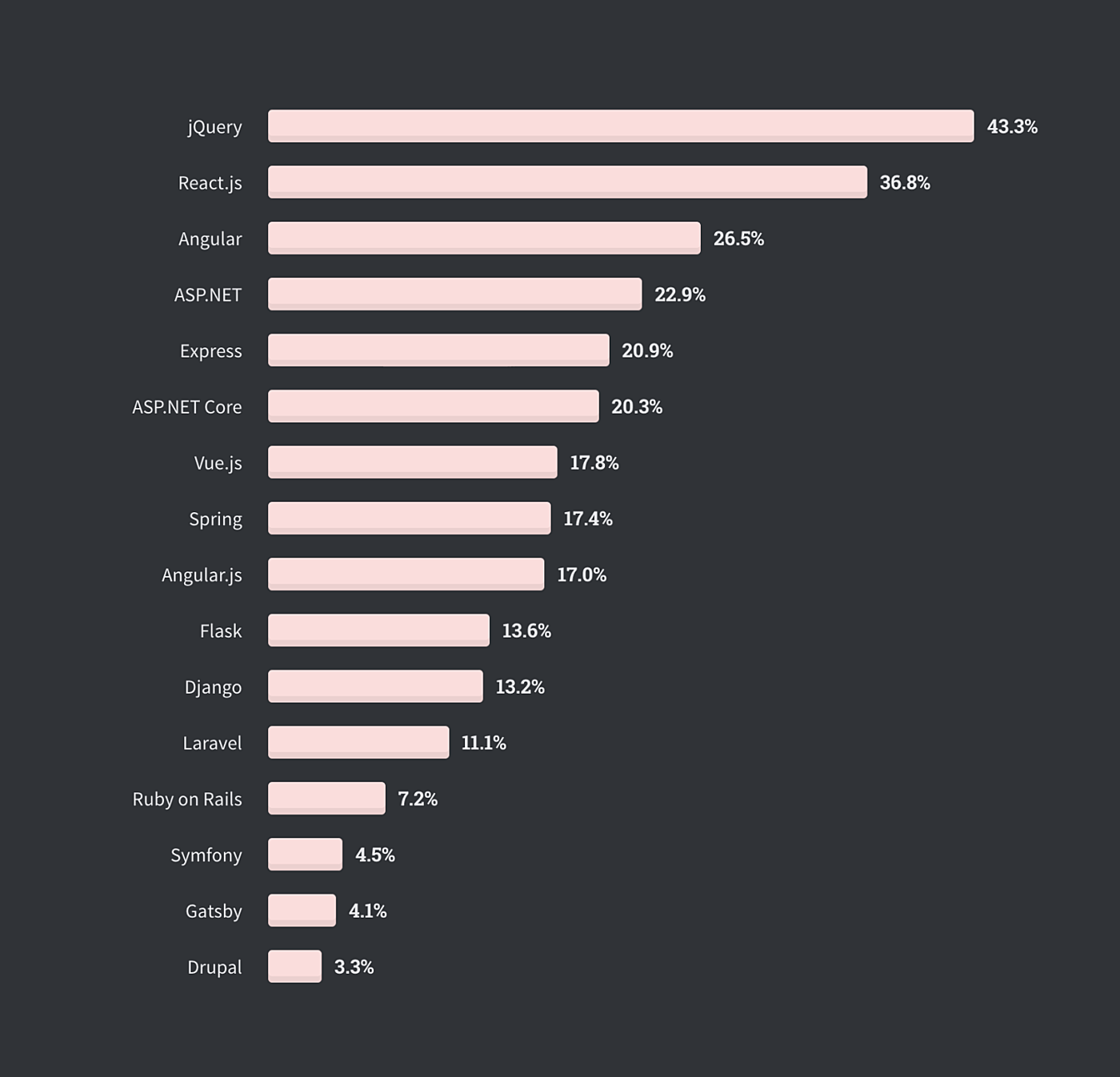 Source: Stack Overflow
Simply put, Angular is the open-source framework used for mobile and web application development. Its library offers a variety of features for front-end developers that help transform complex tasks and objectives into the ones that are easy and fast to implement.
Why Angular? Pro's & Con's
Out-of-the-box. That's exactly what the framework allows you to achieve. Either applications with complex business logic or authentic single-page web applications, Angular is the full reinterpretation of AngularJS (indeed, Angular and AngularJS are not synonyms). The Angular framework boasts cleaner code and enterprise-like scalability.
Benefits of Angular
Support from Google & Microsoft.

Back in 2015, this collaboration came as a surprise to many. But since then, Google's JavaScrip web app framework has been using the AtScript Superset of Microsoft's Typescript. Such support from the two giants did a great job in improving the quality of the framework and attracting even more attention to it.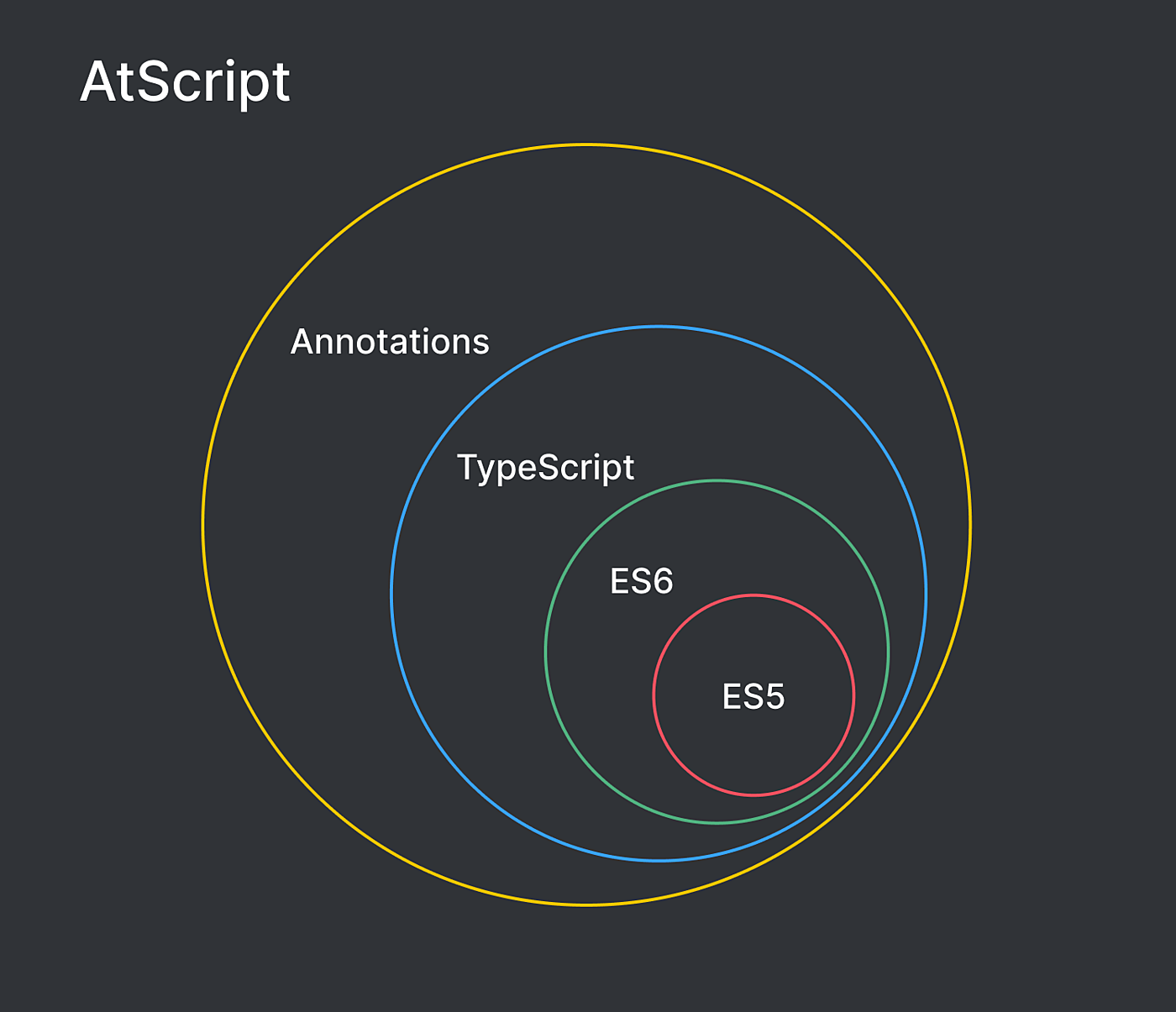 Source: TechCrunch
Angular CLI instruments.

The command-line interface tool brings consistency across multiple projects and makes the dev process faster. Thus, if a business requires hiring an external Angular developer to make some urgent changes, such software engineers won't have trouble working with an

unknown

solution. All Angular projects must follow the official Angular Style Guide.

Support of web components.

Angular web components are based on the new standard for web components. It means that Angular offers the possibility to use any component written as Web without resorting to code composition.

Out-of-the-box TypeScript.

Its tools offer the ease of autosuggestion, navigation, and refactoring, i.e., all that is critical when working on large projects development.

The ecosystem of third-party components.

Thanks to the popularity of the framework and its community, there is a pool of pre-built tools and components for usage in Angular apps. Consequently, extra functionality can be easily added, and the requirements productivity improvements made.
Angular creators explain the capabilities of the framework.
Few Flies in the Angular Ointment
No technology is perfect. Knowing the following imperfections of the framework will help you understand the possible complications and expect the necessary improvements after you hire an Angular 4 developer (or opt for some other version of the framework).
SEO is twisted.

While SEO is the king, many inexperienced developers may have difficulties making Angular-based projects easily accessible for search engine crawlers. It happens because single-page applications (SPA) often change content and metadata using JavaScript. Plus, deep links in such apps also can be hard to get indexed. Thus, an experienced Angular developer knows about this pitfall and will make sure to offer a solution.

Backward compatibility might cause difficulties.

Migration from AngularJS to Angular can be challenging if required. Meanwhile, older Angular versions are backward compatible entirely.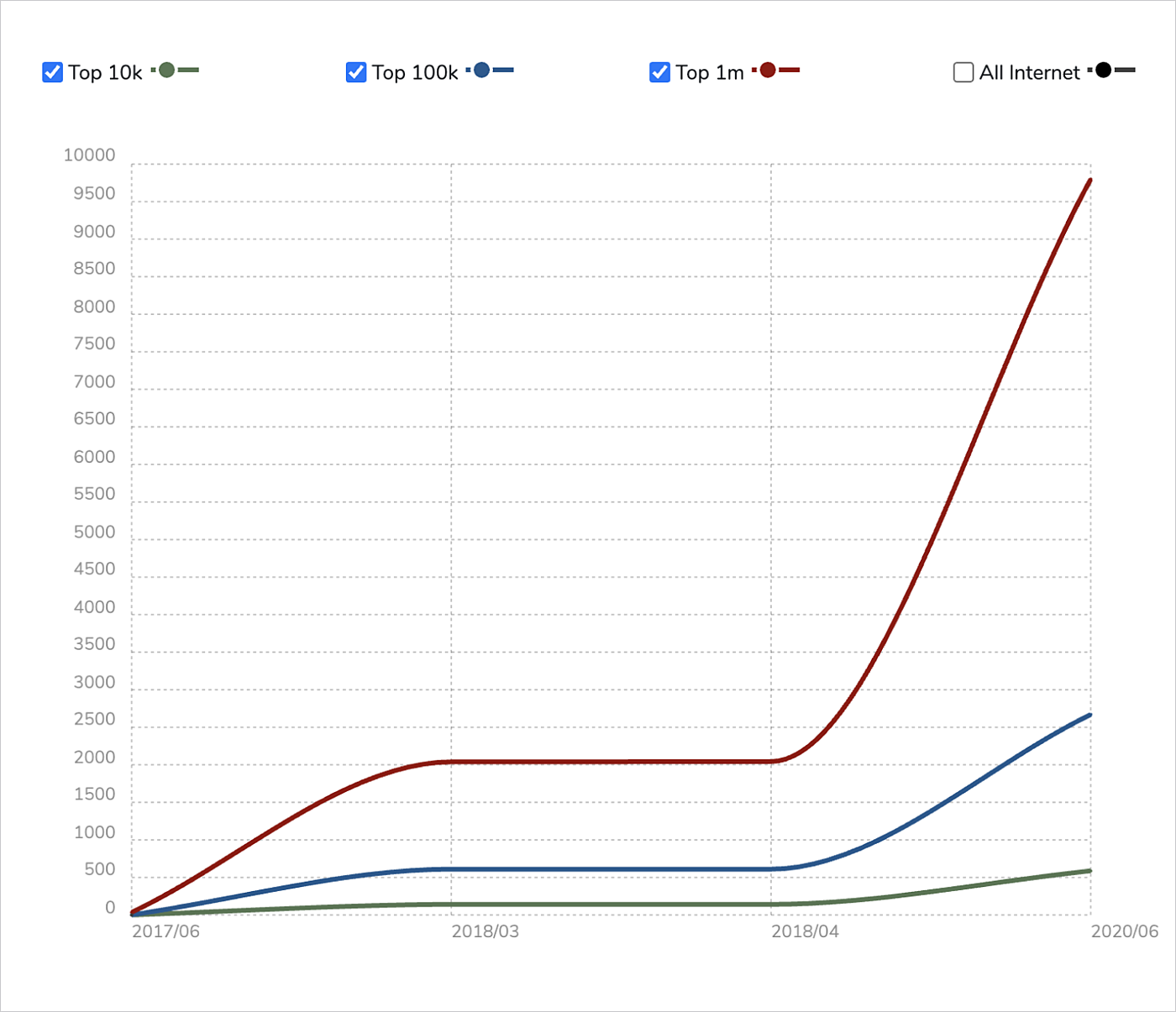 Source: Builtwith
What Types of Projects is Angular Perfect for?
You won't find an unambiguous answer when wondering whether Angular will be good for your project. Customers opt for this framework when they have:
Large Projects with Rigid Structure
Angular offers many ready-made solutions and a well-thought-out system of data collection and storage. It makes the process of large sites creation faster and ensures their stability.
Hybrid and SPA Applications
Fast code writing capabilities, prompt testing options, and the ability to see front-end changes right after the corresponding back-end edits take place―all this makes Angular the most widely used framework for developing projects with dynamic content.
Additionally, Angular is widely believed to be perfect for the development of Progressive Web Apps (PWA). PWA solutions are SPA-based apps of the new generation. Today, many fix upon this technology as it allows sites to work both offline and online (and a number of other reasons).
As you know it all about what Angular is, it's strengths and weaknesses, let's dig deeper into how to find an Angular developer who will deliver your project in full compliances with the specifications.
Angular Developers: What Do They Actually Do?
Being JavaScript software engineers, Angular developers operate on the client-side of the software, and pitch in building full-fledged UI services. The primary responsibilities of such developers include the following ones:
front-end development,

fixing bugs,

building RESTful APIs,

work with external APIs & data sources,

work with CSS, HTML, and JavaScript,

Unit testing.
Any development process is teamwork. Angular developers work closely with the back-end software engineers in a dedicated project team. They make sure SPA creation meets the specified terms and standards to the full. Following the development phase, the responsibilities of such developers also include testing code units, components, services, etc.
Why are Angular developers for hire highly demanded?
Because experienced Angular software engineers combine two critical components.
First, Angular ensures projects are development lightning fast. You will be surprised to get your project back two times more quickly than you estimated initially.
Second, Despite the speed of web or mobile application development, the quality of the offered solutions doesn't get compromised. It means that you get simple integration and easy optimization possibilities, not to mention the features and functionalities that make Angular so loved and famous.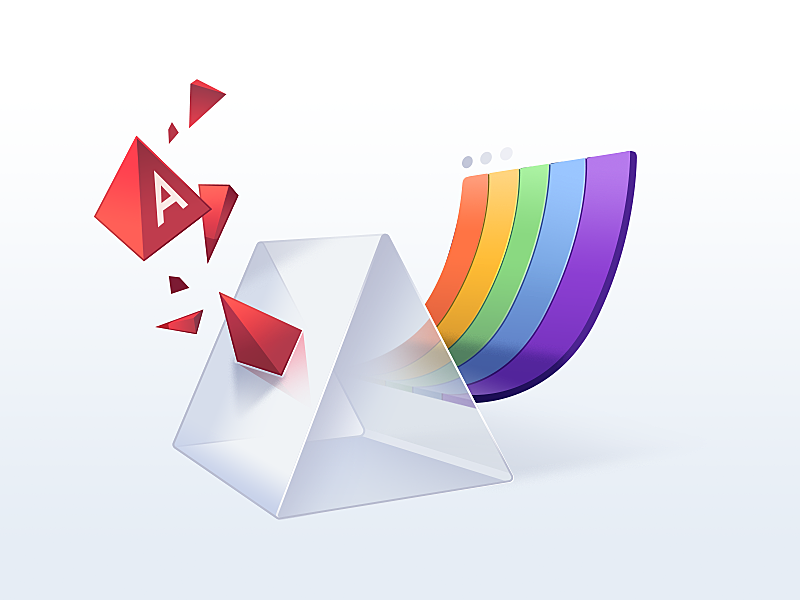 Source: Dribbble
Skills of an Experienced Angular Developer
JavaScript. Whether you hire an Angular, React, or Vue.js developer, any of these specialists must have in-depth knowledge of the JavaScript programming language and list it in their resume.
Angular framework. Yes, Captain Obvious. Keep in mind that the framework gets frequently updated and has a variety of versions. Your future developer must keep track of all the framework updates.
Excellent knowledge of HTML, CSS, and markup language. Developers with such experience will have a full understanding of UX concepts, components' position, and interaction. It will ensure successful project delivery.
Experience with RESTful API. This interface of an application program uses HTTP-requests to obtain PUT, POST, and DELETE data. Work experience with API-interfaces REST will help use API for reading the documentation and using the latter successfully.
Knowledge of Node and Webpack. These technologies help make the development process simpler and more effective.
Attention to detail. This skill is vital for a developer. It ensures the written code is of high quality and bug-free.
Great communicative skills. Communication ensures the success of any endeavor. Your developers (or project manager) must be able to keep you updated on the process and stages of your project.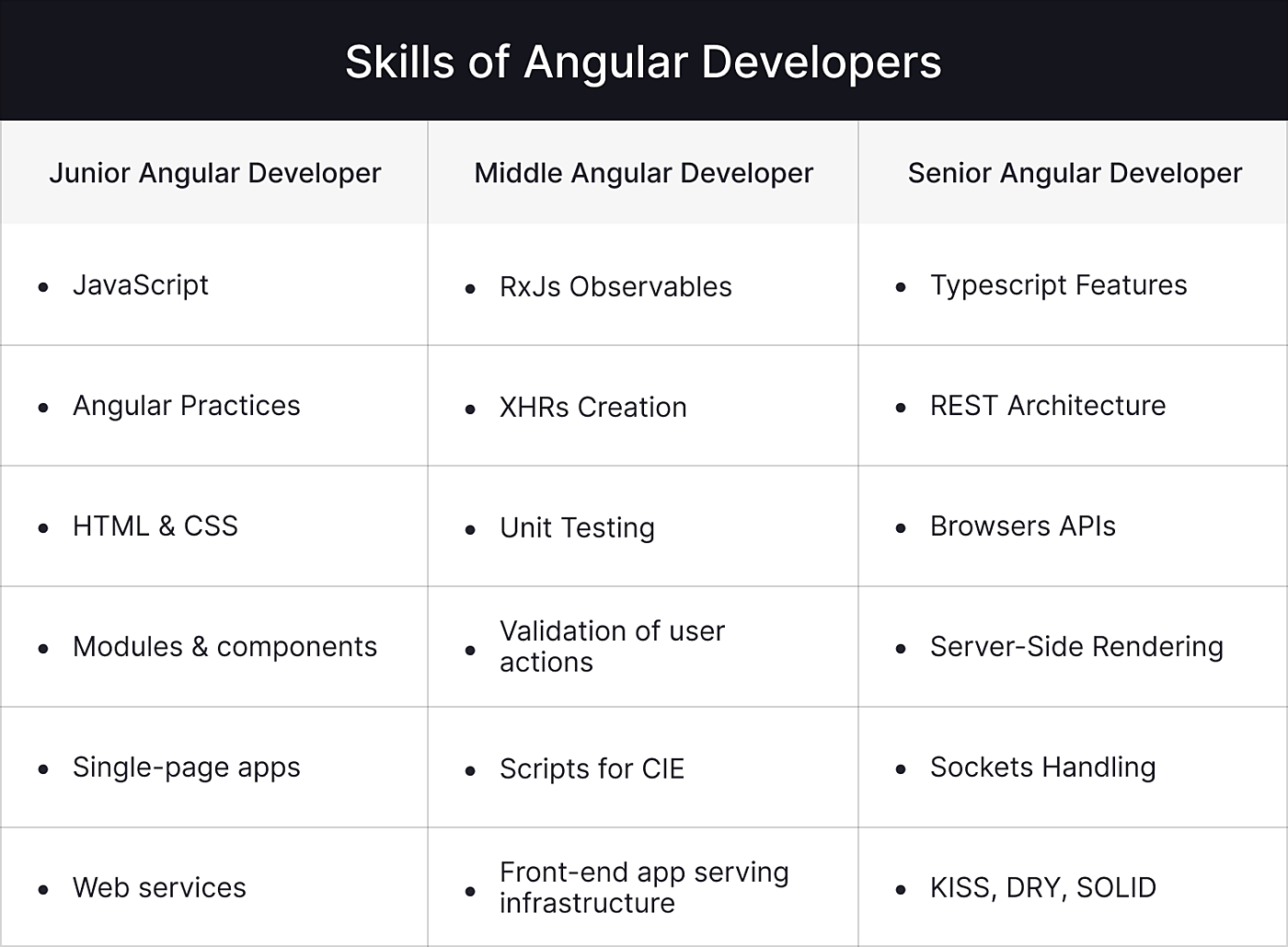 What Should You Consider to

Hire Remote Angular Developer

?
Get ready in advance. We won't go into unnecessary detail on how important it is to find a software development company and an experienced team to bring your project to life. However, if you are planning to hire an Angular developer, we advise you to consider the following in advance:
Requirements
Skip through the list of your project requirements once again. It will ensure that all your expectations are well-documented and articulated to the team.
Conversely, you will see if the Angular developer in mind satisfies the offered requirements and discuss acceptable workarounds if there are any difficulties.
Project Description & Budget
Make sure you've included all your preferences in the project descriptions, outlined the deadlines and the available budget. The more information you provide, the more accurate the hiring process and the results will be.
Do Your Research
Open Clutch, Trustpilot, GoogleMyBusiness, etc. to collect feedback for the available hiring options (country, the cost of man/hour, experience in software development, case studies, responsiveness, reviews). Shortlist the leaders, and make first inquiries to see how fast the team is.
Zoom, Skype, Interview
Whether you decide to go with a local Angular developer or outsource your project, make sure to schedule a conversation with the team. Ask your questions, see the answers, and the communicative skills of PMs or those who will manage your project.
With all that knowledge about Angular that we've just shared with you above, you are a few questions and as many correct answers away from finding and hire Angular 2 developer who is capable of delivering your project successfully:
What are the strengths and weaknesses of the Angular framework?

Why Angular is the right tech stack for my project?

Do you have a proven history of building successful projects on Angular?

How many years of experience and how many projects do your Angular developers have behind their backs?

How do you troubleshoot bugs and SEO-related issues?

Why you? What skills make you the best in the niche?
Find examples of the applications using Angular in our new article.
Wrap Up
Angular goes beyond being just a technology, framework, or platform. It's the large community of Angular developers that use this framework to fast track their projects and offer you a proven history of success stories. They know why Angular is best in the industry.
With that said, remember, that any technology is right for as long as it allows dealing with the set objectives and challenges. Any professional developer will be happy to give you a hand in creating a project using the Angular framework. But not any team will suggest this technology and explain why it is best for your project.
---
At Agente, we know how to build successful solutions―all based on your vision and project's objectives, needs, and expectations of the target audience! Get a quote now.
Stay tuned for news
Useful articles from our content team right to your inbox!
Let's talk
Is there a challenge your organization or company needs help solving? We'd love to discuss it.