10 Best Fashion Website Design Examples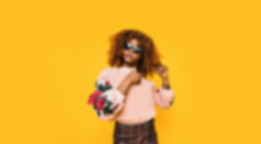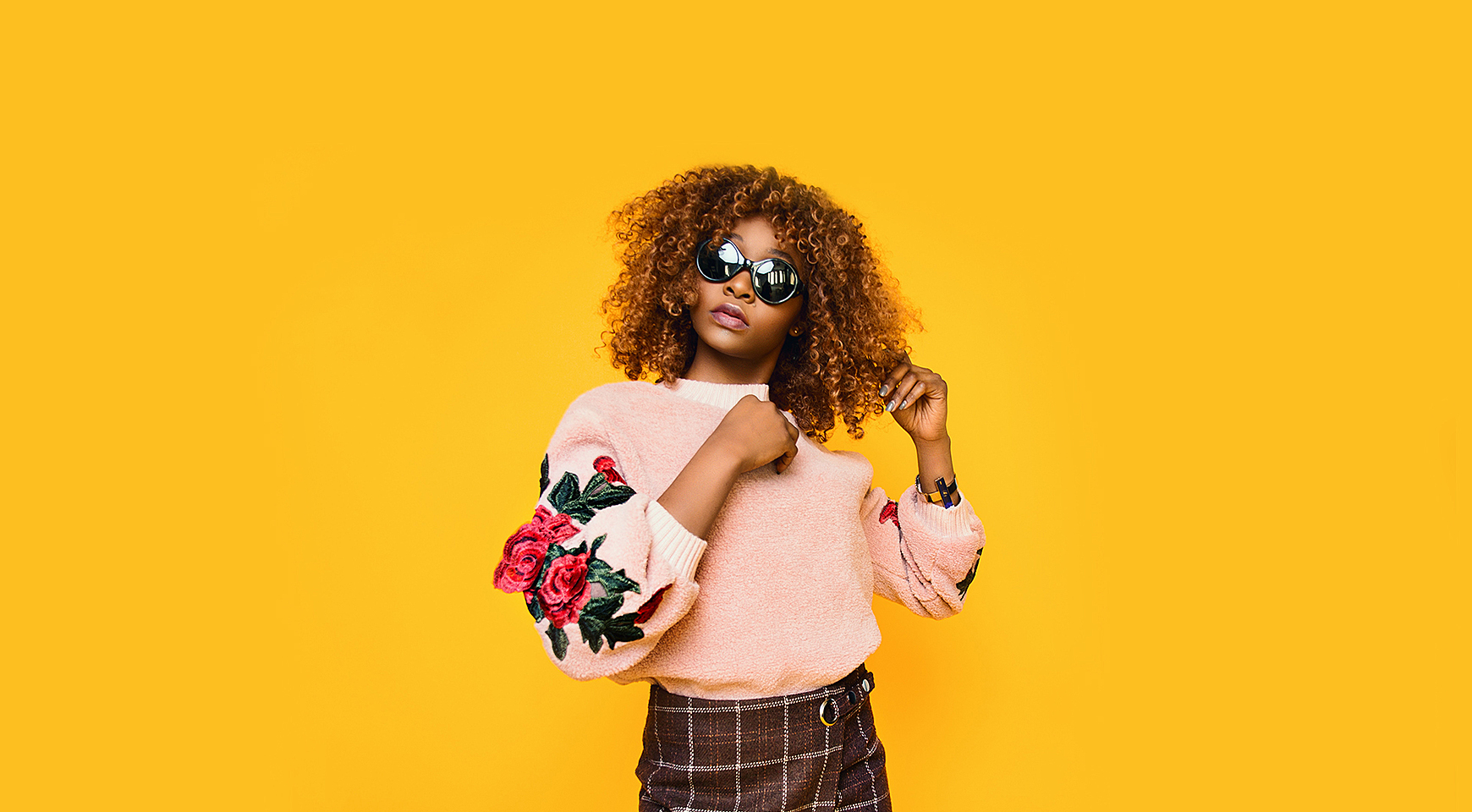 Just imagine, more than 1.6 billion people are shopping online. This customer base represents a huge potential for online stores.
Sites that sell clothes, shoes, bags, and accessories have grabbed a large piece of this cake. A forecast says that retail e-commerce sales will surpass the $4 trillion mark in 2020.
Even world-famous fashion brands like Prada and Versace have entered the online space to become closer to existing and new customers.
The competition is tough, and fashion websites do their best to keep up with these changes by constant e-commerce website revamping.
In this article, we are going to discuss how to design a fashion website that will rock.
The Secret of a Stunning Fashion Website Design
To stand out in the crowd and prosper, sites have to be a combination of a great UX and UI. Let's take a look at the feature list for an e-commerce website:
An Eye-Catching Homepage
A Homepage is usually the very first thing visitors see, making it one of the most important touchpoints.
So pay special attention to this page. A successful page will engage users and efficiently communicate your message to them, building the relationship and trust.
Never display product prices here; being that pushy will do you a bad turn. Your homepage must encourage users to continue exploring your store instead.
But you may add some irresistible visuals to the main page like Atterley did with their eye-catching photos. Follow the link to read Atterley case study by Agente.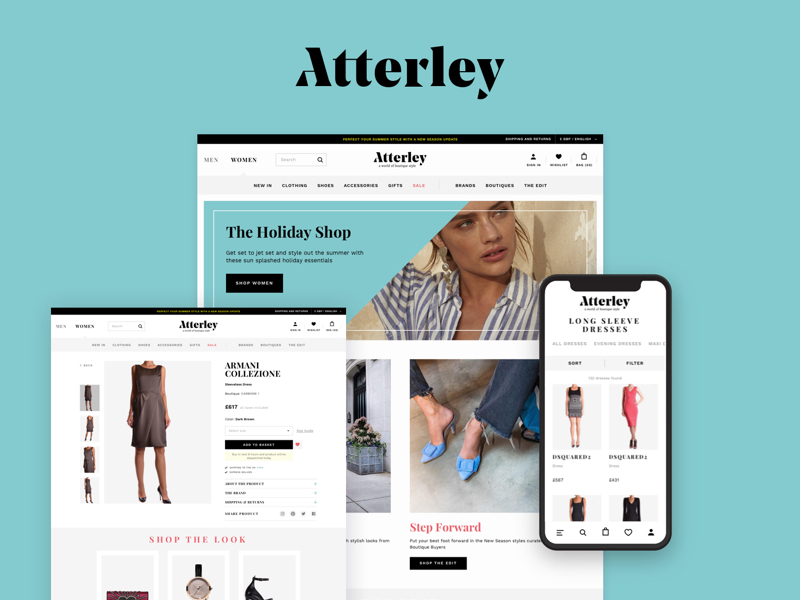 Great Navigation
A good website is easy to use, and this can be achieved through user-friendly navigation. Double-check that even non-tech-savvy store visitors won't have trouble finding what they are looking for.
Create an easily-navigable store so that visitors will spend more time on it. Your chances to sell your products will increase too if the site has a clear route to purchasing them. A small hint: add a link to the page that lists your offline stores to the menu. Many people still prefer shopping offline.
So try to make navigation consistent, straightforward, and intuitive. Check out this article for a detailed guide to site navigation.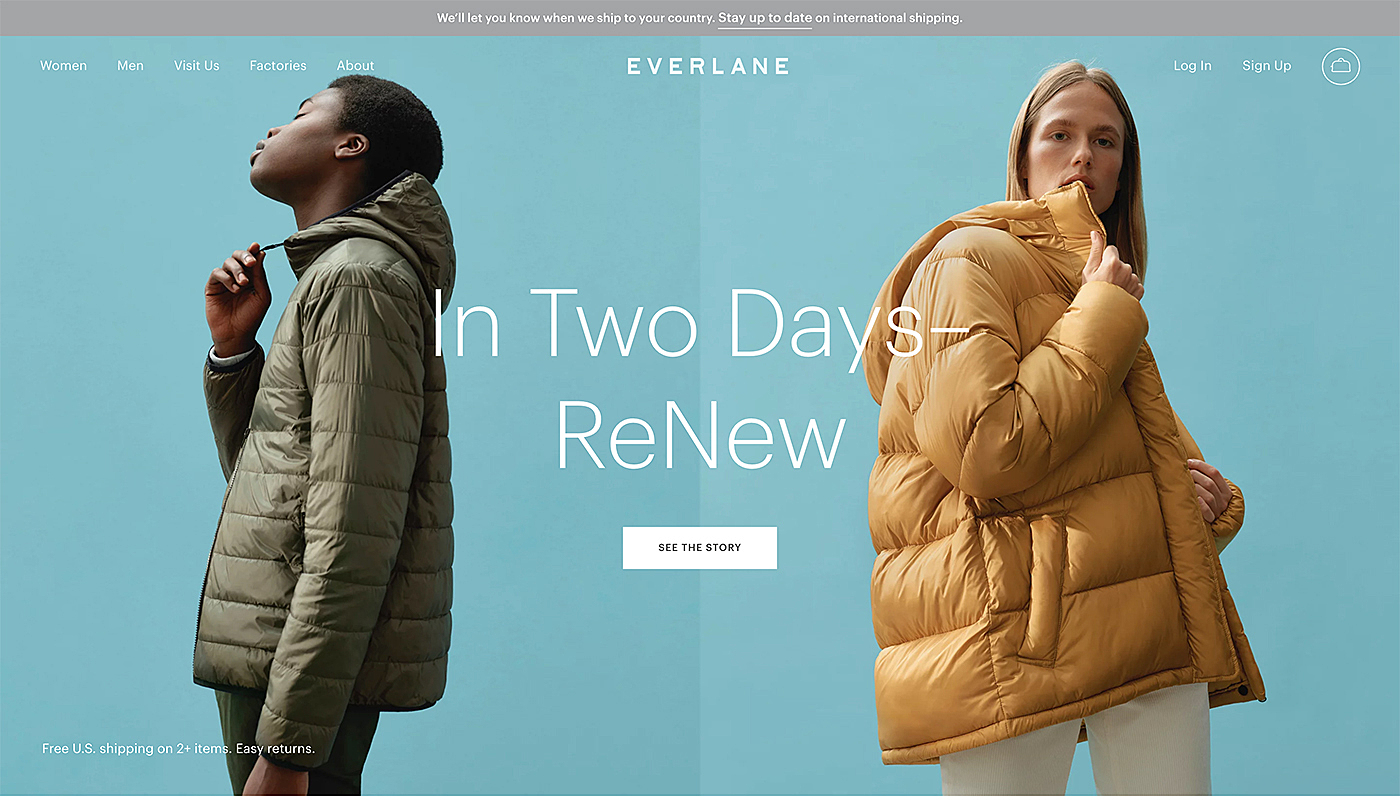 Source: Everlane
High-Quality Visuals and Videos
It's no secret that the fashion industry is highly visual, and this is also true when it comes to fashion sites.
Attractive, high-quality, large photos and images are what users expect from them. Visuals should look good on both desktop and mobile devices of varying screen sizes.
Videos are another effective means of visual communication with customers. Don't skimp on them, take advantage of them to get your brand into store visitors' brains.
Drool-Worthy Product Pages
As more and more brands sell online, fashion web design becomes increasingly similar to that of e-commerce stores. Impressive product pages play a big role in turning visitors into buyers.
Multiple design components can help you to achieve this:
Photos and videos. Customers want to see how the product looks like in real life and from multiple angles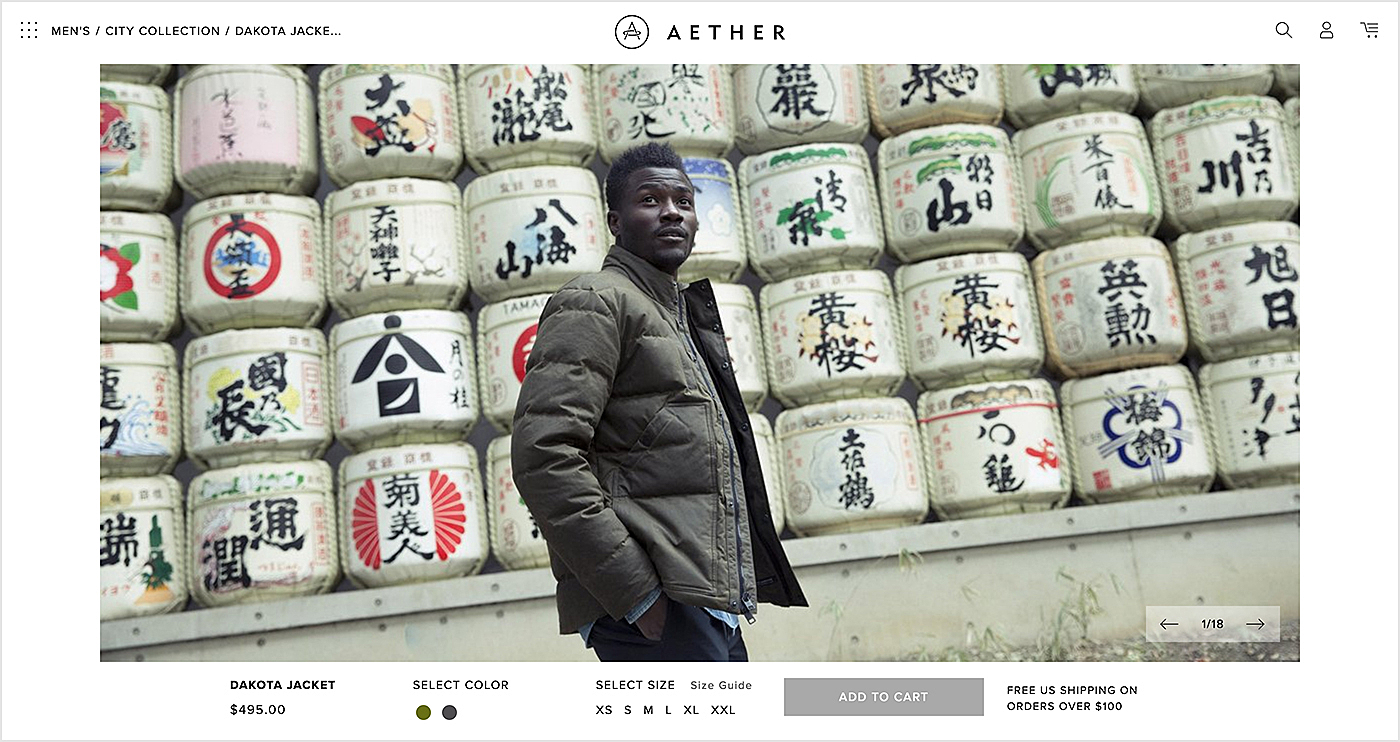 Source: Aether
"Add to cart" button. It should be clearly visible on the page, enticing a user into hitting it as soon as possible.
Product descriptions. They must describe the product in detail, focusing on the peculiarities and benefits it offers. All available colors and sizes must be displayed too.
Social media buttons. People are heavy social media users. It's a wise idea to enable a social sharing button in order to leverage word-of-mouth marketing.
"Customer Reviews" section. Things that others say about your products have a large impact on buying decisions. You may be tempted to edit negative reviews or to write fake ones, but it's much better to stay honest. Real reviews mean a wise purchasing decision as well as fewer returns and refunds.
Sell a look. Turn into a stylist by offering a ready-to-go look to your customers. Many people fail to create them by themselves and they will certainly be interested in such an option.
Color Choice
The black and white color scheme seems to be a natural choice for a fashion site as fashion designers and stylists tend to rave about this combination. So if you want your site to look stylish, simply opt for this scheme.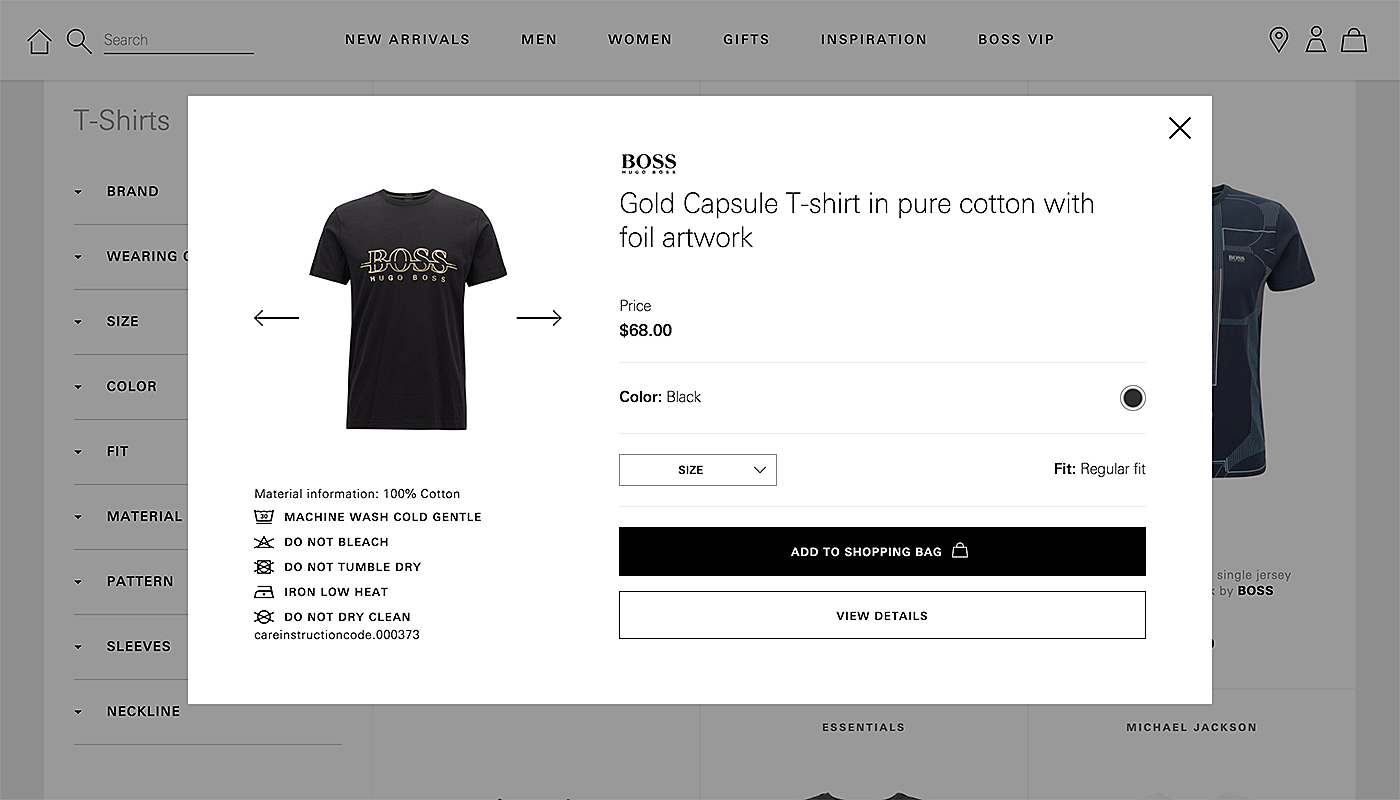 Source: HUGO BOSS
Otherwise, you can go further and ask designers to create a theme that will match your brand identity completely. This will help you to raise brand awareness and recognition. Note: in the fashion world, there is a growing tendency to depersonalize logos. Some designers remove serifs and capital letters for this purpose.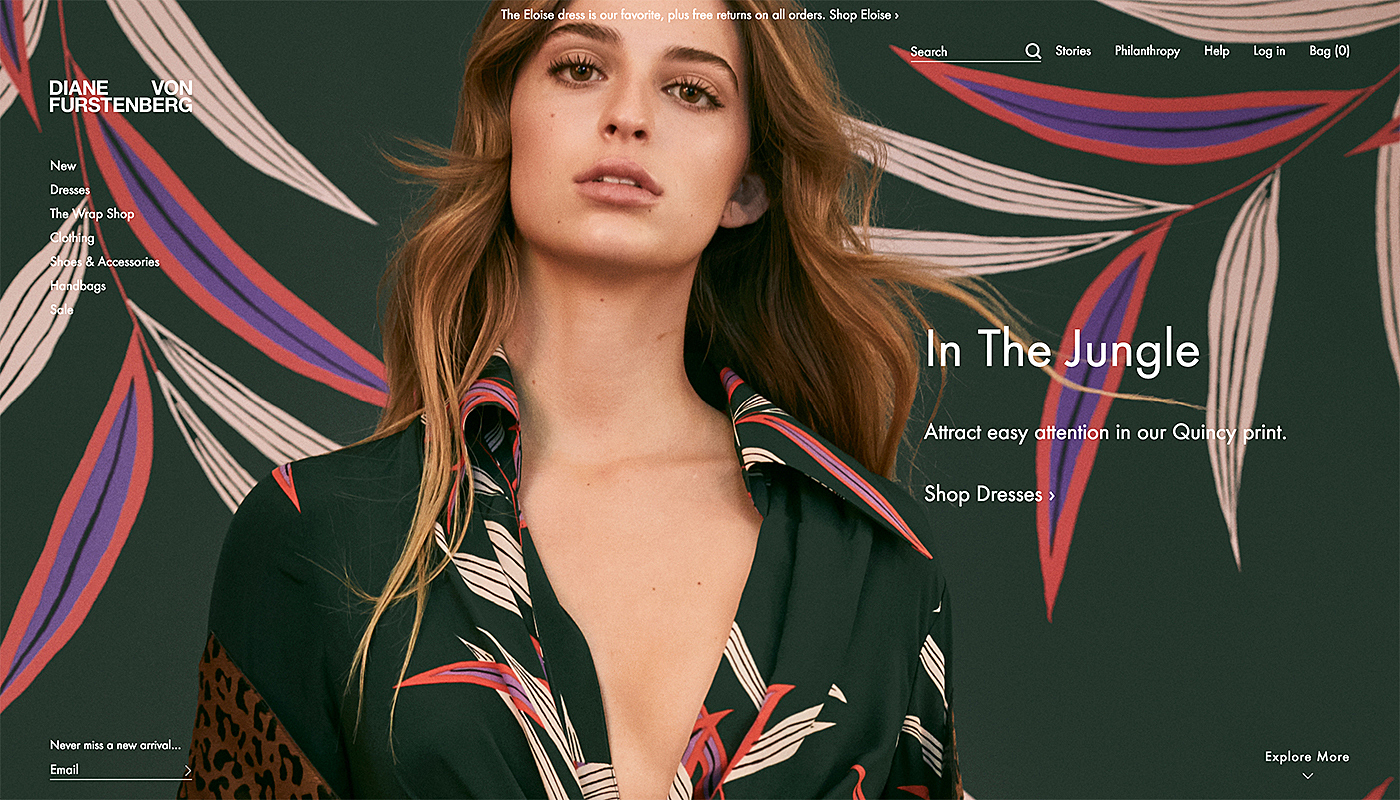 Source: DVF
Interactivity (dimensionality) is another trend to keep an eye on.
What Else Will Work?
We have prepared some other pieces of advice that might be helpful.
Launch a Blog
Blogging is all the rage today. You may start your own blog to drive exposure to your site. What should you write about? Fashion trends, your latest collection, events visited by your team—anything that seems to be appropriate. You can also invite guest bloggers to catch the attention of their subscribers.
Enable Guest Sign In
Guest checkout is a proven way to generate more sales than your competitors –especially those who don't have the feature. Shoppers may be in a rush or just not inclined to register at your store (especially, if it's their first purchase there).
Mobile-Friendly Design
Most people access the Internet from mobile devices. So when crafting a design for a website, pay scrupulous attention to mobile screens too. Want to find out more? Follow this link for all the necessary details.
Strong Calls to Action
Calls to action are indispensable for driving the engagement of users. They can come in various forms and formats, such as on-page buttons and sign-up forms. Use them wisely. For instance, use a popup to tell a first-time buyer about the discount that is given to newsletter subscribers.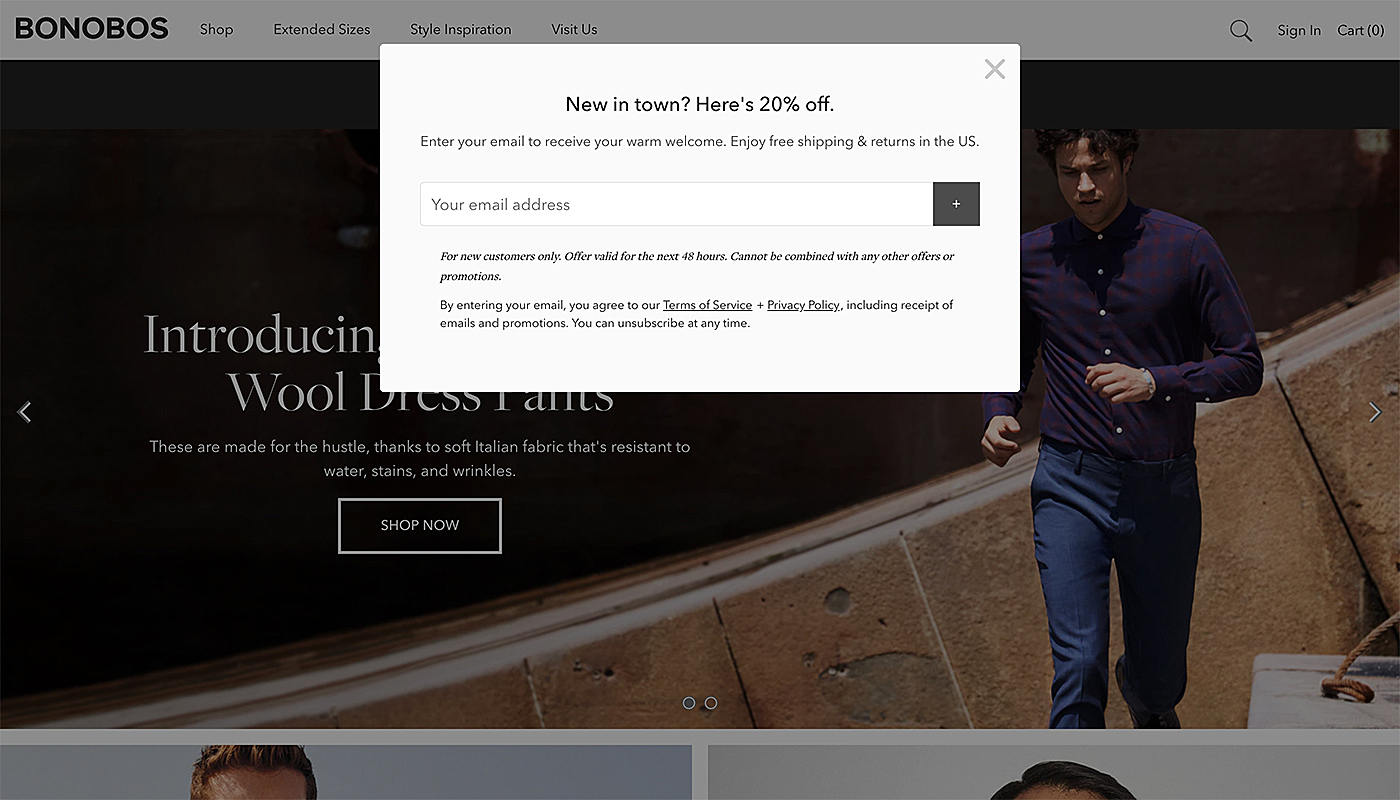 Source: Bonobos
Interface Simplicity and White Spaces
Interface simplicity is becoming increasingly popular. Designed in such a way, it helps sites to deliver their message to users quickly and efficiently as they don't get distracted. Remove unnecessary elements and bring white spaces into action to achieve this.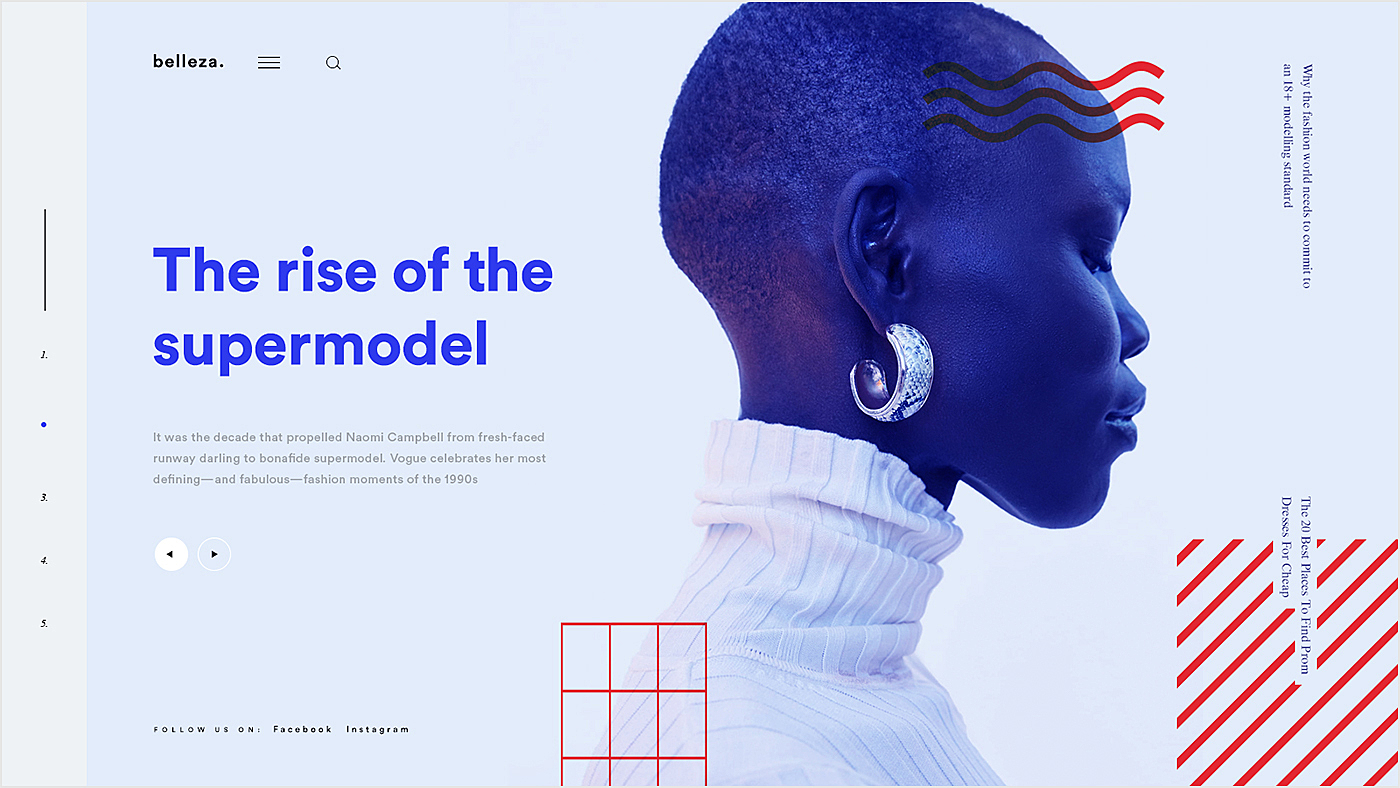 Source: Dribbble
Fashion Website Design Examples
We hope that by now you have some sort of idea of how to achieve the best fashion website design. To make it even easier, we carefully searched the Internet to find inspirational fashion website design examples for you. You can find them below.
Valentino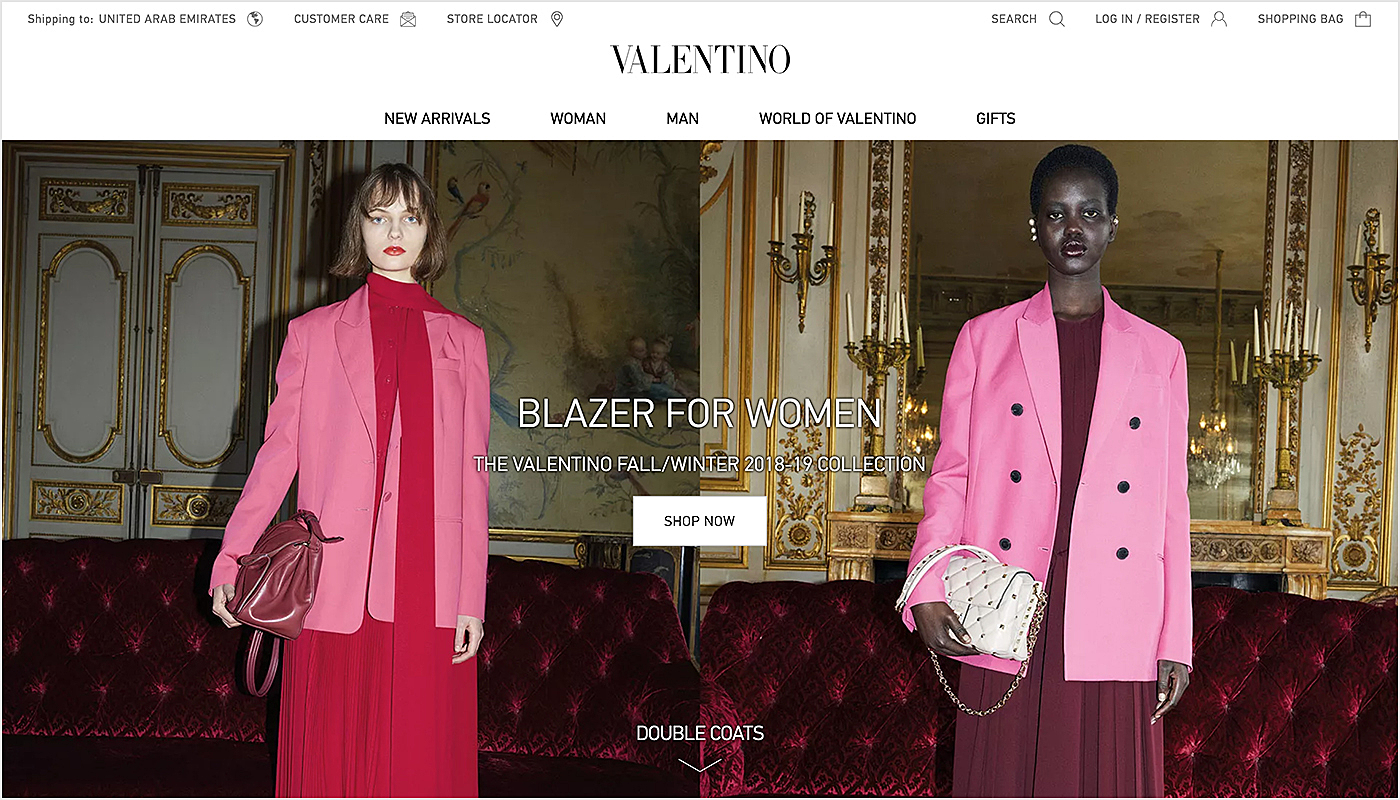 Source: Valentino
Marucci Sports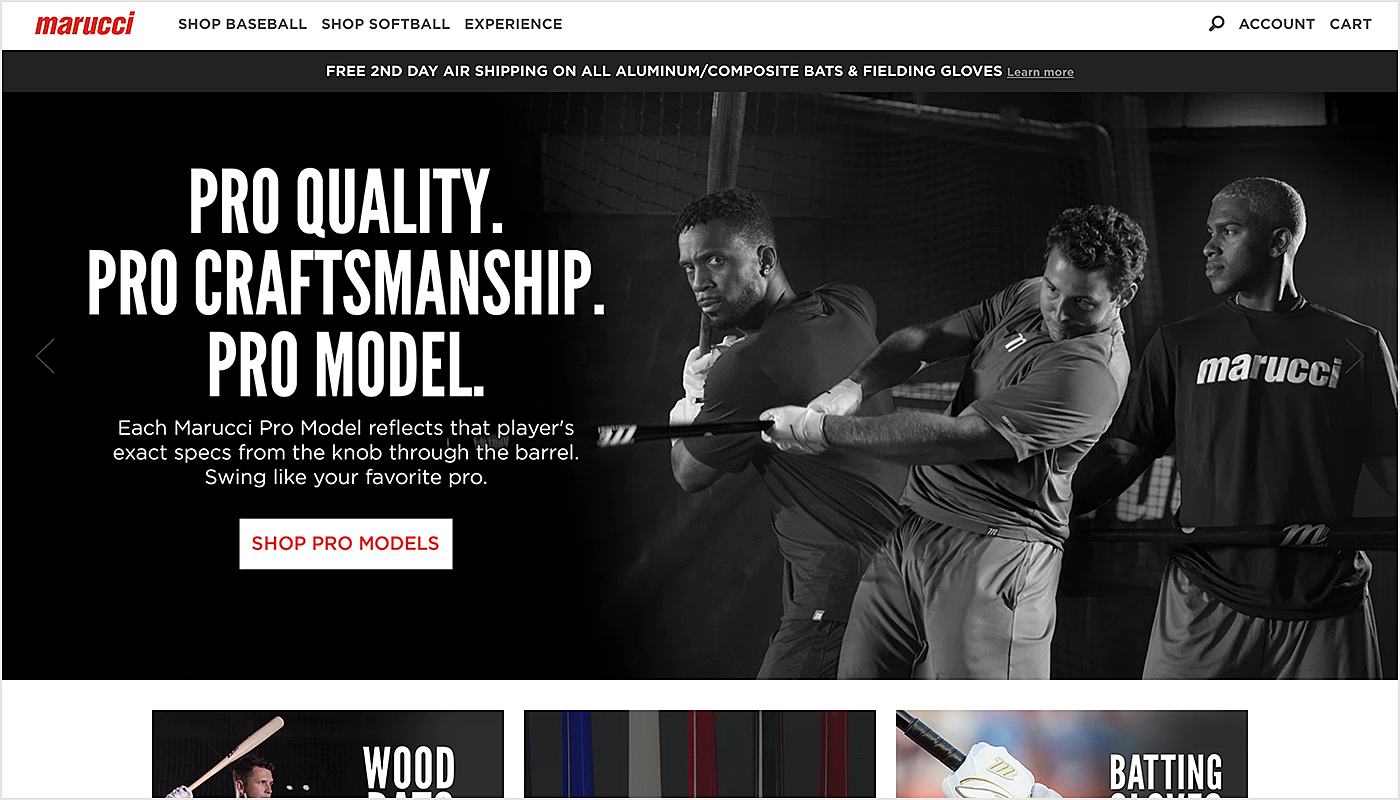 Source: Marucci Sports
Massimo Dutti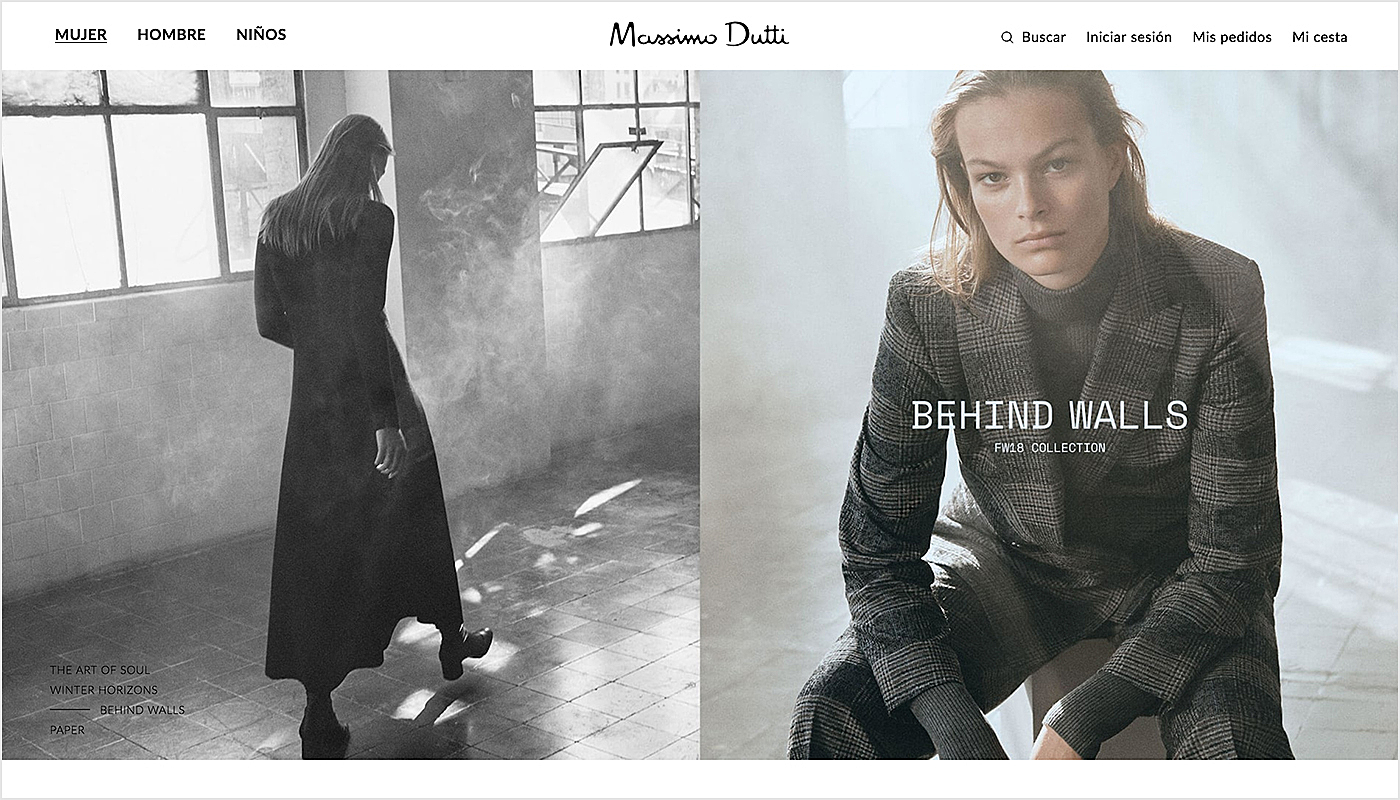 Source: Massimo Dutti
Ermenegildo Zegna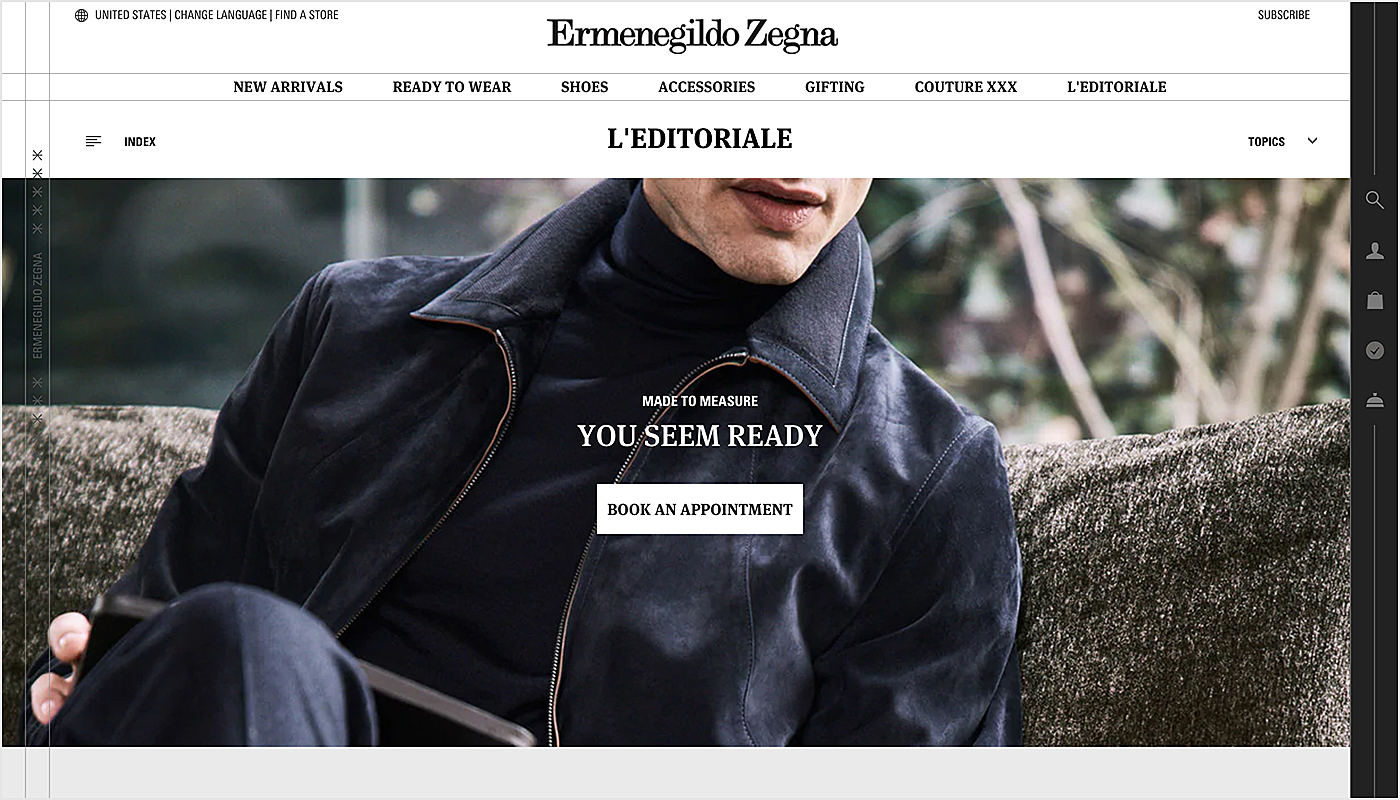 Source: Ermenegildo Zegna
Cropp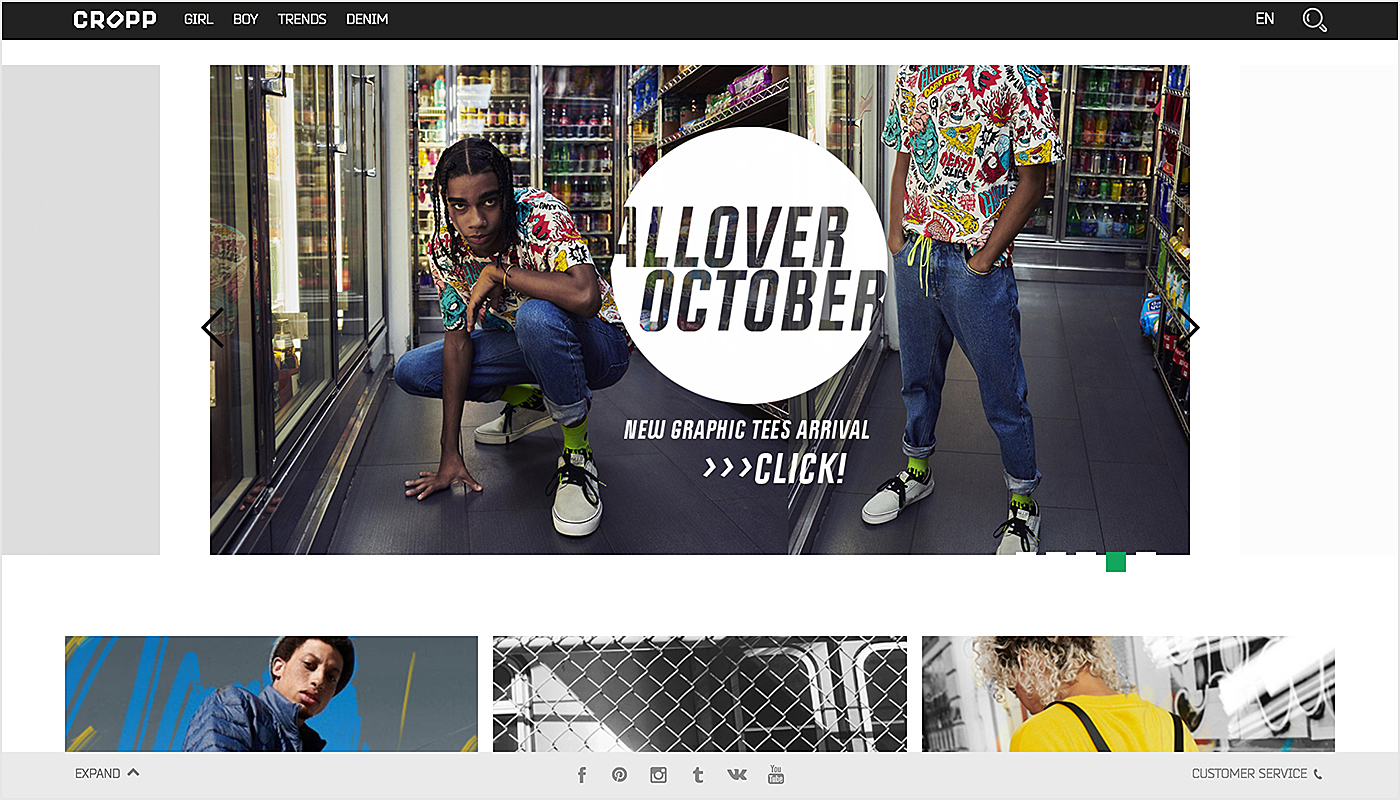 Source: Cropp
Fortress of Inca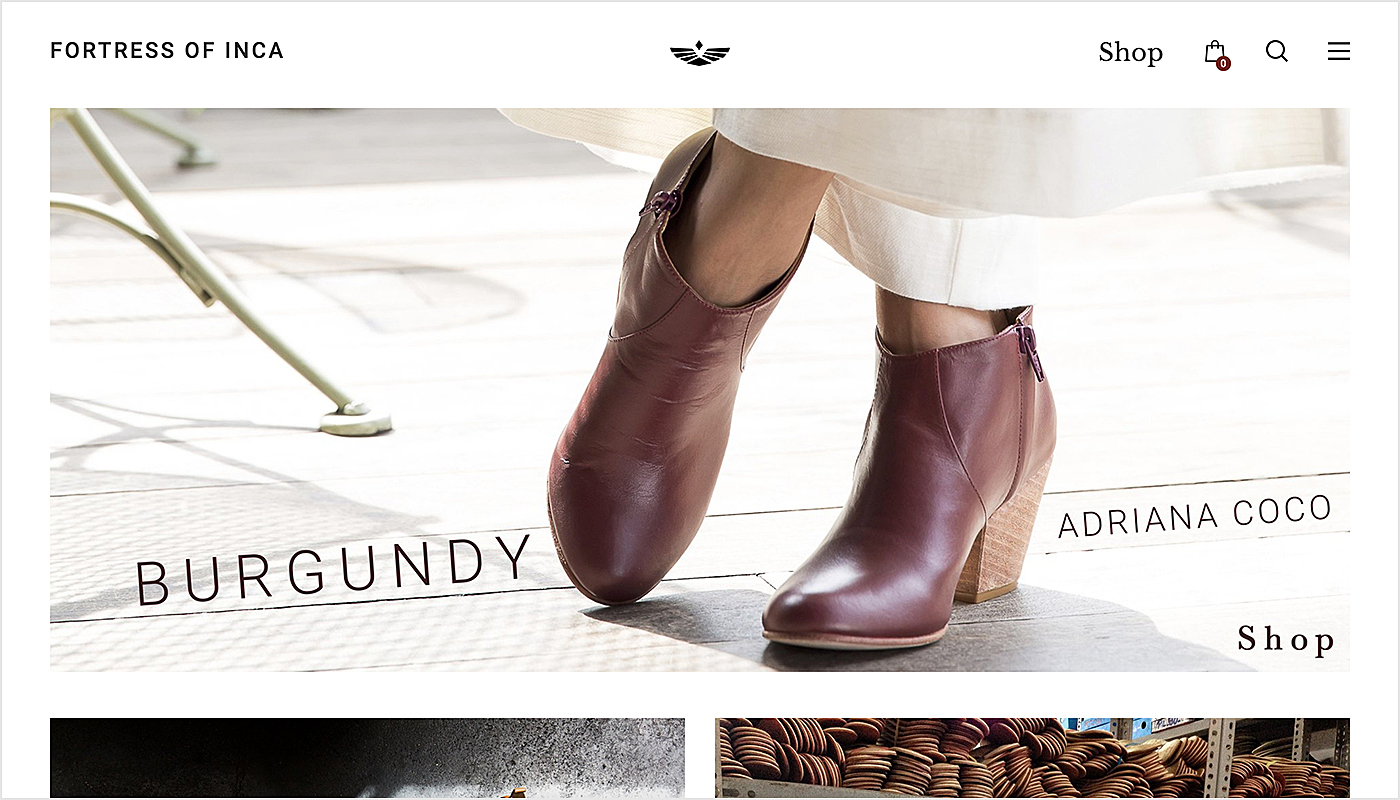 Source: Fortress of Inca
Misguided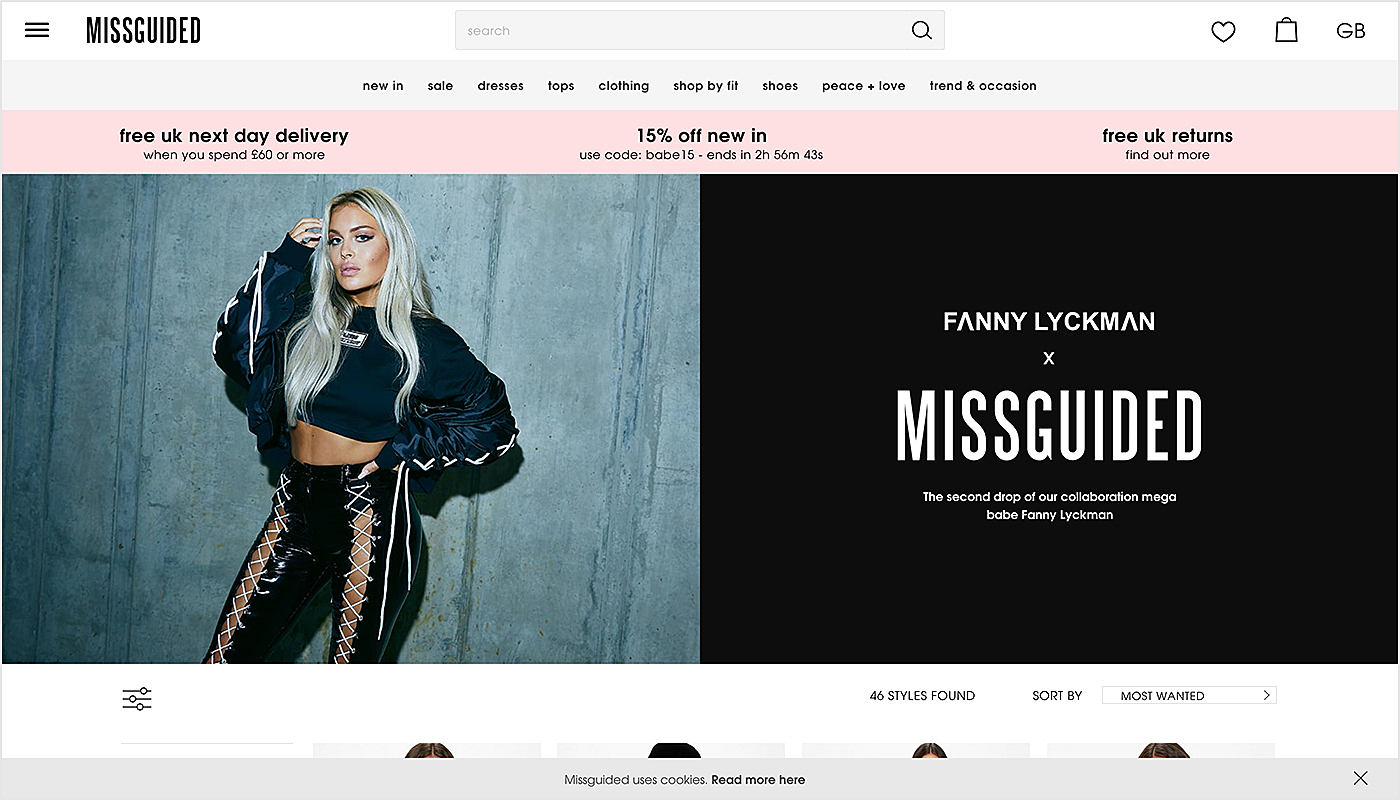 Source: Misguided
Revelry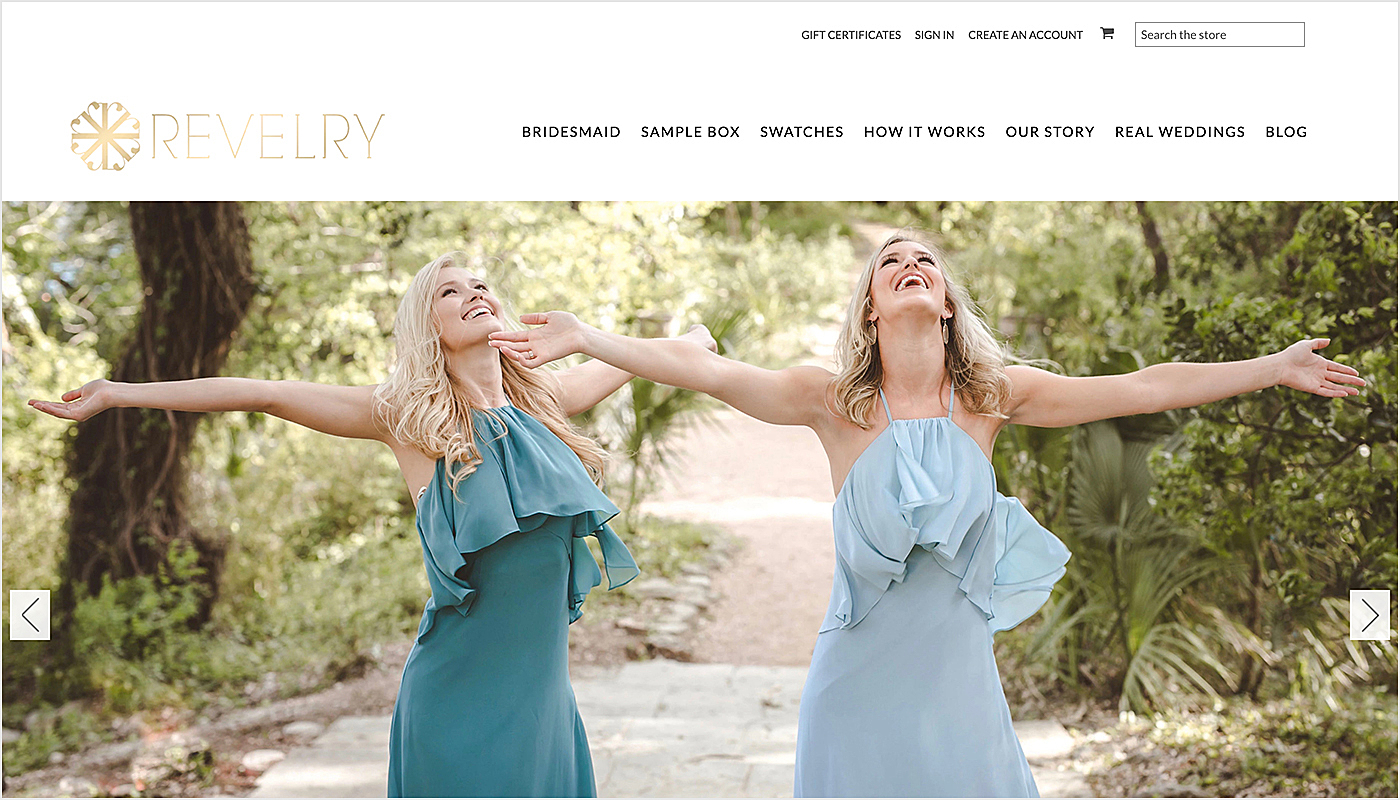 Source: Revelry
Cutter & Buck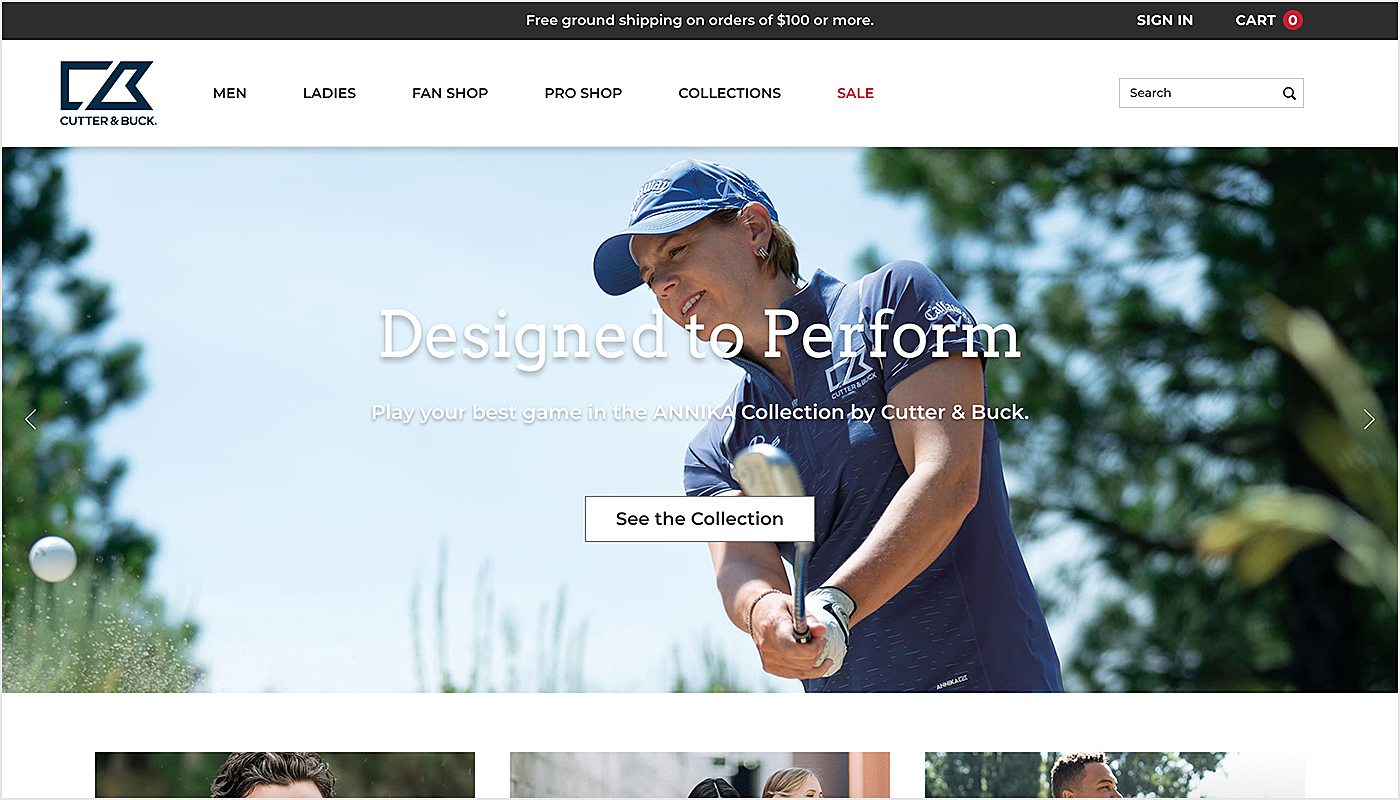 Source: Cutter & Buck
Rottefella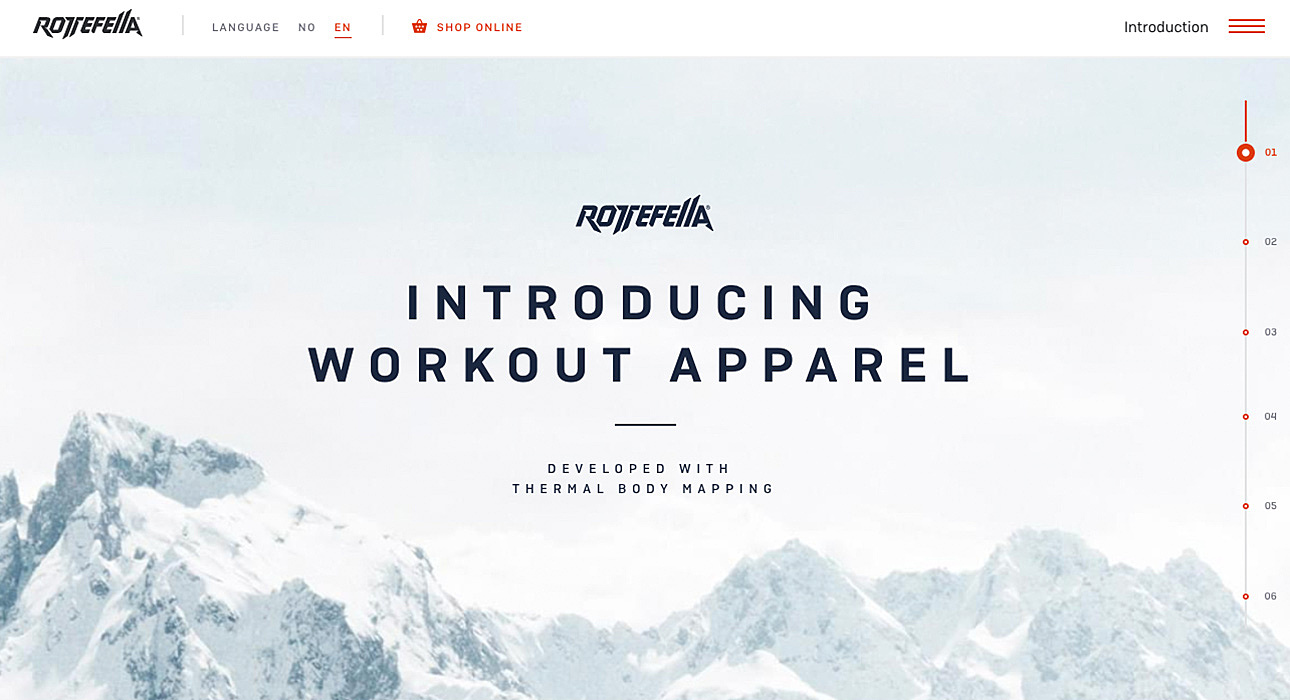 Source: Rottefella
Summing Up
Just like other sites, fashion websites aim to draw the attention of their visitors. In this article, we have covered the basics of creating a successful site. Planning such a website? Contact AGENTE today for assistance with your project!
---
Further reading: Best practices of healthcare website design.
Stay tuned for news
Useful articles from our content team right to your inbox!
Let's talk
Is there a challenge your organization or company needs help solving? We'd love to discuss it.