23 April 2020
What Is a UX Audit and How Does It Help In Pandemic?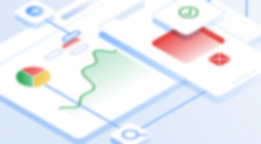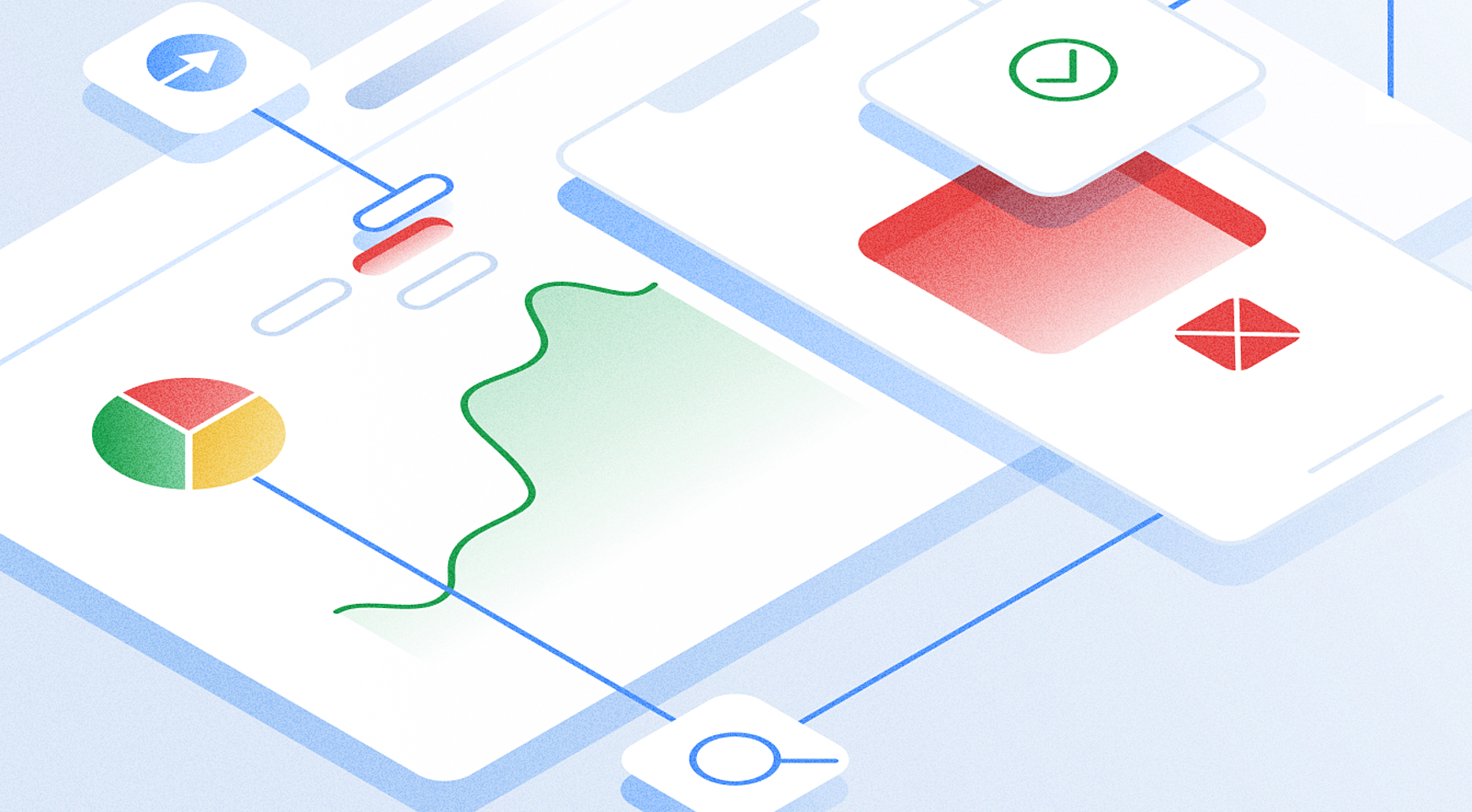 The current situation in the world has impacted a lot of businesses from different spheres and we all feel the tension in the air. In the USA the sales have decreased by 29% and a lot of companies have to scale back and find a way to optimize their workflow in order to stay afloat.
For those businesses that rely heavily on the customers from the internet, it is the time to make sure their brand touchpoint on the internet works well. That's where the UX audit comes into play because it is one guaranteed way to find out whether the website or app performs at its best.
There are some other factors that affect the positioning of the business like the message they convey or how they adjusted their content but we would like to look more closely at UX and usability problems of a product or service.
In this article, I will cover what the UX analysis essentially is and how the remote way of working affect it. Besides that, we will discuss whether it can benefit the business in the current circumstances. At the end of the article, you will find a gift from Agente for those of you who are considering the UX audit of a digital product but are not ready to commit to it yet.
What is a UX audit?
User experience audit basically is a process during which the websites, web or mobile applications will be analyzed by experts to see how it performs and whether it reaches business and user goals or not. The result of this analysis is usually a list of items that can perform better coupled with suggestions from UX designers on how exactly the client needs to change the interface to achieve the quick wins.
There are a lot of different tools and methods that allow you to find out how your website or application is performing and while each UX audit service provider has a slightly different approach to this process its core stages stay the same and I will name them below:
Requirement gathering and analysis of the current state of affairs
User research phase
Solutions generation phase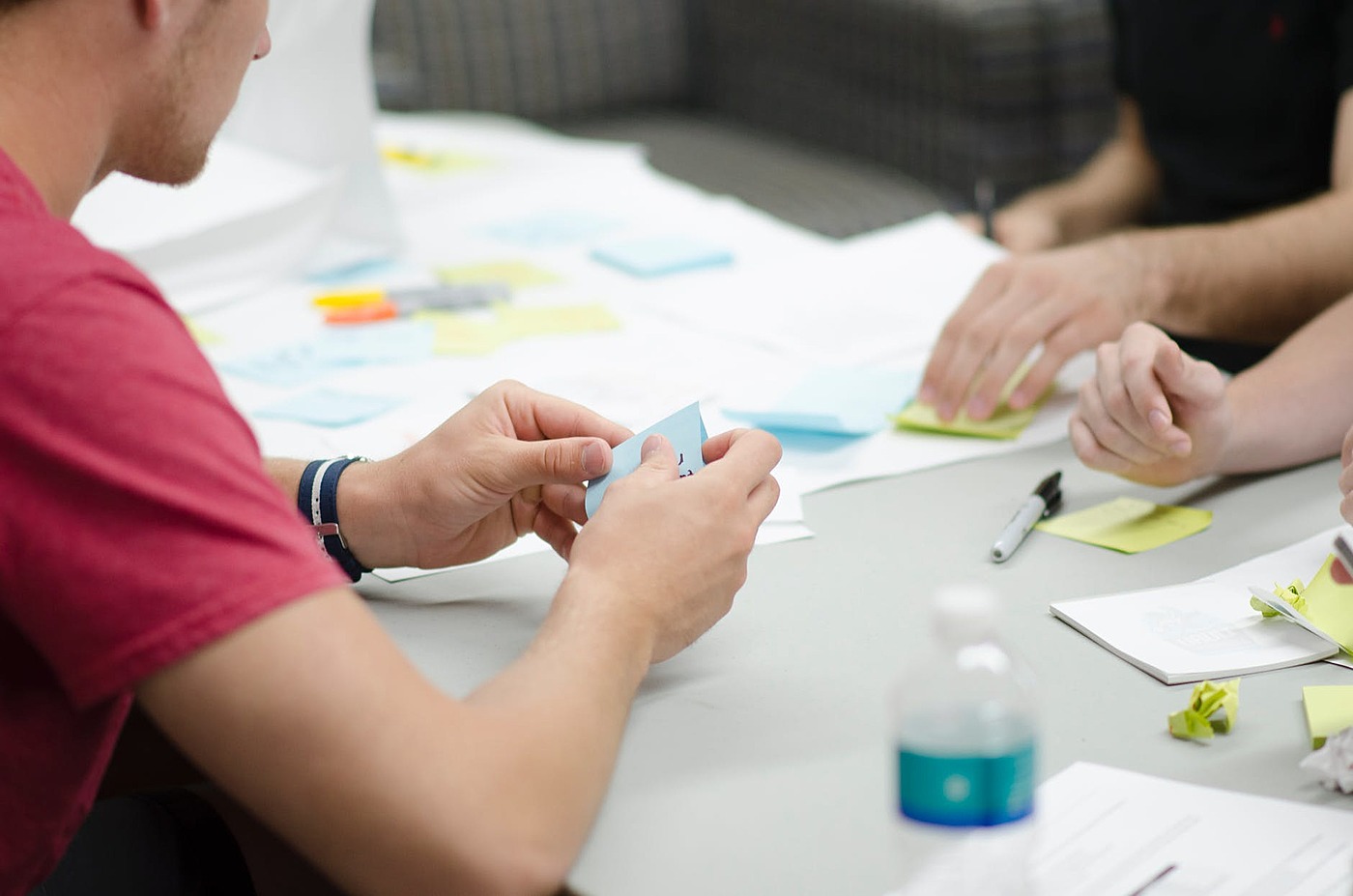 Source: Pexels
Usually, some activities like e.g when the team is gathered to discuss findings or to conduct user interviews involve a lot of offline communication. It is possible though to conduct a UX audit completely remotely and perform all the activities in the online format.
The length of the process depends on the project complexity, the approach that the team chooses to proceed with, and some other factors. The duration of the project can be from 1-2 weeks or up to 1-2 months.
As for the number of people involved in this process, it is certainly better to be done by more that one individual because according to the Nielsen Norman Group, 1 evaluator can only find 35% of issues in the interface.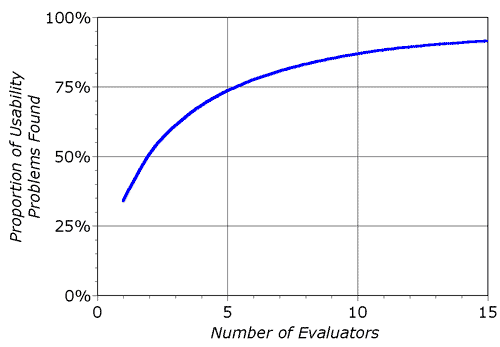 Source: NN Group
That is actually one of the reasons why one member of the in-house team cannot be assigned to this task. A good practice would be to include all the team that participates in product development that means managers, designers, developers and, if applicable, QA engineers and stakeholders.
So this is the basic overview of the process. If you are interested in learning more about the UX/UI audit and how it is performed you are welcome to ask us or to read one of our articles on this topic. In this article, we provide a comprehensive explanation of how it is performed in Agente.
Here in this post, I would like to look at the process more from the perspective of remote work since it is our new reality. Let's see how the process can be adjusted.
How to conduct a UX audit remotely
To give a more detailed overview of the UX audit process explained above, I will list all the phases, what they require, and how to perform them with the help of UX audit tools. For the sake of compactness and in order to match the above-mentioned three core stages I grouped the activities.
#1 Requirements Gathering and Analysis
So the first stage consists of requirements gathering and analysis of the current situation. During this phase the specialists need to have access to the following:
statistics and metrics;
business and user objectives;
customer care data;
traffic engagement.
All of the above can obviously be obtained remotely so the tools that will be used are all digital. In order to give an example I will name the following:
Analytics tools: Google Analytics, HotJar, Metrica, Kissmetrics, Crazy Egg, Mix panel or Firebase;
Survey tools: Survey Monkey, Google Forms;
Customer care data tools: Zendesk, LiveAgent;
Online conference tools: Hangouts, Zoom, Skype.

Source: Pexels
#2 User Research and Usability
This stage includes the following activities:
Persona forming
User story mapping
Customer journey mapping
At this stage, we communicate a lot and it usually happens when a bunch of people is gathered at one place like in this picture below where our team worked on persona forming.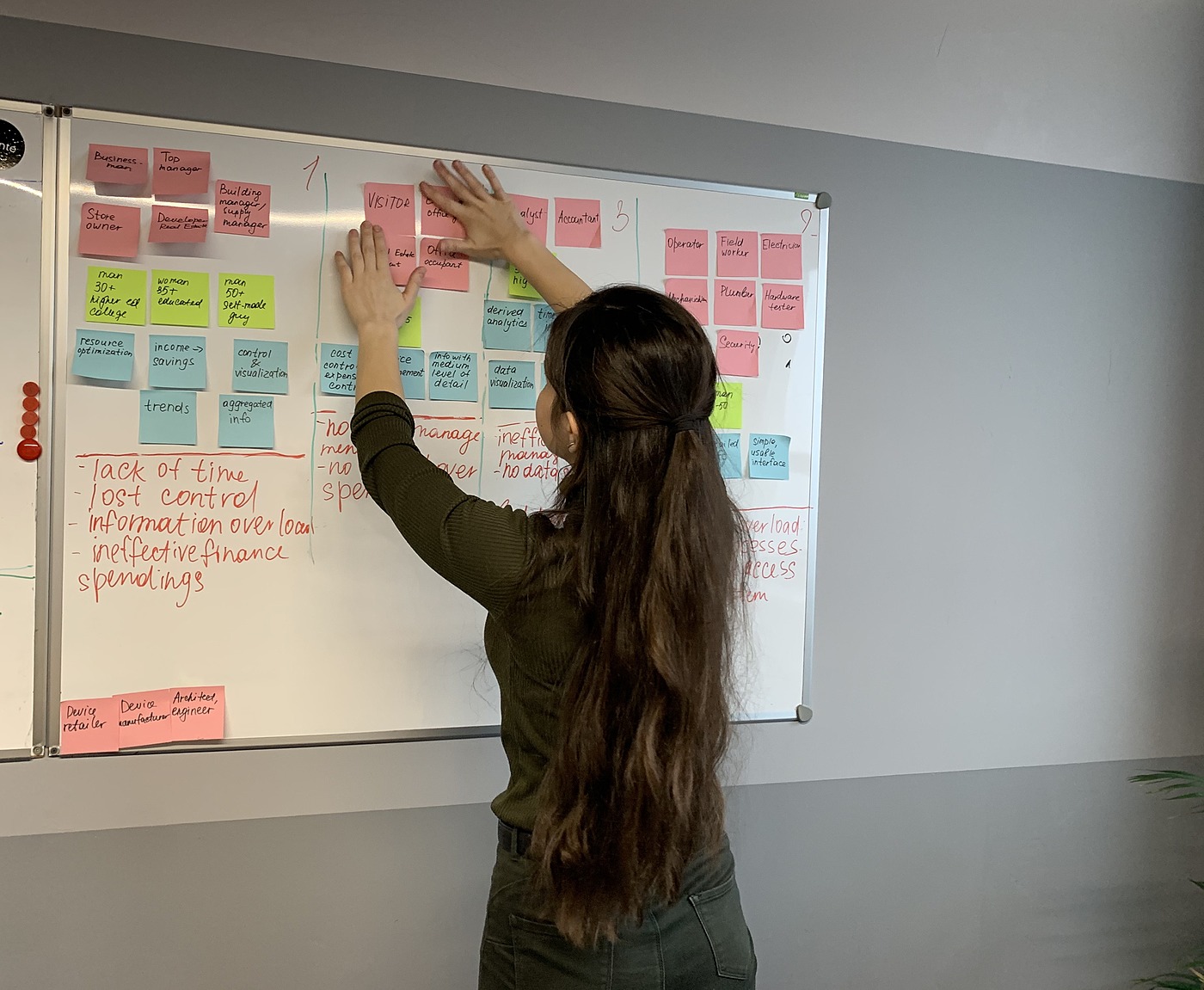 If circumstances require (and due to the current situation this is the case) all the work can be done with the help of digital tools rather than pens and paper. Below I will list some of those tools that can be used:
Persona forming:
User story mapping and Customer journey mapping:
Usability testing can be done with the help of:
#3 Report generation
This is the time to gather all the info, provide solutions, and wrap it up beautifully.
First, we collect all the info. It can be stored in Google Drive or Dropbox folder but we prefer to use Notion for that purpose. Then the leader of the whole process arranges a meeting for all team members to discuss the findings and generate ideas which are all get noted down.
During some time after the meeting, all team members have access to the folder with the info and ideas and can provide additional input. We use one of the online collaborative tools such as Figma or Freehand by InVision to generate and discuss ideas.
The final step is to create the actual report. It is done with the help of Adobe Illustrator or InDesign and we do your best to make it as easy to read and scan through as possible. Once the report is ready for presentation it will be sent to you.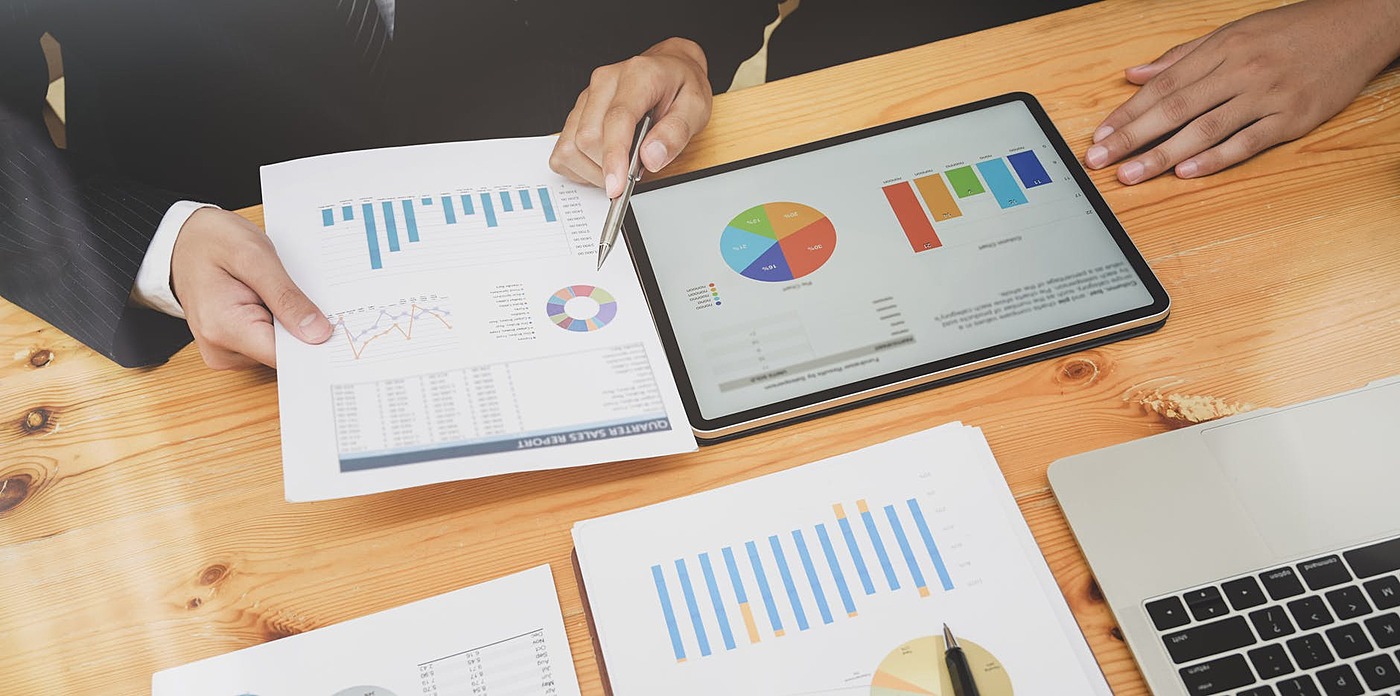 Source: Pexels
Can UX audit be useful for your business at crisis time?
Well, the quick answer is that it will definitely help your business. The improved work of your website, eCommerce store or an app results in satisfied users. In turn, they will be more willing to perform the needed actions. For example, if you order specifically eCommerce UI/UX audit then it can potentially increase the number of orders.
Maybe now the good design is even more relevant than ever. Today it is much harder to retain the users when there is such a significant drop in consumer purchasing power. Besides, the intentional and strategic user experience has the potential to raise conversion rates by as much as 400%.
This is just a general example of how useful and powerful user experience design, together with a good interface increases the chances of success. Especially, if you're using a standardized design template that might have some friction points. Our UX team analyses business and users' goals of each of the projects so the exact answer to how it can help your particular business you can get once you talk to us.
If you are still not sure whether the UX audit is something you should be looking at then please go through this three-item checklist to find out. Put a check next to each item that is applicable to your situation:
Your business depends on customers who come to you via a website or an app.
Your website or app doesn't achieve business goals.
You have some difficulties figuring out how you can help your website or app perform better.
If you have three "yes", then it is a good idea to audit your product or service. There is a high chance that it will benefit you.

UX audit by Agente
If you are interested in it please fill out this form. After that, you will be contacted by one of our representatives for a brief introduction. In order for us to better understand your business, you will be offered to fill in the questionnaire. It will contain questions about the business, goals, current issues and some other relevant information.
The audit is based on the heuristic evaluation, and it will be performed by real people from our team and not by an automated tool or an algorithm.
The website or app will be scanned two times: the first time to get acquainted with it and the second time to analyze it. The goal is to find out what areas of the website are not up to UX standards. The findings will be grouped in a document where each of them will have a screenshot, a number of the exact heuristic that it violates and its severity.
The final report will allow you to see clearly what can be improved in order to achieve better results. If that works well for you, you can then consider other UX and UI design services and discuss this possibility, its costs and timing with one of our consultants.
---
I hope that by this point you have a better understanding of what UX audit essentially is and how it is performed in the context of remote work. If you consider ordering our UX audit, don't hesitate to reach out.

Rate this post!
498 ratings, average ratings is 5.0 out of 5
Stay tuned for news
Useful articles from our content team right to your inbox!
Let's talk
Is there a challenge your organization or company needs help solving? We'd love to discuss it.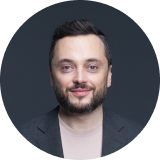 Managing Director, Partner
Andrew Terehin