10 Best eCommerce Product Page Designs Examples To Boost Sales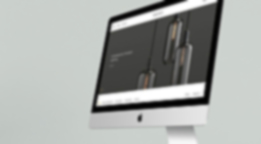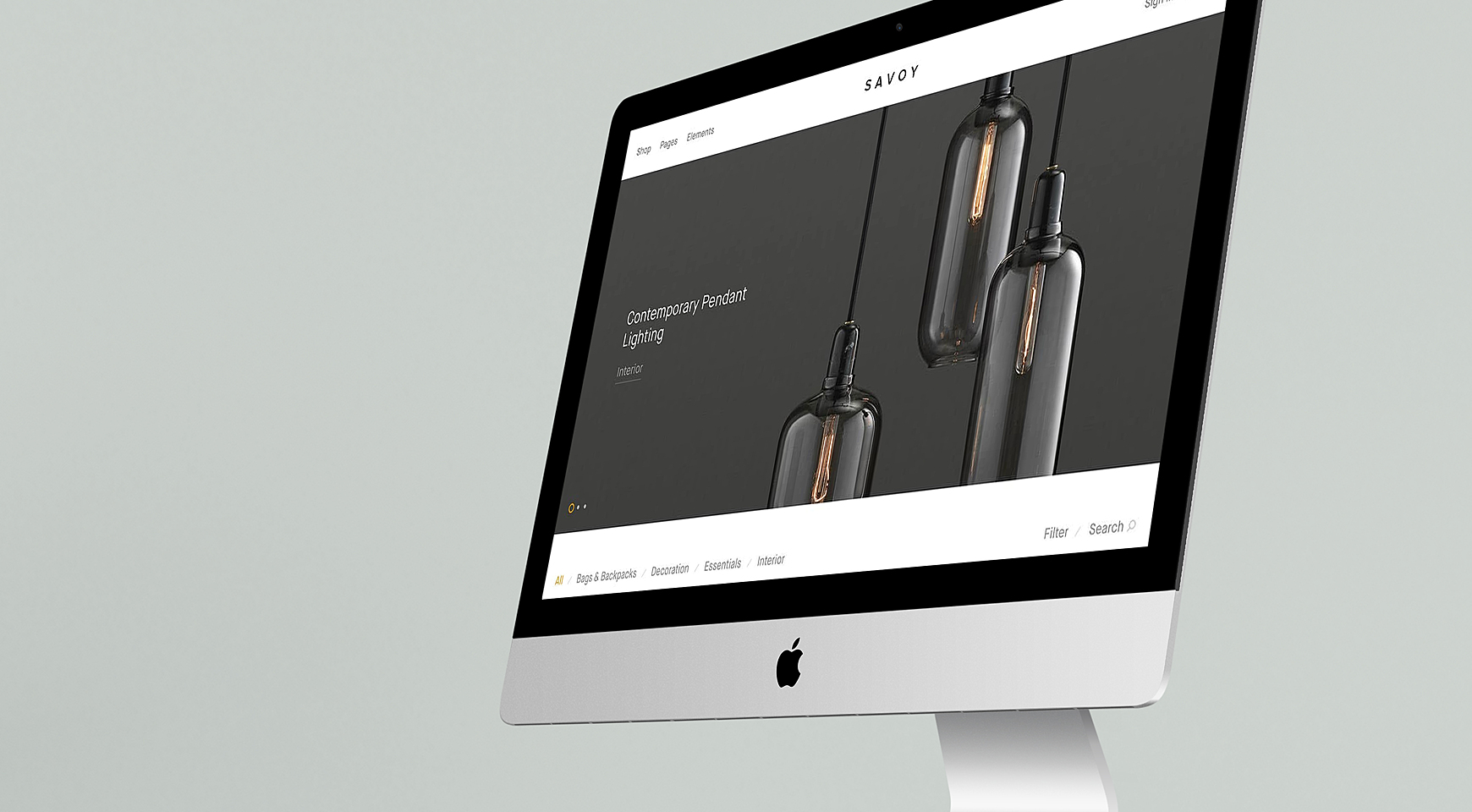 Did you know that eCommerce sales are skyrocketing and will have increased threefold by 2021?
According to the recent statistics from Statista, we should expect a 246.15% lift in worldwide eCommerce sales, from $1.3 trillion in 2014 to $4.5 trillion in 2021. No wonder that ever more eCommerce clients are coming to Agente asking us to make their website more attractive in order to boost sales. Do you know what they mostly care about? A landing page, because it's the first thing that website visitors come across within their user flow.
But the customer journey doesn't stop at the very first page, the real sales begin further on, and no success is possible without outstanding product page designs.
After reading this article, you'll learn e-commerce web design tips concerning the best product page designs and get some inspiration for creating or updating your eCommerce website or POS interface design.
Five elements that a product page cannot do without
No doubt that there's always room for imagination when creating the concept of a product page design or redesigning an e-commerce website. You can add, remove, or swap design elements of your choice, but the primary goal is to sell your product, so make sure you provide some essentials to meet user expectations and to encourage them to buy. Agente suggests starting a product page with the following five elements:
1. Image

There's probably no need to explain why images of goods for sale are a must. The time and effort that you invest in capturing your products will pay off through gratitude from your clients and high conversion rates.
Let visitors see the details that each product includes – take care of the high resolution, zoom in/ zoom out option, and take photos of each item from multiple angles.
2. Description

When writing a copy within eCommerce product page design, be consistent and don't over-use buzzwords and marketing tricks. A clear description targeted to your audience is enough.
Keep in mind the mobile-first principle for your website: about 19.3% of consumers bounce because they don't see the proper description of what you're selling, according to expert research.
3. Price

Right next to the description comes the price. People are usually sensitive about the cost, so tell them clearly how much the product costs, never hide shipping prices or mislead with "ghost" discounts that work only under special conditions without stating these conditions. Make the priceline bold and noticeable, highlight it with a separate color or a bigger font.
4. Add-to-cart button

The ultimate call to action for the product page should lead to the check-out with the desired purchases. Place the add-to-cart CTA right under the price line and don't use ghost buttons, to avoid losing customers.
5. Customer review with a rating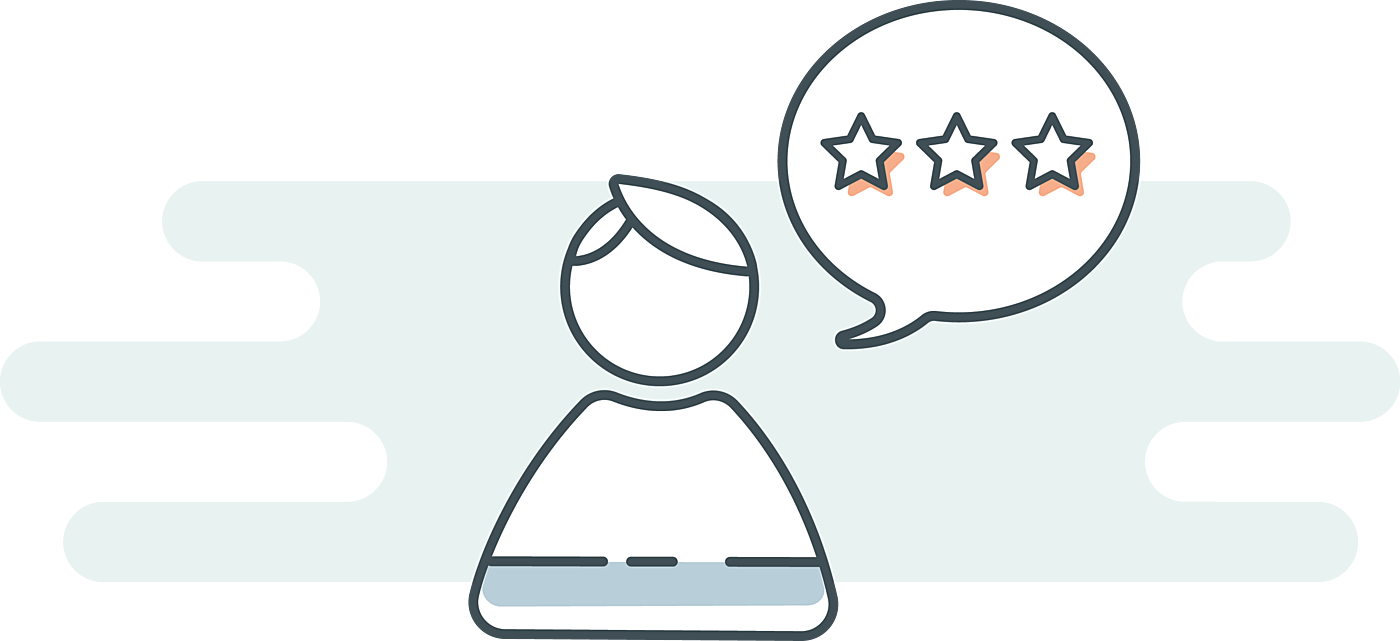 When someone comes to your shop, they expect to see other people's opinions on products of their interest. So we suggest that you not only add a 1-to-5 star rating and review functionality to each product page, but also a pop-up that encourages shoppers to leave a review after they have purchased.
Features that make you more competitive
These five must-have elements will minimalize your eCommerce product page design. However, an average product page includes some more features. Let's throw some light on the ones that can increase conversion rates and boost your sales.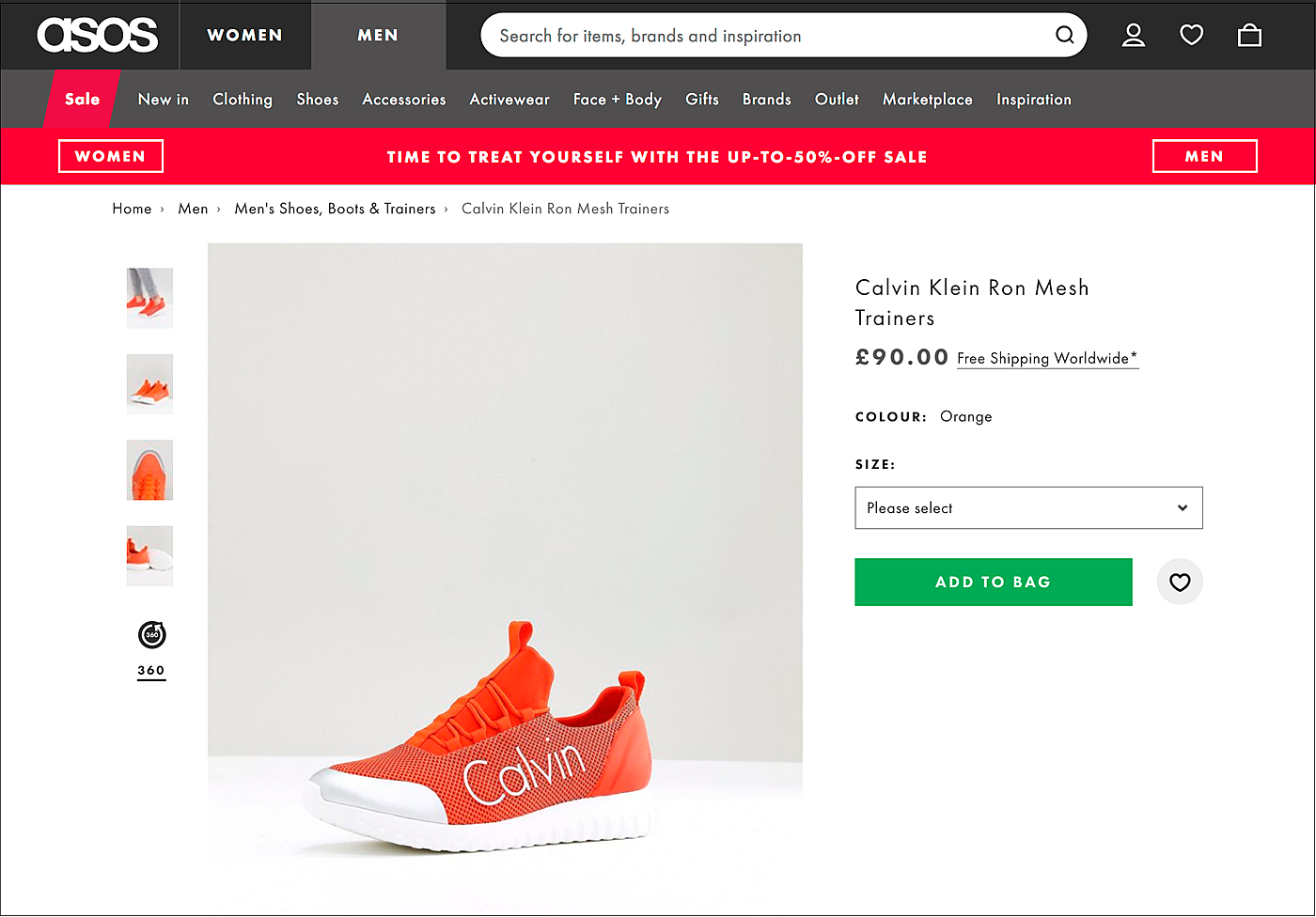 Source: Asos
We had to start with video, as this is the type of content with the fastest-growing popularity. The era of salespeople showing up at your front door or office to show how the product seems to be gone, so video may be a nice and unobtrusive replacement for this.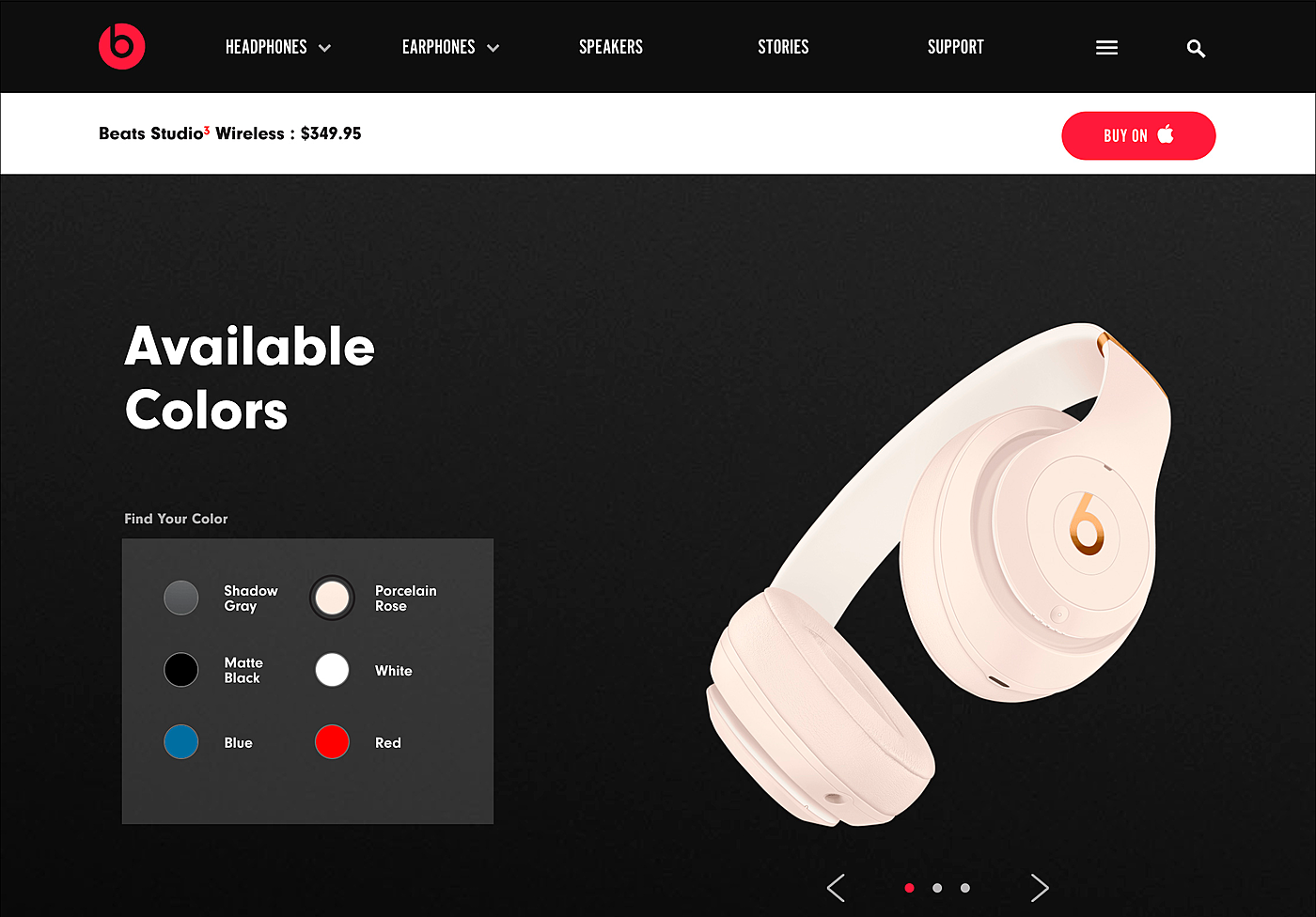 Source: Beatsbydre
If your product comes in various colors, forms or patterns, including all the variations on the same page will positively affect your sales. Make sure that when the user clicks the color they like, the page content updates—this helps to avoid duplication (which is good for SEO), and at the same time allows visitors to stay on the same page.
Related or recommended items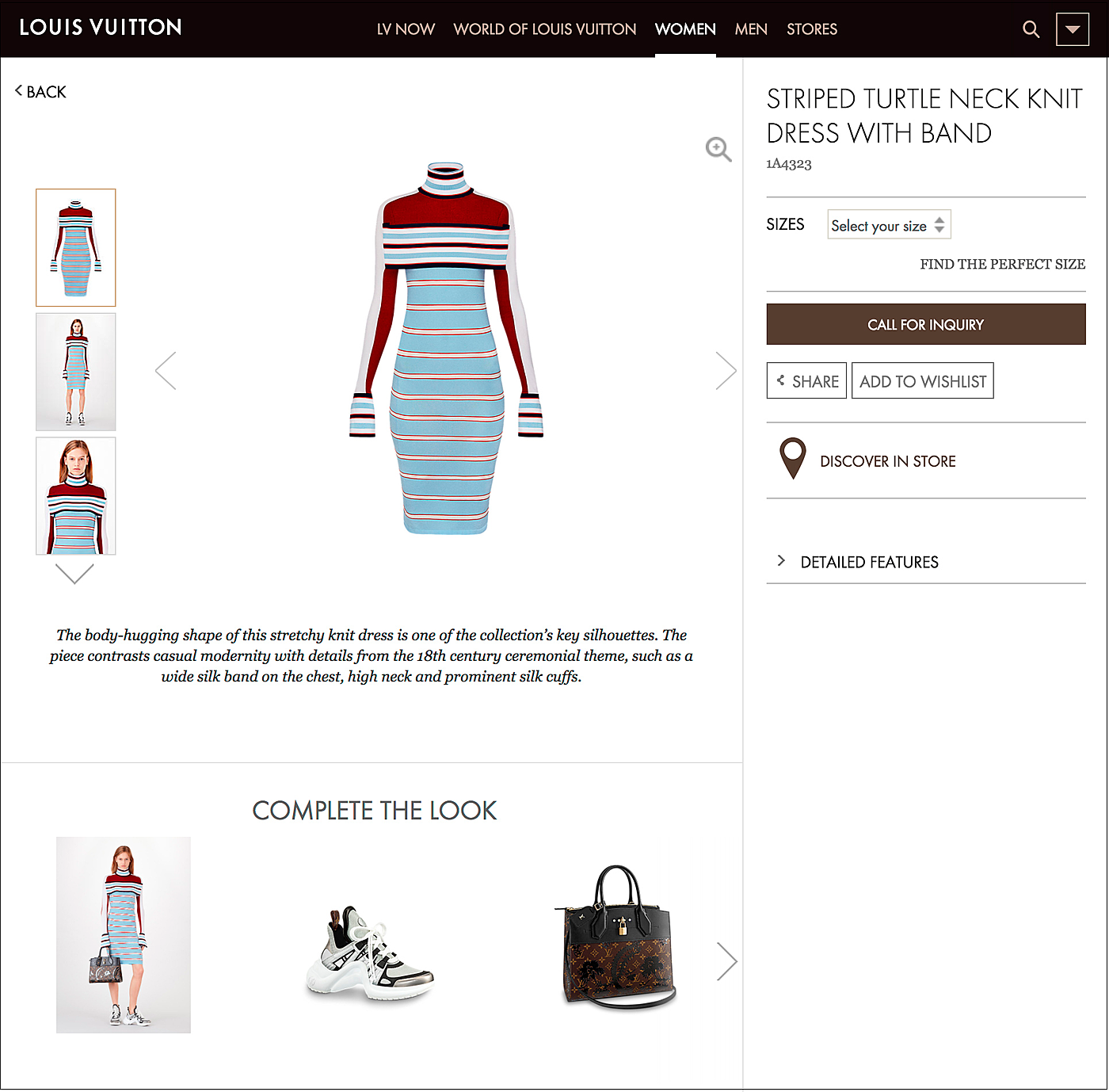 Source: eu.louisvuitton.com
A product page is also a good tool to upsell or cross-sell the other items in your store. Leave the place on your place to show the goods that complement the item of their choice, or those that are similar to it by type, color or model.
Discount or abandoned cart pop-up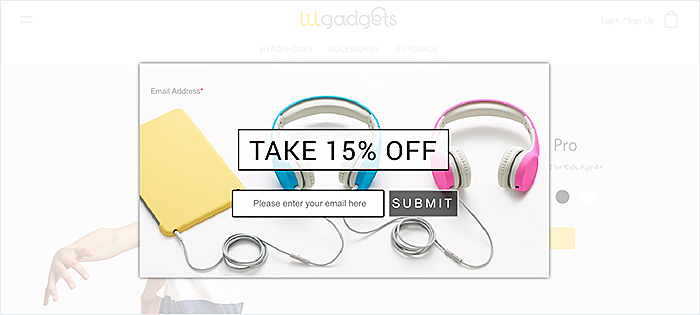 Source: Lilgadgets
Pop-ups might be annoying when they appear out of nowhere any second, stacking up on top of each other. However, when properly used, they may help to convert more users. For example, offer a last minute discount when the visitor leaves the product page or abandons the cart - experts say that smartly designed and perfectly timed pop-ups may win you up to 10% clients.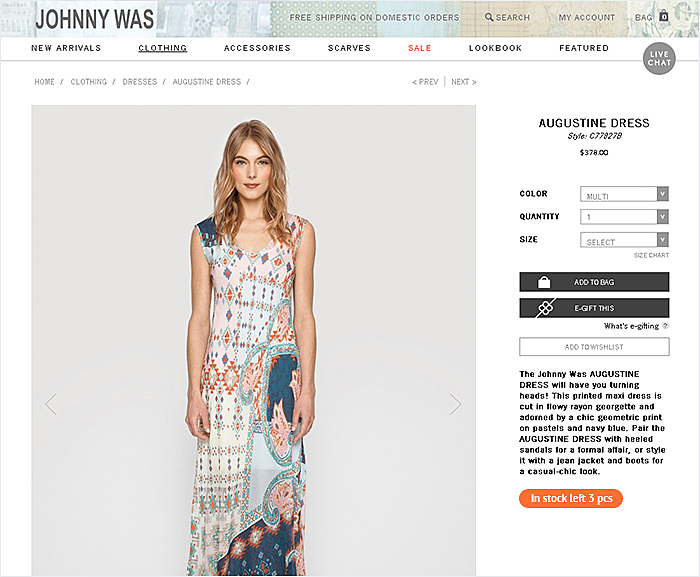 Source: Johnnywas
The effect of scarcity motivates people to make purchasing decisions faster. Place a counter that reflects stock levels, so that people will rush to buy the desired product. However, don't make your visitors experience the infamous "fear of missing out" - if the position is out of stock, let the shoppers add the missing item to the wishlist, and set up notifications so that they'll know first when it's back in stock again.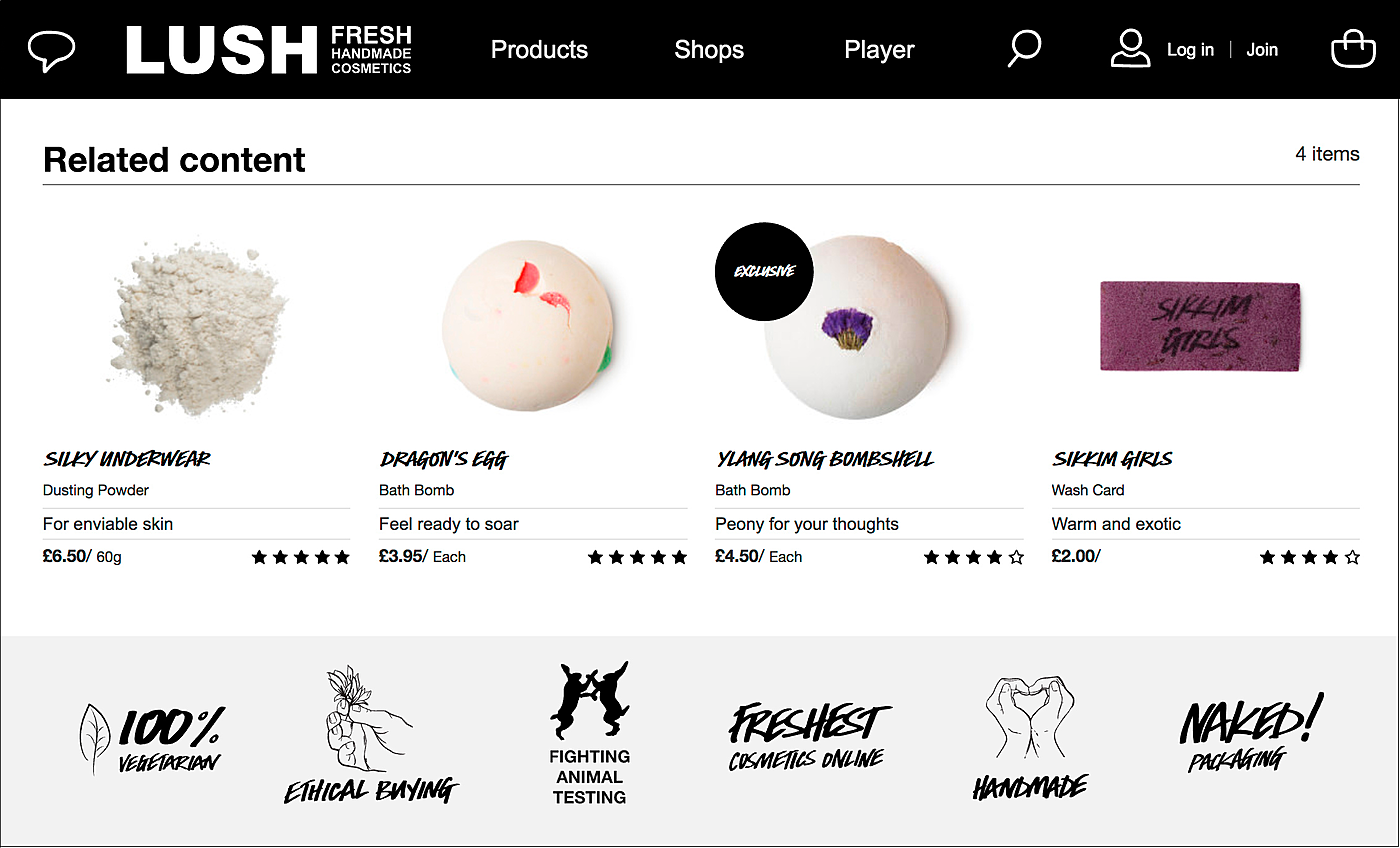 Source: uk.lush.com
Depending on the type of goods, you may also "no animal testing" marks, product awards, or perhaps some tips on garment care etc. Think of what your target audience may expect of you and design some custom icons that indicate special features of some products.
10 Best eCommerce Product Page Design Examples to Boost Sales
Now it's time to take a look at some eCommerce product page design examples. We picked ten to explore more ideas for your inspiration: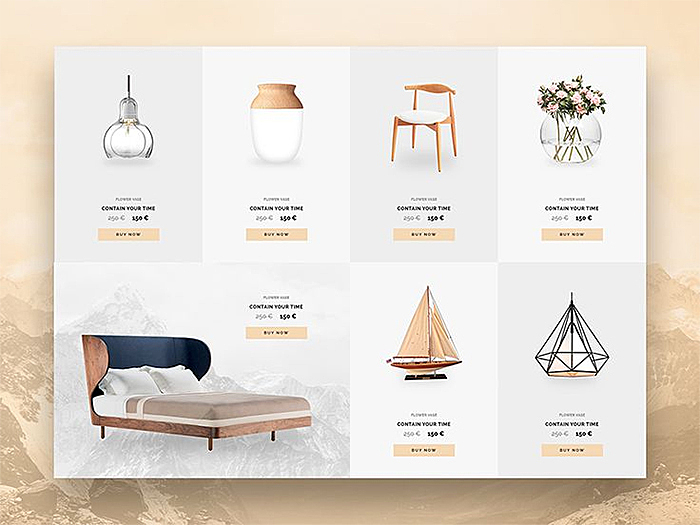 Source: Pinterest
Let's start from the general and move on to the specific. This is where it all begins - a catalog page with product cards on it. These so-called "covers" that lead to the actual product page should not be overwhelmed with info - the image, price, and name of the product is enough.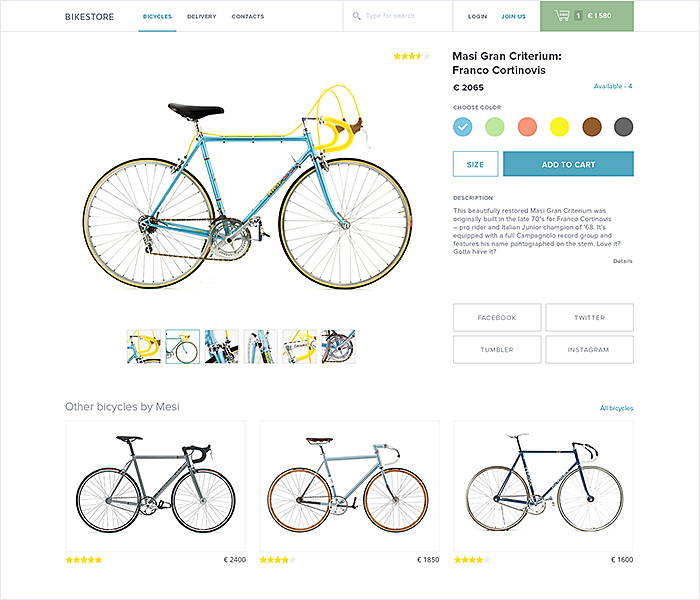 Source: Dribbble
Removing the background is one of the most popular tricks to design an eCommerce product page. This looks fresh, highlights the content and makes the page easier to navigate.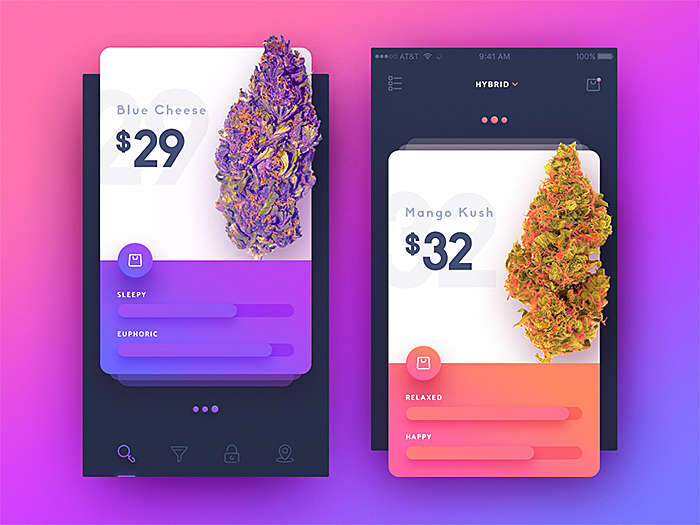 Source: Dribbble
Finding the right balance between images and the product description is a big deal. Visual clutter may distract visitors from purchasing, so sometimes minimalism in combination with creativity works better than a classic product page solution.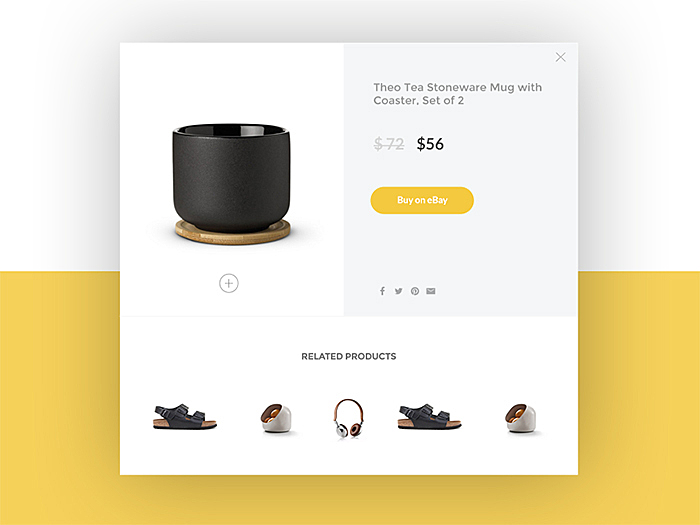 Source: Dribbble
Yes, we confess that we adore minimalism where it is reasonable. Basically, there are three main areas of focus: image, price, and a CTA button. Do you need anything more to buy?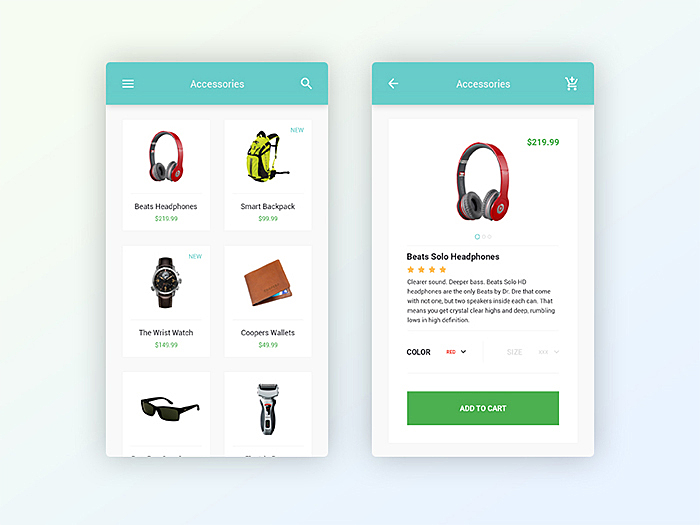 Source: Dribbble
Let's see how it looks like on a mobile screen. It seems that it has all the same features that you need on the web: it's image-led, has a big, clear CTA button, and informative copy. The main differences are in the description under the picture, i.e., the drop-down for color and price in the upper corner of the image - all of this saves the space on a mobile screen.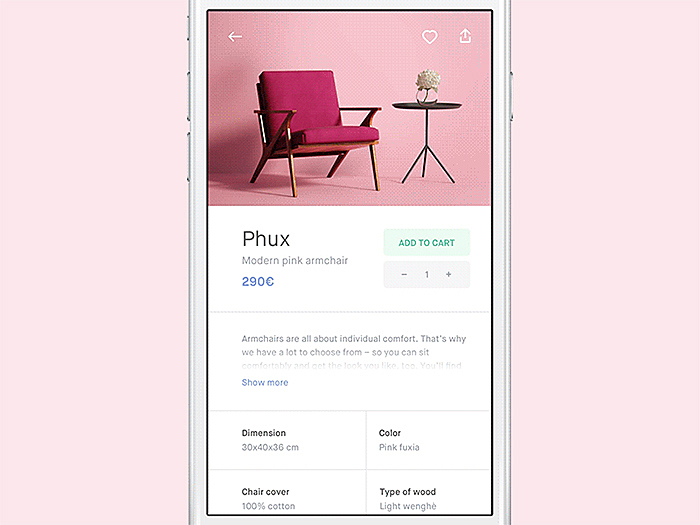 Source: Dribbble
Another nice trick on a mobile product page is hiding below-the-fold text under a show more button. The page also features a lot of white space presented by margins and the padding around text columns, which drags focus to each of the sections.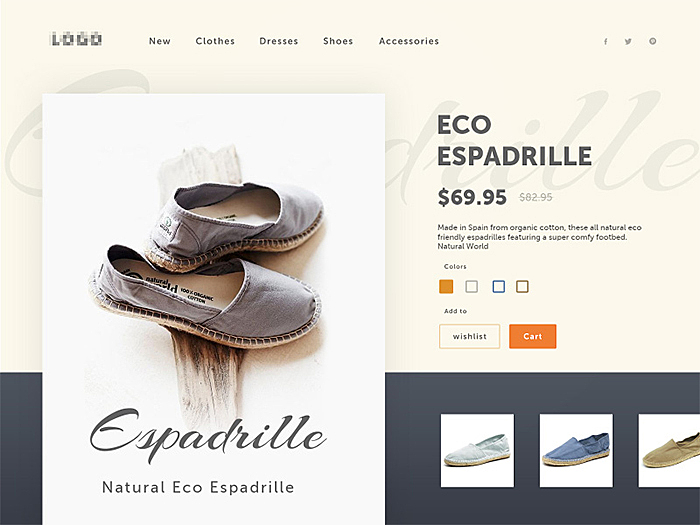 Source: Pinterest
This page is one of a few good examples of a fashion clothing website designs. They break from the transparent background tradition to add some charm with pastel colors and soft fonts.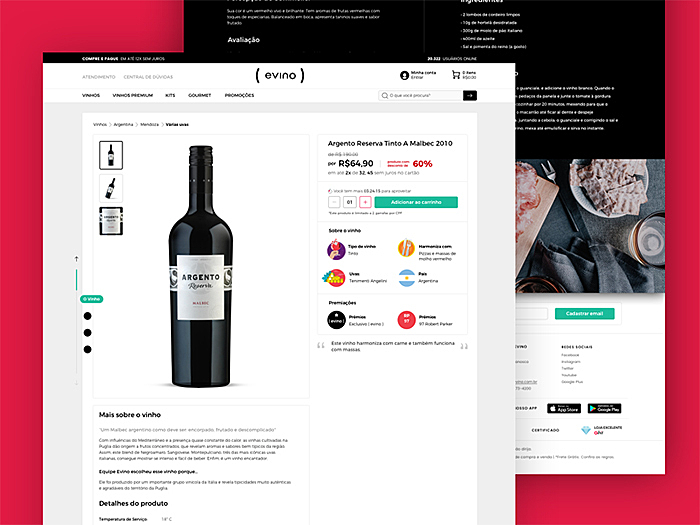 Source: Dribbble
This website for wine-lovers is nothing special at first sight. However, the product page stands out with a helpful add-on - custom icons that highlight the type of wine, grapes, country of origin and products it harmonizes with - which eliminates lots of text in the description.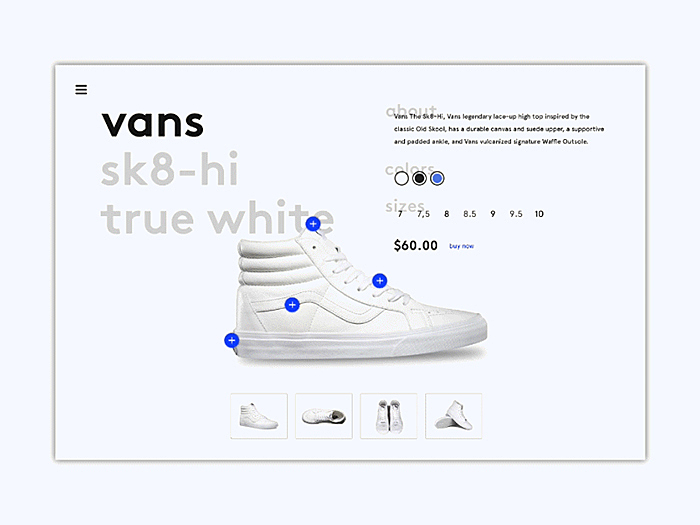 Source: Dribbble
This page is interesting for its user-friendly micro-interactions. It allows for switching colors of various parts of the sneakers by hovering over them to select an item with a custom design.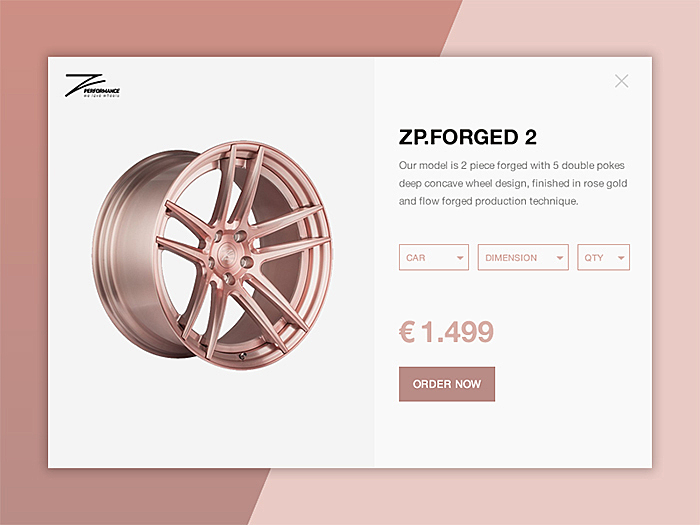 Source: Dribbble
The glamorous and sleek rose gold color scheme reflects the product color to create a homogeneous look. We agree that the solution is a bit controversial from the designer's point of view; however, it reflects the company's style.
Final takeaway
So, what do we have at the end of the day? We think these examples feature the following characteristics of a decent product page design:
informative;
memorable;
consistent;
customer-oriented;
catchy;
user-friendly.
Product page design optimization is a good way to boost your sales by meeting these characteristics. Agente has enjoyed creating UX/UI designs for our eCommerce clients; we always keep our finger on the pulse of design and development trends. That's why we can figure out what will work best for each type of online store. Leave us a message and we'll get back to you with our professional advice.
---
Read also: Financial website design inspiration.
Stay tuned for news
Useful articles from our content team right to your inbox!
Let's talk
Is there a challenge your organization or company needs help solving? We'd love to discuss it.