07 November 2021
10 Best Crypto ICO White Paper Examples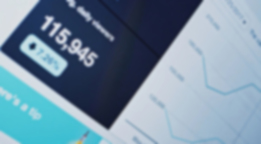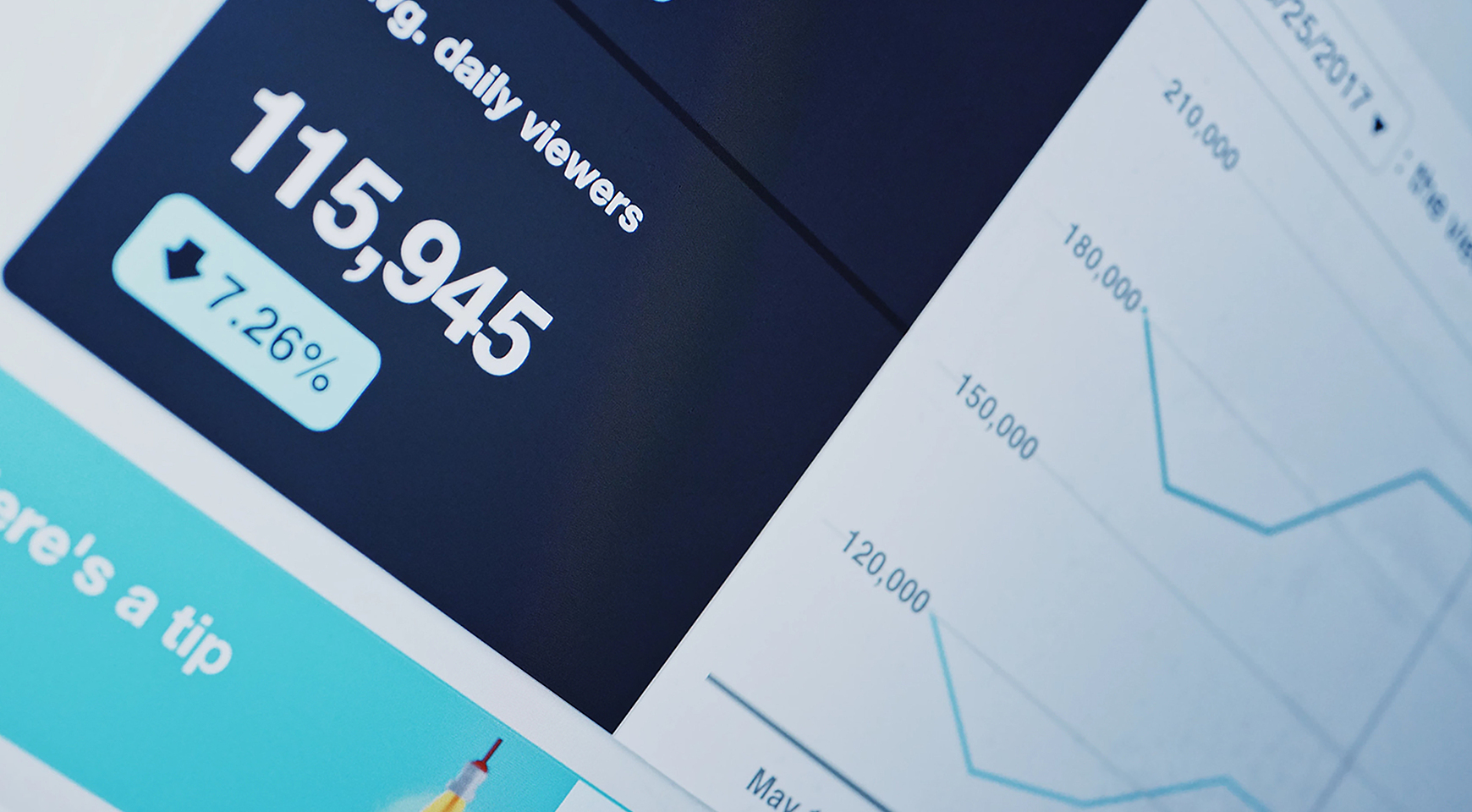 It seems like crypto & NFT have seized the digital world, there are so many of them that virtually nobody can tell the difference between them all. To stand out, ICOs attempt to develop strategies, attract the relevant audience, and market their ideas.
There's no one right way to success, each effort is worthless in such a competitive environment. One of the core elements of an effective strategy is creating a decent ICO white paper. In this article, we are going to review cryptocurrency ICO white paper examples that may inspire you in terms of design and structure. We dealt with whitepapers, but we don't create them.
Read also the article on how to build an NFT marketplace.
The first thing to have in mind is that a white paper is neither an essay nor a scientific work. It's more like a business plan that should comply with a number of criteria.
So a logical question emerges: what factors affect a quality crypto & NFT whitepaper for a new cryptocurrency? We'd single out the following: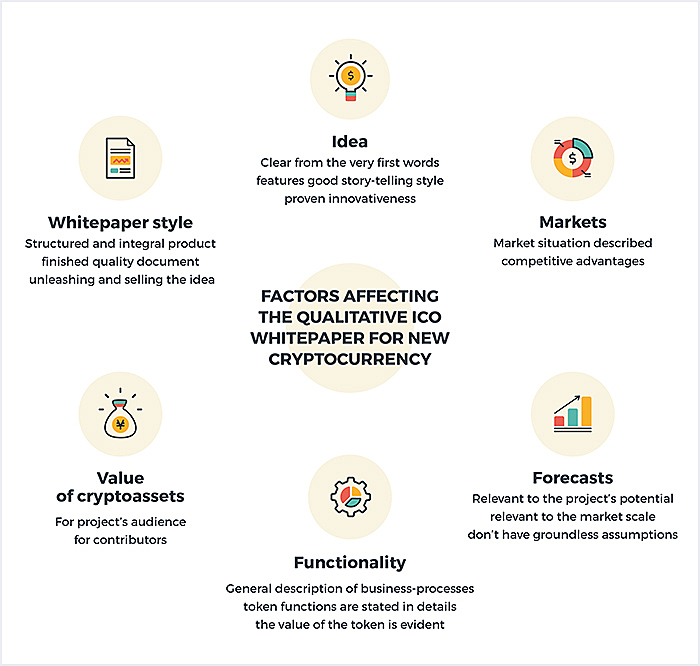 IDEA
Clear from the very first words
Features a good story-telling style
Proven innovation
MARKETS
Market situation described
Competitive advantages
FORECASTS
Relevant to the project's potential
Relevant to the market scale
Does not make groundless assumptions
FUNCTIONALITY
General description of business processes
Token functions are stated in detail
The value of the token is evident
VALUE OF CRYPTOASSETS
For the project's audience
For contributors
WHITEPAPER STYLE
Structured and integral product
Finished quality document
Unleashing and selling the idea
The separate point is DESIGN. A lot has been said about ICO white paper structure and content but few remember the importance of a product workshop, design, marketing, and website development. We have already proven the importance of ICO website design in our recent article, so it's time to tell you how to design a white paper for an ICO and why it matters.
How to design a Crypto ICO white paper
Effective white paper design should enhance the idea of the ICO instead of drawing attention to itself. Let's see how to make a successful ICO white paper step by step.
Choose the right tool
If you look at the 90% of ICO white papers, you'll see that they are created in Word or PowerPoint software. We can't deny that content is a critical decision-making component but the first impression is made by looking through the white paper, paying attention to its visual style, media, and graphics.
While Word will remain the most popular tool for young crypto enthusiasts, thoughtful start-up founders might stand out by hiring an expert who uses InDesign to design a white paper for ICO – a professional design tool that will add to the credibility of the white paper and make it more eye-catching. Even beginners may find some decent templates within the tool and experiment with forms, colors, and fonts.
Elaborate on the structure
The structure of a white paper design depends on the content, we suggest you pay special attention to the following elements: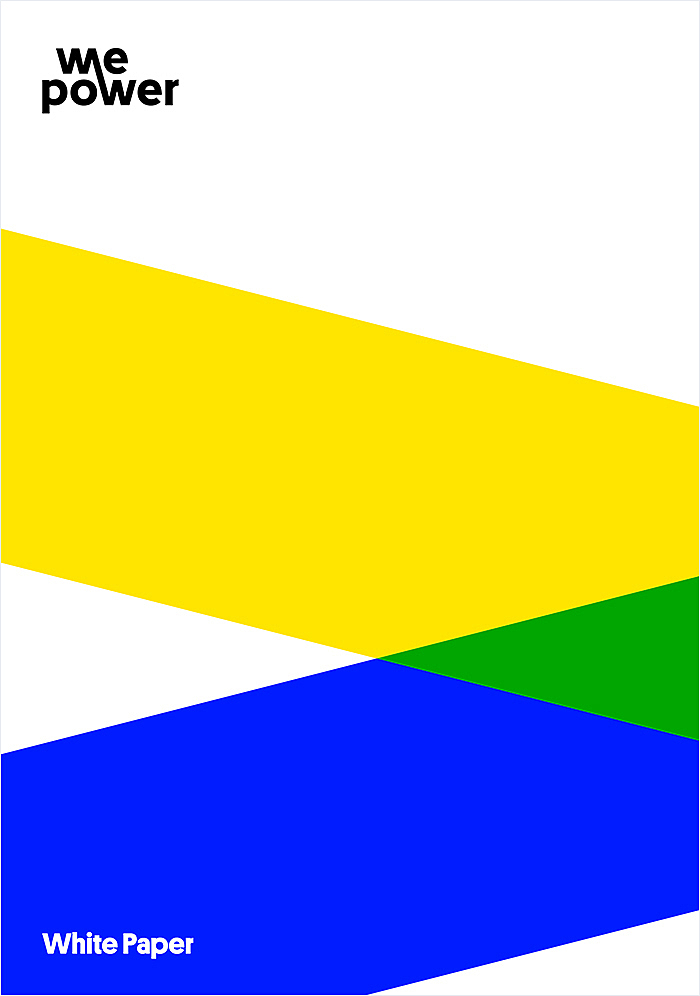 Source: Wepower
Cover is the first thing people see after clicking on the "white paper" tab. Even if you want to save money on design (which is a short-sighted approach, we can't stress this enough), try at least to present a cover that grabs users' attention. It should take after your corporate style, if any, and have a logo with a description of an ICO.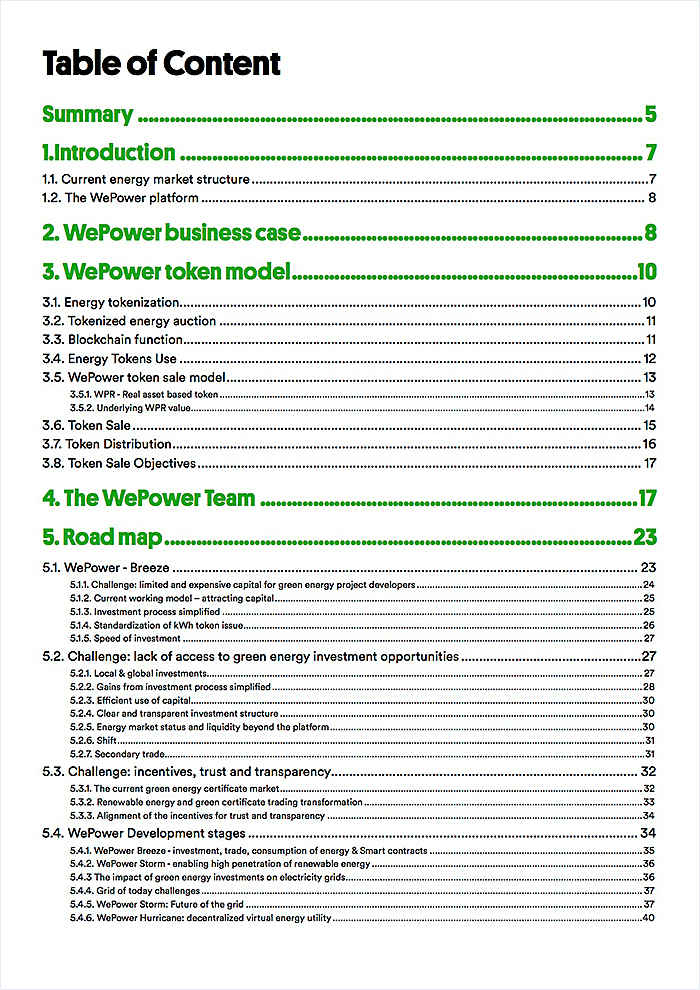 Source: Wepower
It gives an overview of what's going to be next. Highlight the main sections, use consistent fonts that are maintained across the whole document and make it clickable. Mind also the page number and footnote style, these small details enhance the UX and may impede the overall picture if they are poorly designed or omitted.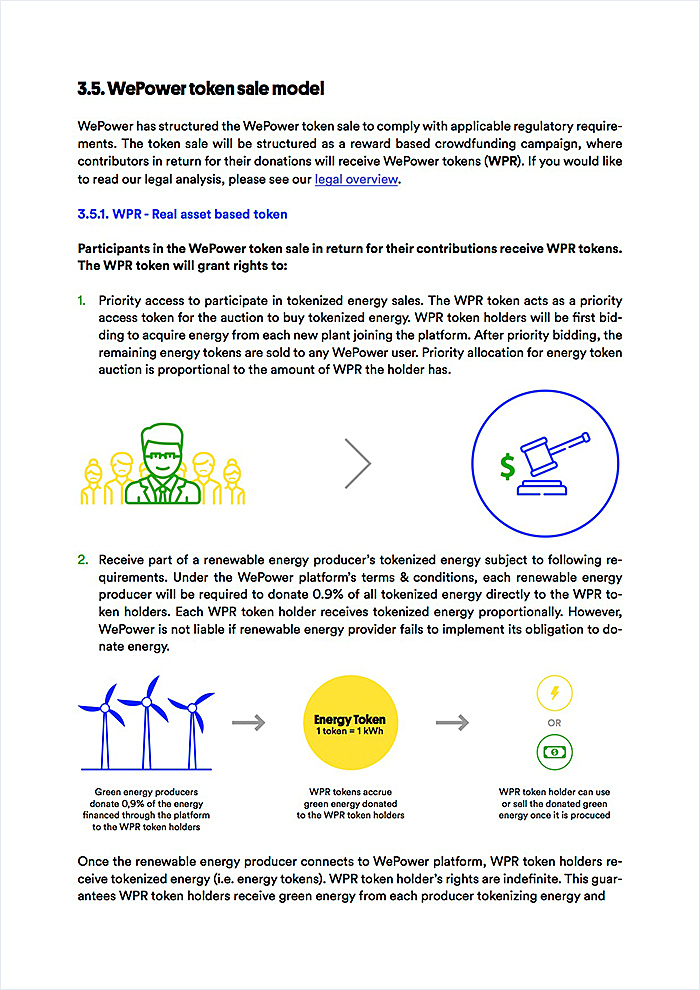 Source: Wepower
Graphic elements are another point of attention for an ICO white paper designer. They should be matched by style with fonts and colors, so don't rely on standard stock images and icons, as they may be perceived as out of place in the context of a business plan UI.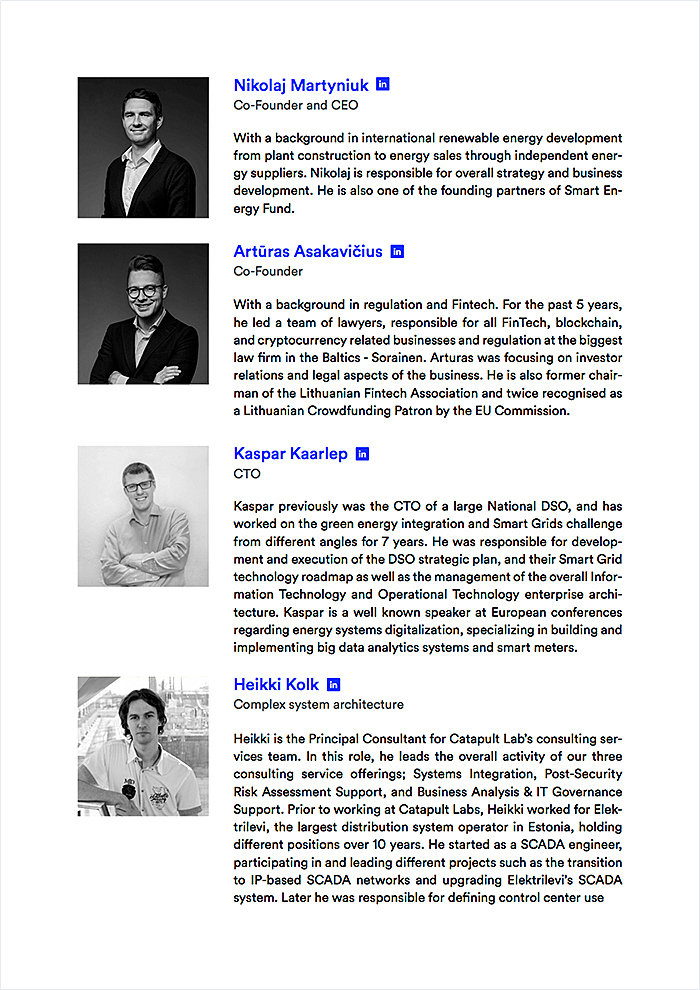 Source: Wepower
Let's take an example: the most popular media in a white paper are photos. Normally business owners publish photos of the team to increase trust and introduce themselves to potential contributors; good quality and a consistent style are both important. If you don't have the opportunity for a corporate photo shoot, you can process the photos so they look alike. For example, ask the team for official-looking photos and make them black and white.
Corporate template and company identity (if any)
At the top of all the design elements lies the visual style and identity. Some start-ups have already developed a corporate brand book that they expect all website designers to follow. However, they're not always ideal for a white paper, as a very bold and explicit style may influence the perception of your business idea. For example, if you have an ICO backed by an adult store, try to steer clear from a provocative white paper design, as it might seem irrelevant in terms of an ICO campaign.
Add more white space
Nevertheless, in some cases designers are too serious about white papers, so they just put text into pages as it is. Small margins, minimal white spaces, and endless text sheets without graphics are likely to make your readers bounce.
Enhance with colors
Sometimes the ideas go beyond the corporate style colors, so you can create your own color palettes within a white paper using a color wheel; try Adobe color CC tools and the tips from our recent article. Use bright color accents to enhance a hierarchy of information and highlight the essentials.
Media to add to your ICO whitepaper:
We touched on the media elements earlier, but there's a lot more to be said, so here's a list of other features to enhance the ICO white paper:
Flipping through the pages of a white paper, people tend to stop at graphics and charts. Effective ideas also include infographics to summarize the main points, as well as pictograms, or even maps for geographical information.
Most white papers are no longer "papers," people read them in color on the screen of their computer or smartphone, so in some cases, video might be reasonable when designing ICO white paper.
Icons, symbols, and color boxes help you to illustrate your ideas and direct readers to the key parts of the text.
High-quality photos with an overview of the entire team or product backed by the token sale will add to trustworthiness and reliability.
10 Best Crypto & NFT White Paper Examples in Terms of Structure & Design
So, how are these practices implemented in real white papers? We picked up a collection of 10 smartly-designed ICO white paper examples and highlighted the ideas that make them special.
1. WELL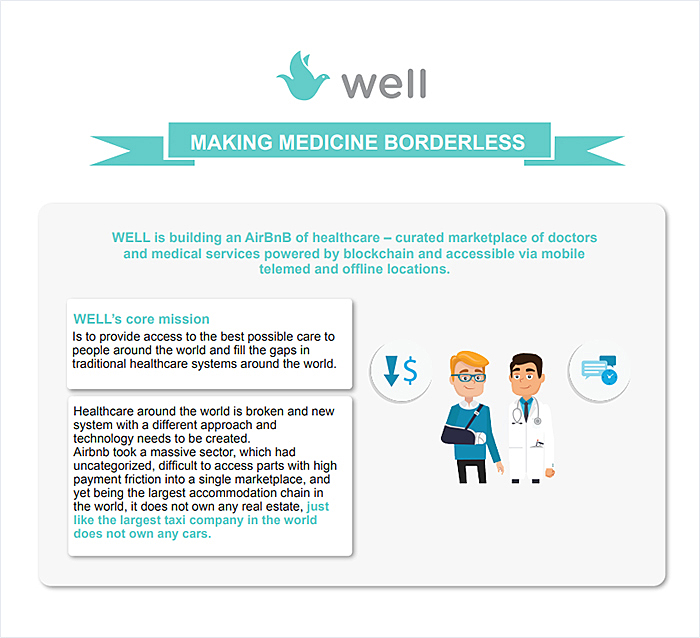 Source: Well
Ideas: Dilute, business-like colors and lots of white space. The plus point is custom medical graphics that enhances readers' comprehension - if you want something like this, check out the set of healthcare icons from Agente which you can download for free.
2. HOQU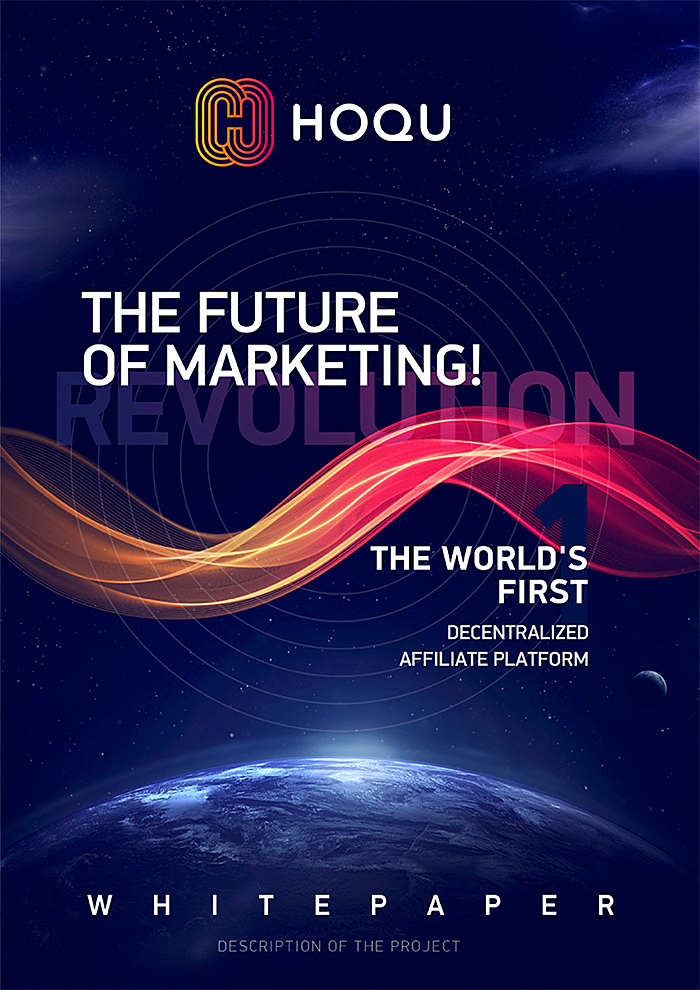 Source: HOQU
Ideas: A futuristic style that resonates with the ICO's ideas of revolution and innovation.
3. Sentigraph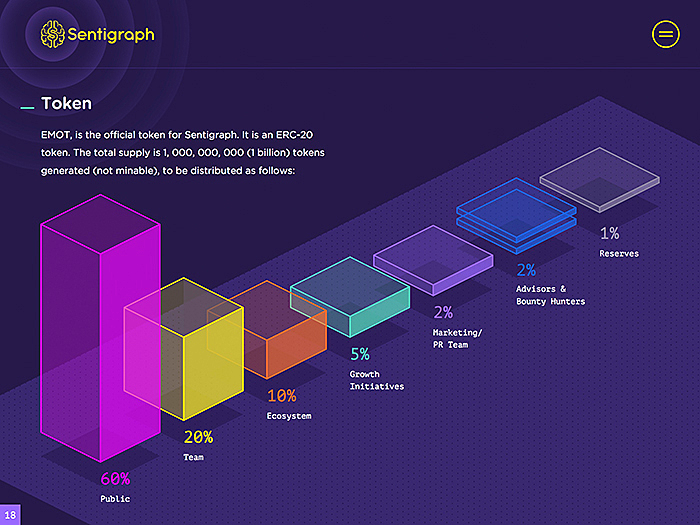 Source: Sentigraph
Ideas: Unusual background, well-elaborated structure, unique graphs and charts.
4. Rentberry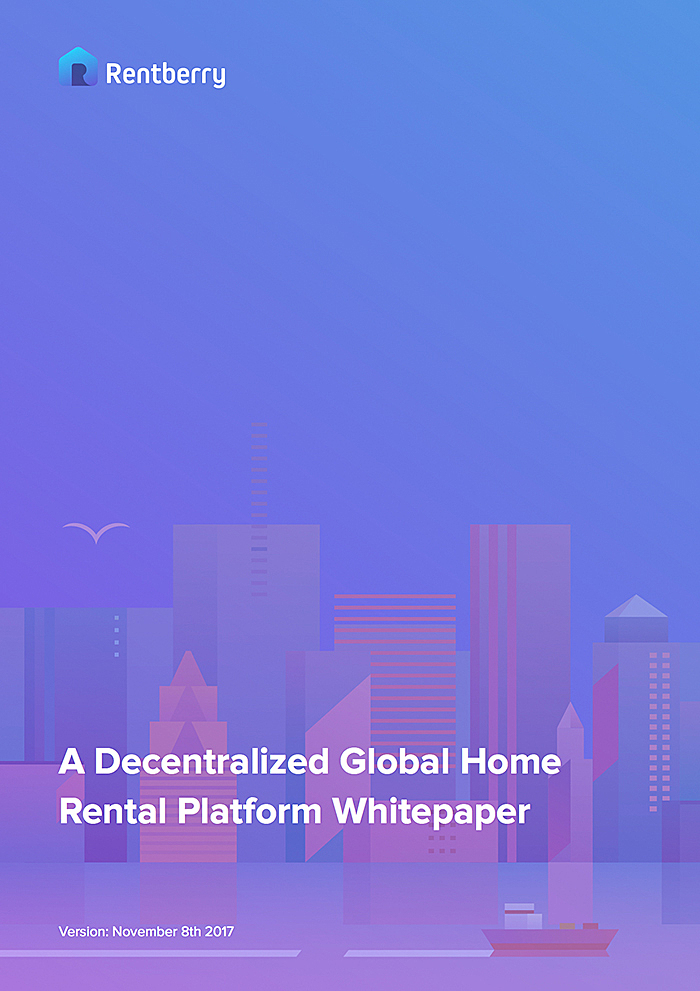 Source: Rentberry
Ideas: Trendy colors, flow charts and graphs, consistent style across the document.
5. Dribbble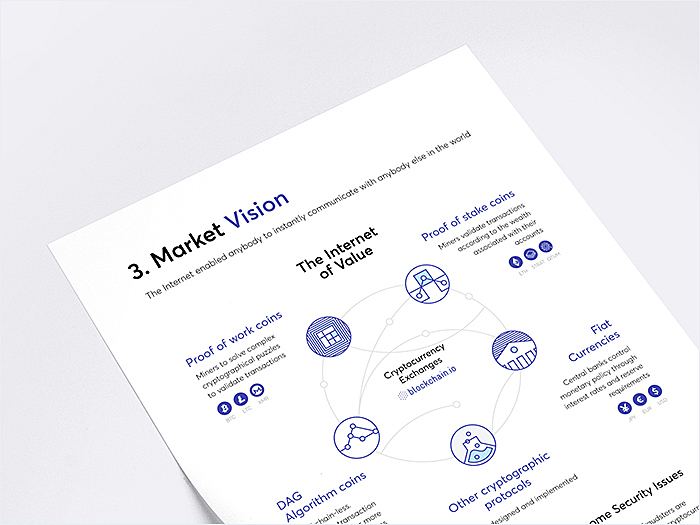 Source: Dribbble
Ideas: Custom icons, sharp message, color consistency.
6. Enjincoin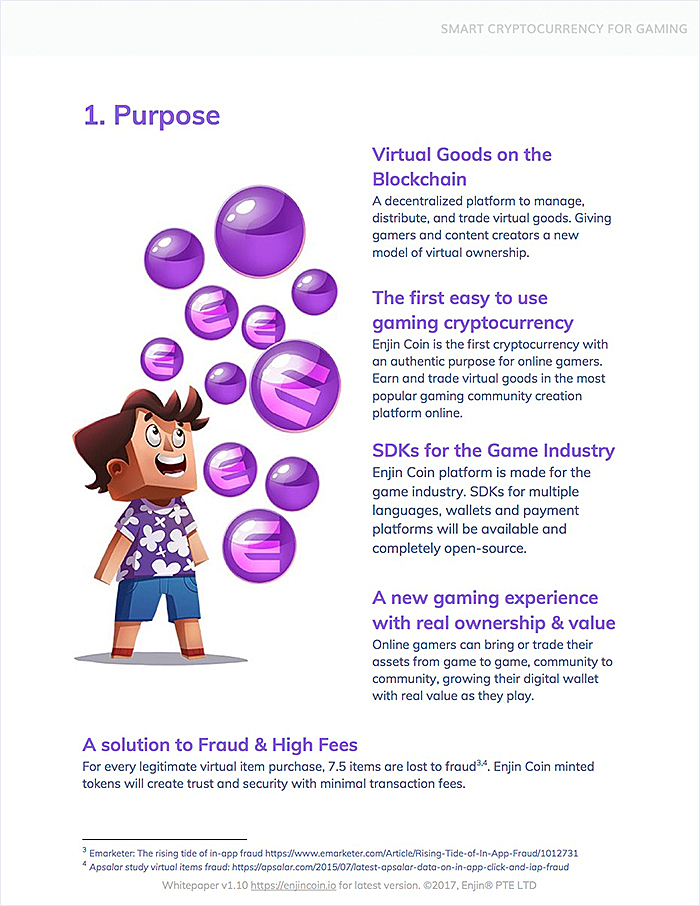 Source: Enjincoin
Ideas: Design and media relevant to the gaming industry.
Read also: Game Website Designs Examples
7. Bravenewcoin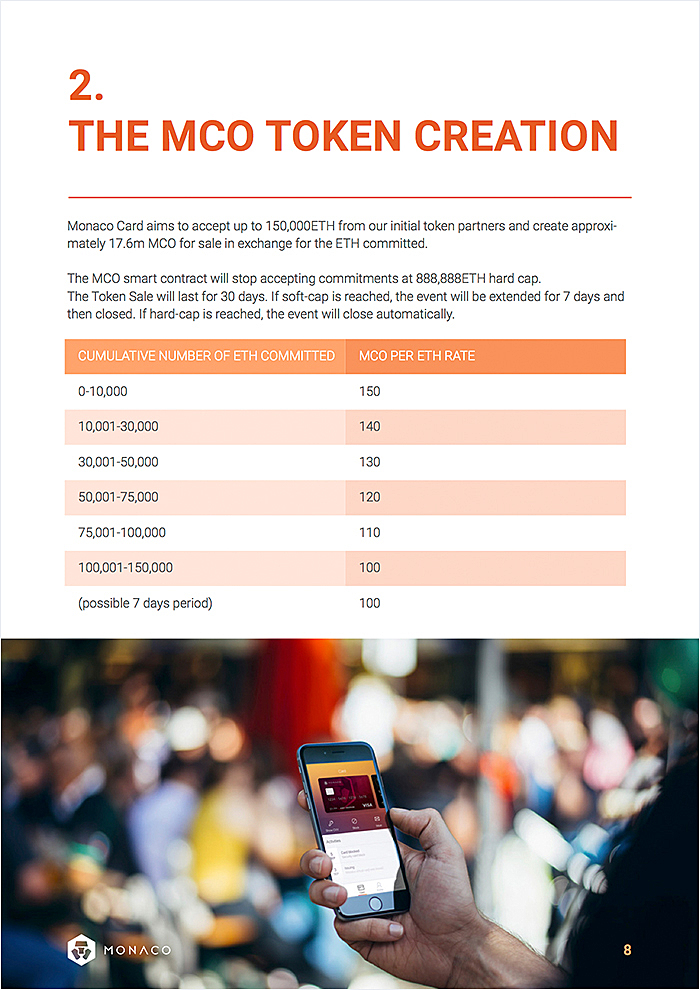 Source: Bravenewcoin
Ideas: Plenty of graphs and tables, colorful pictures.
8. Genesis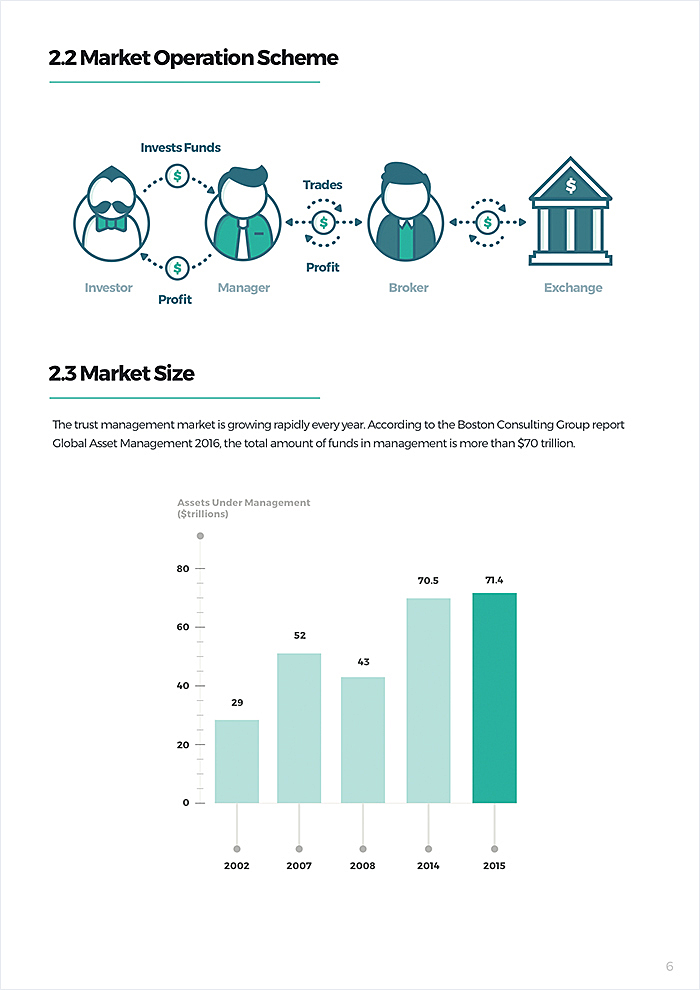 Source: Genesis.vision
Ideas: Tailor-made infographics; cold, business-like color palette.
9. Tokensale.civic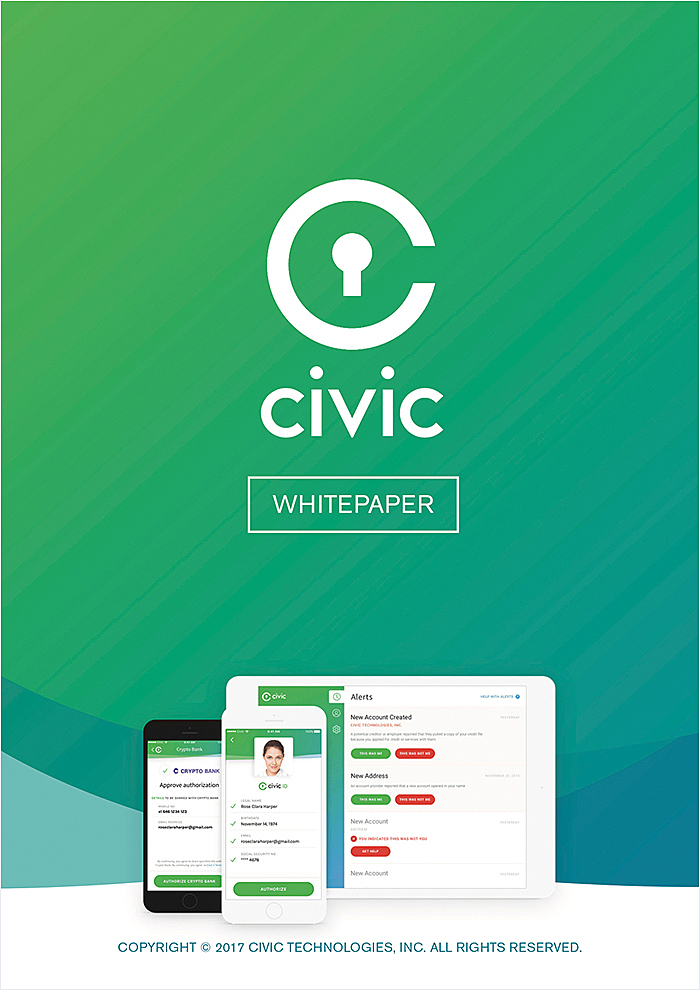 Source: Tokensale.civic
Ideas: Informative cover, quality photos, expert quotes.
10. Sonm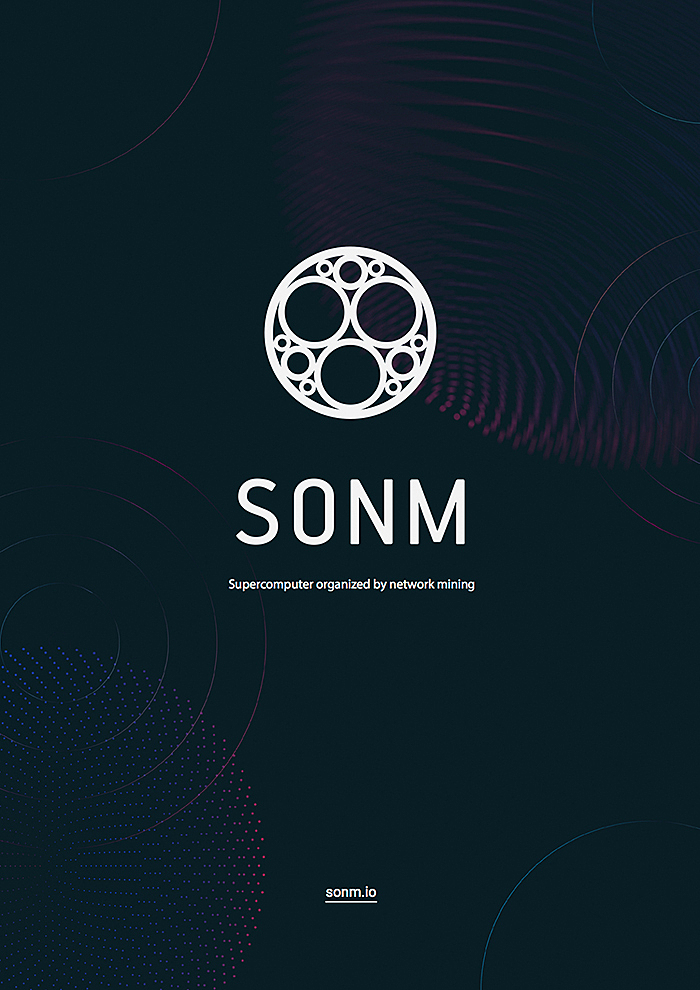 Source: Sonm
Ideas: Classic fonts, colorful charts, eye-catching cover.
Conclusion
As you can see, content is not the only factor of a white paper's success, you really need to elaborate on the design of your pages, adding elements that grab people's attention and reflecting your brand in the way that you want present it to potential contributors. Only when you accomplish this will you stand out from the competition as something remarkable. But always remember: even a perfect white paper won't help a bad project.
Agente will help you with the design of your crypto & NFT website and white paper design creation. Check our recent ICO website and whitepaper design project. Press the 'let's talk' button in the top right corner to share ideas and brainstorm the design that fits you best.
Rate this post!
314 ratings, average ratings is 4.8 out of 5
Stay tuned for news
Useful articles from our content team right to your inbox!
Let's talk
Is there a challenge your organization or company needs help solving? We'd love to discuss it.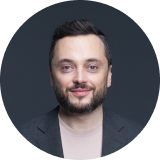 Managing Director, Partner
Andrew Terehin