24 December 2020
How to Develop the Best LMS For Healthcare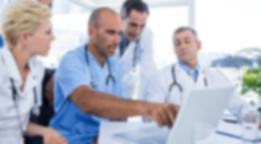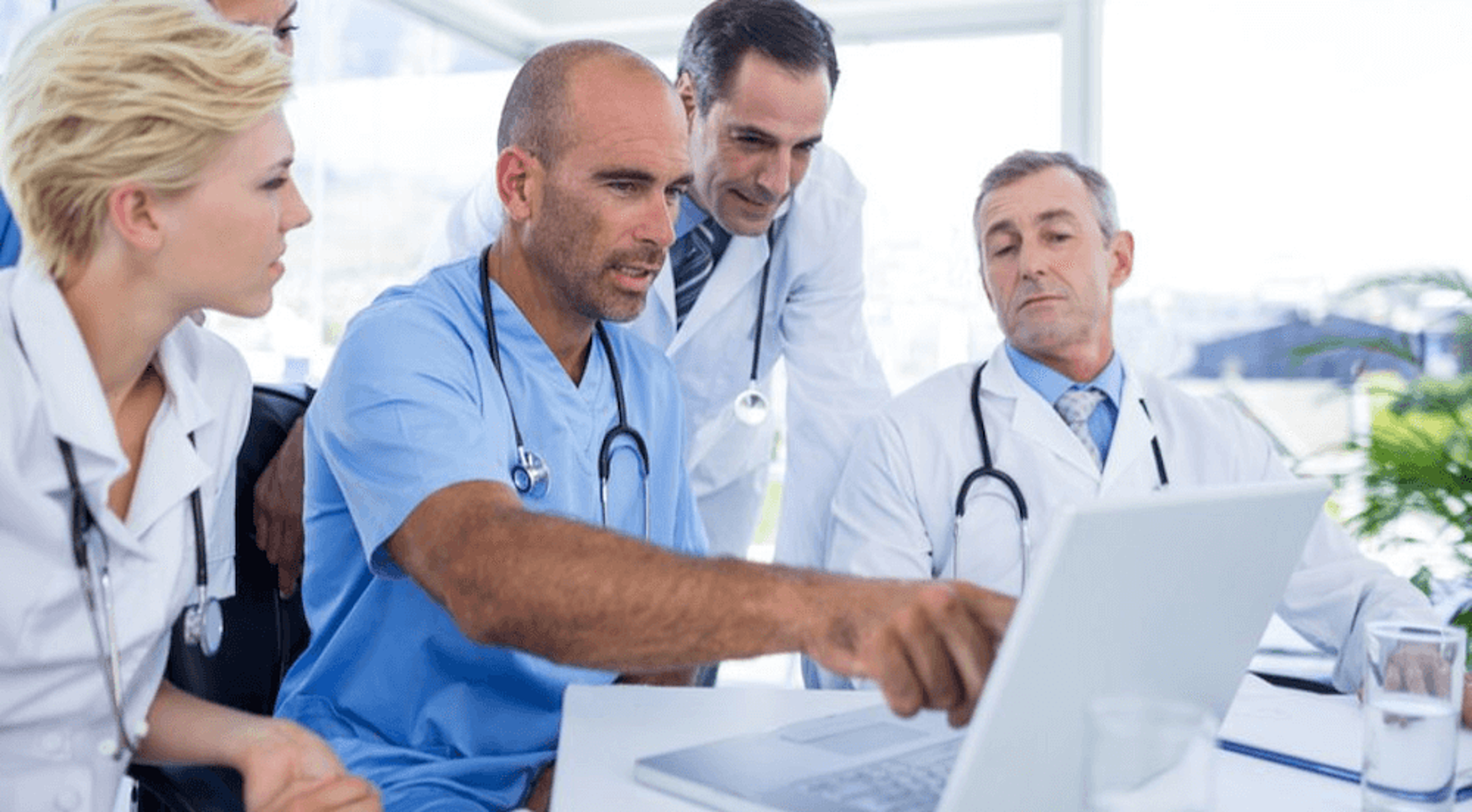 Based on the data from the Bureau of Labor Statistics, the healthcare sector is going to increase by 2.6% at an annual rate in 2022 and add about five million jobs. The same source mentions that healthcare CEOs see the availability of skilled staff as one of their top five risks.
Think about it:
The healthcare environment faces a growing lack of skilled and well-trained employees. This is not due to the high percentage of graduates only but because the healthcare industry is continuously evolving.

Developing a custom Learning Management System (LMS) for healthcare organizations allows keeping up with the old and new technologies and techniques and convey the experience and knowledge across the team accessibly.
Based on the expertise of the Agente team in LMS and healthcare software development, let's take a look at the most valuable features you should consider when building a custom healthcare LMS.


Source: IndustryARC
Top Reasons to Use LMS in Healthcare
When considering the development of an LMS for a healthcare organization, there are three main reasons that stand behind a decision in favor of developing a unique solution.
They are:
Demand for high-quality training for the healthcare professions
Desire to transfer experience and knowledge efficiently
Adoption of digital learning that facilitates the process
But if we dig deeper, developing a healthcare LMS helps:
Host any kind of learning content (from video tutorials up to text, audio, testing, etc.).
Track and measure the learning progress of healthcare professionals.
Offer online discussions, i.e., ask questions and get answers.
Share learning materials between fellow learners, as well as tutors.
Engage other coworkers to join the system and self-improve.
Healthcare LMS Market Forecast (2020―2025)

Healthcare LMS: Things to Consider
Before hiring a dedicated software development company to build an LMS for the healthcare environment, it's critical to understand the peculiarities such an LMS has compared to other custom online course websites.
Accreditation
To make your course a continuing medical education (CME) one, accreditation by the relevant authority (and its compliance with the law) will be required.
In the USA, the Accreditation Council for Continuing Medical Education is the authority in charge. The full list of 38 criteria and their description is available in the official ACCME Accreditation Requirements here.
Applicability
The relevance of the information is vital especially when it comes to healthcare. Thus, it is vital to put the shoulder to the wheel and keep all the provided data up-to-date as much as possible.
Without many words, it's not solely the question of work efficiency but the ability to work with the patient in full compliance with the world's best practices.
Learning Process Organization
The medical professionals are the people whose working hours per week exceed the standard 40 hours significantly.
Think about it:
Overtime work on the one hand, and the importance of continuous education in healthcare on the other hand―it can be hard for the physician (as one of the many medical specialists) to contribute their spare time to education.
When well thought out, LMS allows going outside the classroom (which seems to take a new meaning during the pandemic) and keeping learning when the timing is right and where it is the most comfortable for the learner.

Source: Docebo
| | |
| --- | --- |
| Year founded: 2016 | Tech stack: jQuery, PHP, NGINX, Lodash, Moment.js |
| Headquarters: Toronto, Ontario, Canada | Features: modular system, skills management |
| Total visits: 113.34 thousand | Goals: specific skills development |

Key Features to Include in Your Healthcare LMS
We've analyzed the top current market players and have come up with the following list of features that make the projects high-demanded and can be beneficial for your project.

Intuitive Design
An easy interface design is always a game-changer. At Agente, we take the design-based approach to all our projects. Equipped with the industry best practices and in-depth upfront research of the niche, we are here to make a new healthcare LMS project distinct and intuitive.
Moreover,
The user-based approach is critical when it comes to the LMS design. With simplicity in mind, Learning Management Systems for healthcare must be easy to access, navigate, progress, and complete.
HIPAA Compliance
The Health Insurance Portability and Accountability Act (HIPAA) regulates how healthcare providers, organizations, and their associates transfer, obtain, handle, and share secure and confidential data.
This applies to various forms of protected health information, including the one handled electronically.
What does this mean for you?
To align with the HIPAA requirements, business associates must opt for appropriate solutions. Their choice results from such factors as an organization's complexity, size, software security capabilities, and more.
At Agente, we recommend technical solutions that guarantee full compliance with the HIPAA requirements.
Learning Path
This includes the order and number of courses that medical professionals need to take to progress and get their credits.
Make sure to make the learning path as clear as possible. Besides the logic behind the learning process, great visualization will give you a hand.
Blended Learning
In healthcare, the ideal combination of face-to-face and web-based training is required. It is the area, where education cannot be fully online and needs a hands-on approach.
LMS for healthcare should be capable of maintaining both mixed and offline activities.
Thus,
The system should enable the people in charge to assign theoretical materials to specific learners and allow tracking the practical lessons that take place in a classroom.
For example,
First, your employees can start with online simulation training. While you monitor the effectiveness and add credits, the offline classes can be the next stage of the learning process. An efficient LMS will help you organize and manage all the stages of the learning process easier.
Social Learning
Recently, we've witnessed how traditional classrooms have shifted towards from-home learning. Brick-and-mortar campuses have always been famous for their social hubs and the ability to share similar interests with like-minded people.
Social learning has become a trend lately as it allows transforming quite lonely and (sometimes) boring e-learning into a socialized one.
Social learning in LMSs helps to bring ease of information sharing.
How?
Discussion groups
Links to additional info, case studies, articles, other students' insights
Ability to receive feedback from students about the quality of the classes and possible improvements, if any
Announcements about the upcoming courses and pieces of training
Reporting & Analytics
Just as in any Learning Management System for hospitals, the progress, and attendance of medical professionals should be tracked and measured.
You should include various types of reports in the system, such as assessments for:
Individual users
Satisfaction reports for courses
Learning plans
Groups progress measurement
Certification


Source: SAP Litmos
| | |
| --- | --- |
| Year founded: 2000 | Tech stack: jQuery, JavaScript, PHP, NGINX, Lodash |
| Headquarters: Pleasanton, CA, United States | Features: interactive courses, ability to import 3rd-party courses, gamification |
| Total visits: 2.12 million | Goals: Acceleration of training for both internal and external teams |
Mobile-Friendliness
We are living in a mobile-first world. Hand-held devices become more feature-rich, thus allowing us to access the required data on-the-go from any location and place at any time.
As a result,
The courses should be made consistent across different systems―Android and iOS (not to include various web browsers).
Gamification
Gamification has been trendy as it's a great means to make e-learning more engaging, rewarding, and interactive.
This is achieved by using elements from game-design in the LMS for medical training environment. Gamification in e-learning has been proved to improve the outcomes of the learning process, as well as use the competitive spirit to motivate the learners.
You might want to consider the following gamification elements in your healthcare LMS project:
Leaderboards―to display the level of success of each student that takes that course and highlight the top learners.
Storyboards―to visualize how close the learners are to success.
Points―to reward learners for the time and effort.
Badges with achievements―to motivate the students for their personal studying achievements, such as continuous studying, the fastest learner, etc.
Group Kahoot-like quizzes―to trigger more competition between the professionals
Levels―to introduce role-playing in the learning environment. 200 points might allow the learner to proceed to the next level, for example.

Source: Mindflash
| | |
| --- | --- |
| Year founded: 1999 | Tech stack: jQuery, JavaScript, Python, Bootstrap, C#, CSS 3, ActionScript |
| Headquarters: Palo Alto, Ca, United States | Features: quizzes and assessment, reports and dashboards |
| Total visits: 146.73 thousand | Goals: offer training anywhere and at any time |

Webinars & Video Conferencing
Video conferencing has always been an effective means to keep medical professionals aware of the latest field innovations.
With session recording and making them available through the LMS, physicians that are not able to be present at the set time to watch a live webinar get to access such valuable content when the timing is right.

Wrap Up
The importance of continuous education in healthcare is undeniable. Learning Management Systems for hospitals and other medical trainings allow:
Scaling to numerous medical professionals and hospital employees
Studying for the staff where and when they find it the most convenient
Offering and managing as many healthcare courses as required
Introducing new training trends
Satisfying the industry demands
Measuring the progress of your staff
Assisting the effectiveness of the system
Ready to advance with a uniquely-designed Healthcare Learning Management System?
Contact Agente to request a quote today! Our dedicated team of developers is always happy to pitch in your project ideas and bring them to life using the most advanced tech stack.
Rate this post!
541 ratings, average ratings is 4.5 out of 5
Stay tuned for news
Useful articles from our content team right to your inbox!
Let's talk
Is there a challenge your organization or company needs help solving? We'd love to discuss it.